So I have two BIG plans in the works:
Birthday celebrations
A Halloween party
I'm pretty behind on the birthday stuff and pretty early for the Halloween stuff. Where are my priorities??? Doh!
See…September is my birthday month…and not just any birthday. I'm turning the big 3-0 this month! Eeks! When did I grow up?
I've said for years and years that while most women are sad about turning 30, that I want to celebrate it with a big party. I thought I'd be rich by now and would have a big bash like a fancy wedding reception, but…alas. I am not rich. So, instead of one giant bash, my new plans are to have several small parties and basically celebrate all month long!
What do you think peeps? How should I celebrate my 30th birthday party? I have some ideas in the works, but would love to hear suggestions! What's the coolest birthday celebration you've been to? What was your favorite party of your own? Tips PLEASE!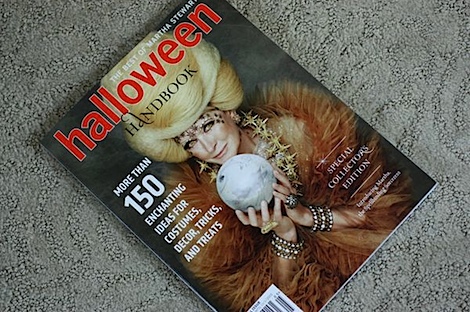 And about that Halloween thing…well…Halloween is quite possibly my favorite holiday of the year. Don't ask me why…I don't know, but I love the costumes, the candy, the decorations and the overall theme. It's just so fun.
For the last couple years (except last year since we had just moved into our house), I've had small Halloween dinner parties.
This year, I'm planning something a little bigger and will be sharing my projects and plans along the way.
***
Anywho, on to today's eats!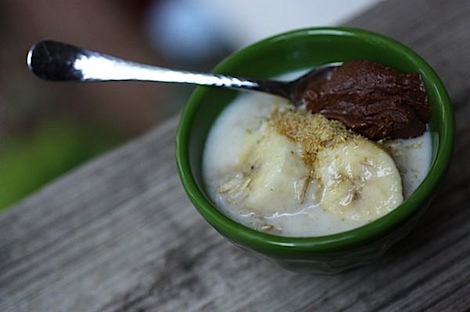 Check out my oatmeal!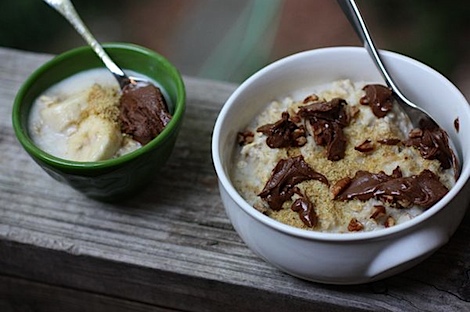 Just kidding, that's hubby's oatmeal and mine is on the right. He's not big on breakfast so I just made him a mini bowl. Isn't it cute?!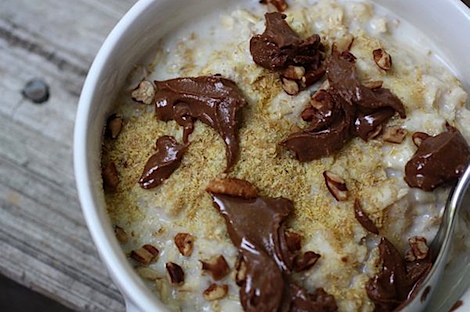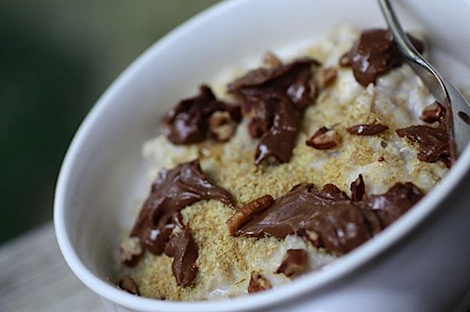 I made oats with 1/2 milk and 1/2 water, pecans, flaxseed meal and Justin's chocolate PB.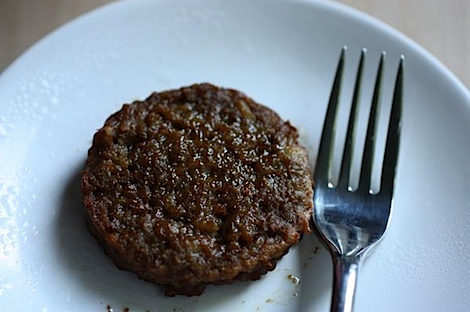 Plus some "sausage".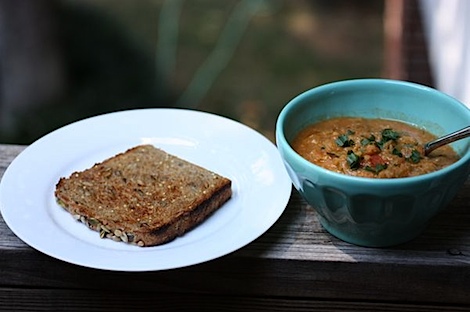 Today's lunches was a success thanks to hard work from a couple weeks ago.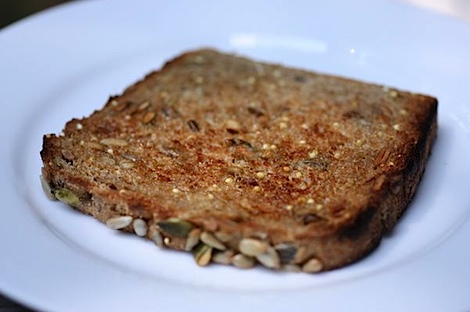 I looked into the fridge and didn't really feel like eating anything in there.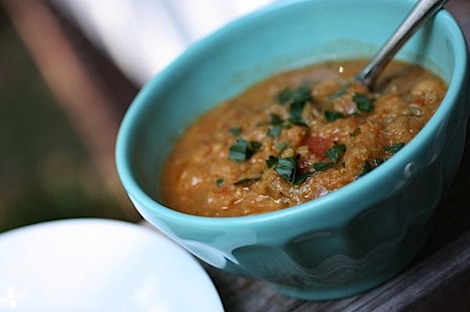 Enter freezer stash of frozen homemade soups and constant stash of high-quality whole grain bread.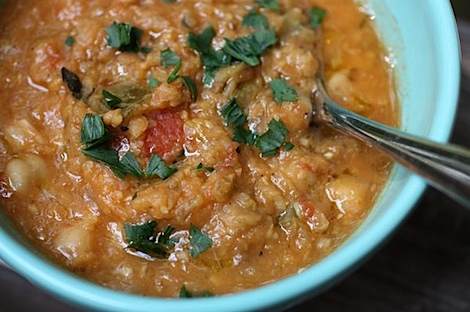 Soup and toast is one of my favorite meals because it's so easy and tasty. Just pop the frozen soup out of a tupperware and into a pot on the stove (I don't like to microwave it to heat it up since I try to avoid the micro as much as possible) and heat over medium low heat till it's warmed through. Pop some toast down, add a dab of (real) butter and you're done-zo!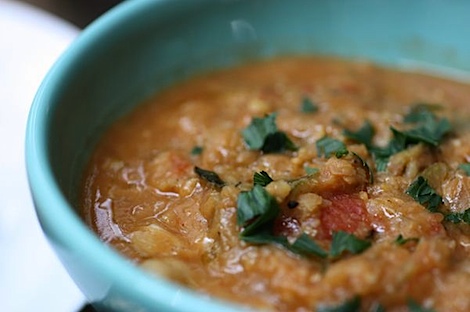 A drizzle of EVOO and some fresh parsley from my garden make it extra special.
Nommm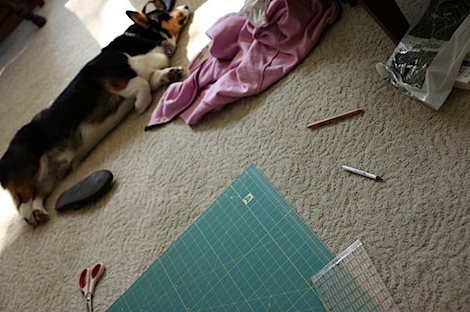 Bailey was unamused by a little craft project I did today.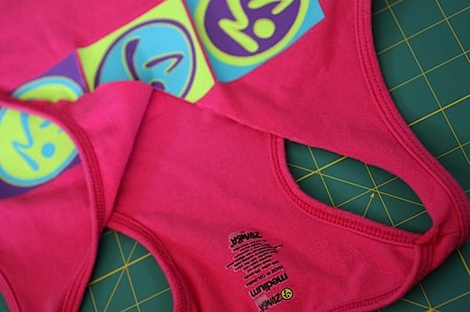 I cut a low-V into one of my zumba tops a la Tanya Beardsley (inspired by the latest ZIN DVD).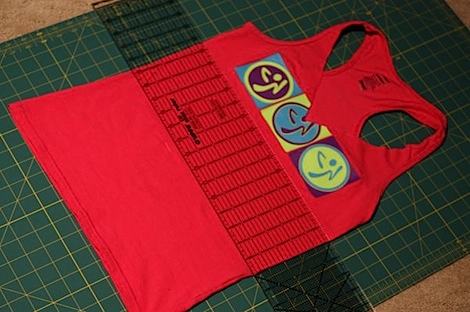 The only question I had was – to cut the top into a short top or not. Short tops are like the length of sports bras…they're SHORT! But oh-so-cute!
I procrastinated deciding what to do with the top till late tonight, just before working on this blog post. So whatdya think? Did I cut the top or not?? 🙂
***
ZUMBA!
I taught an amazing zumba class tonight! I think I was inspired by the latest ZIN DVD because I was really, really feeling the music tonight. I had a pretty tough playlist, too: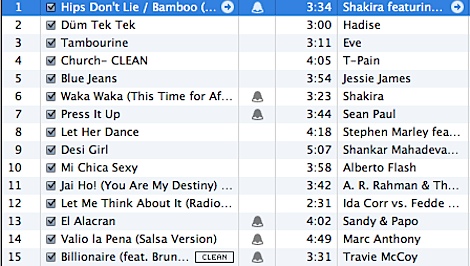 I actually did a last minute change because my class was looking really, really tired and I didn't want to push them too far, so I removed the last high song (Say Na Say Na) and replaced it with Valio la Pena. I want to give my participants a hard class, not make them fall over! 😆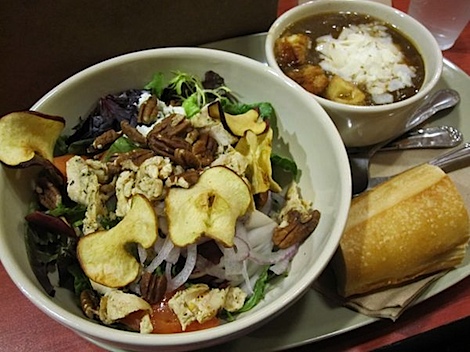 I met fellow zumba instructors Megan and Erica (forgot to take their photo…doh!) for dinner post-class. We met at Panera and I got the You Pick 2 with a fuji apple salad and french onion soup, plus baguette and water to drink.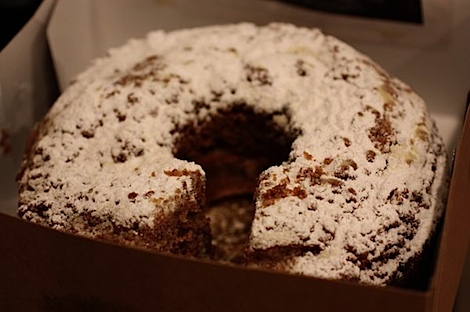 Megan and Erica scored free baked goods, which they snacked on before giving to me to take home. Score! Thanks guys!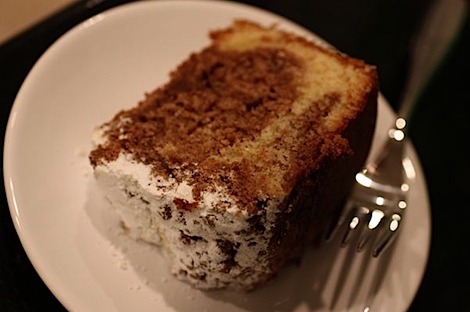 After practicing on some zumba songs I want to bust out in class soon (Shake Your Pom Pom anyone?), I settled in and had some coffee cake. Yuuuum!
So…two things dear readers:
Do you think I cut my zumba top into a short top?
Send me your birthday celebration ideas!
🙂