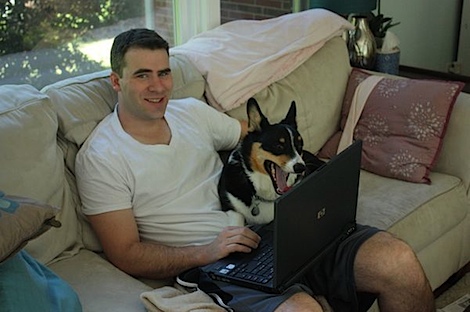 Happy weekend friends!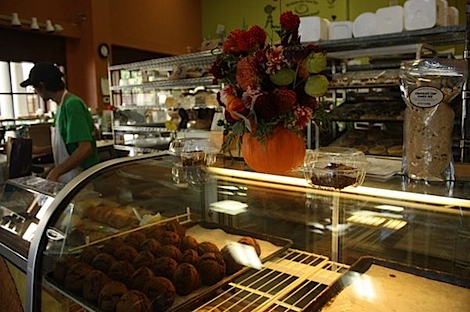 Hubby and I took care of business this morning by making a trip to Great Harvest for bread and breakfast.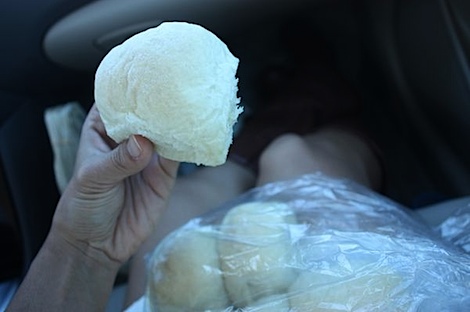 I couldn't resist digging into the Virginia rolls we purchased today…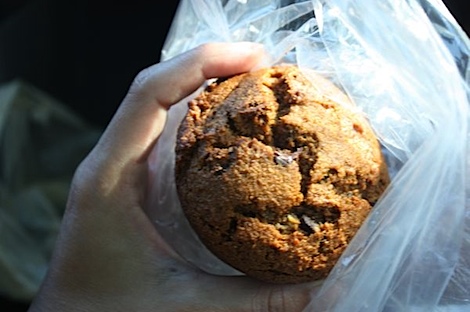 …before getting started on my pumpkin chocolate chip. Nom!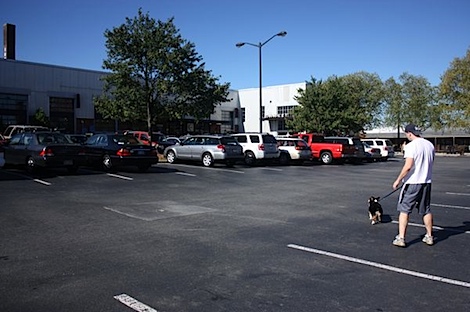 We took Bails to the farmer's market.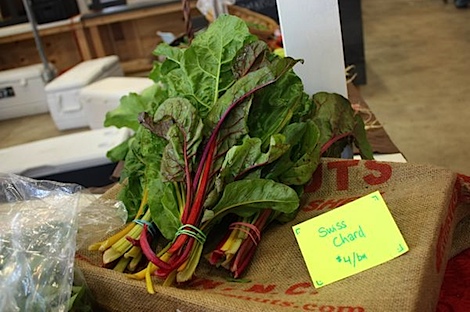 Since my swiss chard is so eaten up, I ended up buying some. I think the market is in a bit of a transition state with the fall veggies probably not quite being ready to harvest. There were lots of veggies in the market, but I saw a lot of stuff I don't eat frequently (radishes, turnips, etc.). The chard was the only thing I really wanted to bring home.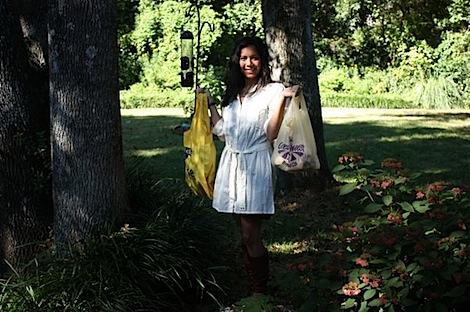 Clean eating goodness!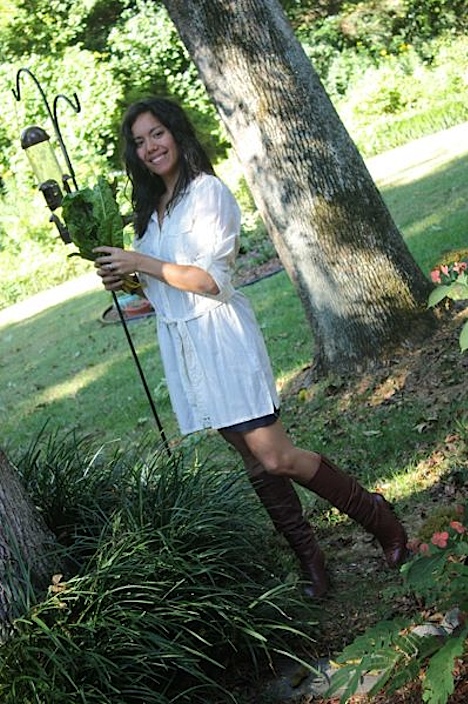 Did I mention the weather was just gorgeous today?! It was an easy-breezy Saturday!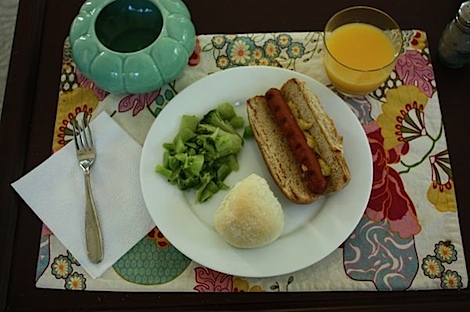 Hubby made us an early lunch. We basically scrounged for leftovers – a hot dog, frozen broccoli and a Virginia roll. Hot dogs are not my favorite, but hubby eats stuff for me that he doesn't like, so I figured I could do the same. He at least got kosher ones.
I was reminded today of why I don't like to eat frozen broccoli straight up. I think it has it's purpose, but for me, I like frozen broccoli in things that are re-baked: casseroles, quiches, TCL Breakfast Cups, etc. But just cooking in the microwave…it's not my thing. I much prefer fresh broccoli gently steamed.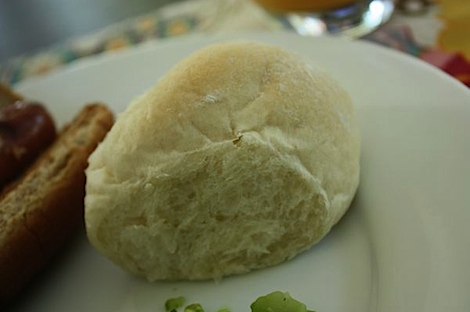 Another Virginia Roll…yes…they're addicting!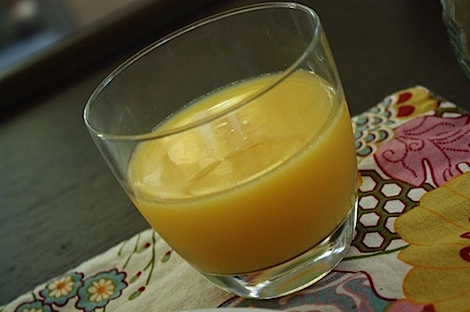 OJ to drink.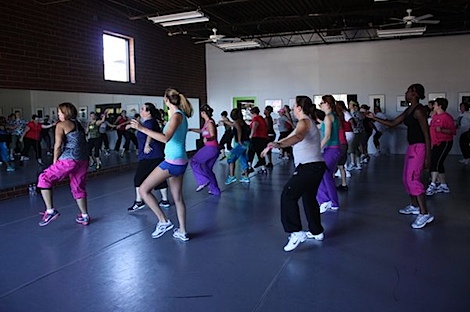 I went to a zumba workshop this afternoon, which was lots of FUN!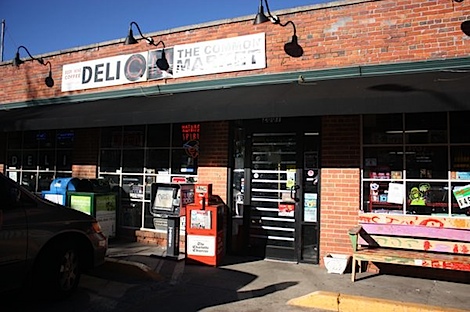 And after the workshop, I hit up The Common Market.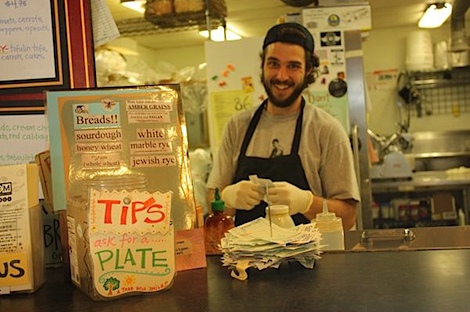 I love this place because their sandwiches are awesome, the prices are really good, they have great vegetarian and vegan options (even vegan cupcakes!), plus a wonderful selection of beers. Oh and the people working there are really friendly and welcoming, too.
DId I mention you can bring your dog inside? Yes, we're definitely coming back with Bailey some time.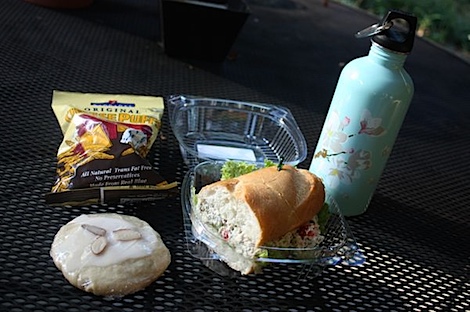 It was an extremely late Lunch #2 I was having, so I went light with 1/2 of their famous chicken salad on a hoagie, plus healthy "Cheetos" and an almond cookie (because I'm celebrating my b-day today and dessert twice is totally expected).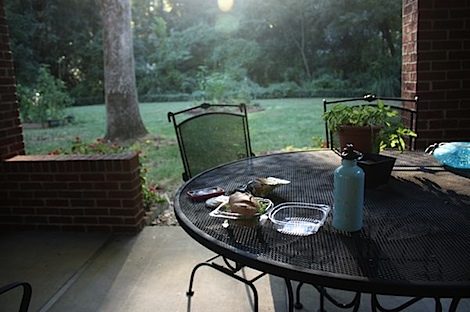 The weather was so nice, I took my lunch home to soak up the fresh air.
I normally try to eat things that have a purpose because I generally look at food as fuel, but sometimes you just want what you want and today I wanted Cheetos.
And these "Cheetos" are amazing! I must admit, I actually almost bought real Cheetos…till I read the back of the ingredient list and it freaked me out. Aren't the yellows 5 and 6 supposed to be really bad for you or something? I can't remember, but the overall list was too strange-sounding to me to enjoy. I was glad I found this replacement, which is just as crunchy and cheesy, just not nuclear orange in color.
These are Barbara's Original Cheese Puffs.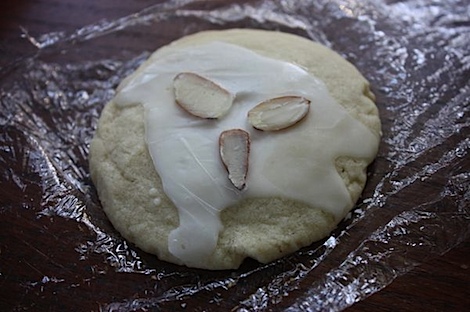 I split the cookie with hubby. It was really yummy and tender and full of great almond flavor. Yum!
I'm going to have to head back to The Common Market soon on the lookout for their famous pumpkin roll! I had that a long time ago and would to enjoy it again.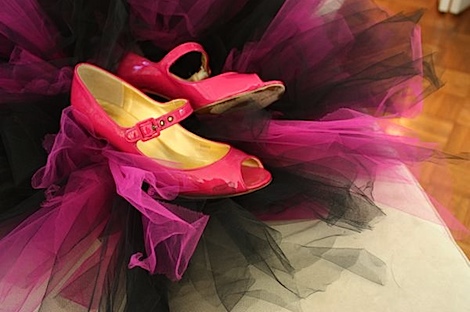 Here's a sign of things to come. We're celebrating my birthday tonight!
Any guesses what the above photo indicates?