I know you guys are probably tired of seeing these, but I can't help myself! I have half a loaf of bread I need to finish asap (and I don't want to freeze it), and I'm having a blast trying different flavor combinations out for you guys!
Yes…I made more TCL Breakfast Cups aka Individual Breakfast Casseroles. Things in small versions are just more fun to eat, no?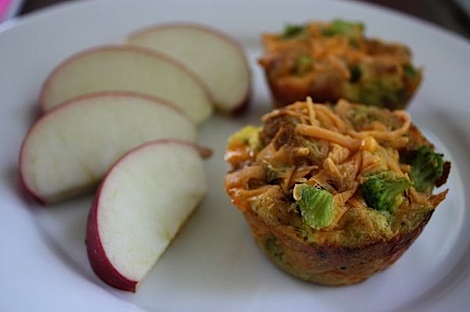 Today I went meat free with…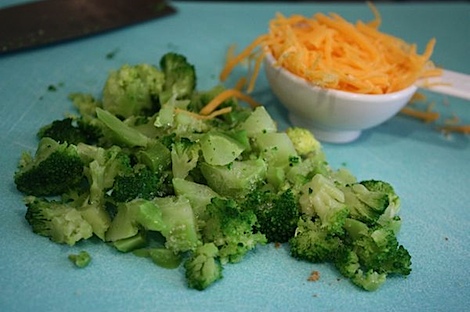 Broccoli cheddar!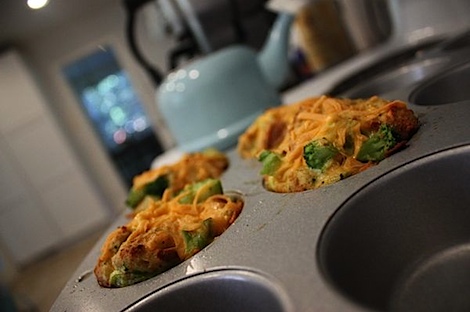 Fresh out of the oven.
Golden and dee-licious!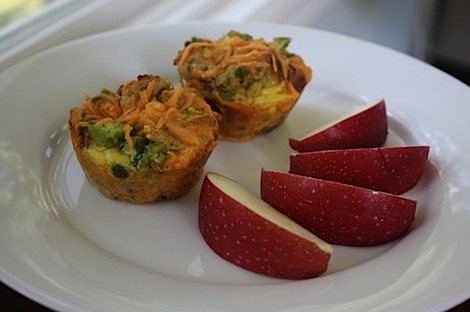 Perfect with a nice, safe apple.
Broccoli-Cheddar Breakfast Cups (for 2)
*Recipe makes 4 breakfast cups for 2 people, but can easily be tripled (or multiplied further) to feed a crowd*
Ingredients:
2 slices bread, cut into cubes/chunks (I used hearty whole grain bread)
2 eggs
2 tbsp milk
1/2 cup broccoli, chopped (fresh or frozen should work)
1/4 cup cheddar cheese (chopped small or shredded)
1/4 tsp salt
1/4 tsp ground mustard
dash garlic powder, pepper, turmeric (optional)
Directions:
Pre-heat oven to 350 degrees F and prepare a muffin tin with non-stick spray (4 cups for the original recipe).
Whisk egg, milk, and spices in a medium bowl.
Add bread pieces, stir till bread is equally covered.
Gently mix in broccoli and cheese and let sit for 5 minutes.
Distribute equally into 4 muffin cups, pressing mixture gently into the cups.
Bake for 24-28 minutes, until tops are golden brown and egg is cooked through.
Let rest 5 minutes, or until safe to touch, before serving (careful, they're hot!).
Enjoy!
***
And for lunch, I had another leftover hodge-podge.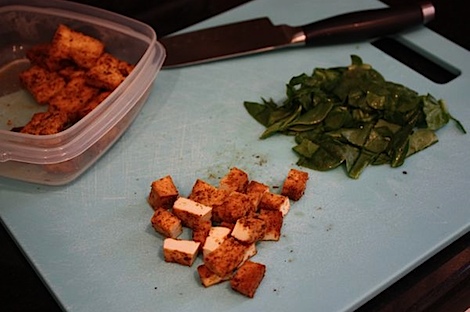 I decided to use up some of the failed-tofu (trying to make lemonade out of lemons, ya know?) and some spinach.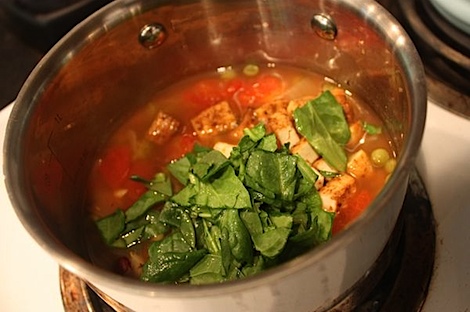 I re-heated some of that 3-bean veggie soup I froze into individual servings earlier this week and then added in the tofu and spinach one the soup was hot to heat the tofu through and wilt the spinach.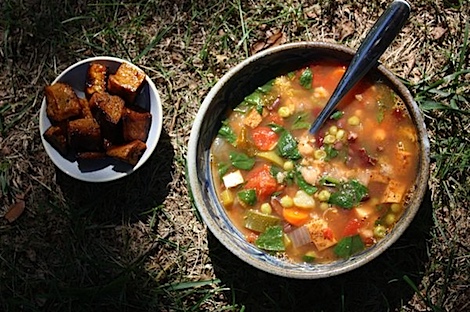 I must say, I was really pleased with my work.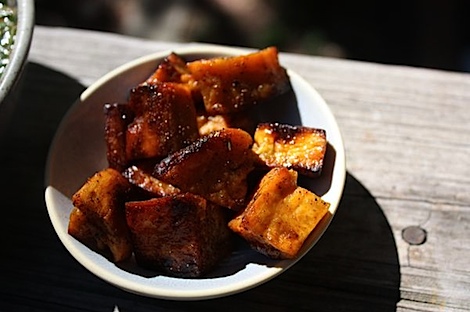 I even re-heated the sweet potatoes and they were pretty good the second time around.
This lunch was MUCH better than yesterdays…hooray!
Do you morph soup? I like to throw in leftover ingredients, especially cooked veggies and grains. What are your favorite ways to morph your soup?