Saffron is one of those ingredients that the everyday gal doesn't typically have in her pantry. It's exotic and expensive and sometimes hard to find in stores.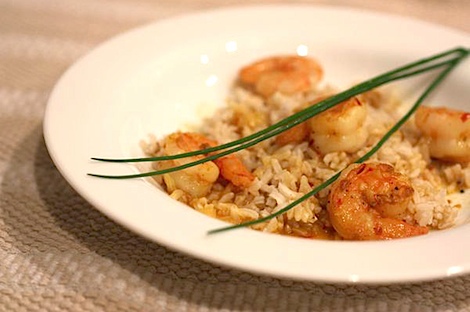 But, if you're like me, every once in awhile you splurge for a special ingredient to make a particularly yummy-looking dish you've seen in a magazine or on TV.
I bought saffron awhile back to make Martha Stewart's Chicken & Israeli Couscous with Tomato & Lemon (click here to view my adaptation of the recipe). The recipe was delicious, but I didn't really know what to do with all the leftover saffron.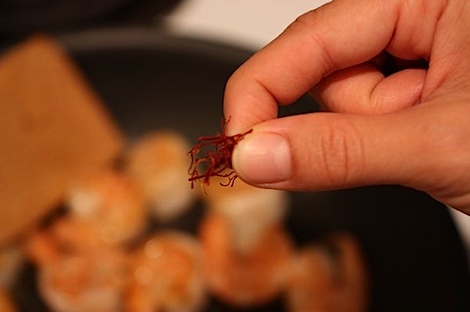 I'd never cooked with saffron before, so I wasn't familiar with how to incorporate the ingredient into my everyday cooking.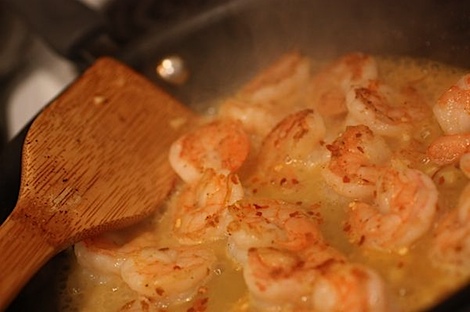 Luckily, I've been able to come up with two fun recipes utilizing the unique saffron: Saffron Honey Almond Oatmeal (inspired by a delicious Indian dessert) and this one – Shrimp in Saffron Broth.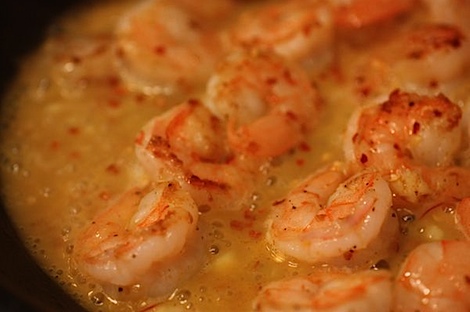 The recipe's name sounds like something you'd see on the menu of a fancy restaurant, but don't be deceived. The dish is actually very easy, fast, simple, and affordable (especially if you've already invested in saffron for a previous recipe).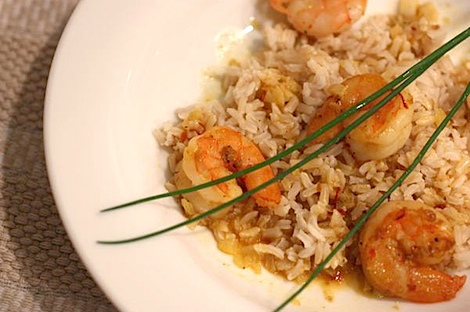 In other words, not only could you add this dish to your regular dinner rotation, but you could use it the next time you entertain and trick your friends into thinking you're an expert chef. Ha-ha! 🙂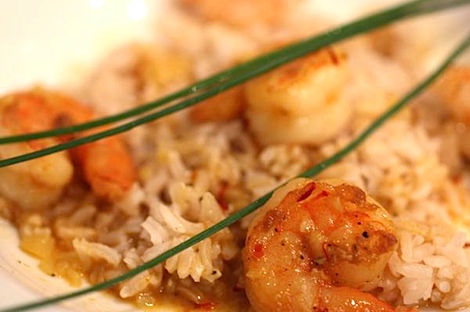 In the photos, you can see I served my shrimp with rice, but the rice soaked up the broth quite a bit. I would suggest serving the shrimp over some sort of pasta, like orzo. I garnished the dish with chives to add some fresh green color. The chives actually taste pretty good with the dish, too, in the event you want to eat your garnish (I often do because I don't like to waste food).
Shrimp in Saffron Broth
Serves 2 (easy to multiply if you're entertaining)
Ingredients:
3/4 lb large peeled, deveined shrimp
1 cup chicken broth
1 clove garlic, minced
1/2 – 1 tbsp extra virgin olive oil (EVOO)
pinch of saffron threads (about 1/4 tsp)
salt, pepper, red pepper flakes
chives, optional garnish
Directions:
Heat a large saute pan over medium heat. Add EVOO. Add shrimp and season with salt and pepper. Cook till bottom side is cooked/opaque, about 2 minutes.
Flip shrimp, add garlic, red pepper flakes to taste (depending on how spicy you want it), and saffron threads.
Once shrimp are just cooked/opaque, pour in chicken broth and stir to combine. Let broth bubble up and cook down for just a minute to let flavors combine.
Serve over orzo pasta and garnish with chives.
NOTE: I also served my shrimp with a side of simply sauteed swissh chard .
Enjoy!