So, I know it's November…buuut…I got a little carried away blogging yesterday:
…and neglected to share some last Halloween photos with you.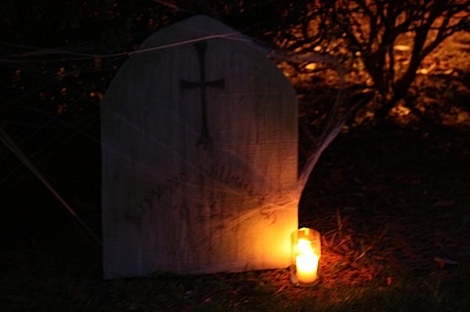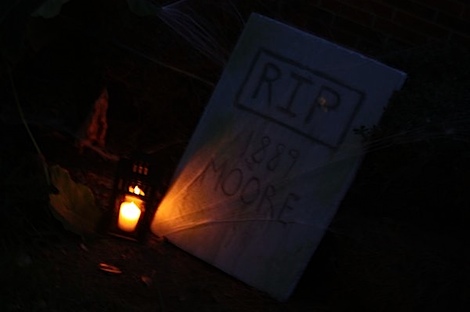 Here are our "tombstones" at night – the result of our hard-work on our Halloween crafts. I think I may put these in the back yard next year to scare out friends.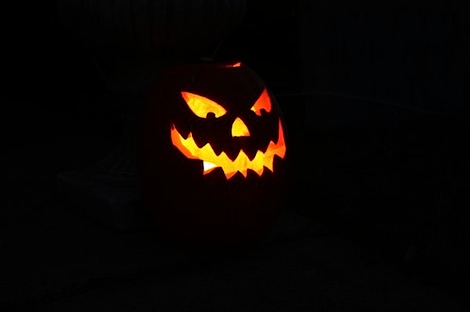 And the Jackolantern I drew.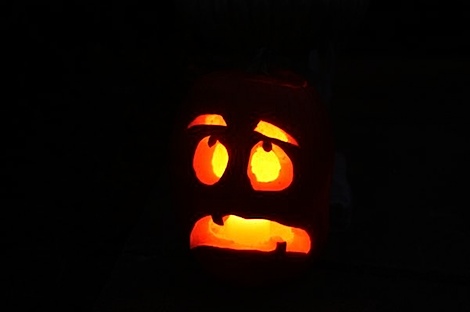 And the Jackolantern hubby drew.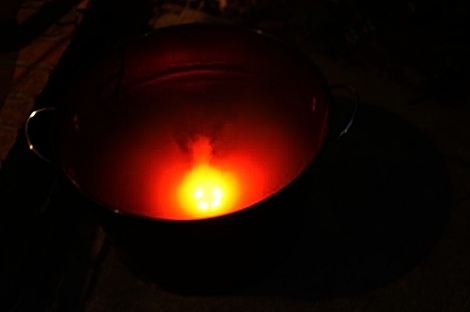 Plus the mister made another appearance for the trick or treaters.
***
With my recent back/neck/shoulder pain, I've been thinking a lot about what the cause may be. I'm a big believer in treating the cause, not the symptom, so I think the pain is stemming from something…just can't quite put my finger on it. Stess is probably a factor. But some other things may not help.
Tables/Desks seem to be my main issue.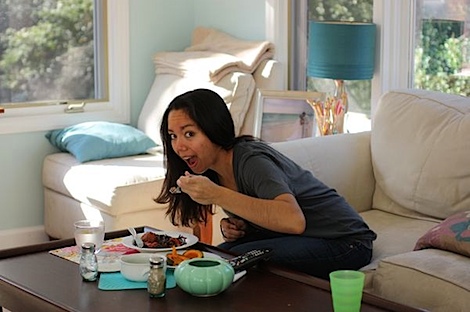 For example, hubby and I usually eat off our coffee table. And when I say "usually", I mean 99% of the time. This can't be good for my back.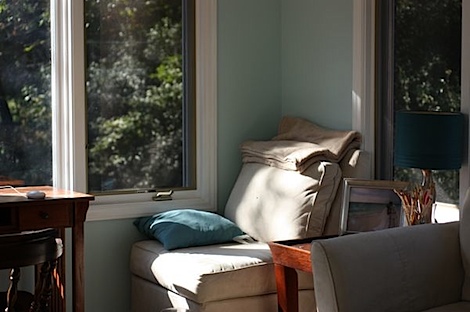 I used to blog from this armless chair on a small side table. Not exactly ergonomic.
But yesterday I re-arranged my blog space so I'm using a real desk (thanks to Kath!). I just need an office chair instead of this dining room chair. I am really loving the view of my backyard and the new set up is so much more Work Chic!
Other things that may contribute to my shoulder/back/neck pain:
The heavy bags I'm always carrying (bag lady anyone?)
My heavy purse
Non-ergonomic desk at work
Sleeping oddly on my side
Who knows, but I think eating and working spaces being more ergonomically friendly will help.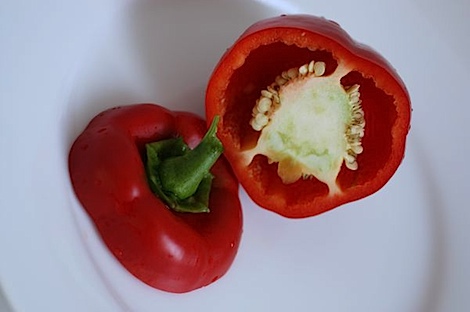 Today, I ate this beautiful red bell pepper straight from my garden. I mean, I rinsed it off, de-seeded it and cut it into strips, but I literally had plucked it from the stem 5 minutes before chowing down. The flavor was impeccable.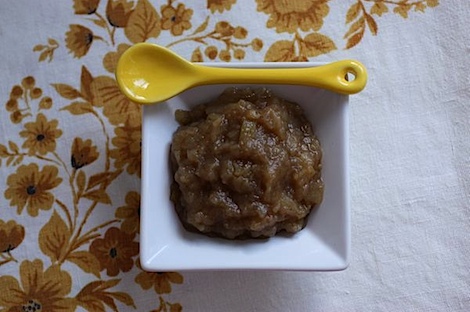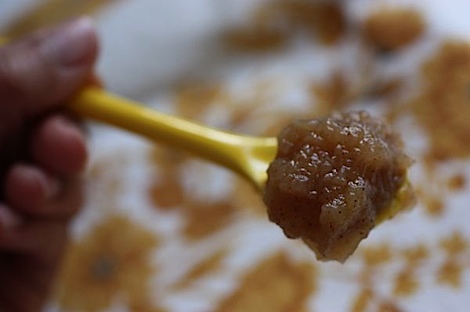 And I had some really tasty, homemade applesauce from Kate + Nate. Thanks guys!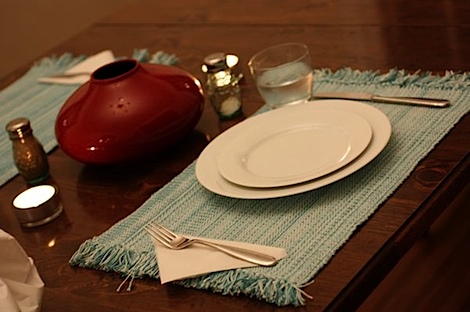 Anywho, since I've been thinking so much about my back and stuff, I decided to set up a fancy-ish dinner on our dining room table while hubby was out picking up take-out.
Eating on our dining room table…a novel concept, no? 😉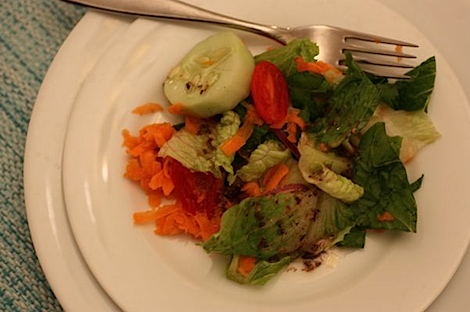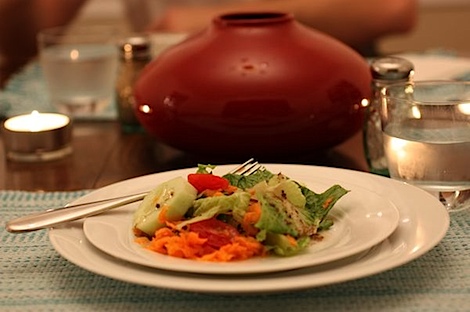 Hubby and I split a side salad first.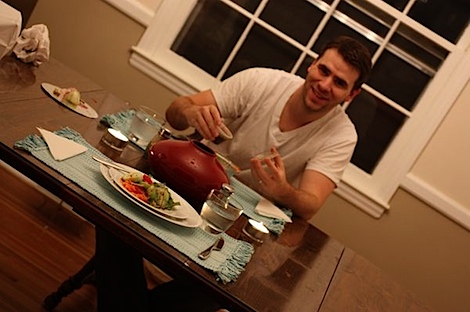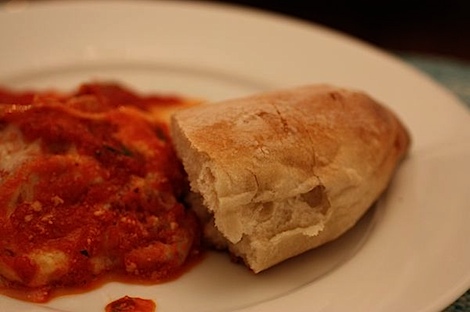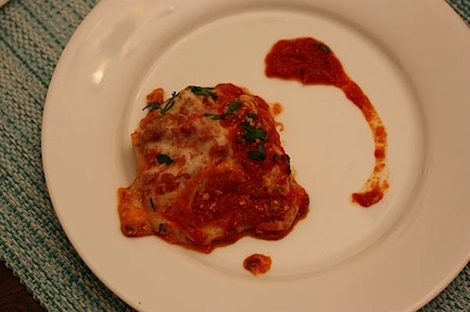 Then bread and lasagna! The cool weather had us craving something cozy, but we didn't want to wait for home-made lasagna.
***
Btw, I have nothing to wear for Foodbuzz! 🙁 Guess I'd better figure something out, though, because I need to get to packing!
And I'm trying to coordinate a special event during the Foodbuzz weekend. Cross your fingers for me please!
***
The Chic Life blog has a new page! Check out my page all about Travel (click). I spent all night last night compiling this info, so hopefully you enjoy browsing through the links. I almost didn't realize how much I've done this year! I did a lot of traveling in 2010! 🙂
***
Where do you eat most of your dinners?