On Friday night…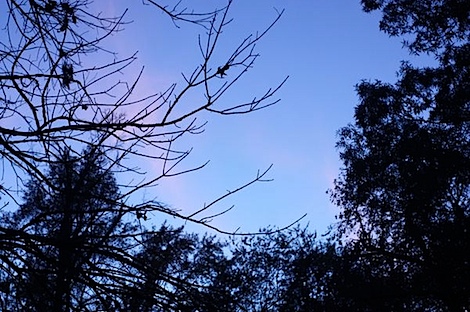 The sky was was beautiful, clear, and had clouds of cotton candy floating around.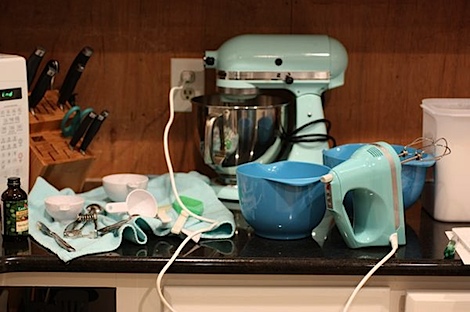 Meanwhile, I was in the kitchen doing more of this…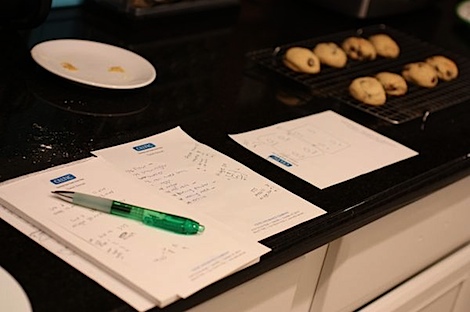 …plus note-taking…
…waiting…
…and taste-testing.
More on the taste-testing next time.
On to Saturday!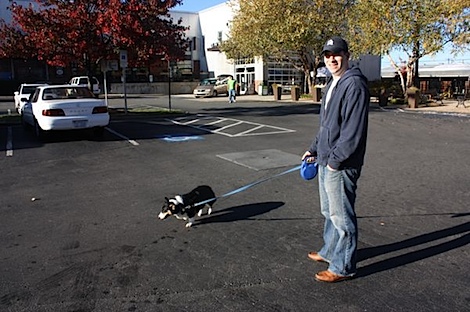 Hubby and I hit up the farmers market for the first time in a long time.
First up, we visited the Monk's Groovy Beans table for hot coffee (we were totally out!) plus beans to brew more later.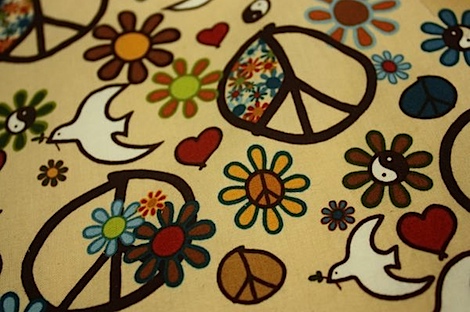 I loved the peace signs all over their table.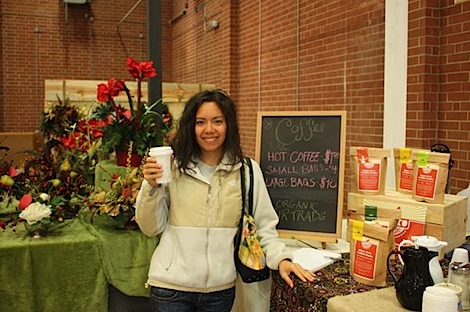 And having locally roasted, tasty, hot coffee to sip on whilst shopping for fresh veg was pretty awesome, too.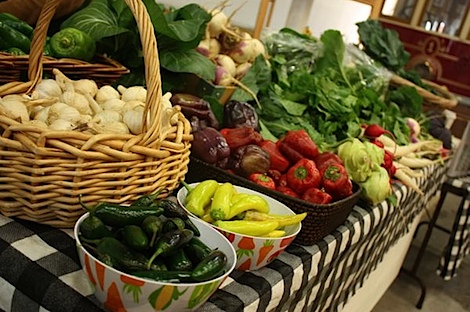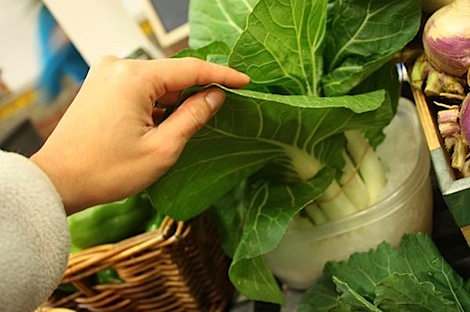 I visited my fave veggie vendor and found some awesome looking bok choy. Guess it's stir fry for us later. We also came home with local eggs and a turnip! Eeks…hope I come up with something awesome for that. I'm thinking mashed potatoes with turnip mashed in…or possibly roasted root veggies. Yeaaaaaa.
And we even swung by Great Harvest so I could get a pumpkin chocolate chip muffin for breakfast.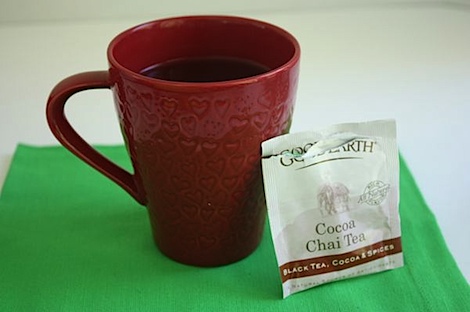 I brewed up some Cocoa Chai Tea I recently got at the store, which paired perfectly.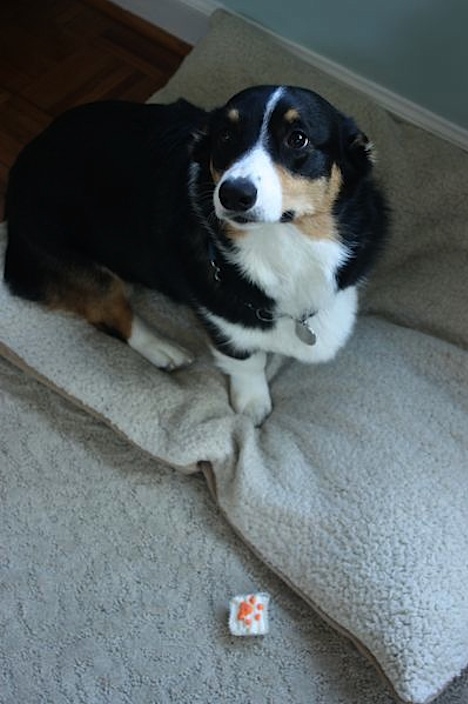 Hubby and I picked up a puppy-petit-four, which we called "birthday cake" for Bailey to celebrate his 3 years living with us.
(Btw, if you have a pet, I'd love to feature their photo on The Chic Life. Please check out my Facebook page for details – click)
He was really excited about it.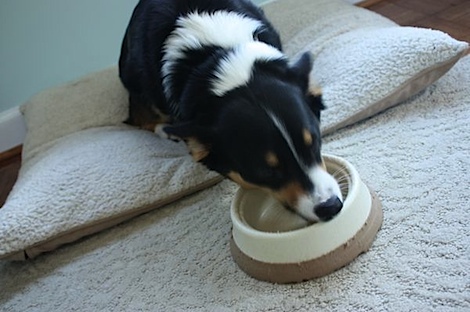 And he dove right into it when we gave him the word. I think he swallowed it in one gulp.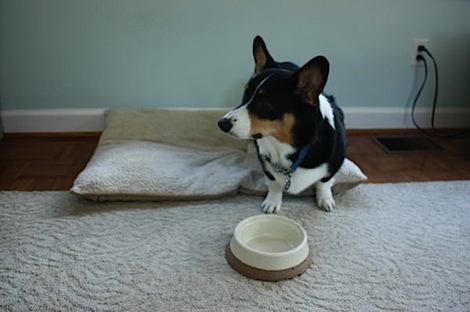 Mas treats?
No, pups.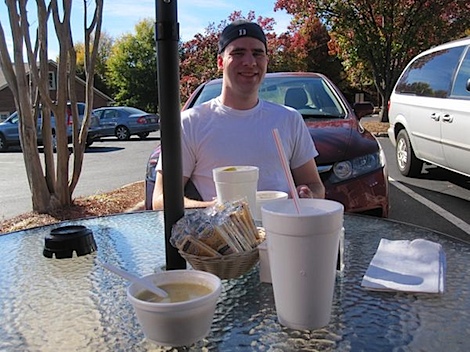 Hubby and I had lunch al fresco at a local sandwich shop – Bedder Bedder and Moore.
We started with artichoke and mushroom bisque.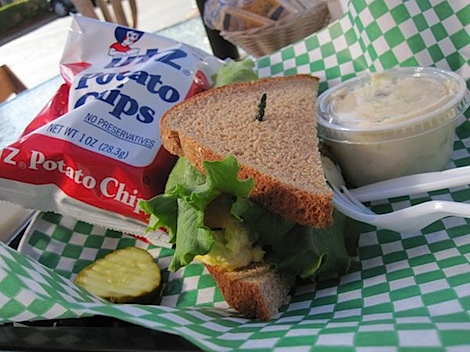 And I got the egg salad sammie.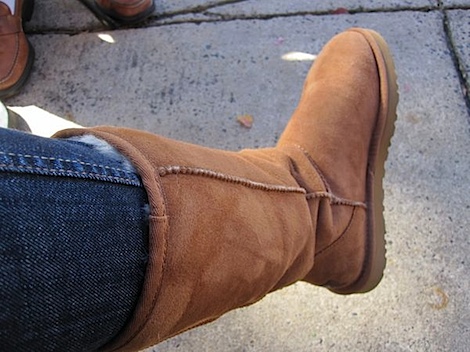 Btw, I've been rocking out my Uggs quite a bit. They are just way too easy, comfortable, and warm to not throw on.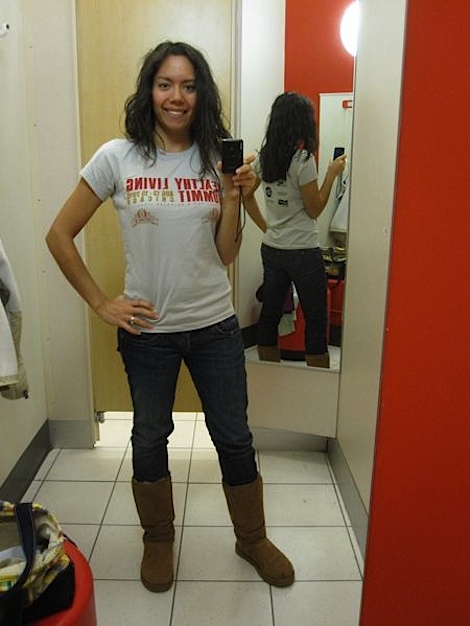 I also wore my HLS shirt (so soft!).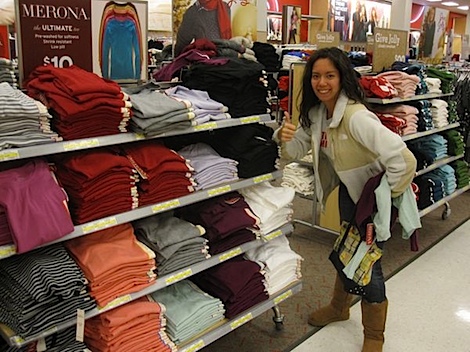 Plus, I found new long-sleeve tops on the cheap for layering under sweaters this fall/winter. They were a steal at Target for only $10. Too bad they were out of my size in white and black.
We also hit up several consignment and furniture shops around town but just haven't been having much luck furniture-wise. Guess most of our rooms will have to remain empty for awhile.
***
Then it was time for some chillaxin at the hizzy before getting gussied up for a fancy dinner out.
This dinner brought to you thanks to a Groupon I purchased.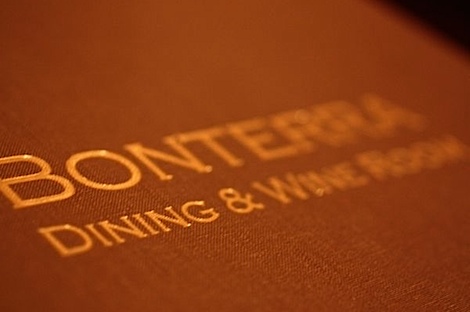 We hit up a restaurant I've always wanted to visit – Bonterra. I think this place is really cool because it exists in what used to be a church!
Hubby and I started with wine flights. I got the Foley flight.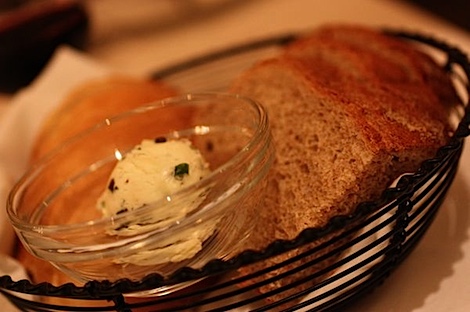 And we had white and wheat bread with olive/herb butter.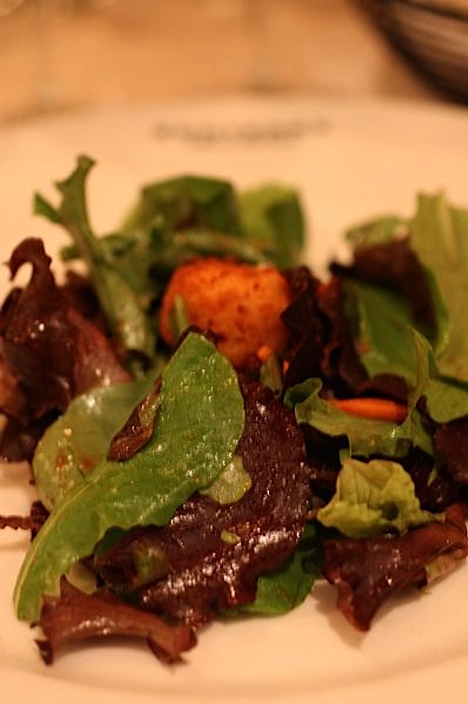 Hubby and I split a salad with warm goat cheese (I'm working on liking it…not over the tang yet, but when it's baked and breaded it seems more enjoyable for whatever reason).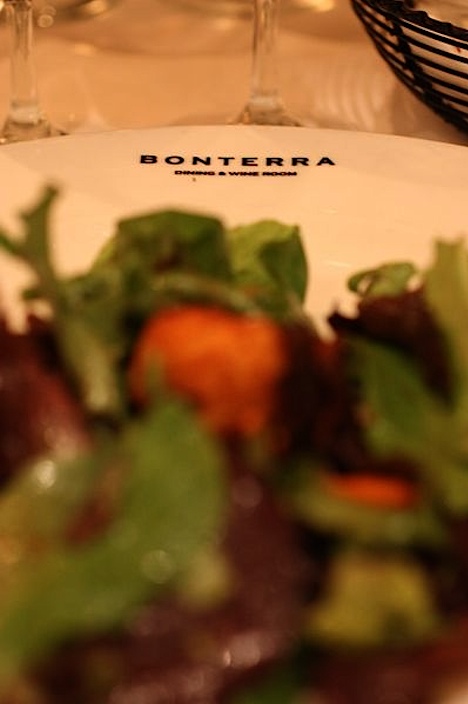 I loved how the Bonterra on the plate was turned to face us each time. Nice little touch.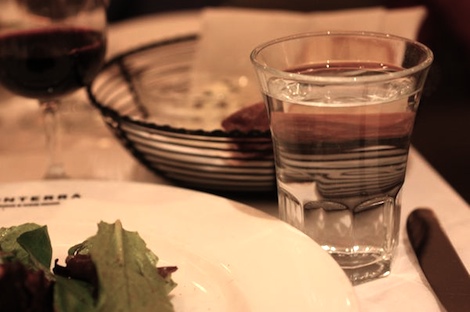 I also liked their simple glasses.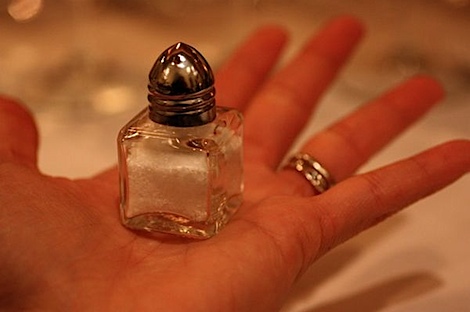 And tiny salt-shakers (though we didn't even need ours).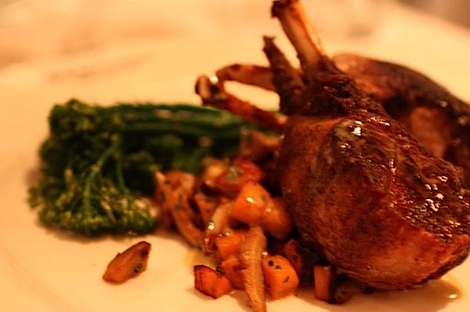 Hubby decided to order what I almost got – the WIld Boar. I've never even seen that on a menu anywhere else, so it sounded interesting. I also liked that it was served with sweet potatoes and broccolini.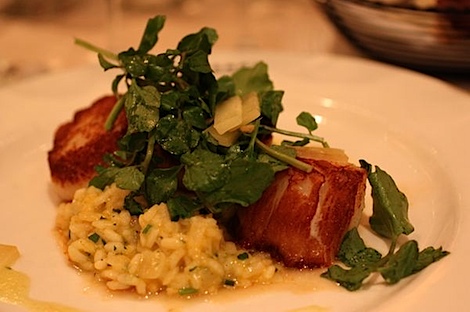 For moi, I ordered the scallops with butternut squash risotto and salad with preserved lemon vinaigrette.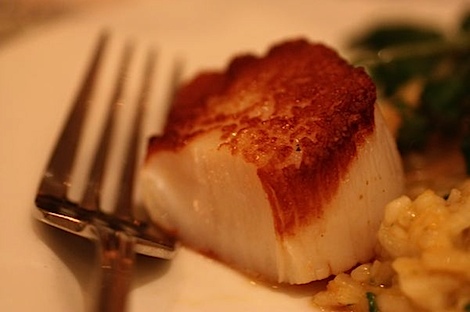 Loved the seared outsides.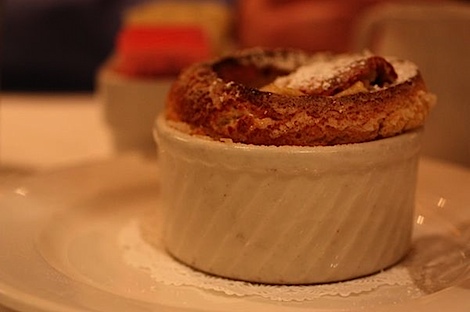 For dessert, hubby and I split the pumpkin souffle. I've never really ordered a souffle whilst out to eat before, but after seeing a lot of fuss about it on a recent cooking show, I had to give it a try.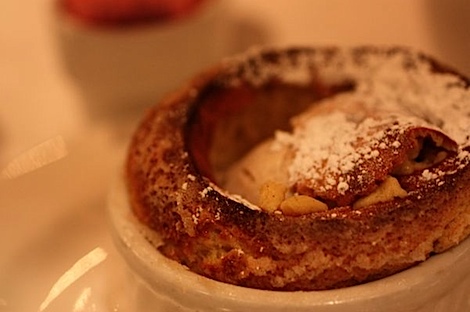 The souffle was cooked perfectly, towering high above the baking dish it was served it. The server even cut out the top and dropped some cinnamon ice cream into the center to melt.
The souffle was delicious! Not too pumpkiny. Just right. I think I may try making a souffle at home now that I've seen it done successfully. It seems like that could be a fun baking project one day.
***
Phew! We had a busy Saturday…what did you do this weekend?
(and remember, if you have a pet, I'd love to feature their photo on The Chic Life. Please check out my Facebook page for details – click)