Hey Chic-lets! Hope everyone is having a fab week so far!
For those who don't know, I'm featuring 5 portable breakfasts – one for every (traditional) work day this week. I'm so glad you guys got some good tips from my Portable Breakfast #1 post! Now, it's time for our second breakfast-on-the-go for the week…
Portable Breakfast #2 – Smoothies
Smoothies are probably the easiest to enjoy in the car or walking around because they just stay in a cup, which you can leisurely sip on.
In my opinion, smoothies are be the most easy to make nutritionally balanced. You can add protein servings, carb servings, fruit servings…even veggie servings! You can add healthful mixins like chia seeds and maca powder. You can easily get dairy servings, vitamins, nutrients…the world is your oyster when it comes to smoothies because they are so flexible.
Whenever I make smoothies, personally, I shoot for: lots of fruit, dairy or non-dairy milk, protein powder. I rarely add extra sweeteners since I try to get the natural sugars from the fruit.
Step 1 – Get out your blender & choice of smoothie ingredients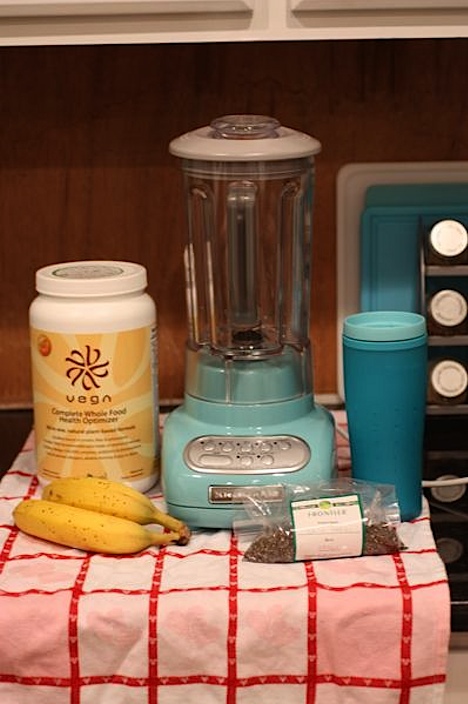 For today's smoothie, I made this Strawberry Banana Smoothie (click for recipe), but sans oikos, sub Vega Vanilla Chai Whole Health Optimizer + extra milk using bananas we had around and frozen strawberries. I got my fruit servings, my dairy, my chia seeds, and my protein. Vega is my protein of choice because is plant-based and not only provides protein, but also lots of vitamins & minerals. You can read my review to learn more about why I like Vega WWO.
Here are a couple more smoothie recipes:
If you want to get some whole grain servings in your smoothie, you can add in some oatmeal or granola during blending.
Step 2: Add ingredients and blend (I like to put the larger, harder to process frozen fruits on the bottom). Blend till it reaches the consistency you like, adding juice or milk/non-dairy milk to adjust thickness. Note: Add a little at a time – you can add more later, but you can't take it back out. Tip: try to not make the smoothie too thick, or it will be difficult to drink on-the-go.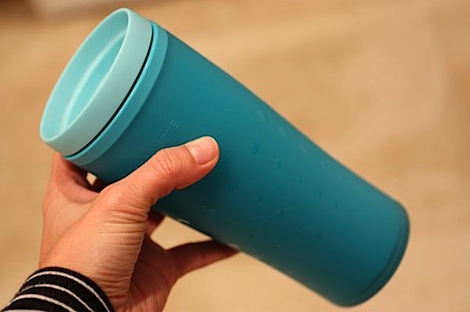 Step 3: Put your smoothie in a to-go cup. I used a coffee thermos to help it stay cool. The added benefit of the thermos was the lid helped me prevent spills, though you may still want to use the dish towel trick from yesterday.
Step 4: Clean-up. It will save you pain later and it really doesn't take very long at all…even if you're in a rush.
The clean-up on this isn't quite as easy as the toast from yesterday, but the key is taking care of it first thing. As my mom always says, it's easier to clean it up right away than if you let a mess sit and set (said for spills on the stove and other kitchen messes). For most blenders, clean-up is a breeze – rinse out the pitcher of your blender to get most of the remnant smoothie off the sides. Then add warm water and a bit of dish soap (not dishwasher soap), put back on blender base, cover and let it whirl for a couple minutes. Rinse soap out. Depending on how messy your smoothie gets, you may want to hand wash the lid, but the base should be done. My family has been using this trick for years and it works like a charm!
Smoothies As Breakfast Benefits:
Pantry-friendly – you can keep your fruit frozen so it's ready whenever you are.
Good use for leftovers – freeze fruit before it goes bad and use it later in your smoothie
Portable-friendly – easy to take with you
Quick – from start to finish, it only took me about 10 minutes to get my materials, blend my smoothie, and even clean-up!
Remember to check back tomorrow for Portable Breakfast #3! Or you can click here to see Portable Breakfast #1 (or if you just want to see the fabulous homemade almond butter I made).
***
I had a special appointment scheduled after work.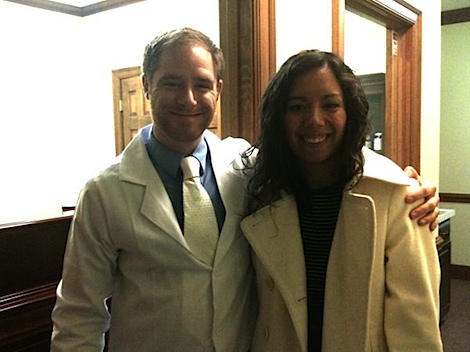 I had my very first acupuncture appointment with Caitlin's hubby Kristien of Holistic Wellness Center of Charlotte.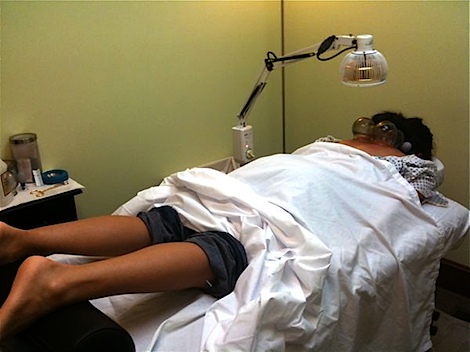 Note needles in my legs!! Whoa! I would be lying if I said I wasn't nervous…maybe even a little scared about trying acupuncture for the first time. But, I trusted that Kristien would take good care of me and he definitely did. I didn't really even feel the needles go in. Phew!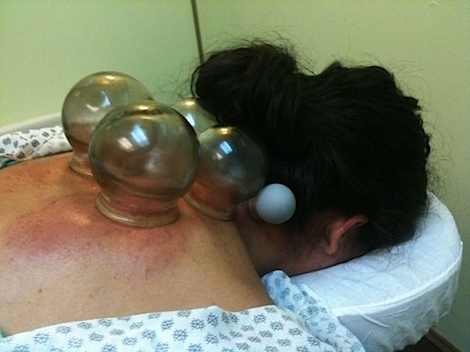 I also got some cupping on my back along with some Chinese massage. The massage was very relaxing and very much like traditional massage and yet not. It's hard to explain. Guess you have to try it yourself. I was a little nervous about the cupping as well. I wasn't sure if it would hurt, but it didn't. The cupping actually felt a bit massage-like as well. I did have one funny moment before the cupping started but when Kristien was explaining it. He was walking about the how the cupping worked and mentioned the "fascia" under the skin. I couldn't help but think of this guy ("fasha") and had to laugh out loud. 🙂
Anywho, I felt soooo relaxed after the appointment. I think I almost fell asleep on the table. lol I'm really excited to see how I feel over the next few days.
Here's what I thought of my first acupuncture experience overall:
First things first, the Holistic Wellness Center of Charlotte has a neat online scheduling tool that allows you to fill out your paperwork online before you even show up at the office. Loved this!
I was impressed with Kristien's knowledge and professionalism, and I'm not just saying that because he's my friend IRL. He explained everything in great detail and was really good about making sure I was really following. He also made me feel comfortable to ask him to re-explain a few of the more complex ideas. He was also very personable and friendly, which helped calm any nervousness I had about the needles or cupping.
I also really liked how the Chinese medicine style is very holistic, which is what I lean towards more and more. I liked how Kristien explained how some things were tied to specific organs and what that could mean from an overall well-being point of view. I especially liked how my take-aways are very practical to-dos, for example drinking warm water. I can do that!
I was relieved that the acupuncture was positive and I didn't feel the needles. Yay!
I was also really impressed with the cupping and Chinese massage and will remember that the next time I'm having any pains that could possibly be remedied with this more natural solution.
Interested? Jealous? Curious?
The Holistic Wellness Center of Charlotte is running a special through the end of this week for your first appointment free (the deal I got today), so hurry up and book your appointment before they fill up!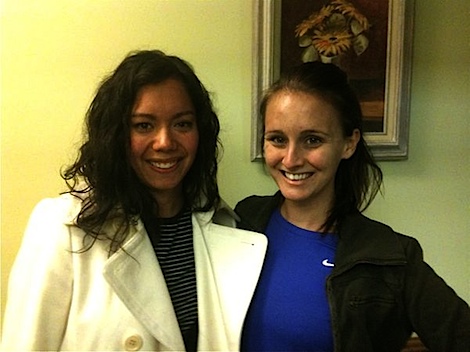 And look who I got to catch up with at the center – Caitlin!! 🙂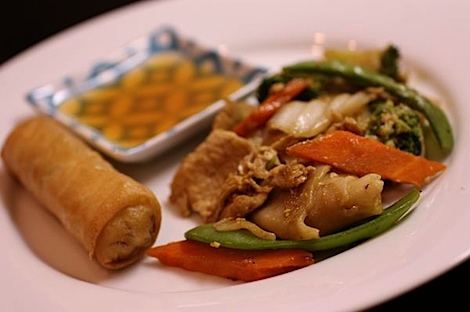 Hubby and I decided to just do Thai take-out tonight at Thai Taste (which I've heard is the best in town, but hadn't yet tried!), so we got Pud See Ew with chicken and spring rolls. I mainly got the Pud See Ew for me (though I did think it was one of my usual Thai faves that he would actually like) and the spring rolls mainly for him. Hubby actually really liked the Pud See Ew. Yay!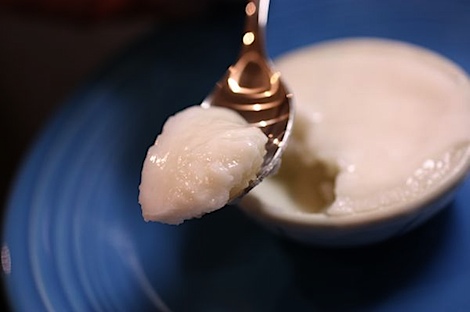 And I also spotted something on the menu I had to try – coconut pudding! The base was almost like a gelatinous coconut/rice mixture with coconut cream on top. The flavor was light and very tasty. I loved it and totally enjoyed every bite whilst catching the latest Glee. That Singing in the Rain number was pretty awesome, wasn't it?
Have you ever tried cupping? What did you think?