I'm so glad you guys liked our new furniture and my latest Work Chic tips on kitchen essentials to keep at work.
We're almost ready to wrap up this week's series on portable breakfasts. I've already posted breakfasts one, two, and three. Now we're ready for the next…
Portable Breakfast #4 – Re-Baked Muffins
Sometimes the best way to save time in the morning is to plan ahead. Re-baked muffins are a prime example.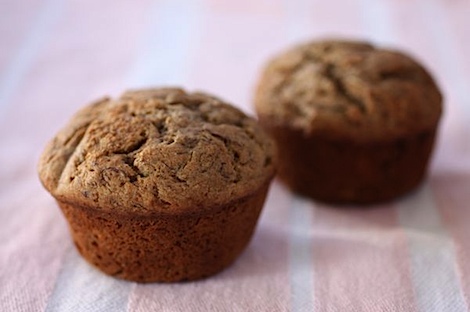 Why re-baked muffins? Well, if you're in such a rush that you need to eat your breakfast on the go…my guess is that you don't have time to make a fresh batch of muffins. 😉 Instead, reap the rewards of a weekend baking project (pretty much the only days there's time to bake for this working woman) of homemade muffins by freezing your leftovers for later. Really, there's no reason to let leftover muffins go bad now.
Here are some fab muffin recipes: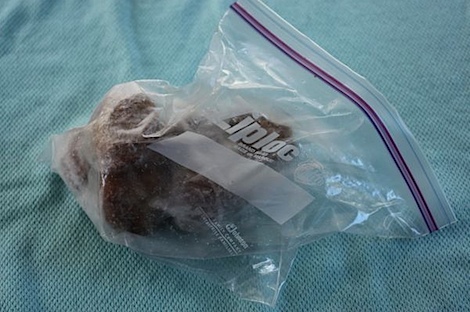 Step 1: Remove your muffins from the freezer & pre-heat oven to 300 degrees F.
On the day you want to enjoy your re-baked muffins, you'll want to note that they will take a little longer than others to prepare, but since you basically just stick the muffins in the oven and let them go, you can easily multi-task and use the time the muffins are heating up to get ready for the day.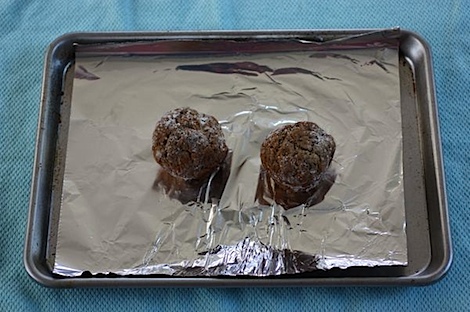 Step 2: Prepare muffins for baking & let rest at room temperature for 10 minutes.
Place your frozen muffins on a prepared baking sheet and let them sit at room temperature for about 10 minutes.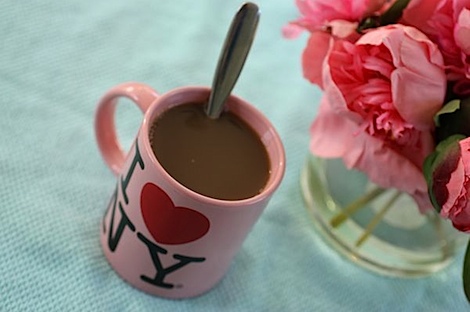 Step 3: Bake muffins for 10-15 minutes, till they reach the temperature you want.
Meanwhile, finish getting ready for work or to go out. Pack your lunch, fill your water bottles, sip coffee, etc. If your muffins are ready before you, you can leave them in the oven and just turn off the heat so they stay warm. I wouldn't recommend leaving them in too much longer after they're done.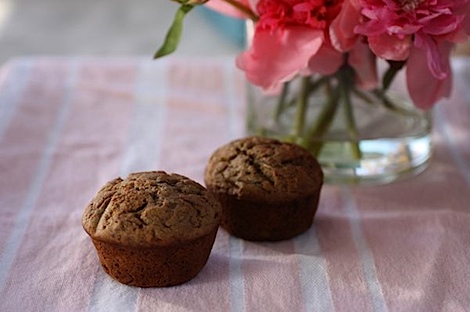 Step 4: Wrap your muffins in a paper towel or cloth napkin and head out and enjoy!
You may want to employ the dish towel trick from Day #1.
Check back tomorrow for our last portable breakfast of the week!
***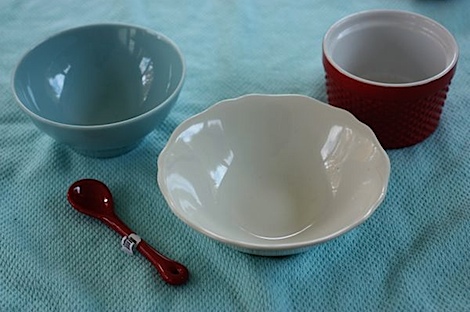 Lookie who got new oatmeal bowls! You wouldn't believe how hard it is to find brightly colored, tall-sided bowls. And smaller-sized bowls! I find most bowls are too large for me.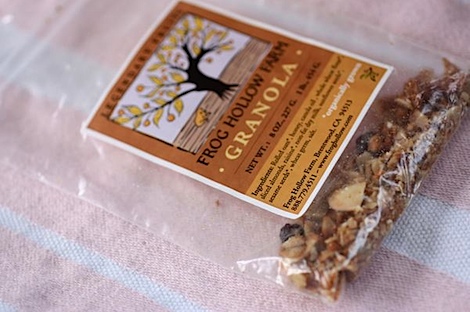 By the way, I've been noshing on this Frog Hollow Farm Granola. It's very tasty, and I loved the ingredient list!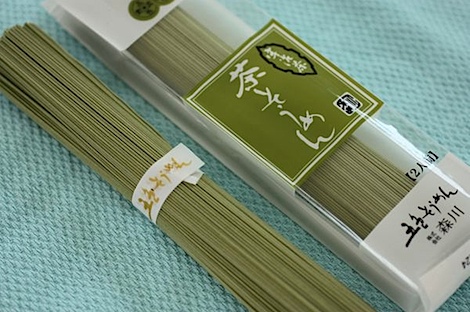 Check out this neat product I found.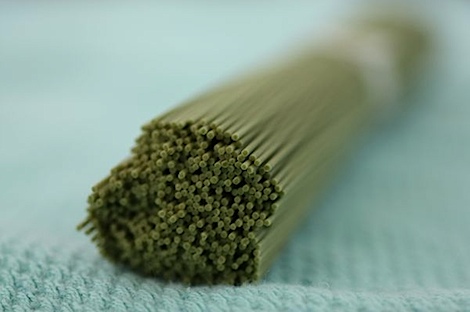 Green tea noodles!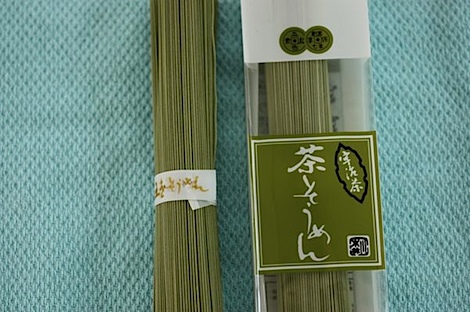 I just love the pretty green color!
I used the noodles in another tofu stir fry today for lunch.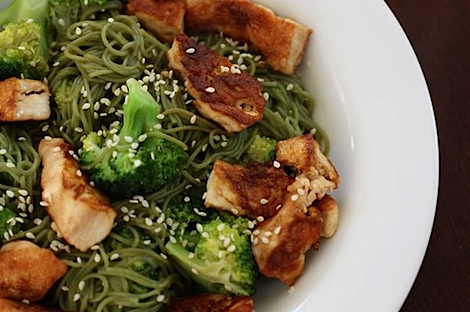 In the stir fry:
tofu
broccoli
green tea noodles
sesame seeds
soy sauce
chicken broth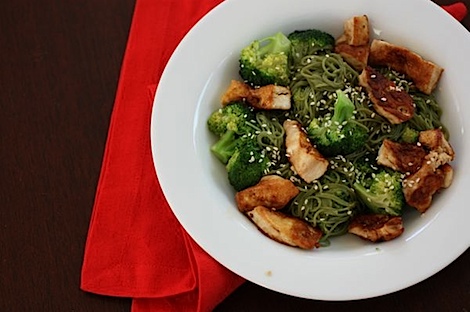 I love these noodle stir fries, mostly because the noodles are a fast replacement for the rice I usually think about eating.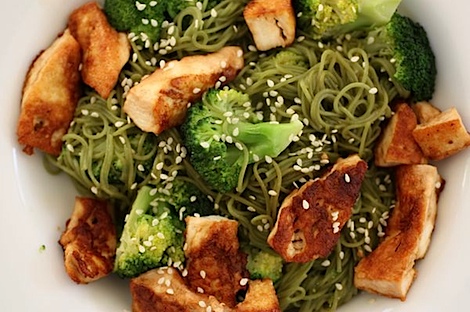 I didn't add any dulse pieces today because I wanted the noodle flavor to shine through. To be honest, I didn't really taste green tea when I ate the noodles, but they were still fun. 🙂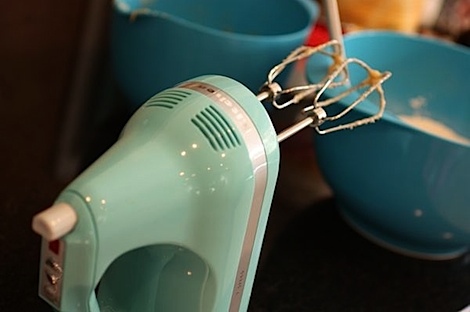 I had a successful baking project today.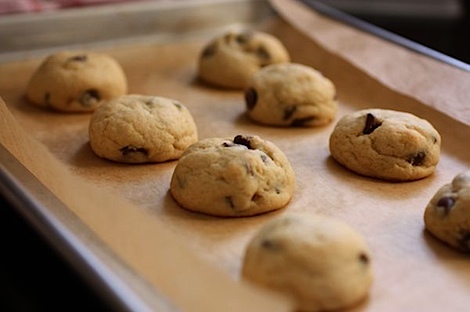 Lucky #7 batch was a winner! Hooray! How do these chocolate chip cookie dough balls look?
I'll be sharing the recipe with you guys tomorrow! 😉