Work Chic: Commute Shoes
I adore reading The Sartorialist, a blog featuring street fashion of (mostly) regular people in NYC, to get great ideas for style and fashion. Ok, who are we kidding, I mostly just look at the pictures. But the stories are usually short and well-worth the couple minutes it takes to read them if you have the time. I always wonder when I see the photos of the stylish women on The Sartorialist, "How on earth can someone really be walking around NYC in those sky-high heels?!" I've asked my friends who live in NYC and most say you just deal with the pain. But, I'm not a deal-with-the-pain-kind-of-girl. I suppose that's why I don't work in the fashion industry, though I did once have a fashion blog (one that I'm considering updating again!).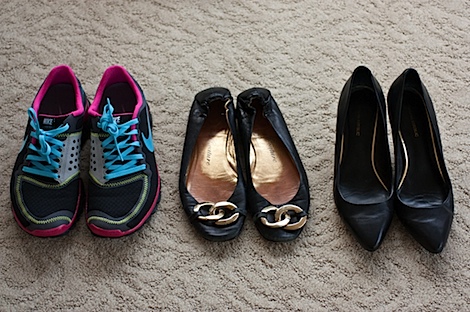 When I want to dress up without killing my feet, I turn to commute shoes.
Commute shoes are comfortable shoes you can wear getting from Point A to B (usually from my house to work). These shoes are not necessarily stylish, but take the brunt of my walking so I can wear the slightly less comfortable, but decidedly more attractive shoes once I reach my destination. For example, I used to park in a flat lot and have to walk 3 or 4 blocks just to get to my office. While I could have walked 3 or 4 blocks in heels, it just seemed more sensible to walk to my office in tennis shoes and put my heels on once I reached my desk.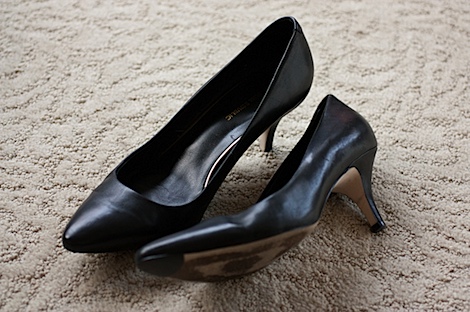 Heels are fun to wear and look great. But, heels are not fun to wear when you're carrying a couple heavy bags and huffing and puffing down the street because you're late to work and trying to move quickly. Have you ever tried speed-walking in heels?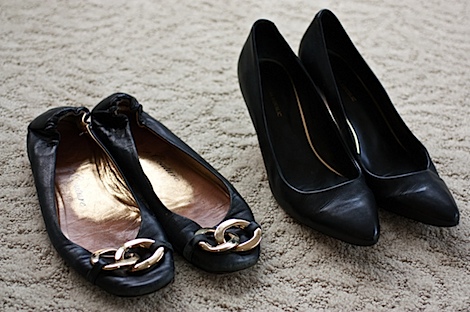 Instead, wear something more comfortable while you're driving/walking and otherwise commuting. Once you reach your destination, throw those heels on, baby!
What types of shoes would make good commute shoes? Anything that you find comfortable to wear! Personally, I like to wear either some comfortable flats or tennis shoes.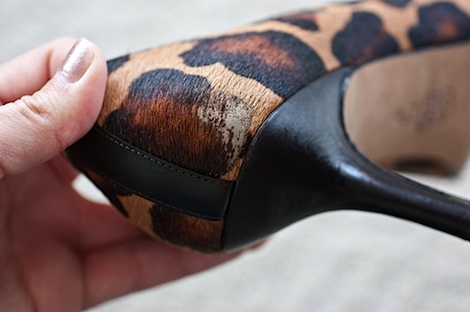 As an added bonus…ever notice that scuff mark where your heel hits the mat in your car? If you use commute shoes, your heels will be saved from this terrible damage.
Eats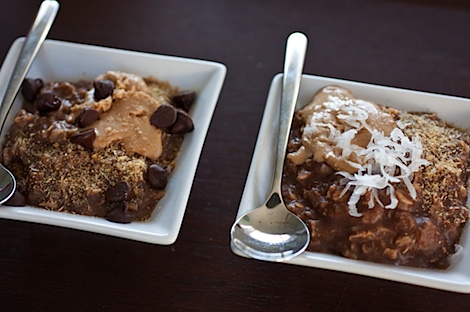 I made hubby and I carob oatmeal today! You pretty much just make regular oats, but stir in about 1 tsp or so of carob powder. It's sooo good!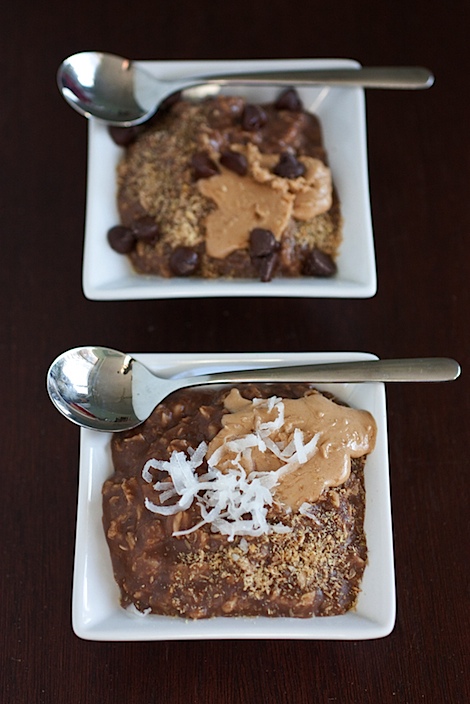 Carob oatmeal tastes so much like chocolate oatmeal and yet not. I loved it! It was a super easy way to switch up breakfast.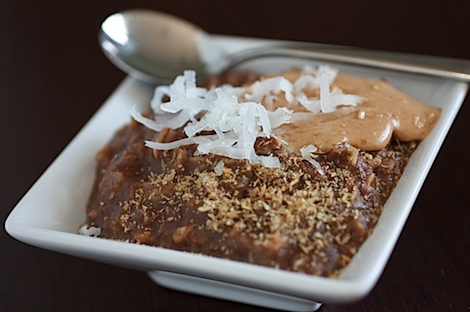 In the bowl: old fashioned oats, water, milk, chia seeds, flaxseed meal, carob powder, coconut flakes, organic peanut butter, agave.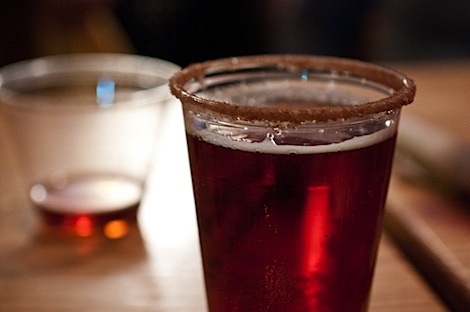 Post-work, I went to a birthday dinner at Big Daddy's to celebrate Michelle's birthday. A couple of us ordered the Kill the Keg special – a holiday beer for only $1 with a cinnamon-sugar rimmed cup. I loved the sugar-rimmed cup idea…it was so festive and tasty.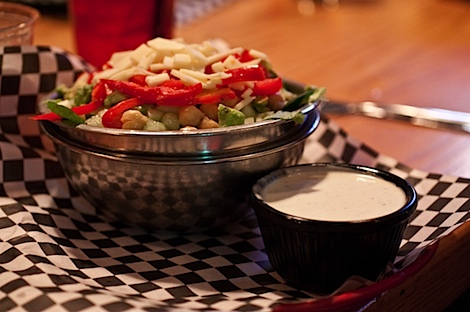 Hubby and I split a salad…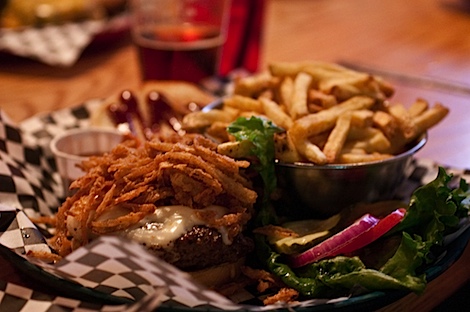 …and a burger with fries.
Decorating the Christmas Tree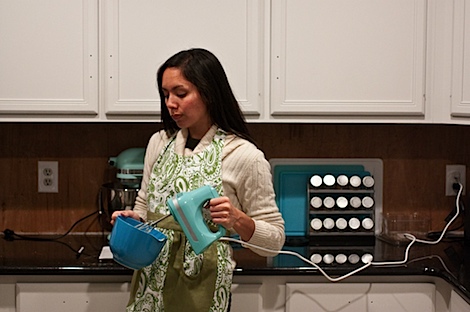 Hubby and I decided to finish decorating our tree tonight. Yes, I realize it's been nearly a week since I first started decorating the tree. *sigh* I've been running around like a crazy person for the last week, staying up till 1 or 2 am trying to finish projects…things have been so busy! I guess that's one of the downsides of trying to keep up with a 9-to-5 job, teaching Zumba, blogging, and keeping up with everything else. Or at least…attempting to. I may or may not have a pile of laundry in the dryer that has been there for 3 days now. 😉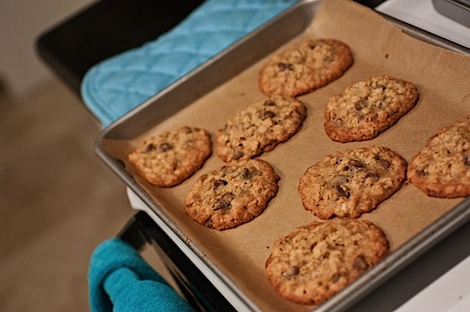 Anywho, what tree decorating party would it be without cookies?!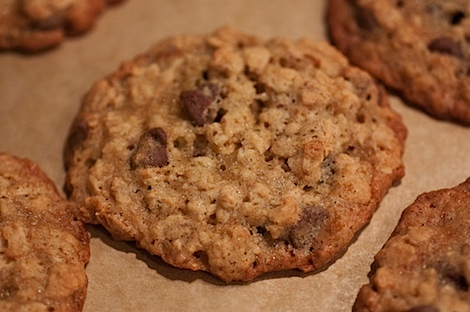 I made chewy, oatmeal chocolate chip cookies. I'm hoping to share the recipe soon! They're pretty tasty – crispy on the outside and chewy on the inside. Mmm…
We also found a Christmas station on Pandora…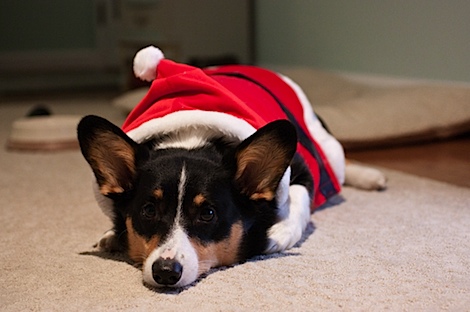 …and we even got Bailey into the spirit by putting on his "Bailey Claus" costume. He pretty much hates wearing this…you can tell by his face. lol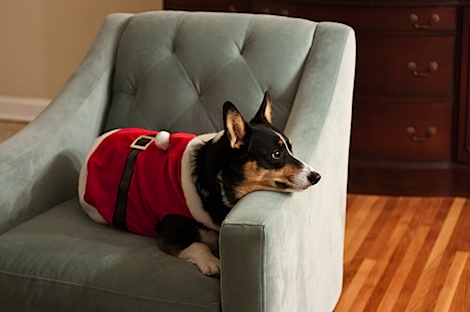 But he was a good sport about it.
Bailey watched patiently while hubby and I finished garnishing our Christmas tree.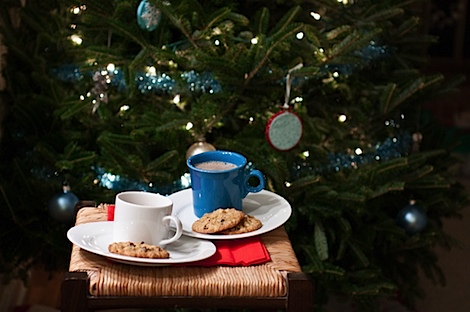 Hubby and I enjoyed hot carob drinks with our oatmeal chocolate chip cookies.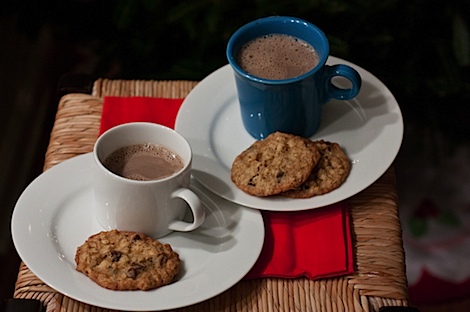 I'm telling ya…this carob stuff is gooood!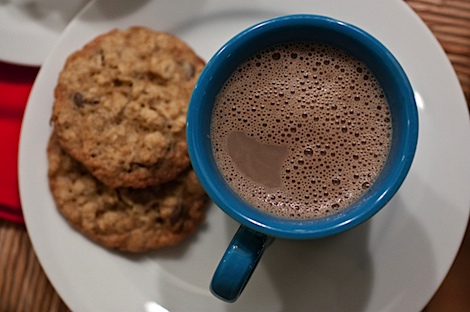 Addicting even. Maybe even more so than dough balls!
Also, thank you all for your tips on my first 5k! I'm really nervous, but mostly really excited! Please keep the tips coming if you have other ideas. Thanks!
What are your tree decorating traditions? Do you do it on a certain date? In a certain order? While enjoying certain foods or drinks? Tell me about your holiday decoration traditions.