Happy Hump Day!
I know a lot of you said yesterday that you don't have snow any more, but we still have ice everywhere! I'm so ready for it to be gone!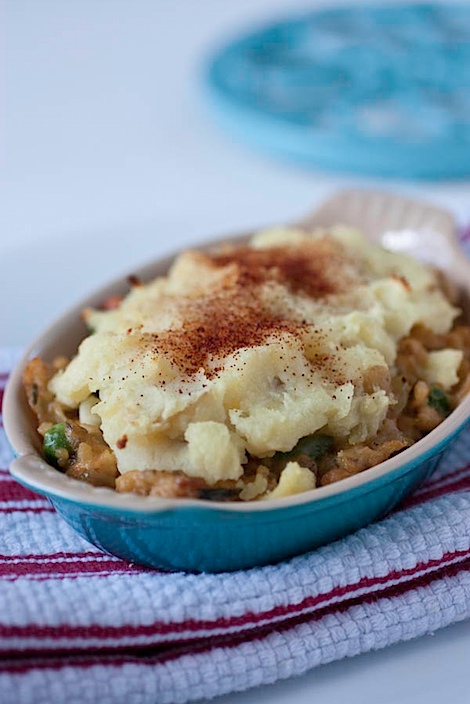 I have an amazing new recipe to share with you guys – check out the lunch time photos!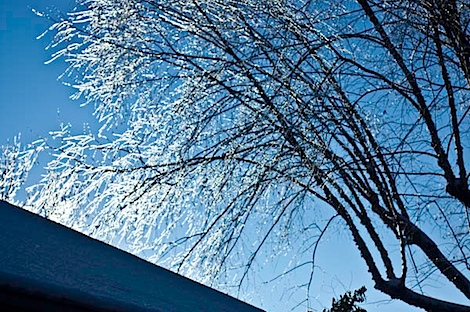 But first – a weather update. The trees were still covered in a thin layer of ice in the morning.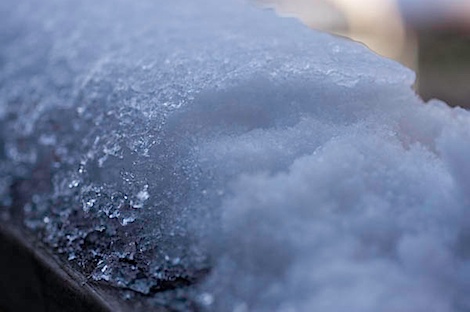 I'm not sure if it's just in the South that this happens, but it seems like most of the time that we get snow, we get ice, too. This year was no exception. After experiencing several hours of blissful snow fall, a chilling layer of freezing rain hit us hard. So you see, the bottom layer of this is snow and the top layer is ice.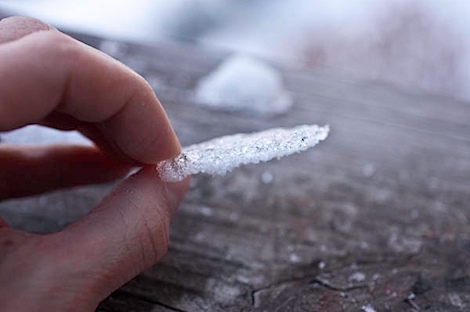 The ice is what makes things really difficult – driving…heck…even just walking! The black ice is the scariest because you really can't see it.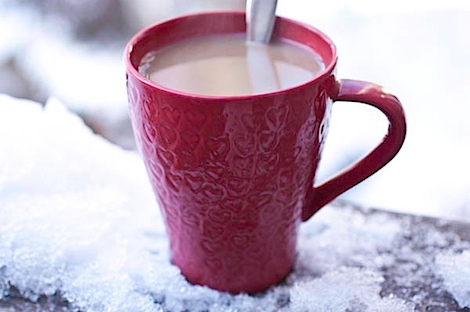 Anywho, more hot coffee this morning.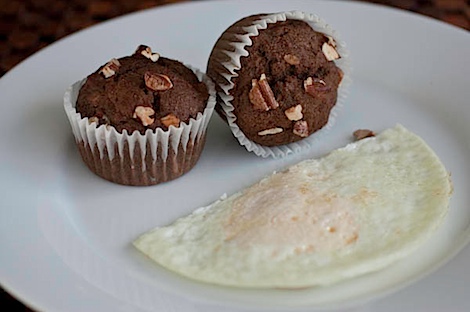 I just had to have more of those yummy Carob Banana Pecan Spelt Muffins for breakfast, and I added a fried, organic, cage-free egg.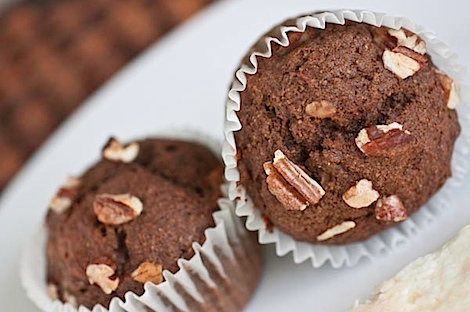 You guys have to try this recipe! The carob really adds a special flavor to boring banana bread.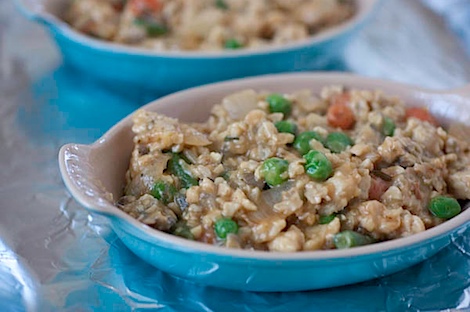 Speaking of recipes – I have a new one to share! Vegetarian (easily made vegan) Tempeh Shepherd's Pie!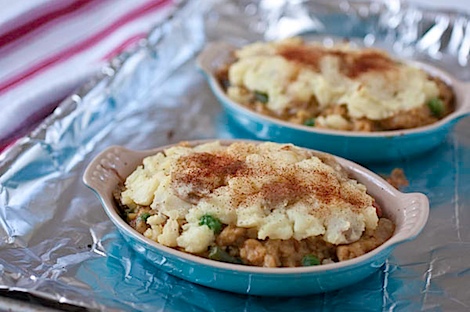 I first dreamed up this recipe several months back, but sometimes it just takes me a while to make my brain storms into taste storms.
Vegetarian Tempeh Shepherd's Pie for Two
Shepherd's Pie is a great comfort food dish, but sometimes you don't want ground beef…or you just don't have any on hand…or you're vegetarian, pescatarian, or vegan. So, I dreamed up the idea to use tempeh instead of meat in a vegetarian shepherd's pie. I almost always have a block of organic tempeh in my refrigerator because it's a great protein source for any meal and has a long shelf life. If you're a meat eater, I suggest giving tempeh a try – it's not just for vegetarians – it's very filling and has a texture much more familiar to meat-eaters than tofu.
While most shepherd's pies are traditionally low on spices, I decided to flavor mine with tarragon for some extra oomph. Feel free to substitute your favorite spice or omit altogether for a simpler flavor.
Use vegan butter alternative and vegan broth to make this vegetarian dish vegan, too.
This recipe is easy to multiply if you're serving more than just two. 😉 Also, you don't have to use individual-sized baking dishes – you can combine everything into one dish if you want. If you go with individual sized and are wondering how big my baking dishes are, I measured mine with liquid and each fits 3/4 cup worth of liquid.
Serves 2
Easily made vegan
Ingredients:
1/2 block tempeh, cut into 1 inch wide strips
1 teaspoon extra virgin olive oil
1/4 cup chopped onion, about 1/2 a small onion
4 baby carrots
1/8 cup frozen green beans, chopped
1 clove garlic, minced
1 tablespoon butter
1 tablespoon flour (all purpose)
1/2 cup vegetable broth/stock (or chicken broth/stock – not vegetarian)
1/8 cup frozen peas
1/4 tsp salt
1/4 tsp tarragon
dash of cayenne (careful – it's spicy!)
1/8 cup frozen green peas
about 1 cup leftover mashed potatoes
paprika, optional
salt and pepper for seasoning
Directions:
Pre-heat oven to 400 degrees F. Prepare 2 individual baking dishes with non-stick spray.
Steam tempeh for 8 minutes and set aside to cool.
Meanwhile, heat oil in a large saute pan over medium heat. Add onions and carrots and cook till softened, about 3-4 minutes, stirring frequently. Add green beans and garlic and saute 2-3 minutes more. Sprinkle with a pinch of salt and pepper, stir frequently.
Add butter and allow to melt. Add flour and stir. Cook butter, flour, and vegetables for 1-2 minutes more. Stir in broth and bring to a boil. Add peas, 1/4 tsp salt, tarragon, and cayenne. Crumble in tempeh. Reduce to medium low heat. Cook until sauce thickens up.
Evenly distribute tempeh mixture into prepared baking dishes. Top with about 1/2 cup of mashed potatoes (use more or less to your preference). Sprinkle with paprika, if using.
Place baking dishes on an aluminum foil lined baking sheet (in case there is any bubbling over). Bake for 15-20 minutes, until potatoes are warmed through.
Let cool 5 minutes before serving.
Enjoy!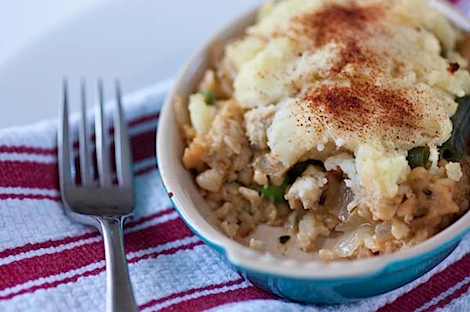 As much as I love both shepherd's pie and tempeh, I figured this should turn out good, but I was happily surprised by the results. This could easily become an every day meal – it's easy to prepare, uses a lot of staple items, and tastes really good, too!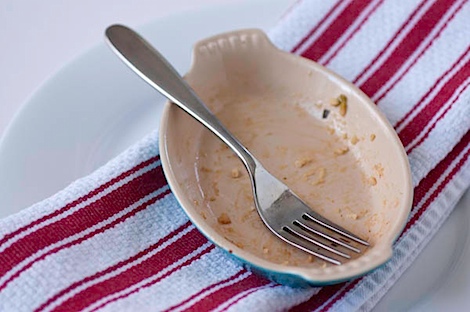 Ooh la yum!
Winner, winner, tempeh dinner! This stuff was goood! I even think meat eaters would enjoy this.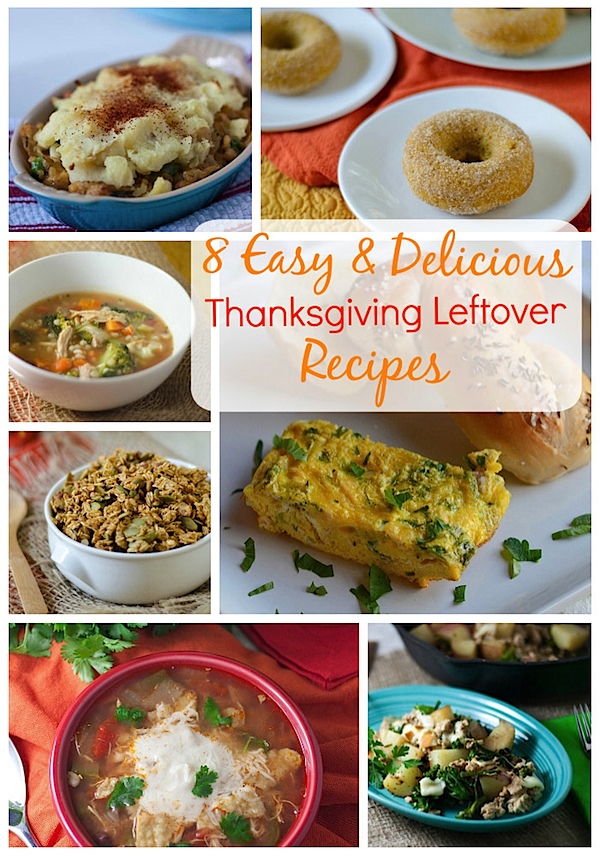 Click the photo above for 8 easy and delicious ways to transform your Thanksgiving leftovers into delicious new eats!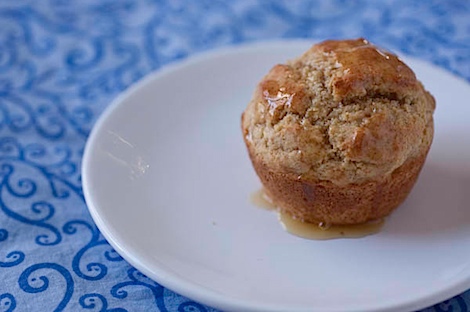 I decided to have a corn muffin with honey to follow up lunch. Yum!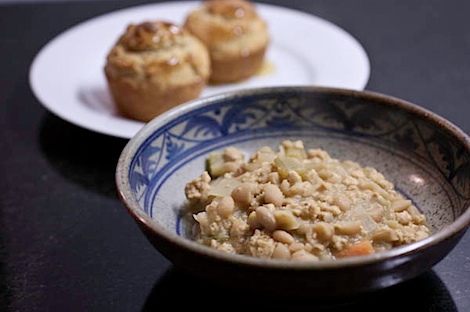 I had leftover white turkey chili and more corn muffins for dinner. Yum! I'm so glad I stocked up well on Sunday because hubby and I haven't had to go to the store for food. Good for our wallet, for our safety (those streets are icy) and for Eat In Month!
***
I know I've already posted my 2011 Resolutions and all, but I have an over-arching hope for this year, which I posted earlier on Twitter and my Facebook page:
This is the year I take charge of my life!
I'm tired of sitting back and feeling like things are happening to me. If I want to see things go my way, I need to take charge to make those fabulous things happen. 😉 Know what I mean? Changes are under way right now people. Right now. 🙂
***
Also, I'm working on improving the writing of my blog. One thing I've been thinking about is my "voice." Help a girl out, please? 🙂 What are 3 words you'd use to describe the voice of The Chic Life (approachable, mysterious, believable, etc.)?
Share this on Pinterest with this graphic: