Happy Tuesday guys!
I just read on twitter via CNN that 49 of the 50 US states has snow on the ground right now! So, wherever you are, bundle up, because there's a fair chance you're snowed in like me! Ok, so technically we're "iced in" where I am, but details, details.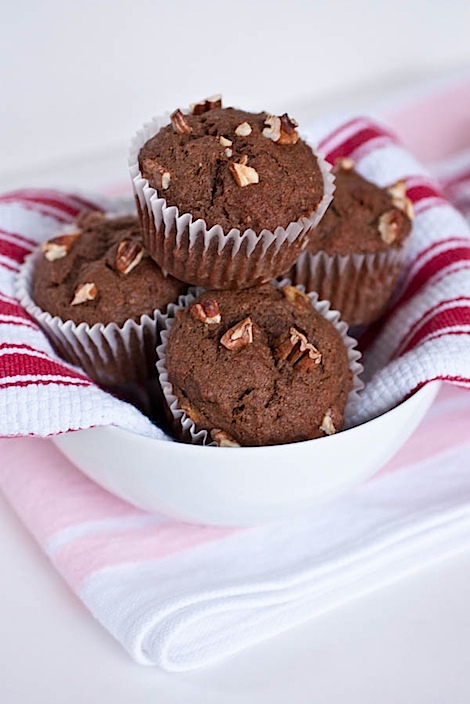 Snow day = baking day.
Ha! I wish! I had to work today! But I did make some time for a fun, little baking project. More on that in a bit. 😉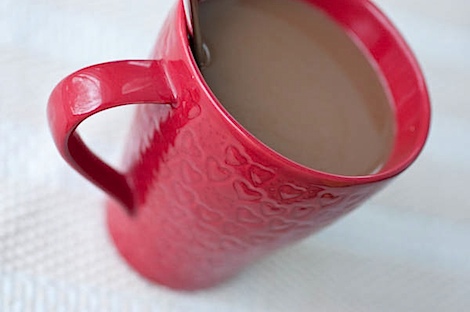 Hot coffee is a must for me on a snow day. Ok, that's true every day.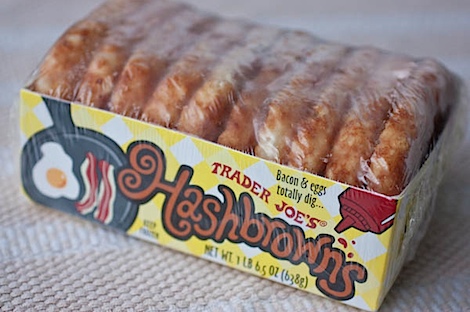 I found these neat Hashbrown thingys in the frozen section of Trader Joe's the other day. While I'd rather make hashbrowns from scratch, they're still healthier than things hubby loves, so I like to think of it as trading up. 🙂 Plus, they're pretty convenient. I love frozen foods for convenience.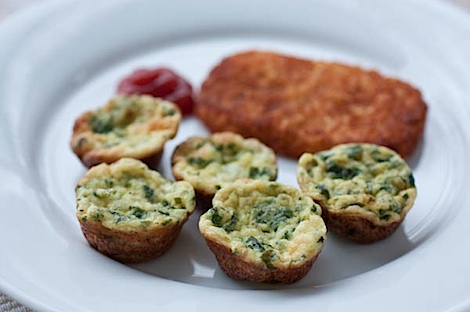 I made some mini frittatas, like this recipe, except with some of the leftover creamed spinach and mascarpone. I normally go savory / sweet in breakfast pairings but went savory / savory today. I kind of wish I'd balanced the savory with sweet like I normally do, but I made up for it with the baking experiment later.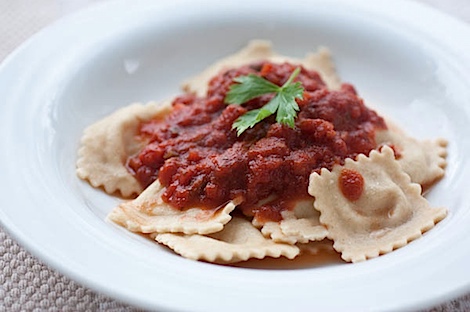 Work hit a rough patch around lunch time where I was crazy busy, so hubby put together this lunch for us – 4-cheese ravioli with marinara sauce. Thanks hubs!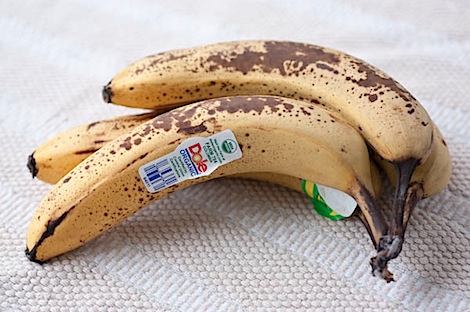 On to the baking project!! These brown bananas have been giving me the stare-down for the last couple days. Normally when fruit starts to go bad, it makes me sad. But when bananas start to go brown, it makes me happy because it means I can make banana bread!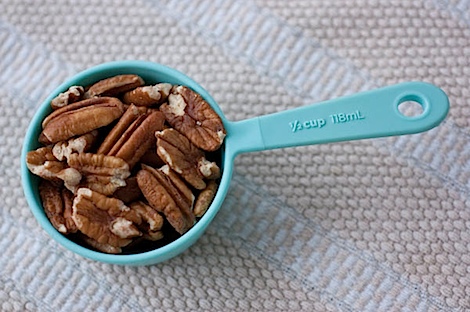 I've declared my fondness for banana bread before, and really, it just never gets old. 🙂
I've baked plain ole (ok spelt usually) banana bread the last few times, so today I wanted to do something different. I've been on a big carob kick lately, so I figured, why not carob banana bread! Yes, Carob Banana Pecan Spelt Bread! Ooh la yum! (PS I've decided this is my new catchphrase, so sorry if you see it a lot…lol)
I was excited to be able to incorporate these pecans my friend Megan gave me that she got from our friend Gina. Gina got the pecans from trees in her yard and shelled them herself! Yay for local pecans!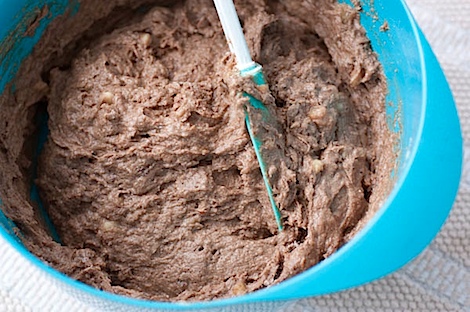 Anywho, this recipe yielded a thick batter, but baked up quite nicely.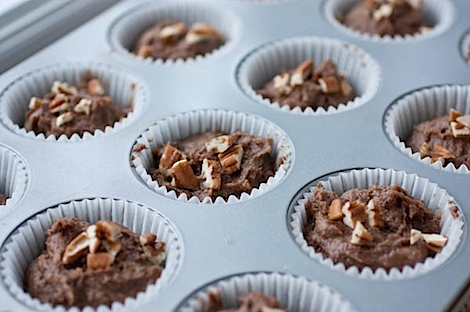 I asked my twitter friends if I should make muffins or bread and got mixed responses and even one vote for both! After filling a 12 cup muffin pan and having a fair amount of batter leftover, I decided to make a short loaf of bread.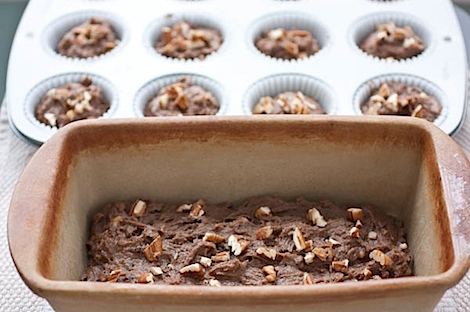 Yup, I wanted both muffins and bread!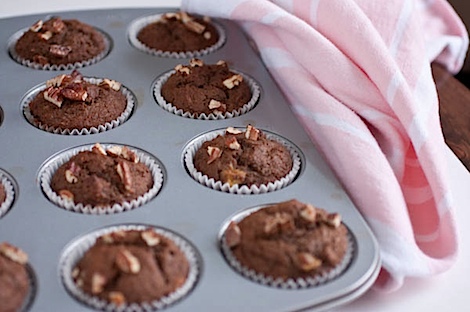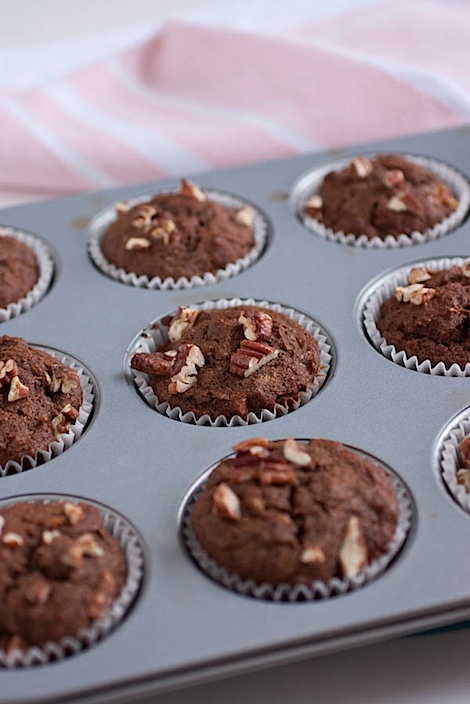 The muffins baked up fabulously.
And the bread, though very short, baked up quite nicely, too!
Carob Banana Pecan Spelt Bread
Adapted from this recipe, which was adapted from this recipe.
I created this recipe when I wanted the comfort of banana bread, but with a new flavor twist. The carob subtlety adds a unique flavor that makes this banana bread extra special. You could use unsweetened cocoa powder, instead of carob powder, but the carob has a lovely flavor all on its own that I love. You can find carob powder at most health food stores like Earthfare and Whole Foods. I recommend getting a can. Carob powder is not only wonderful in this recipe, but great stirred in oatmeal or served like hot cocoa.
As for the spelt flour, that's another unusual ingredient, but if you don't have any, I definitely recommend getting some for baking. I love spelt flour because it's a whole grain, but unlike wheat which can get rather grainy tasting, spelt bakes up light and fluffy.
Feel free to leave the pecans out if you're not a nut person, or sub in your favorite nut of choice. I think the pecans add great texture. The carob chips add a bit more sweetness and complexity.
Makes 1 large loaf, or 12 muffins and a short loaf, or lots of muffins (not sure how many though, hehe). Directions are for 12 muffins and a short loaf since that's what I made this time around. 🙂
Ingredients:
1 cup white wheat flour (or other flour)
1 cup spelt flour (or other flour)
1/4 cup carob powder (or unsweetened cocoa powder)
1 teaspoon baking soda
1/2 teaspoon salt
1/2 cup butter
3/4 cup brown sugar
2 eggs
1/2 cup, plus 1/4 cup chopped pecans (you can omit or sub in your favorite nut)
4-5 mashed overripe bananas (I've used 4 large or 5 small bananas with good results)
1 teaspoon vanilla extract
1/3 cup carob chips (or chocolate chips), optional
Directions:
Preheat oven to 350 degrees F (175 degrees C). Spray a 12-cup muffin pan and a 9×5 inch loaf pan with non-stick cooking spray (you can use cupcake liners for the muffins).
In a large bowl, whisk together both flours, carob powder, baking soda and salt until well-combined. Stir 1/2 cup pecans into the flour mixture.
In a separate medium bowl, cream together butter and brown sugar (I used a hand-held blender). Add eggs, mashed bananas, and vanilla, and stir until well-combined.
Stir wet mixture into dry mixture with a wooden spoon or spatula until dry mixture is completely mixed in, but be careful to not over-mix. Stir in carob chips, if using.
Pour batter into prepared muffin pan (fill 3/4 full) and loaf pan (loaf will be only 1/4 to 1/3 full). Sprinkle extra pecans on top (they will get nice and toasty!) of muffins and bread.
Bake muffins for 17-20 minutes and loaf for 28-32 minutes, until a toothpick inserted into center of the muffin/loaf comes out clean. Let muffins cool for 5 minutes and let bread cool in pan for 10 minutes.
Enjoy!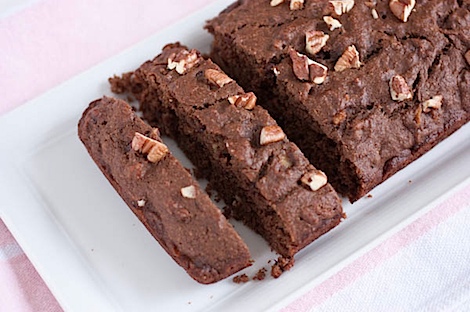 Nothing like sweet bread fresh out of the oven!
I even delivered a couple muffins and slices of bread to my snowed iced in neighbors!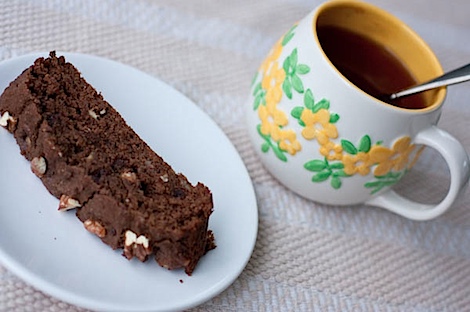 Great with hot tea!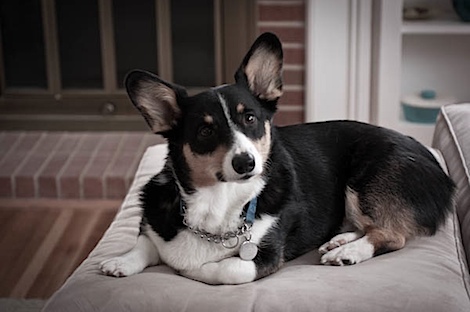 Obligatory Bailey photo! 🙂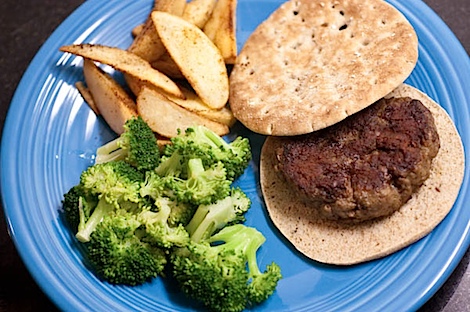 I loved the burgers hubby and I had the other day so much, I got more! 🙂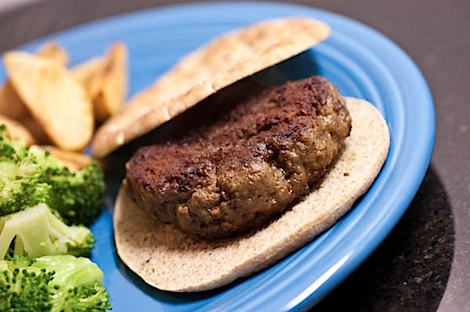 Burgers on thin buns. Hubby actually picked the thin buns out…not sure why. I love carbs, so I'm ok with normal buns, though these are pretty good.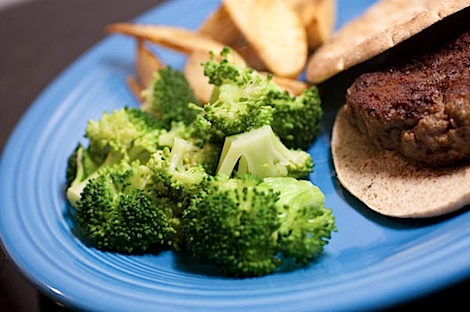 Steamed broccoli.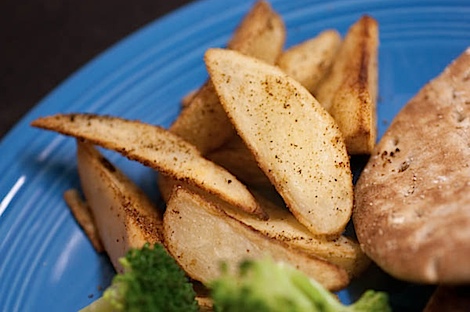 More Alexia fries.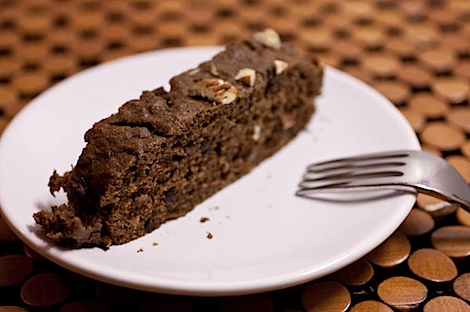 And what else for dessert – more Carob Banana Pecan Spelt Bread!
What's your favorite kind of sweet bread?