Happy snow day to those affected by the winter storm!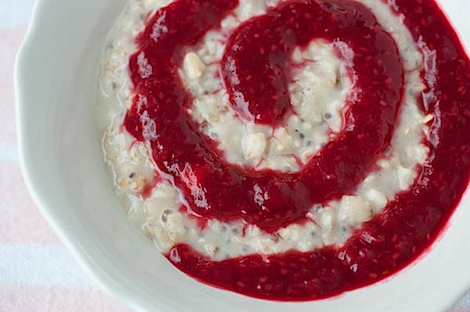 I woke up to a delicious breakfast…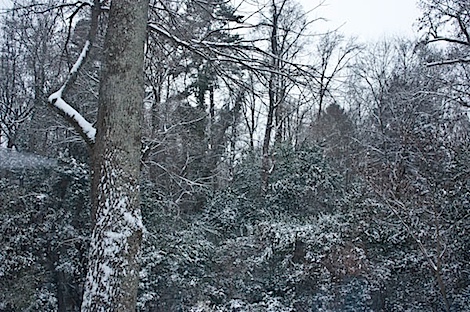 …and yes…SNOW! The funny twitter hashtag I've been seeing is #snOMG, which I think is pretty awesome, though I didn't actually use it today.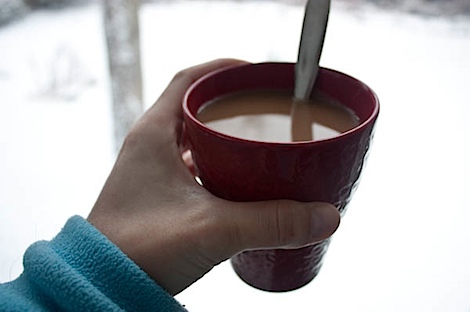 First things first, I had a nice, cozy mug of hot coffee.
Then, I moved on to breakfast. As soon as I saw that I had leftover raspberry topping yesterday after making those tasty pancakes, I knew exactly what I wanted to do with it – swirl it into oatmeal!
I made a basic bowl with 1/2 vanilla rice milk, 1/2 water and chia seeds so the raspberry sauce really took center stage. Nevermind snOMG, this stuff was omg-good! I must make this sauce again soon!
Many of my friends got snow days off of work, but since I have the ability to work from my home, I also had the ability to work today. I should probably have at least taken a break to go play in the snow, but I was pretty busy today. No snow playing for me!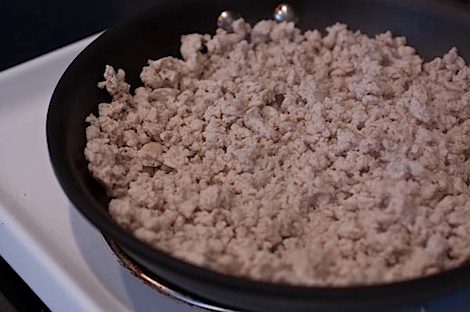 Anywho, shortly after breakfast, I got dinner started. It always seems weird to work on dinner after breakfast, but that's what you gotta do when you're using your…slow cooker! What a life saver these things are, right?
I've been loving chili for winter weather, but decided to do a lighter version than my previous slow cooker chili – white chili!
The last time I made white chili, it used chunks of chicken, which I enjoyed that day, but didn't like as leftovers. I think re-heated chicken tastes weird, but for some reason the ground kind seems to re-heat better. I was actually going to make white chicken chili till I got to the grocery store and realized they only had ground turkey in the meat section. They had dark and white meat turkey, but I ended up going with white meat.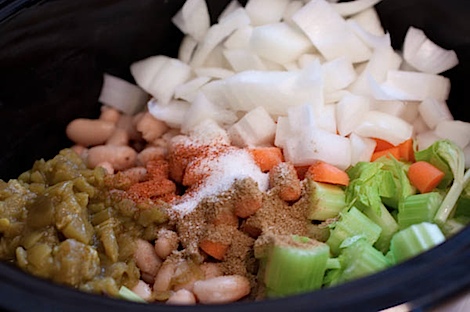 I put lots of veggies and beans in my chili – yum!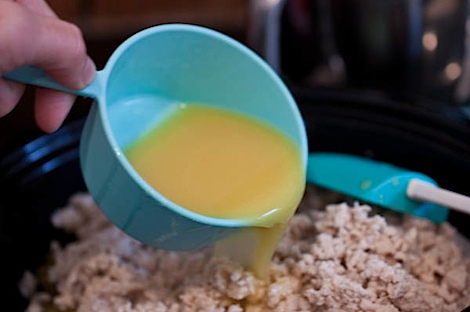 And some organic chicken broth.
Add some spices and turn on your machine. Done-zo!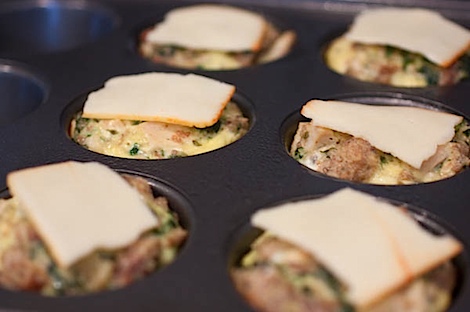 Lunch looked kind of like another breakfast – I made turkey spinach breakfast cups!
These breakfast cups really are great for leftovers. Here are all the leftovers I put in today's lunch:
flax oat bran (on its last legs)
deli cheese (muenster)
You can follow this turkey veggie breakfast cup recipe and change up the mixins.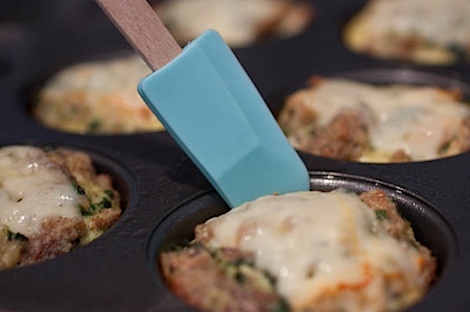 Remember to use a plastic spatula or plastic knife, work around the outside edges and carefully remove the cup.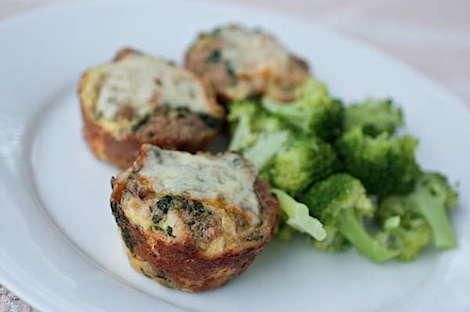 We enjoyed ours with steamed broccoli. Yum!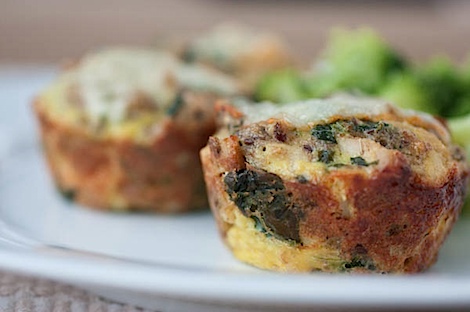 Great use for that leftover creamed spinach!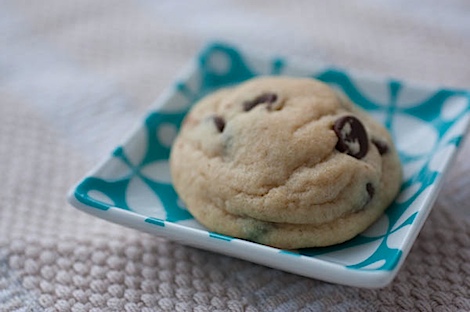 And for lunch dessert – two chocolate chip cookie dough balls.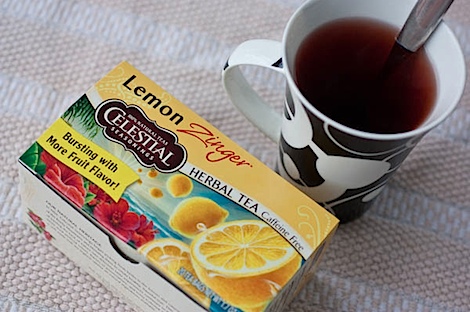 We're enjoying an old-school, family favorite tea in the Chic house – Celestial Seasonings Lemon Zinger. Growing up, we always had the Celestial Seasonings sampler pack of teas in the house. Lemon Zinger was one of my favorites. I love the bright taste. Sleepytime is another classic – one of my all time faves.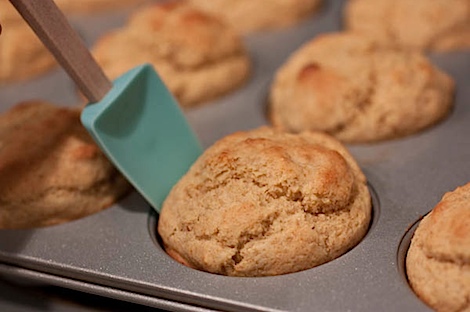 After work I whipped up some homemade corn muffins. They're so easy and tasty. After making that All Recipes version a few times, I decided I wanted to tweak them just a bit to make them less sweet and not quite as crumbly.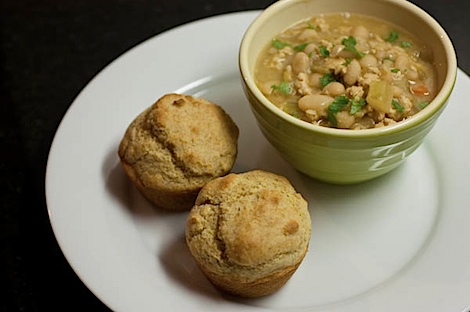 Chili and corn muffins = perfect snow day food.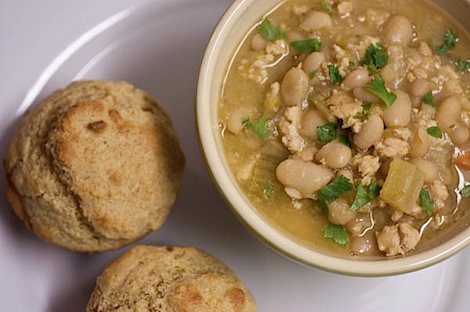 Slow Cooker White Turkey (or Chicken) Chili
I love using the slow cooker on my busy (or lazy) days. One of my favorite things to make in the slow cooker is chili. I've been enjoying a beef chili for awhile, but decided to create a lighter version. This one uses ground turkey, but you could easily substitute ground chicken or even a combination of the two. Serve this with corn muffins (see recipe below).
Ingredients:
1 lb ground turkey (I used white meat, but dark would probably be ok)
1 15-ounce can Great Northern beans, rinsed & drained
1 15-ounce can Navy beans, rinsed & drained
1 15-ounce can Cannellini beans, rinsed & drained
1 4-ounce can fire roasted green chiles
2 stalks celery, chopped
1/2 cup carrot (I use baby carrots, but large should be ok), chopped
1 small onion, chopped
2 tsp cumin
1 tsp salt
dash cayenne (careful it's hot!)
Directions:
Cook turkey over medium heat till cooked through. (You can probably just skip to step 2, but I prefer to go with step #1 first. :))
Combine all ingredients in a slow cooker. Stir to combine.
Cook over low heat for 7-8 hours.
Enjoy!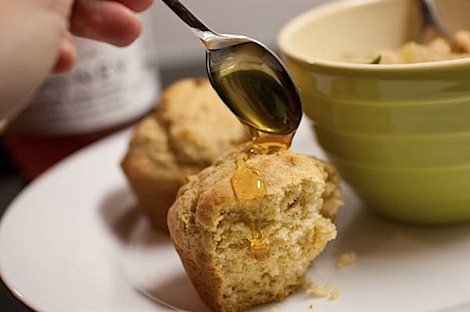 Easy Corn Muffins
Adapted from this Sweet Golden Cornbread recipe on AllRecipes.com
For years and years, I made corn bread using boxed mixes. Jiffy was a family favorite after I fell in love with it at a friend's house. But, nowadays, I prefer to make things from scratch so I can control the quality of the ingredients and keep yucky preservatives out. Not to mention this is almost as easy as using a boxed mix! These corn muffins are just barely sweet and even include some whole wheat flour. You could easily go 100% all purpose if you want. Drizzle a little honey over a warm muffin for a sweet treat.
Makes 12 muffins
Ingredients:
1 1/2 cups corn meal
1/2 cup all purpose flour
1/2 cup whole wheat flour
3 1/2 teaspoons baking powder
1 teaspoon salt
1 individual apple sauce (preferably no sugar added) or 1/2 cup
1/3 cup sugar
1/3 cup canola oil
1 egg
1 cup milk
Directions:
Pre-heat oven to 400 degrees F and spray a muffin tin with non-stick spray (or line with cupcake papers).
Whisk together corn meal, all purpose flour, whole wheat flour, baking powder, and salt.
In a separate bowl, whisk together apple sauce, sugar, oil, and egg till egg is distributed. Whisk in milk.
Stir wet ingredients into dry ingredients gently, careful to not over mix. Batter will be lumpy.
Evenly distribute in muffin cups.
Bake 14-16 minutes, or until a toothpick inserted in the center of the muffin comes out clean.
Enjoy!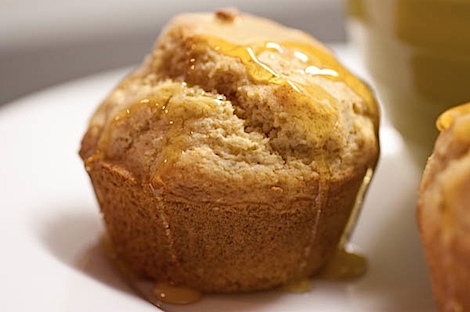 Be sure to check out my Top 10 TCL Recipes of 2010!
***
How awesome is this quote my friend Michelle tweeted:
Keep away from people who try to belittle your ambitions. Small people always do that, but the really great make you feel that you, too, can become great. When you are seeking to bring big plans to fruition, it is important with whom you regularly associate. Hang out with friends who are like-minded and who are also designing purpose-filled lives. Similarly, be that kind of a friend for your friends.
~Mark Twain
***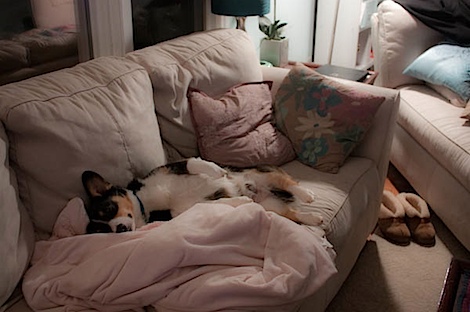 Time to get ready for bed!
What's your favorite snow (or cold) day food? By the looks of my Facebook friend's dinners, comfort food rules!