Sometimes you just need dessert…BAD!
Hubby and I celebrated our Valentine's Day date with dinner and a musical. Unfortunately, we ran out of time at dinner to order dessert and decided to get some after the show. Double-unfortunately, the restaurant we wanted to hit up was closed! So, I took matters into my own hands and threw this together.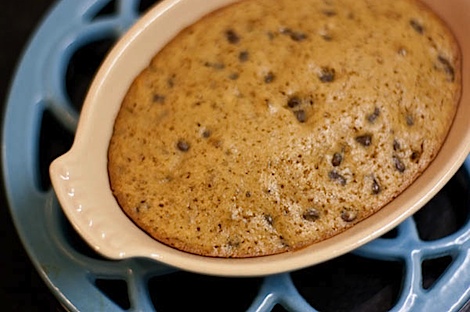 Emergency Blondies for Two
These Not So Sweet blondies may not have technically perfect texture, but they whipped together quickly and easily for those moments of desperation where you need want something FAST for dessert. It only took me about 5 minutes of simple mixing with basic ingredients, and I had these babies in the oven. Add in about 12 minutes of bake time and a little cool-down-time, and I had dessert prepped in a snap with a fully satisfied sweet tooth.
Ingredients:
1/4 cup, plus 1 tablespoon flour
1/8 teaspoon baking powder
pinch salt
1 tablespoon butter, softened
1/4 cup sucanat (or sub sugar for a sweeter flavor)
1 egg
1/2 teaspoon vanilla
2 tablespoons mini chocolate chips
Directions:
Pre-heat oven to 350 degrees F. Prepare two individual baking dishes with non-stick spray
In a medium bowl, whisk together flour, baking powder, and salt.
Cream sucanat and butter together (you could use a hand held, but I found a firm spatula to be more efficient and faster). Stir in egg and vanilla till evenly combined.
Add wet ingredients to dry ingredients and mix till just combined (careful to not overmix).
Stir in chocolate chips.
Evenly distribute dough into prepared baking dishes.
Bake for 11-14 minutes, or until a toothpick inserted in the center comes out clean.