Well friends, I hope you're all having a wonderful weekend. I must say today has been one of the best Saturdays in awhile! I posted a high level recap on my Facebook page, but today involved Zumba, creative kitchen stuffs (yes, I said "stuffs"), sunshine, Bailey, friends, samba, capoeira, and glow sticks.
This morning, as promised, I got started playing with my new ingredient.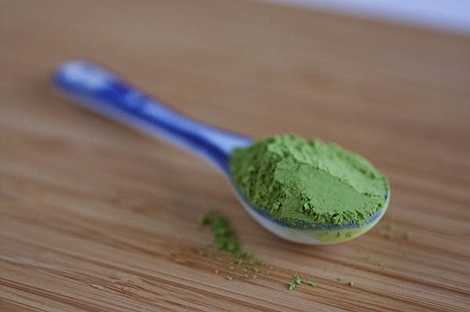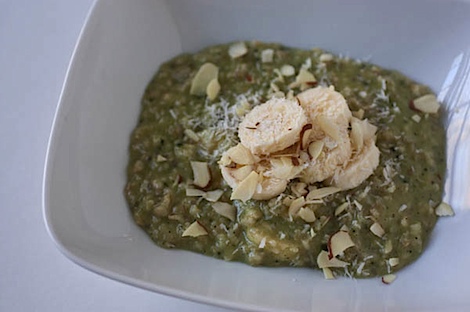 I made green tea oatmeal!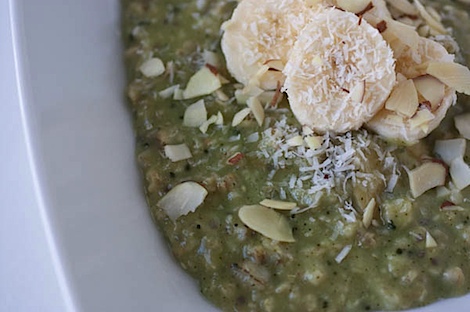 I added bananas for a fruit serving, plus coconut and almonds for toppings. Nom!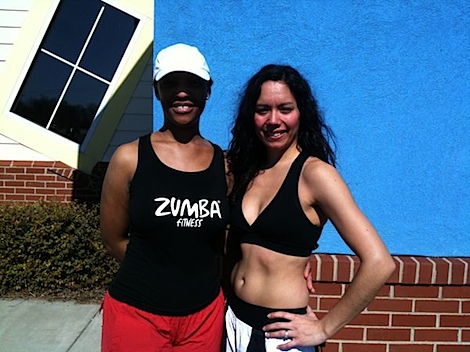 Immediately after breakfast, I headed out for a 90 minute Zumbathon with 2 other instructors (Meachi – the host, and Erica) plus 1 instructor-in-training (Bethanie).
I got to lead 4 songs:
Desi Girls
Boro Boro
Alright
Tambourine
SO FUN!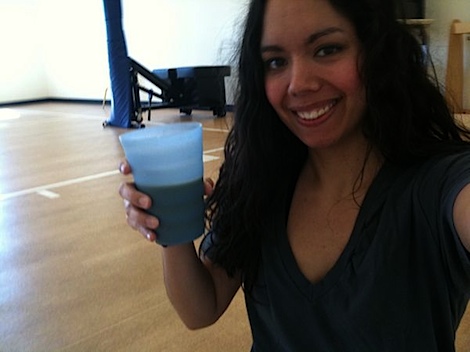 Post workout Vega protein in Whole Health Optimizer format.
And because we did 90 minutes of cardio today, I decided on a second smoothie (after lunch at Panera). This one had bananas, strawberries, pineapple and bee pollen! It was my first time trying bee pollen and I really liked it. I didn't really taste anything different in the smoothie, but I did feel a boost afterwards.
***
As soon as I got home, I took Bailely out for a walk around the neighborhood. It was so nice to be able to walk around in short sleeves with a fresh breeze passing you by.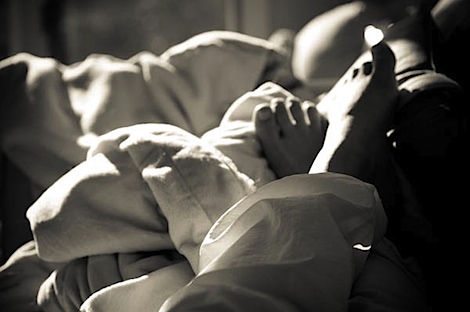 I knew I had more weekend fun ahead so I took a few minutes this afternoon to open the windows, prop my feet up, and basque in the sunlight streaming through my windows. It was glorious! I think I need to have more of these calm moments in my life.
After chillaxin for a bit and catching the final dance of Step Up to the Streets 2 (yes!), it was time to get ready for a par-tay…Brazilian style!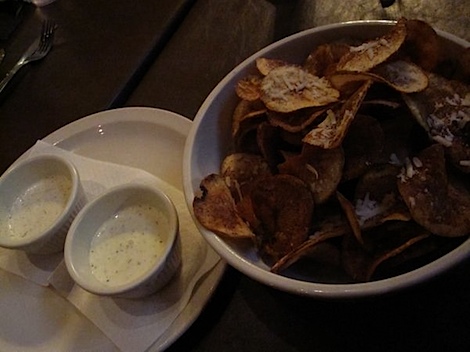 I met up with friends at a local restaurant for cocktails and snacks. I had sangria and some homemade potato chips.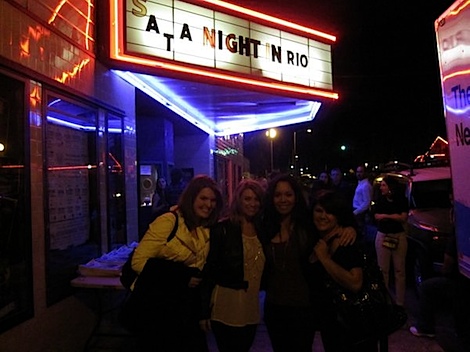 (Megan, Erica, Moi, Bethanie)
Then it was time to head to the main event – A Night in Rio – a local event where people can go to experience Brazilian Carnival. As zumba instructors, we were really excited to see all the dancing!
The place was packed out and at capacity. They sold out of tickets at the event!
As soon as we got in they gave us green glow sticks. I don't think I've mentioned it before, but I love glow sticks almost like I love sparkly things. I was never a "raver", but back in the day, I used to really enjoy techno music and watching the techno dancers (note the key word "watching" – I never really learned how to do it – it's hard!). And I liked playing with glow sticks. They're fun. And if you don't think they're fun, you're not using them right. 😉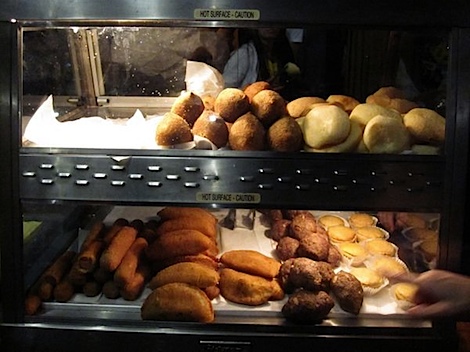 Anywho, of course as soon we got to the festival, I headed straight for the food. Not the healthiest selection, but when I heard they'd have "street food" I figured it wouldn't be. Sometimes "bad" is "good". 😉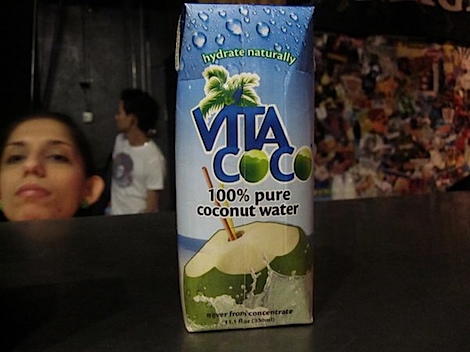 And look what they were selling – coconut water!!!!!!
I had no idea what any of the food was, but I ordered this pastry thingy because nearly every one else in line in front of me did. It ended up having ground beef inside.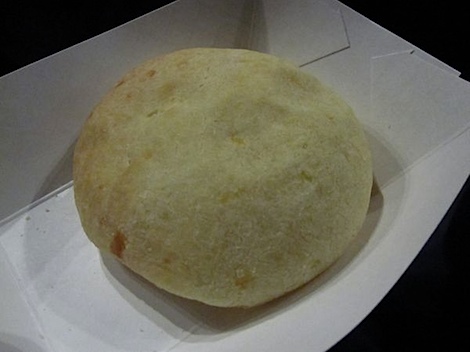 The girl taking my order suggested I try this cheese bread, saying it was famous. When in Rome, right?! It was really good. I think I could have eaten these all night.
***
We made our way over to somewhere where we could barely see the dancing over the crowd of people in front of us.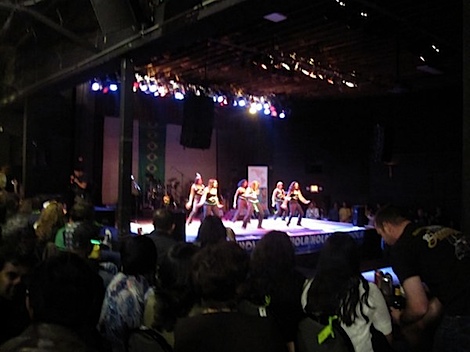 We watched some samba…
(samba is one of the main zumba styles of movement)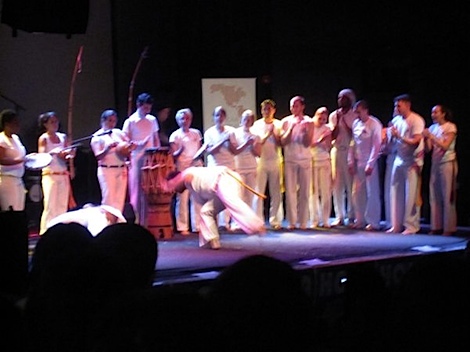 …then capoeira.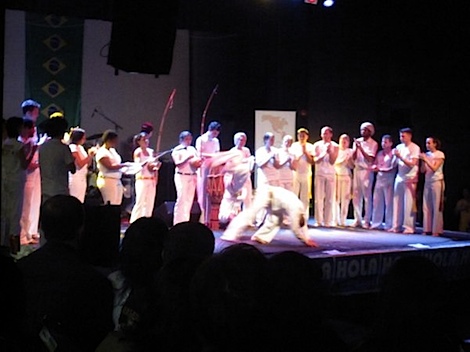 There was a man standing behind me telling someone else about the capoeira, and he was talking loud enough for me to hear, so I got the inside scoop too. Apparently capoeira is a dancing martial arts first developed over 500 years ago on sugar cane plantations in Brazil by African slaves.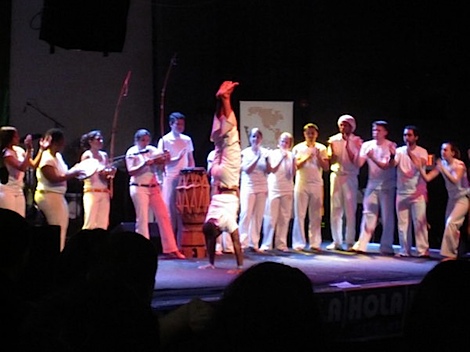 The team played drums and other instruments in a basic rhythm that started out somewhat slow. While the music played, 2 dancers/fighters would dance around each other with twirling kicks – it was a very fluid form. A new fighter would work their way into the "fight" as another would leave. The dancers also did some impressive acrobatic style moves, complete with kicking handstands and flips.
As the music slowly grew faster, so did the moves of the dancers.
The man also mentioned that the man wearing the brown rope/belt was the master of the group. A quick google search yielded this page, which tells me Brown is a second degree master, but there are higher levels. It appears their belts are similar to most martial arts as far as different colors for difference levels.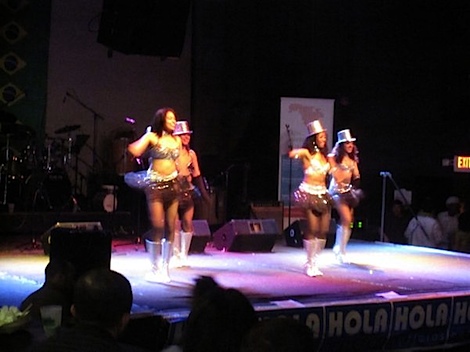 Next up, more samba!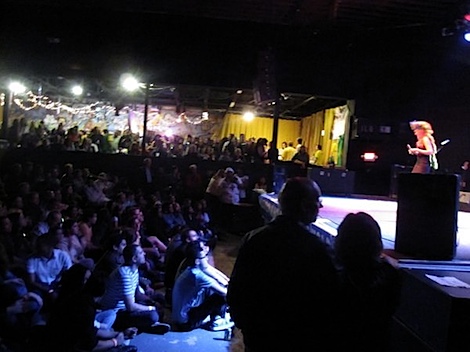 And then we moved downstairs for a better see.
The best part about moving downstairs…not only a better view but the space to DANCE! Yeaaaa! Oh you know we got our samba on!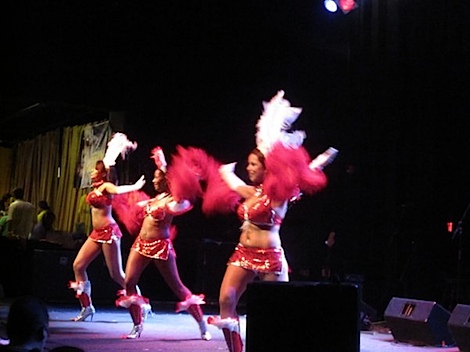 More samba.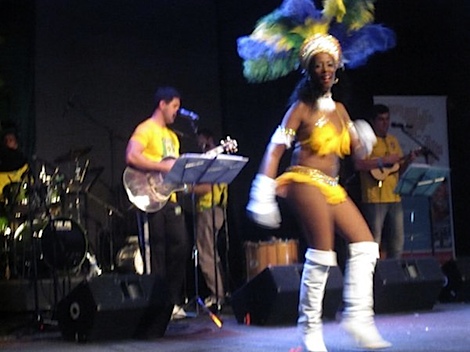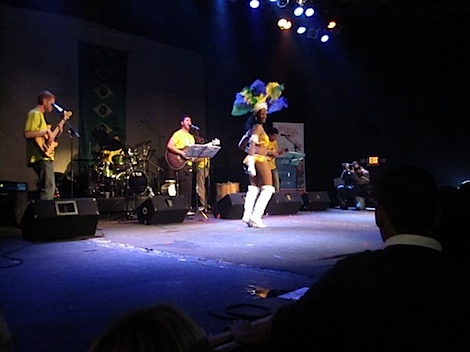 MORE SAMBA! Omg, it was like a Samba-thon Festival! I loved it. From the fun costumes to the dancing.
I think I know what I'm going to be for Halloween this year! 😉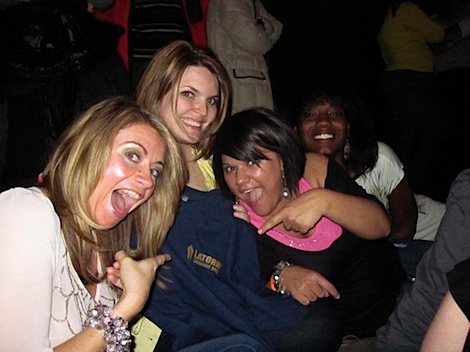 And Megan even got a t-shirt. Suh-weet!
What a fun night!
What did you do this weekend?