I don't know about you, but I love having people over…even if I'm not the one organizing. Last night, hubby invited a bunch of his guy friends over for a night of playing poker and watching basketball. ACC fans around may have been tuned into the same game – Duke vs Carolina.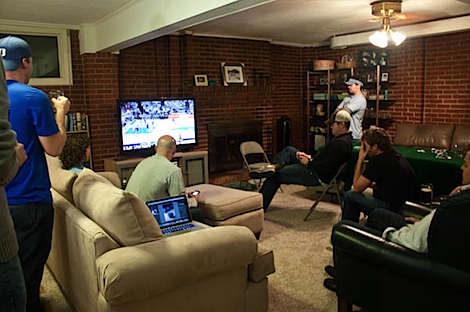 Hubby is a huge Duke fan, but most of his friends are Carolina fans. Differences set aside, they all gathered at the Chic house for a fun night.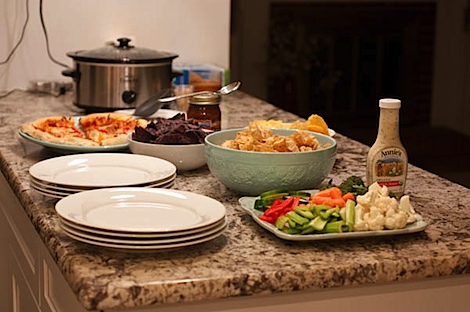 Hubby kindly asked me to help out with the food, and since I love cooking, I happily agreed. I missed the poker playing since I was busy in the kitchen, but I'm not a big poker person anyways.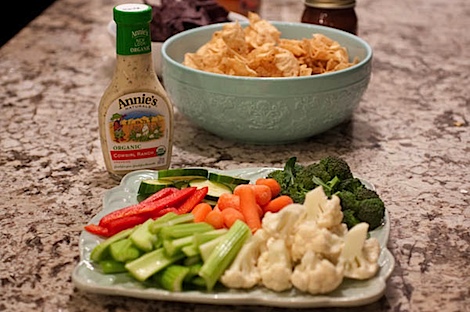 We had a nice veggie tray with organic veggies – cauliflower, celery, baby carrots, red bell pepper, and cucumbers. We even had local broccoli, which we picked up at the market earlier in the day.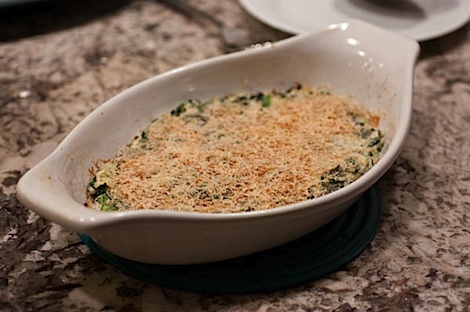 We also had baked spinach ricotta dip.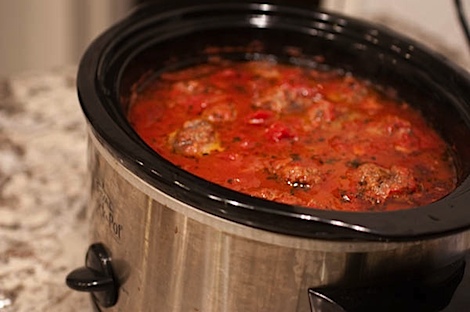 And I made more of those delicious and super easy crock pot meatballs – the same ones we had at our Halloween party. (We had a lot of people comment that they liked these alot better than the ones typically made with jelly. Btw, ever since I found out those cute cocktail meatballs at most parties are made with jelly…they just don't quite taste the same. *sad face*)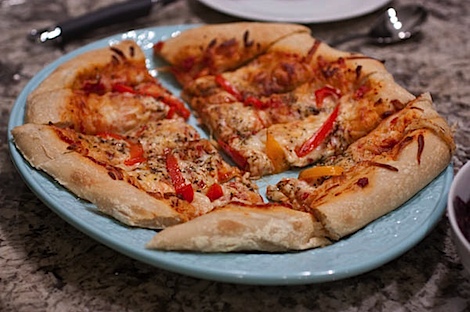 We also made 2 flatbreads with Earthfare pizza dough, a corn meal dusting on the bottom, spicy tomato oil from the market, mozzarella cheese, bell peppers, and pizza seasonings. The flatbread is becoming a TCL staple for entertaining. They are so simple, tasty, and can easily be made vegan/vegetarian for your non-meat-eating friends.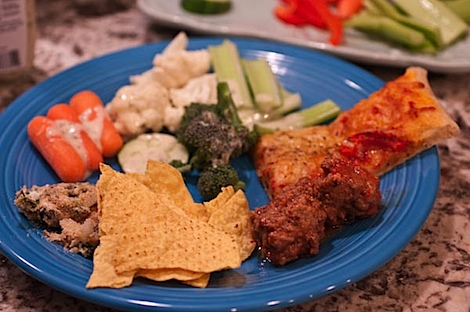 I was worried about having enough food with roughly 12 adult men in the house (they eat a lot!), but we seemed to have just enough with some leftovers.
I managed to get a nice plate of food, even after the boys had made their first sweep of the eats table.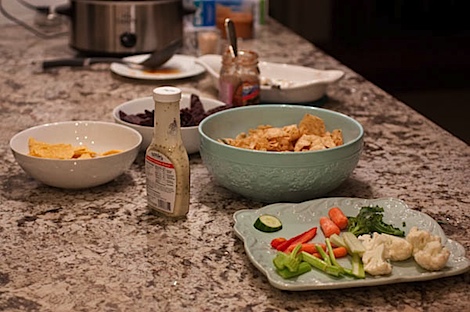 After…it looks like locusts attacked the food! lol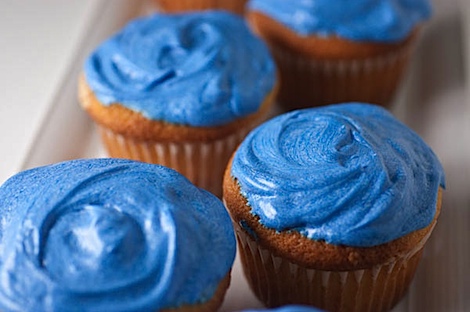 Luckily, I had one more trick up my sleeve.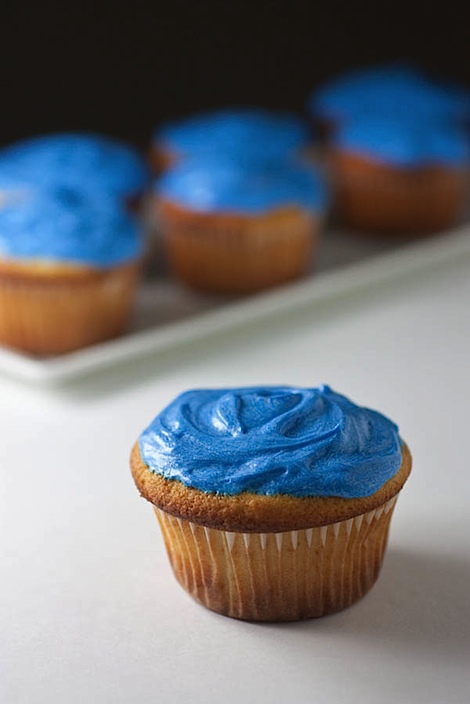 Homemade (not from the box) cupcakes. I used a combination of this recipe and this recipe for the cake part of the cupcakes. I used the latter recipe by the famous Magnolia bakery in NYC for the frosting. I was going to post my adapted recipe, but I'm not happy with it. Though I didn't increase the flour or other ingredients (save increasing for the purpose of having 24 cupcakes instead of 12), the recipe yielded way too much batter. I'm going to play with it to see if I can get it to fit 24 cupcakes. I will say, the flavors and textures were totally amazing. Everyone loved them. So, as long as you don't mind filling an extra ramekin with batter, these recipes are great to use!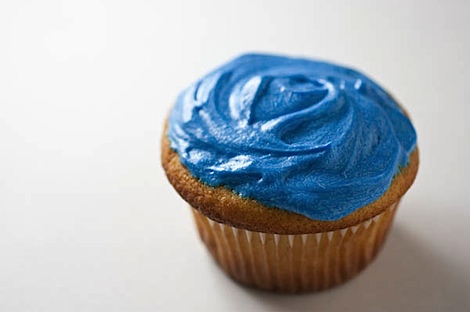 I made vanilla cupcakes with vanilla icing and colored the icing blue in honor of the basketball game. The color fell somewhere between Carolina and Duke blue. No one complained. In fact some of the guys were so thrilled with the cupcakes, they ate them in one BIG bite! Ok, they didn't do that because they were so thrilled. They probably just did that because they were hanging out with a bunch of dudes and trying to be funny. But either way, it was entertaining to watch.
Sadly, Duke lost the game. But everyone seemed to have a good time regardless.
Reader question: Are you into sports? Which team is your favorite and why?
PS Did anyone get the Hyperbole and a Half joke made in this post? 😉