Feeling lazy, but want to eat something dee-lish? Then read on for a high-ROI (where investment=cook time) meal you can enjoy any day. Actually, there are two recipes: an Easy BBQ Tempeh Recipe and a Tangy Power Greens Recipe. These are great healthy, clean eating recipes that can be made gluten-free if you purchase ingredients that are specifically GF.
On Friday, I enjoyed one of my favorite lunches of recent times. As I started wondering about lunch, I had no idea what to eat. But, I knew I had some homemade BBQ sauce, tempeh, and swiss chard in the garden. I also had some kale on its last legs in the fridge. I wanted to make use of what I already had on hand, but I was already really hungry. So, lunch had to come together quickly and easily. This meal would turn out to be a wonderful surprise in ease and deliciousness.
*NEW VIDEO: How to Cook BBQ Tempeh*
Update: Since this recipe has been so popular, I made a quick video to accompany the below recipe for those of you who like more visuals. Click here to view the video if the above player isn't working for you.
Please consider giving the video a thumbs up and subscribing if you liked it!
BBQ Tempeh Recipe and Tangy Power Greens Recipe Details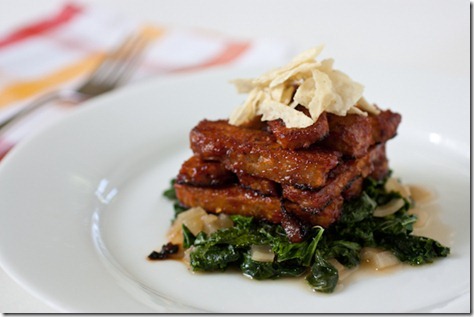 After doing so well kicking off my day with lots of veg (spinach and onion in that tasty dill-egg-scramble), I knew I wanted to get a great serving of vegetables with lunch.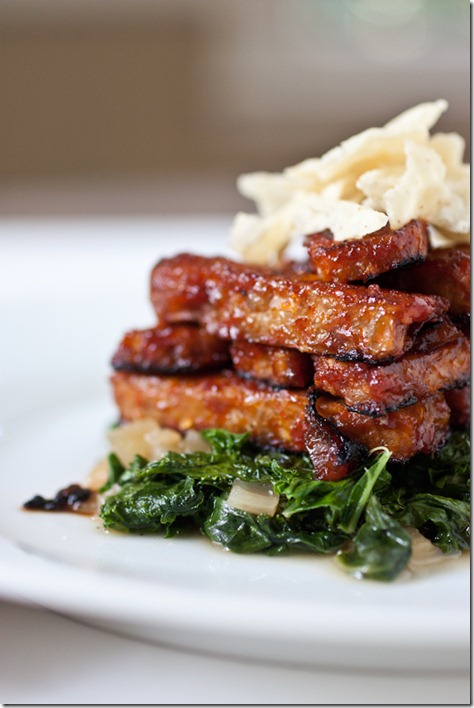 I have had swiss chard getting bigger and bigger in my garden for awhile, so I decided to pluck some leaves from that plant. I also knew I had some kale (from the farmer's market the week before) in the fridge. I combined the two for a powerhouse-combination of great greens. Some chopped onions chillin in the freezer would be a quick addition to add instant flavor.
Here's the first recipe:
Tangy Power Greens Recipe
Want a quick and easy vegetable side? This combination of nutritious greens come together in less than 10 minutes and without the need of blanching. Use frozen, chopped onions (a staple in the TCL house) to shorten the prep time. Multiply the recipe, as needed, for a larger serving size.
Serves 2
Ingredients:
1 teaspoon extra virgin olive oil
1/8-1/4 chopped onion (I used frozen for convenience, but you can fresh-chop some)
6 cups packed greens (I used swiss chard and curly kale, but spinach and other greens that don't require blanching would work)
1/4 cup broth/stock or water (I used water since I didn't have any broth, but broth/stock would be more flavorful)
4 sprays of Braggs liquid amino, optional
1 tablespoon apple cider vinegar
salt and pepper, to taste
Directions:
Pre-heat oil in a large saute pan over medium heat. Add onion and cook till translucent, about 3-5 minutes.
Add greens and water and cook till wilted, about 5-6 minutes.
Spray in Braggs, add apple cider vinegar and stir to combine. Cook for 1 minute to bring flavors together. Add salt and pepper to taste.
Serve with BBQ tempeh (recipe follows).


Easy BBQ Tempeh Recipe Ingredients
This is one of my all-time favorite ways to use tempeh. It's just so easy and perfect for my busy work day dinners, generally busy weeknights, or work from home lunches. You only need two basic ingredients to make this Easy BBQ Tempeh Recipe.
Tempeh
I'm a huge fan of tempeh because it's closer to whole foods than many vegetarian and vegan protein options out there. And as a flexitarian, I love to eat mostly plant-based these days.
Whole soybeans are formed into a cake through a fermentation process. So it has a nice, hearty texture.
Perfect for flexitarians or meat eaters wanting to reduce their meat consumption. This is also great for your plant-based diet.
Now, I know what you're thinking – probiotics! Although tempeh is a fermented food, it doesn't necessarily retain the probiotics since the tempeh is typically cooked and can also be lost during pasteurization it sometimes goes through.
Tempeh does have prebiotics, which is a type of fiber that can help probiotics support your gut health.
You'll need an entire block of tempeh to make this recipe. But you can easily multiply it if you're entertaining or feeding a crowd.
Tip / Optional Step: I skipped this steaming step because this is a lazy recipe for me. But if you want to remove the bitter taste that tempeh can sometimes have, you can steam the tempeh pieces for 8 minutes. Do this before the marinate step. Simply prepare a pot for steaming by adding about an inch of water to the bottom and bringing it to a boil. Add your tempeh to a steamer basket, cover, reduce heat to simmer, and steam for 8 minutes.
BBQ Sauce
Any type of BBQ sauce will do here. You can make your favorite homemade barbecue sauce recipe or use your favorite store-bought BBQ sauce.
Switching up the BBQ sauce you use is a really easy way to take this simple recipe and give it many flavor variations.

I snacked on tortilla chips whilst whipping this dish up. Before serving, I used some smaller broken pieces to garnish the top. Pretty and tasty!
How to Make This Easy BBQ Tempeh Recipe in 3 Simple Steps
This is one of my favorite healthy recipes to make because it's just so easy. I truly make this when I'm feeling lazy but want to eat something healthy still.
Cut tempeh into short strips, about 1/4 inch thick.
Add tempeh to a bowl and lightly cover with BBQ sauce, turning until all pieces are well coated. Marinate for 5-10 minutes.
Cook with a little oil over medium heat until tempeh is warmed through and just golden brown, about 4-5 minutes per side. Note: I would avoid medium-high heat because the tempeh may burn before it's warmed through.
The end result is perfectly golden brown with a delicious savory-sweet flavor.
See the recipe card below for details.
Easy BBQ Tempeh Recipe Variations
Here are some ideas for variations for this Easy BBQ Tempeh Recipe
BBQ Tempeh Sandwiches: Try adding pieces of this BBQ tempeh to a toasted bun or bread to make BBQ tempeh sandwiches.
BBQ Tempeh Sliders: Similar to the above idea, but use smaller buns, rolls, or cut up pieces of bread to make them BBQ Tempeh Sliders.
Baked BBQ Tempeh: Put marinated tempeh pieces onto a baking sheet lined with parchment paper in a single layer. Bake at 350 for 10-15 minutes, flipping once halfway.
BBQ Tempeh Bowl: Add cooked BBQ tempeh over rice and add your favorite side and favorite toppings to make this a bowl-style meal.
Any way you whip this up…Enjoy!
Best Side Dishes to Go with This Easy BBQ Tempeh Recipe
This BBQ tempeh is very versatile and can go with any number of sides.
Here are some side dishes that would go well with this Easy BBQ Tempeh Recipe:
Tangy Power Greens (recipe above)
Homemade Potato Salad
Steamed green beans
Sometimes I like having simple brown rice as the side. Since the tempeh is pretty flavorful, I'll sometimes put a bite of tempeh with some rice on a fork and let the flavors mesh together. Gotta love a good Clueless reference too!
Happy eating!
***
Print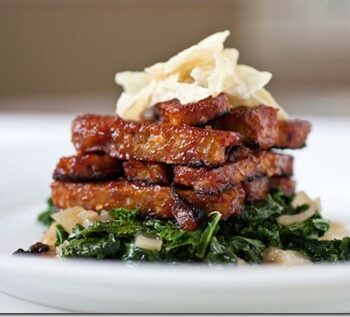 Easy BBQ Tempeh Recipe
Author:

Prep Time:

10 mins

Cook Time:

10 mins

Total Time:

20 mins

Yield:

2

1

x
---
Description
This Easy BBQ Tempeh Recipe couldn't be simpler. The flavor is best when combined with homemade BBQ sauce, but the bottled kind will work just as well. This is the easiest way I've ever prepared tempeh before, and it packs a lot of flavor with very little effort. Talk about high ROI! Gluten-free options are available for all ingredients – check the labels when you're grocery shopping.
---
---
Instructions
Combine tempeh and BBQ sauce in a bowl. Gently stir to coat all sides of tempeh slices. Marinate for 5-10 minutes (while you prep the greens for the previous recipe)
Heat oil in a medium saute pan over medium heat. Add tempeh and cook till each side is golden brown, about 4-5 minutes per side.
Serve with Tangy Power Greens (previous recipe). Enjoy!
---
Notes
Time-saving tip: Marinate the tempeh while you prep the greens for the previous recipe.
Note: Feel free to marinate your tempeh longer for extra flavor – from 1 hour to overnight.
Recipe Card powered by
***
Click here to view a list of more easy and delicious recipes. Are you more visual? Click here to browse The Chic Life recipes by picture.
More Tempeh Recipes You May Like
More Greens Recipes
Click here for 10 easy kale recipes
Thanks for stopping by! Hope you enjoy this Easy BBQ Tempeh and Tangy Power Greens Recipes blog post and video!
📌 Pin these graphics on your favorite "Healthy Recipe", "Gluten Free Recipes", or "Vegan Recipe" boards: