Had you asked me several years ago, I never would have thought about doing CPR/First Aid certification. Not because I thought it was a bad idea, I just never really knew much about it or was offered the chance to do it. I actually did my first certification two years ago as a requirement to be AFAA-certified to teach group fitness, which is a requirement for me to teach Zumba. If I'm being completely honest, I only planned to do CPR training since that was what was required. Though other companies offered only-CPR training, the company we (my friend Megan and I went together) did the certification through offered a combined course that covered CPR, AED, and First Aid, and I'm so glad we went with the latter. In fact, now that I've had the chance to experience the certification, I really think that everyone should do it. You never know when that knowledge and those life-saving skills could come in handy – for a stranger or for a loved one.
(Side note – I keep trying to insert this video, but the code isn't working – click here to watch)
On Saturday, I did my second CPR, AED, First Aid certification with the same company we used before, Caskey CPR. The previous CPR certification I did lasted two years and the First Aid three. Though I only needed CPR re-certification, I decided to do them all together to refresh my memory. I really loved having Grace lead the training again – she's very personable and offers great real-life examples.
As I sat through training, I thought about all the ways that this information could come in handy for me:
What if a Zumba participant began suffering from heat exhaustion?
What if a Zumba participant fainted in class?
What if hubby started choking?
What if one of my parents suffered a heart attack or stroke?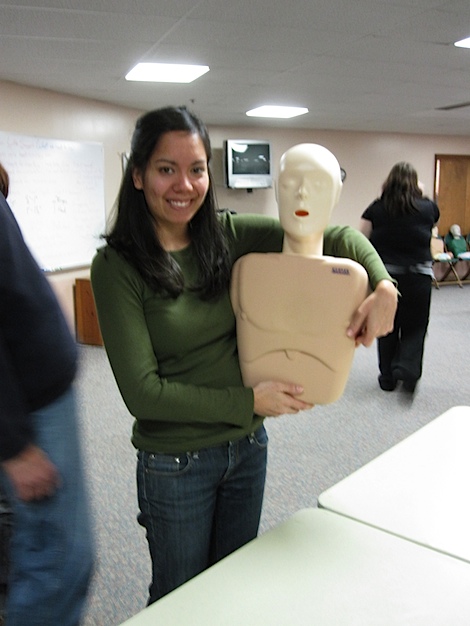 (photo from last certification)
You don't often think about worse-case scenarios, and though I hope that none of them ever happen, they absolutely could. Would I want to sit helplessly not knowing what to do? No, I'd rather be trained to know what to do if such an emergency occurred.  Don't get me wrong, I don't feel like a CPR/AED/First Aid expert. But having now done my second certification, I feel a lot more confident that I would be able to do something to help. And I'd definitely rather know a little than nothing. I also took home some booklets with information, which we're supposed to review once a month, and I think those reviews will help a lot, too. Though the thought of having to put some of this training to use in real life terrifies me, I still think I'd rather be trained then to know absolutely nothing.
And in case you are as clueless as I used to be about CPR/AED/First Aid training, here are some of the topics we covered. What to do if someone:
needs CPR
needs help from an AED
has a heart attack
has a stroke
has a seizure
has a diabetic problem
suffers from heat exhaustion
has a heat stroke
gets bitten by a snake
gets bitten by a spider
is choking
is unresponsive and not breathing
is unresponsive and breathing
has an allergic reaction to something (food allergy, etc.)
suffers from poisoning (overdose, reaction, etc)
falls down stairs
is bleeding from a wound
has a nosebleed
has hypothermia
has an asthma attack
Plus a lot more. Phew!
Oh and we learned about what to put in a First Aid Kit, which I really need by the way. I think I'll get one this week. 🙂
Reader question: Are you CPR, AED, or First Aid certified? Have you ever had to use any of your training in real life?