Please answer yes/no for the following foodie questions:
Are you looking to do something with all that summer zucchini around right now?
Are you looking for an easy baking project for this weekend?
Are you crazy about zucchini bread?
Are you still drooling over the zucchini bread/muffin photos I posted on Facebook earlier?
If you answered "yes" to any of the above questions, then I have the perfect recipe for you! Healthy and Oat-licious Zucchini Bread and Muffins.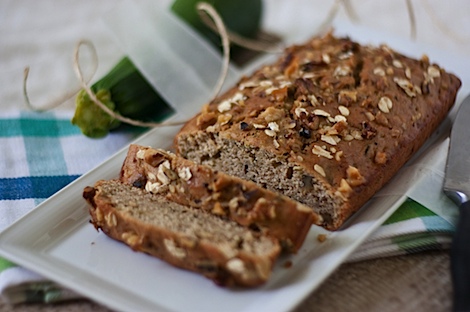 Ooh la yum! 😉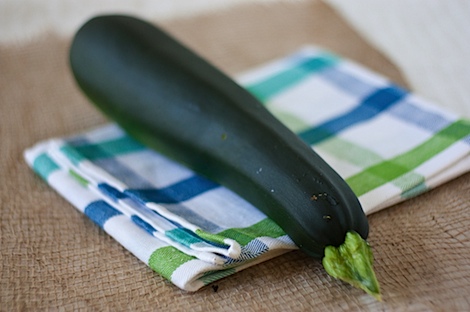 I have a few squash plants in my garden outside and they are producing like crazy. I accidentally let one get a little on the large side.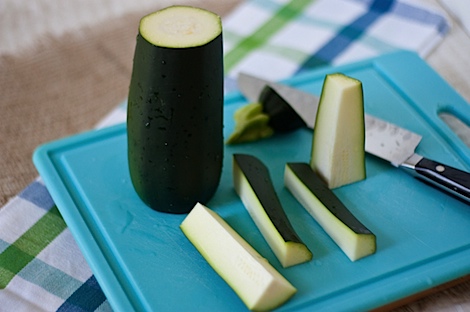 For a split second, I was sad that it probably wouldn't be good in a stir-fry (or soup)…until I realized that the large zucchini in my hands would be perfect for one of my favorite breakfast treats – zucchini bread and muffins!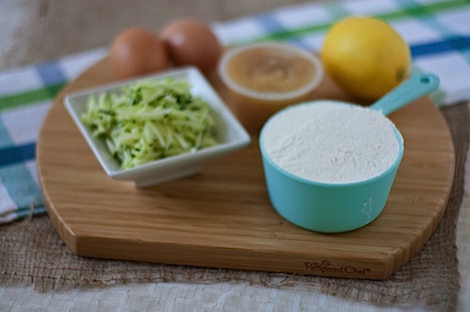 All I needed was some flour, apple sauce, eggs, lemon, and a couple other pantry ingredients.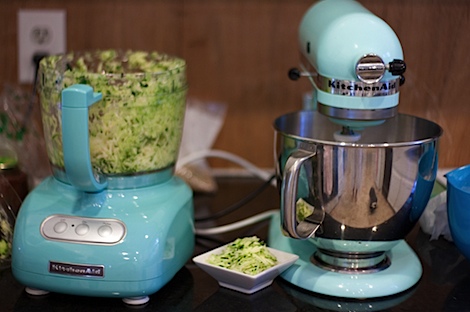 Ooh and a food processor (to finely cut that zucchini) and a stand mixer (though you could easily do this by hand).
Mix a little of this and a little of that and before you know it, you have…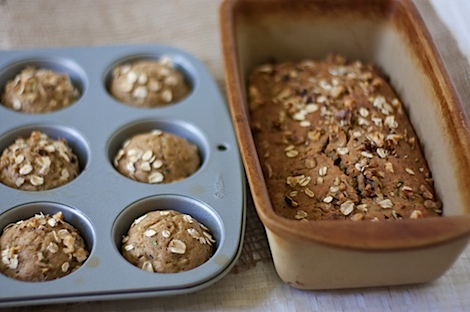 Warm, sweet, delicious zucchini muffins and bread (perfect weekend brunch eats). I like doing both the muffins and the bread because I get to enjoy a little variety.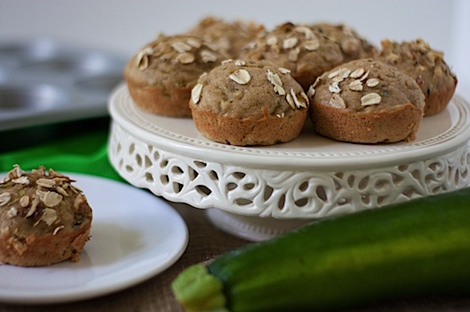 Ok, ok, and my impatient side likes the instant gratification of baking muffins since they take a fraction of the cooking time of the bread (and if I time it right, I can be eating muffins while the bread finishes baking away). It's like having your cake muffin and eating it, too!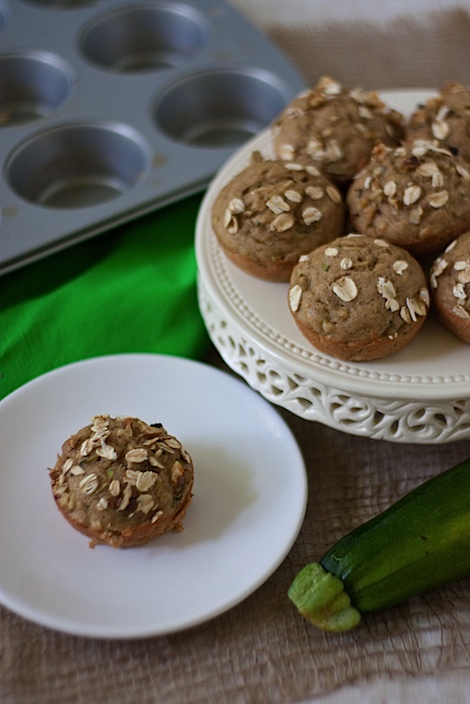 Now, I haven't always been such a zucchini bread fanatic.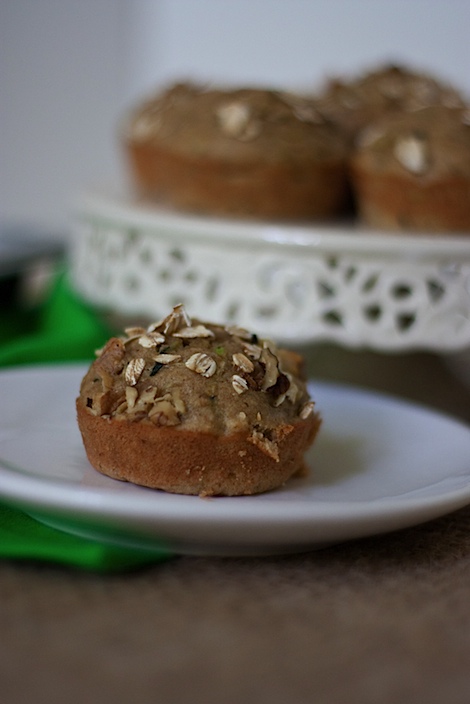 I distinctly remember the first time I heard about zucchini bread (or at least my reaction to it). I was a young kiddo back in elementary school, and I didn't like vegetables nearly as much as I do now. The only kind of sweet breakfast bread I ever wanted to eat was my mom's piping hot banana bread.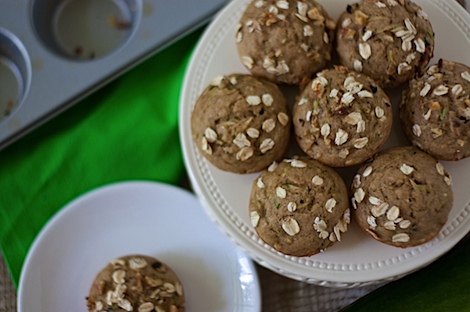 I don't really remember the exact conversation around the zucchini bread, all I remember is they (they=adults) said something about zucchini bread, and I was instantly disgusted. Vegetables? In a sweet bread? Whoa. I couldn't imagine how that could be a good thing. (If only I knew back then that I would one day develop a sweet bread/muffin recipe made with spinach!)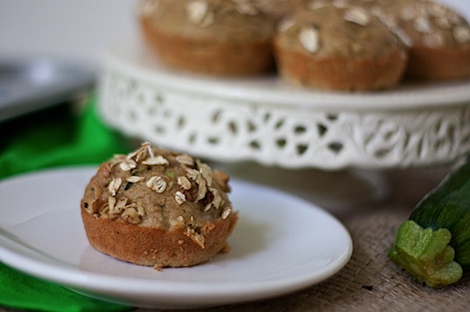 The adults around me claimed that the zucchini bread tasted like banana bread, but I refused to accept that truth. What child listens to an adult, right? In fact, it wasn't until a few years later that I finally caved. I'm stubborn like that sometimes.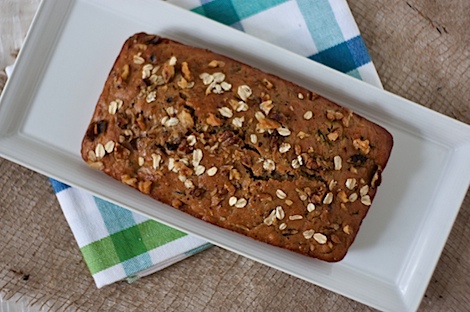 But you know what, I enjoyed every last bite of that first slice of zucchini bread. I even asked mom to make it! And of course, she did. 🙂 And thus, a love for zucchini bread began.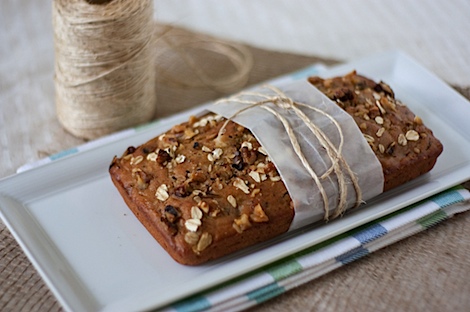 It was a long time before I decided to try making zucchini bread on my own (mostly because I didn't have a food processor for a long time). When I finally did, I was so pleased to find this tasty recipe (click) by Cooking Light.
I made a few changes the first couple times I made that Cooking Light recipe, but a week or so ago, I decided to do a few more:
I subbed white wheat and oat flour for the all purpose to utilize less-processed, cleaner ingredients
I made the overall flavor less sweet by reducing the amount of sugar used (hello Not So Sweet recipe!)
I don't like egg substitutes (unless it's going to be a flax/chia seed egg), so I just used real eggs
I reduced the amount of oil used by subbing in some applesauce
I increased the amount of lemon zest used because it is truly one of the signature ingredients of this recipe and deserves to stand out a little more
I topped my bread/muffins pre-baking with oats and nuts so you can really see what's inside – I think it looks cool
And finally, I increased the amount of nuts used in the recipe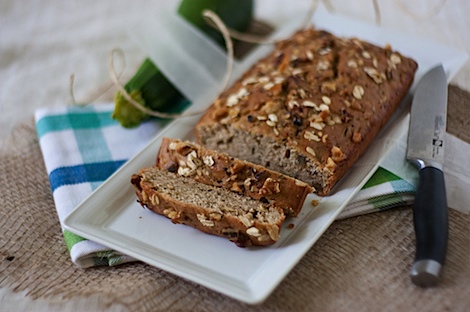 The result – pure deliciousness that middle-school-me would have been proud of.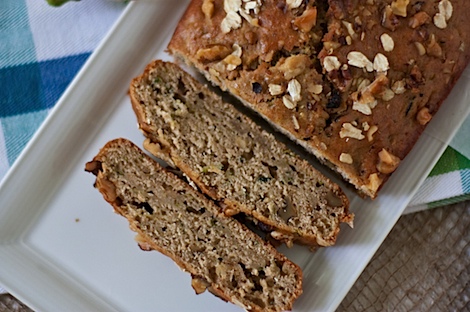 Print
Healthy Oatlicious Zucchini Bread and Muffins
Author:

Prep Time:

10 mins

Cook Time:

16 mins

Total Time:

26 mins

Yield:

6

1

x
---
Description
This easy and healthy zucchini bread/muffin recipe has a light flavor with full satisfaction. Feel free to use any flour (or combination of flours) that you'd like. I just used less processed ones because I like that they're better for you and don't detract from the tender texture. Be sure to use all the lemon zest suggested in this recipe for full flavor. Bakes 2 loaves, 24 muffins, or if you're like me – the best of both worlds – one loaf AND 12 muffins. Adapted from this Cooking Light Zucchini Bread recipe
*Vegan if you use vegan options indicated below* *Vegetarian*
---
2 cups

white wheat flour (or flour of choice)

1 cup

oat flour (or flour of choice)

1 teaspoon

baking powder

1/2 teaspoon

ground cinnamon

1/2 teaspoon

salt

1/4 teaspoon

baking soda

1/2 cup

applesauce

2

large eggs (or vegan egg substitute, for example: flax/chia seed egg)

1/4 cup

canola oil (or oil of choice, preferably a non-flavored one)

2 teaspoon

lemon zest (be sure to not skip over this ingredient – it's the key)

2 teaspoons

vanilla extract

1 cup

sugar

3 cups

shredded zucchini (about

1

large zucchini)

1/2 cup

coarsely chopped pecans (or nut of choice), toasted (if you want), plus more for topping, about 1/2 cup
Cooking spray
---
Instructions
Pre-heat oven to 350 degrees F. Pre-pare baking containers of choice (see recipe notes above for options) – I used one loaf pan and one muffin tin – with non-stick spray.
In a large bowl, combine white wheat flour, oat flour, baking powder, cinnamon, salt, and baking soda. Whisk till evenly combined.
In a medium bowl, combine applesauce, eggs, oil, lemon zest, and vanilla extract. Whisk till evenly combined. Whisk in sugar. Stir in zucchini.
Pour wet ingredients into bowl with dry ingredients. Stir gently to combine, just till all dry ingredients are mixed in (careful to not over-mix). Fold in 1/2 cup pecans, if using.
For muffins and loaf (like I made) – Using an ice cream scoop, put one scoop worth of batter into each cup of a 12-cup muffin tin (should fill muffins cups about halfway up the sides). Repeat if making 24 muffins total. Otherwise, pour remaining batter into your prepared loaf pan.
Sprinkle oats and reserved nuts, if using, over batter evenly. Bake muffins for 14-17 minutes and bread 50-60 minutes, until a toothpick inserted in the center of the muffin or loaf comes out clean. Note: I chose to put both my muffin tin and loaf pan in at the same time, removing the muffins when they were ready while my bread finished in the oven (so I could enjoy the muffins whilst waiting for the bread to finish baking).
When the muffins and/or bread are safe to consume, serve and enjoy.
---
Notes
Note #1: muffins and bread will be a little shorter than most recipes I've seen, but they will be just as tasty as ever.
If making all muffins, evenly distribute batter between 24 muffin cups.
If making all loaves, evenly distribute batter between 2 loaf pans.
Note #2: this is a Not So Sweet recipe. I've reduced the sugar by a bit, so if you like a sweeter bread, you may wish to add about 1/2 cup of sugar back in.
Recipe Card powered by
You may also like: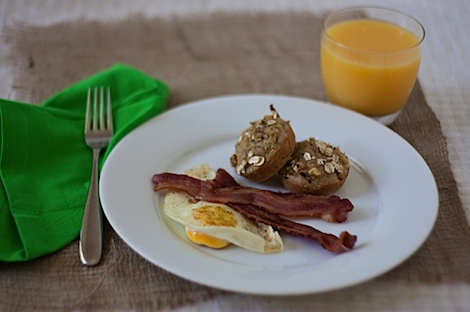 Did I mention the muffins (or bread slices) are tasty on their own or served with a lovely cage-free fried egg and some bacon and OJ? Yummm…hello weekend brunch!
How old were you when you first tried zucchini bread? Did you think the name sounded weird, too?