Hubby enlisted my help this weekend to whip up a bunch of tasty eats for his guy friends who were coming over for a fantasy draft, followed by poker night.
I'm used to preparing eats for a bunch of food blogger (girl) friends who mostly eat vegetarian, so this was a little challenge for me. I spent most of last week staying up till the wee hours of the night trying to get organized (after returning from HLS after 11pm Sunday night), blogging, and taking care of other to-dos. Late nights + another busy week at work = me feeling pretty drained by the weekend. So, I decided to try to keep the food prep as easy as possible.
I like to cook most of the food when we entertain, but I always try to do at least one or two things (usually more like 25%, so actual count depending on the number of dishes and number of people being served) pre-prepared from the grocery store.
We decided on…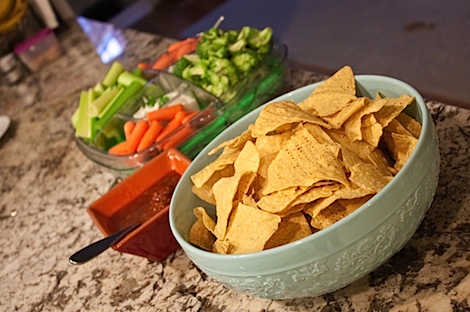 Store bought chips and salsa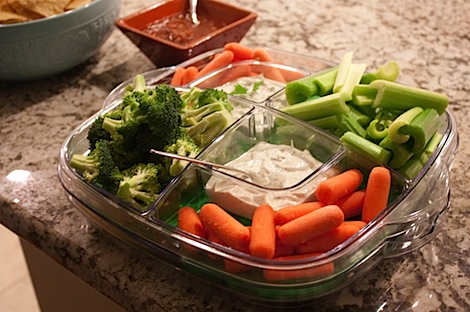 Fresh cut veggies (from the produce section, not a pre-prepared veggie tray) plus homemade dill sauce.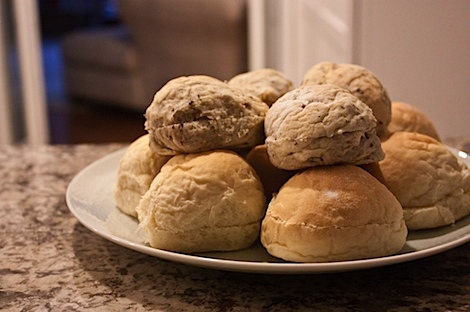 And hubby picked up Great Harvest rolls to go with…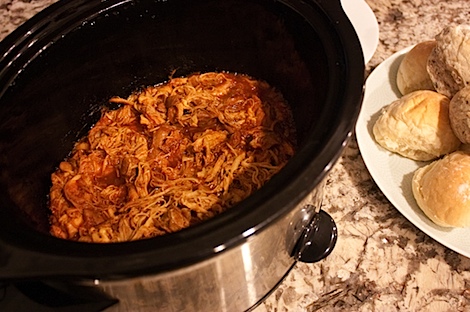 Eat Live Run's Famous Slow Cooker BBQ Chicken.
I had asked my twitter and Facebook friends for slow cooker suggestions (since slow cookers are wonderful life savers for entertaining), BBQ chicken was a popular suggestion. Thank you all again for your wonderful tips! We almost went with the taco bar many of you suggested, but hubby wasn't feeling tacos this weekend.
Anywho, the BBQ chicken was a real winner. The chicken became uber tender and came apart easily with a couple of forks. The sauce was just the right amount and on the sweet side, which I actually like. 🙂 I only wish I made a double batch!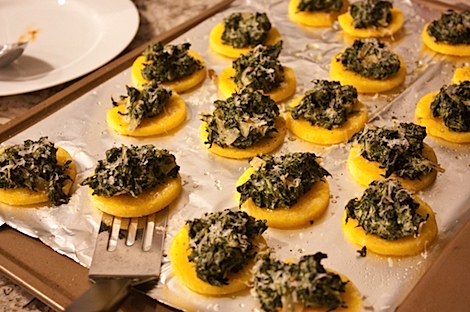 I also made an experiment – Creamy Spinach Polenta Bites.
Hubby told me guys don't like polenta, so I almost didn't make the experiment dish. But, I asked my twitter friends about this theory and found out lots of guys like polenta. So there! 😉
Anywho, I basically sliced a tube of polenta (taking another short cut) into roughly 1/3″ rounds, baked the polenta and then topped the polenta pieces with a homemade creamy spinach topping. Mmm. The creamy spinach would also be a fantastic dip! I just need to play around with the recipe a bit more, and then it's sharing time!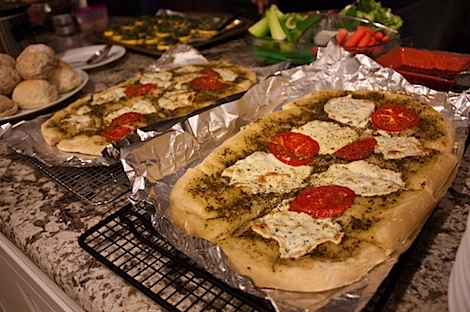 We also made two flatbreads with store bought pizza dough, pesto (store bought), fresh mozzarella, and tomatoes. I totally chopped up fresh basil from my garden to put on top of this and then forgot. Doh!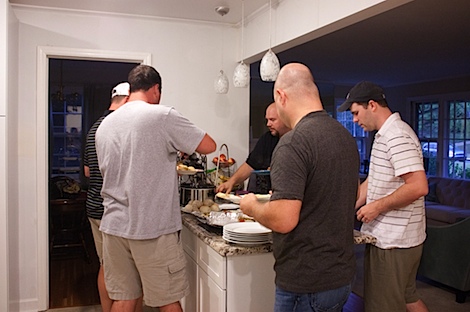 The boys attached the food like a pack of locusts.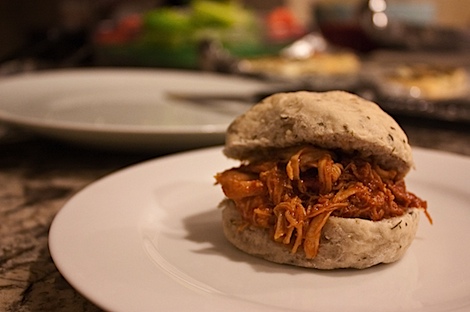 And they said everything was really good. Even the polenta.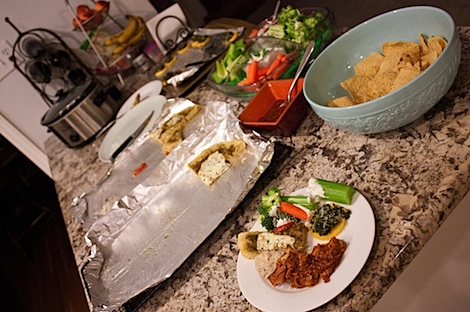 After the swarm. 😆
Reader question #1: Do you think guys like polenta?
Reader question #2: What are your tips/tricks for feeding a bunch of guys?