Maybe I've been watching one too many episodes of No Reservations (scratch that, because it is simply not possible to watch too many times!), but it seems like some of the best foods around the world are often the simplest. One thing that is so obvious yet so easily overlooked is the fact that people seem to live off of whatever is available to them…from the ground around them. Some of the simplest dressings for foods are citrus and herbs (fresh herbs that you could pick from your back yard).
Convenience and availability are definitely a big deal for my busy life.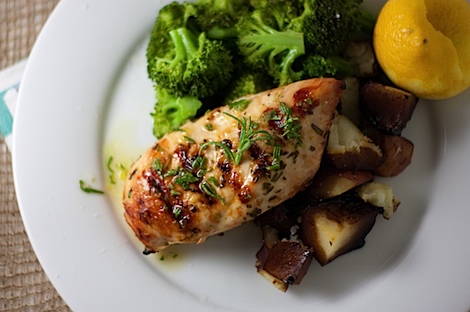 So the other day, with very little in my home for cooking, I whipped up a tasty 3 ingredient chicken dish – Quick Rosemary Lemon Grilled Chicken.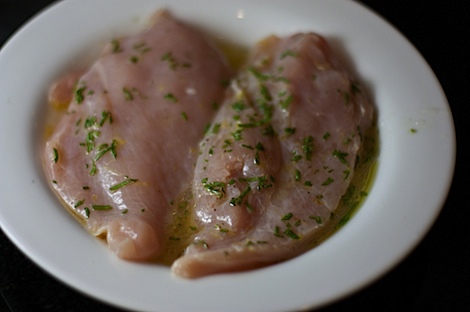 At first, I was just going to season some chicken with salt and pepper, grill, and squeeze fresh lemon juice over the finished product, but when I remembered I had fresh rosemary growing outside, I decided to add that in for extra flavor.
I decided to use half of the "sauce" to marinate the chicken for just a bit to try to get some lemony flavor on the chicken pre-cooking. Then, I used the last bit like I was squeezing fresh lemon juice over the chicken. Except, I whisked in the fresh, chopped rosemary along with some salt and pepper so you got a little extra zing.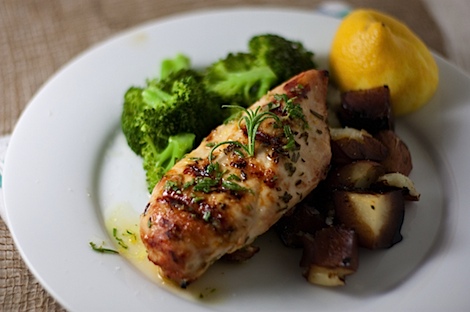 Print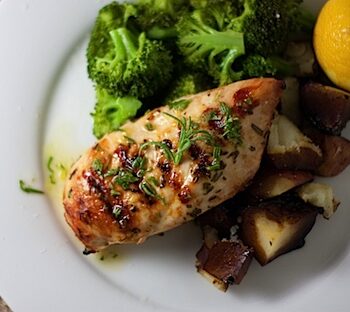 Quick Rosemary Lemon Grilled Chicken Recipe (Only 3 Ingredients!)
Author:

Prep Time:

20 mins

Cook Time:

15 mins

Total Time:

35 mins

Yield:

2

1

x
---
Description
This easy, Quick Rosemary Lemon Grilled Chicken can be whipped up in no time. Using only 3 ingredients (and no oil!), not counting salt and pepper, it's one of the simplest meals you can make. Whether you grill outside or inside, this oil-free chicken dish is sure to be a winner.
---
Zest of

half a

lemon
Juice of

one

lemon

1

–

2

sprigs rosemary, stem removed, chopped fine, about

2 teaspoons

1/2 teaspoon

kosher salt (or use

1/4

table salt)
dash fresh-cracked black pepper

2

chicken breasts, trimmed
---
Instructions
Whisk together zest, juice, and rosemary in a small bowl. Divide into two portions.
Use the first half of the lemon mixture to marinate the chicken breasts in a low bowl. Flip once. Marinate 15-20 minutes.
Grill chicken, about 4-6 minutes per side, until chicken is cooked through, using any leftover lemon mixture to baste chicken as it grills. Note: This marinade will have touched raw chicken, so make sure you don't use it the last couple minutes of cooking and cook all basted sides well.
Serve chicken and pour reserved lemon mixture (the half that did not touch the raw chicken) over each chicken breast.
Serve with grilled potatoes or rice, and your vegetable of choice (I went with steamed broccoli). Enjoy!
---
Recipe Card powered by
Make it a TCL meal:
Recommended Starch: Grilled Potatoes
Recommend Veg: Steamed Broccoli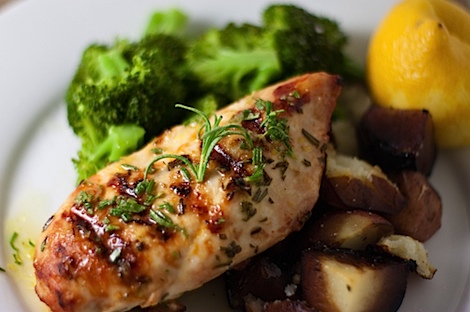 ***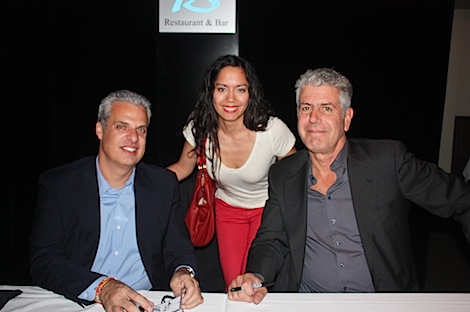 Oh, and speaking of No Reservations, guess who's going to meet Anthony Bourdain in October? THIS GIRL! And I'm so excited! 🙂 Edit: Click here to view the post about when I met Anthony Bourdain and Eric Ripert.
Also, I just registered for Foodbuzz Festival 2011, baby! Who else is going to Foodbuzz Fest this year?
***
How do you decide what to cook? Do you prefer to plan in advance or do you like to use what you have on hand already?