My increased interest in fashion and shopping has been quite timely. I subscribed to a slew of new fashion blogs just in time to catch their recaps for NY Fashion Week and am currently enjoying their recaps of Milan Fashion Week. The pictures have been so fun to see – from street style to the runway. I've also taken up Pinterest to keep my favorite looks (as well as recipes, home decor ideas, etc.) all in one place. The only downside so far has been the increased effort required to keep my shopaholicism in check (which mostly works, but sometimes fails…I've been meaning to record some vlogs of some shopping hauls as evidence to share with you guys).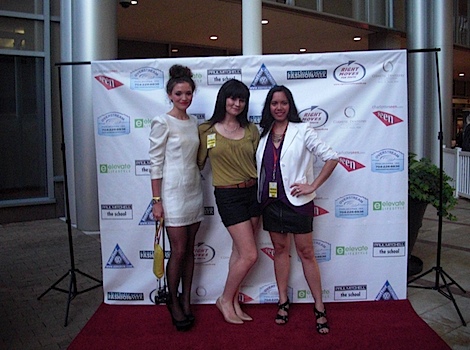 (Katie, Katy, & me – photo credit – Sweet Tater Blog)
With all this excitement over fashion in general, I was really looking forward to attending my second ever Charlotte Fashion Week. You may recall I waited an hour in almost four inch heels last year to attend. But this year, I went with several other Charlotte bloggers as a VIP member of the press. Major upgrade! Charlotte Seen gave us VIP passes to cover some of the events. Since my parents were visiting for the weekend, I decided Friday was the night to go.
I left work a little later than I had hoped, just after 5pm, so I was running a bit late to get ready for the event. In my haste, I forgot to grab an extra camera battery, so it died while I was at the event. Luckily, I managed to snap a few photos from the festivities, and my blogger friends (woohoo!) have said I can use a couple of theirs – I'll note which ones are not mine.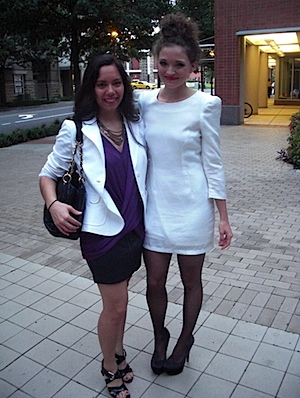 (me & Katie – photo credit – Sweet Tater Blog)
I had a difficult time deciding what to wear, but ended up going with (thanks to votes from Katie and Katy) the following:
Faux leather skirt: H&M
Purple top: Akiko
White blazer: Banana Republic
Strappy heels: Dolce & Gabbana
Necklace: The Limited
Purse: Chanel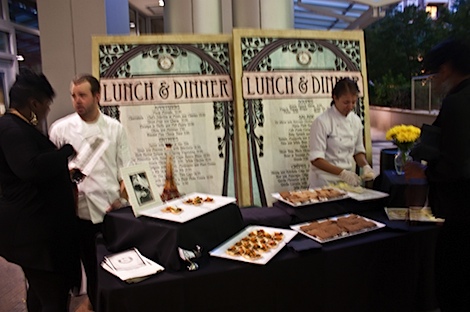 After finding our seats, we walked around the event a bit. They had lots of vendors setup up, and even some snacks. We sampled a couple bites over at the Cafe Monte table: olive tapenade, chicken salad sandwiches, and smoked salmon on endive. They were all tasty, but I already knew Cafe Monte had great food. 😉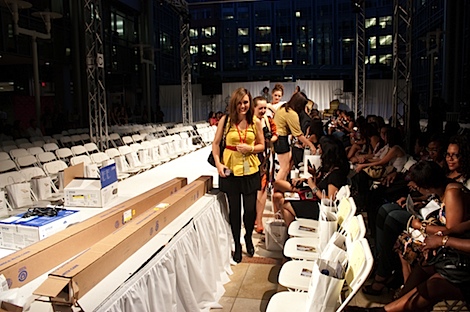 Our VIP tickets scored us front-row seats for the show!
(It's good to be VIP – photo credit – Sweet Tater Blog)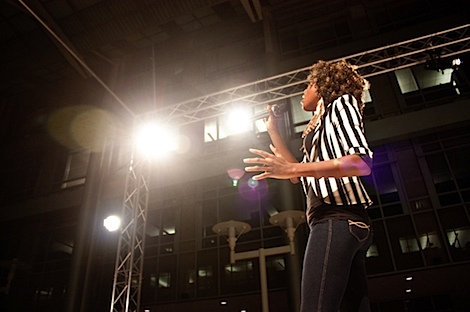 One of my favorite parts of the night was the live music just before the show. There were girls singing music when we first entered show area, as we walked around, and almost right up till when the show started.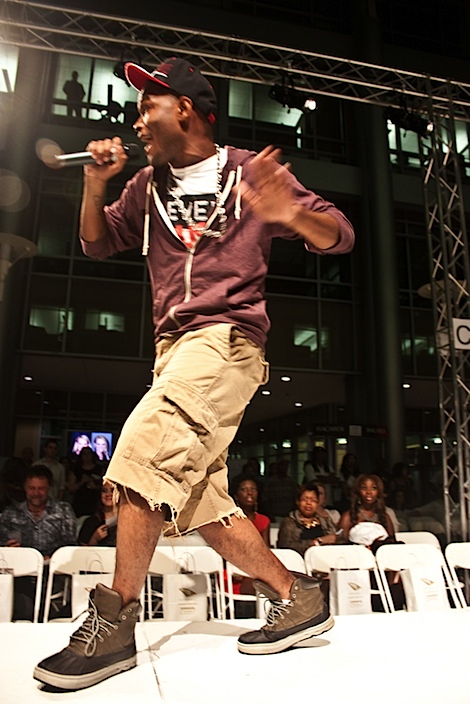 And we even had a performance from someone – I'm guessing a local rapper?
***
The show started a little later than we expected, but we were happy to see the models walking the runway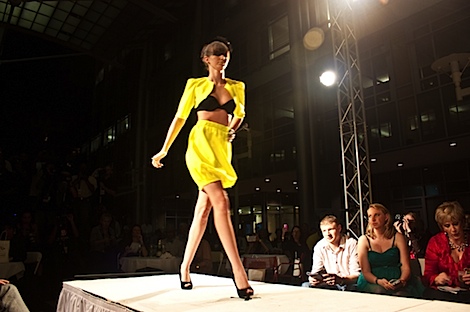 I love the lines of this one.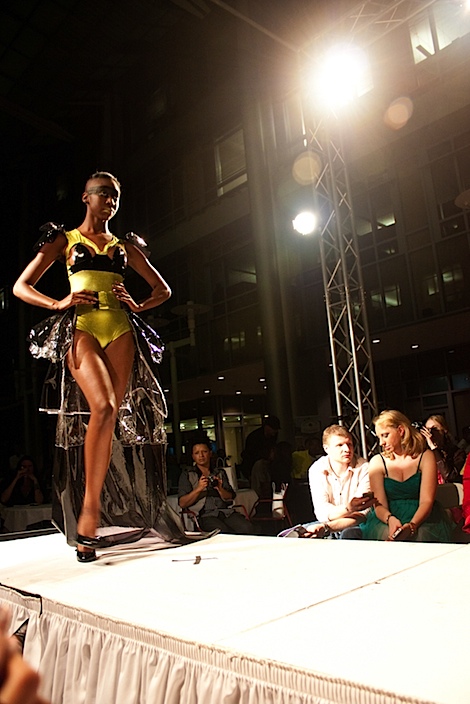 Yowsa!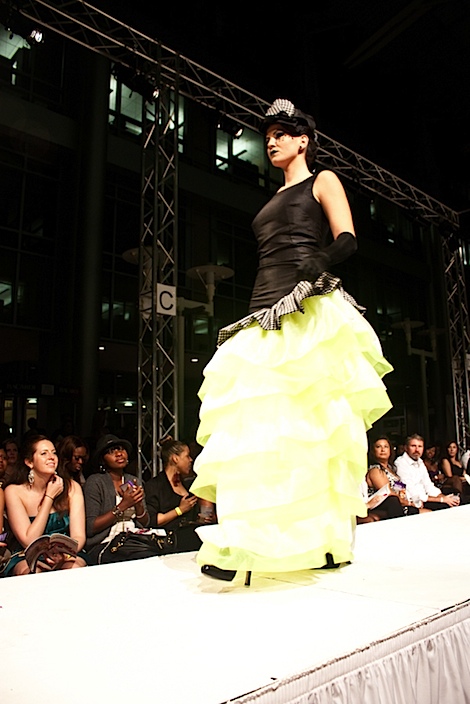 The first couple sets of designs featured trendier styles, including a handmade mens line and classy bridal line. The last set featured more outrageous outfits made with recycled materials that reminded me of some of the looks from last year. There were outfits made paint chips, plastic Food Lion bags, paper bags, and other interesting materials.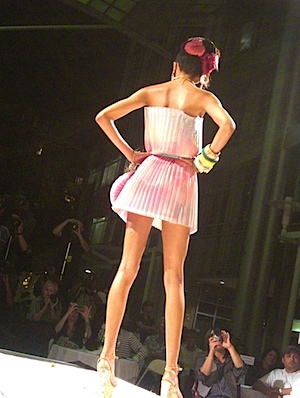 (Wearable art! – photo credit – Sweet Tater Blog)
I had such a good time seeing the creative works of local designers. The colors, the textures, the lines! So fun!
Big thanks to Charlotte Seen for allowing me to cover the show. 🙂