After a delicious dim sum brunch followed up by shopping at H&M, I eagerly awaited dinner time because we had plans to try something very special – Ethiopian food!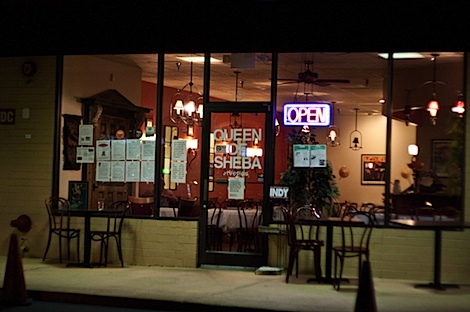 My MIL knows how much of a foodie I am and got a gift certificate for a local restaurant, Queen of Sheba in Chapel Hill, NC.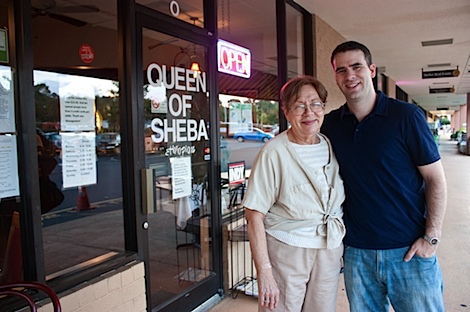 It was actually a food-first for all 3 of us!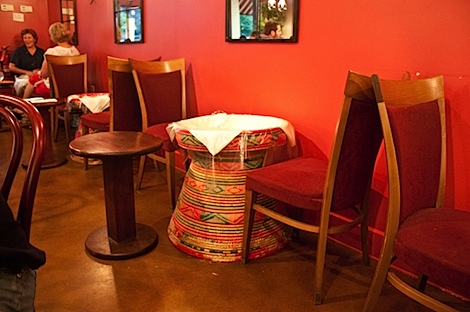 We had our choice of "basket table" or a regular one and ended up opting for a regular one. It ended up being better for sharing since hubby and I had a separate plate from my MIL. But less germiphobic normal people would have no problems sharing food at the "basket table" if you prefer. I think they can fit up to four around one table.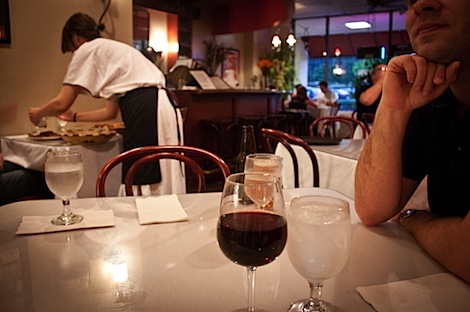 I opted for a glass of house merlot for drinks.
And if you note in the background of the above photo, the table next to us is being served here. They have a very unique way of presenting food at Queen of Sheba (and I'm guessing most or all Ethiopian restaurants). Read on for details…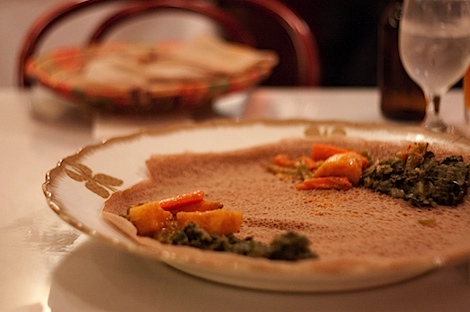 First, you're given a large plate topped with a flat piece of injera (traditional Ethiopian bread) and your side vegetables. That night, the sides were collards and string beans (though the string beans were more of a stew of potatoes, carrots, and string beans). And I know you can't tell in this photo because of the angle, but this plate is gigantic (maybe almost 1 1/2, if not 2, ft in diameter)!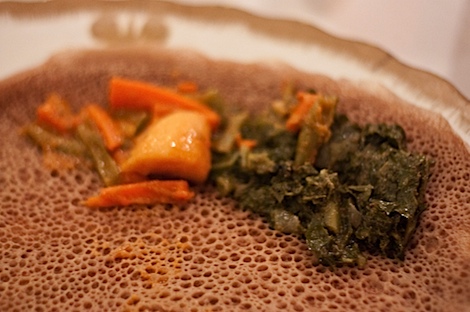 Ever had injera? It's very interesting stuff and fun to eat. If I had to compare it to anything, I would say it's most like a crepe. Though, it's not really like a crepe either. Injera is it's own cool thing! It's a sticky, stretchy thin bread made of teff flour (which is what I've put in fruit tarts, click for recipe, in the past!). Note all the crazy bubbles!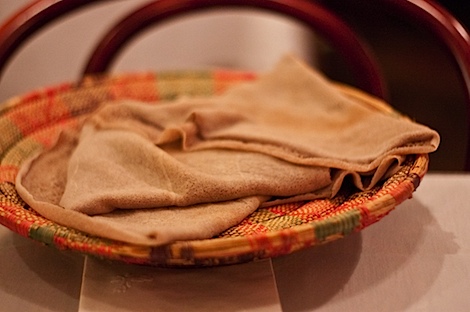 Anywho, besides the piece that lines the plate, you're also given a basket of injera to share at the table.
So, after dropping off your platter and basket of injera, the waitress comes back with the main event – the entrees. Hubby and I shared a meat combo platter for two. We had (quotes from the online menu)…
"Minchetabesh – Finely chopped prime beef (Angus), first pan-fried with Sheba's spices until golden, then simmered in the famous Ethiopian berbere sauce."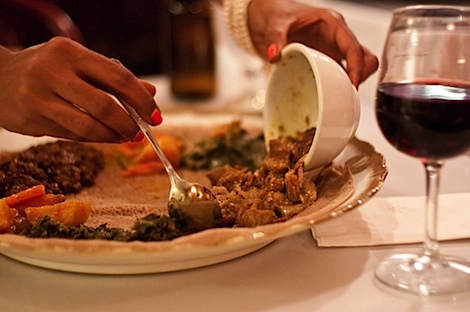 "Yebeg Alicha – Tender pieces of lamb braised slowly in green pepper, rosemary and a distinctly flavorful mild sauce."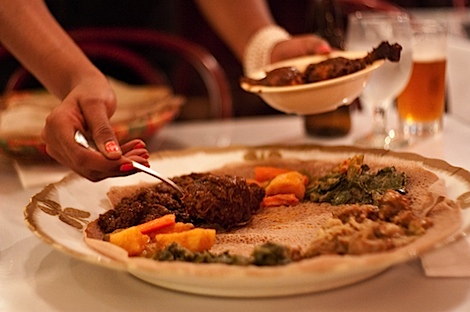 "Yedoro Watt – Tender chicken marinated in lemon, sautéed in seasoned butter and stewed in red pepper (hot and thick berebere sauce) and served Ethiopian style with hard-boiled eggs, which are knife-poked and simmered in the watt. Can be served with homemade Ethiopian yogurt."
This one is spicy folks!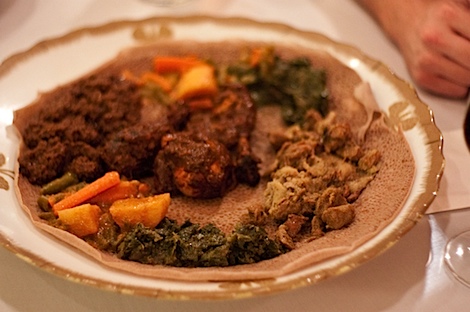 The completed meat combination platter. Hello gorgeous! 😉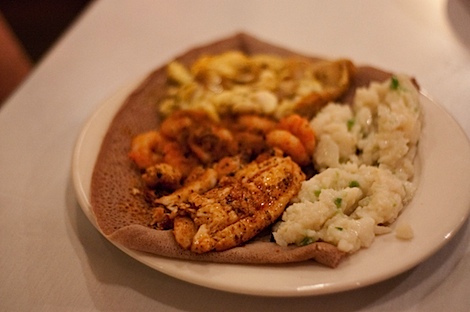 And my MIL got the seafood platter.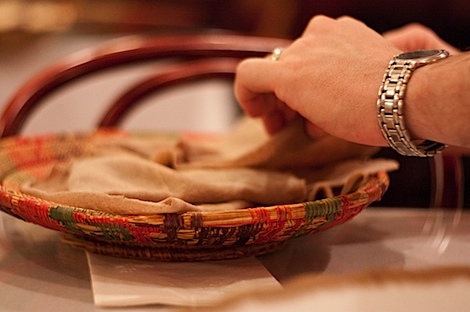 And in case you've never eaten Ethiopian before, here's a little how-to. Basically, you rip off a piece of the injera and use it as your utensil (though the restaurant, at least this one, does have forks if you prefer, but when in Rome…)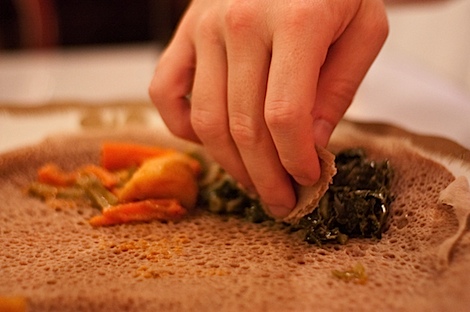 Use your piece of injera to scoop up a bite and enjoy.
I wasn't sure what I'd think of Ethiopian, but it was really, really good! A lot of the flavors remind me of Indian food.
The surprise favorite was the seafood platter! And though I expected to love the collards (which ended up being not nearly as flavorful as I expected), the string bean/stew was super tasty and my fave veggie, if not one of my favorite parts of the meal. The other dishes were great, too, I just found those to be my faves of the evening.
*Edited to add that I thought it was SO cool that Queen of Sheba uses quality meat sources – natural, free-range chicken, grass-fed, hormone/antibiotic free beef & lamb from a local farmer. Nice job Queen of Sheba!*
Sending out a thanks to my MIL for checking out this fun experience with us and for the gift certificate.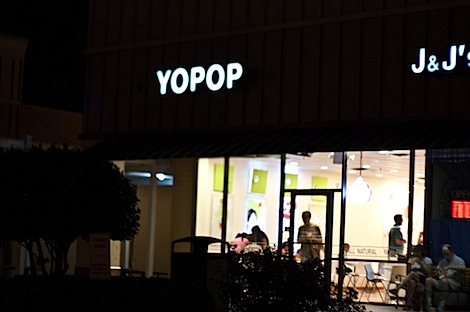 To cool off our tongues (the food was pretty spicy!), we headed next door to Yopop for some froyo.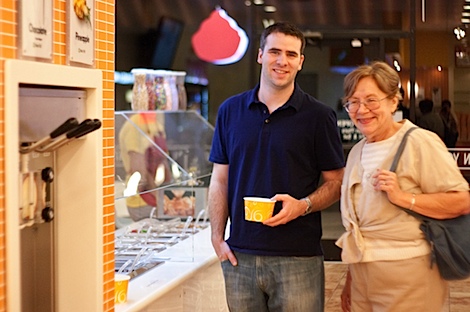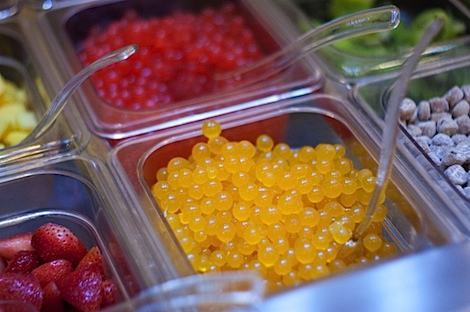 And I spotted something never-before-seen at a froyo place in the toppings bar – little "bobas". They had berry and mango flavored pearls of sweet liquid that burst when you bit into them. They were really cool, but not as fun as the bobas they put in bubble tea and definitely not as good as my all time fave – mochi! Yopop did however have something new in the the mochi line – your option of clear or colored!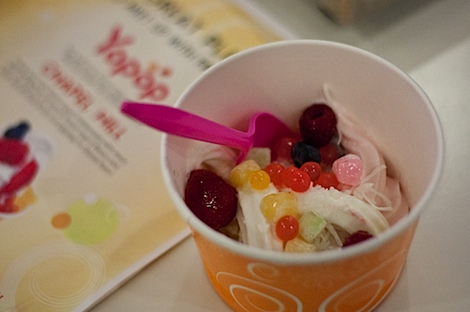 I got strawberry and coconut froyos with raspberries, blueberries, pineapple, bobas (both flavors) and the multi-colored mochi. Nom!
The froyo cooled our tongues off and made for yet another sweet ending to an awesome day.
Reader question: Have you had Ethiopian before? What did you think of it? If not, do you want to try it?