I love soup. Soup for lunch, soup for dinner, soup for a snack.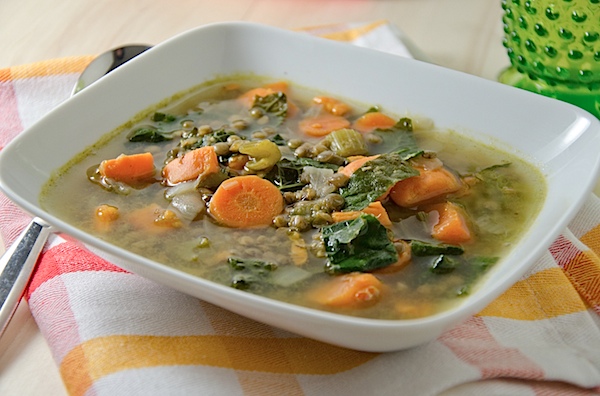 I've even had soup for breakfast. What? That's totally normal in some countries. For real.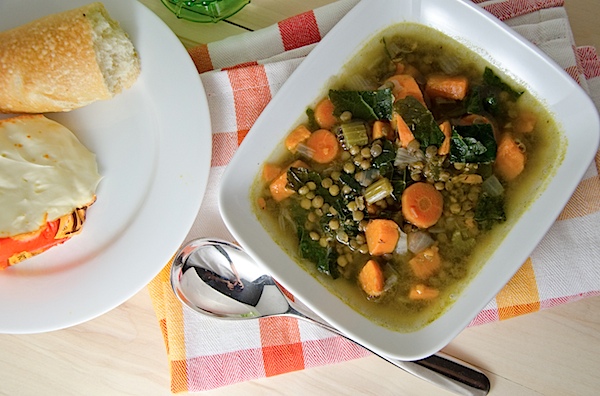 I'm actually getting out of sweet breakfasts and tired of fried eggs and toast, so I'm checking out breakfasts of other countries for new breakfast inspiration. No Reservations is helping provide inspiration. I'll let you know if I come up with anything worth sharing.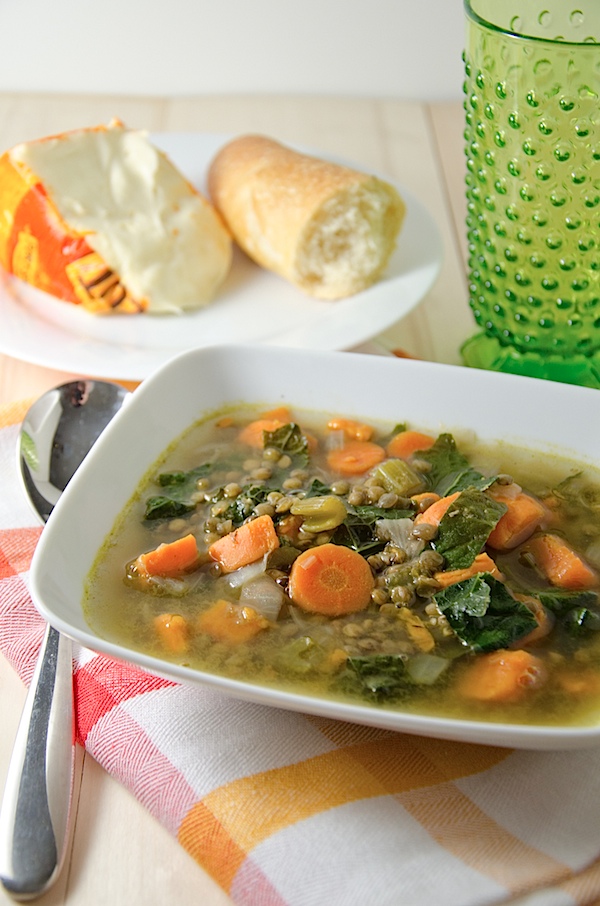 In the meantime, I'll continue enjoying soup for light meals. I love pairing soup with hearty, whole grain, buttered toast. It's one of my favorite meals, even in the summer. Possibly my favorite thing about soup is the convenience factor. I mean, make a big batch, portion it off, and freeze it. It's way better than canned soup and one of my go-to post-Zumba meals after a long day.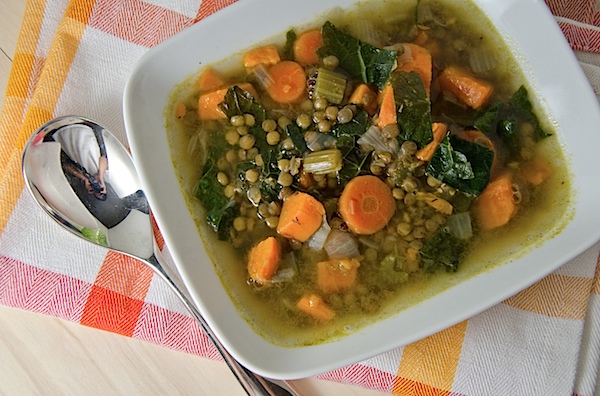 Kale, Sweet Potato, Lentil Soup
This easy soup is light yet hearty and makes a great meal paired with whole grain toast. The leftovers freeze well so you can enjoy the leftovers at your convenience. Add in your favorite veggies to make it your own.
*Vegetarian, Vegan*
Cook Time: 40 minutes
Serves: 6-8
Ingredients:
1 tablespoon olive oil
1 medium onion (or 1/2 large), chopped
2 carrots, peeled, chopped (I like to cut mine into circles because I like the way they look – silly, but true)
3 stalks celery, chopped
4 cups broth (I used chicken, but use vegetable for vegetarian/vegan)
1 cup lentils, picked over and rinsed
1 teaspoon dried thyme
1 bay leaf
2 sweet potatoes, peeled, chopped into bite-sized pieces (about 1/2-3/4″ square)
1 bunch kale, chopped into bite sized pieces
water, as needed (I used about 1 cup)
salt, pepper, to taste
fresh parsley, chopped, optional, garnish
Directions:
Heat oil in a large pot over medium heat. Add onions, carrots, and celery (and a sprinkling of salt) and saute until onions are translucent, about 5 minutes.
Add broth, lentils, thyme, and bay leaf (and a large pinch of salt, if you want). Bring to a boil, reduce heat to simmer and cook for 10 minutes, stirring occasionally.
Stir in sweet potatoes. Cook over simmer, stirring occasionally, until lentils and sweet potatoes are tender to your liking, about 20 minutes. Add water to your consistency preference (I like mine a little brothy, so I added about 1 cup). Taste and season with salt and pepper as you want.
Stir in kale, turn off heat, re-cover, and let sit for 5 minutes while the kale wilts. (I undercooked the kale a little for the first batch so it wouldn't be too overcooked when I re-heat it, but feel free to cook longer to your texture preference).
Serve (garnish with parsley, if using) and enjoy!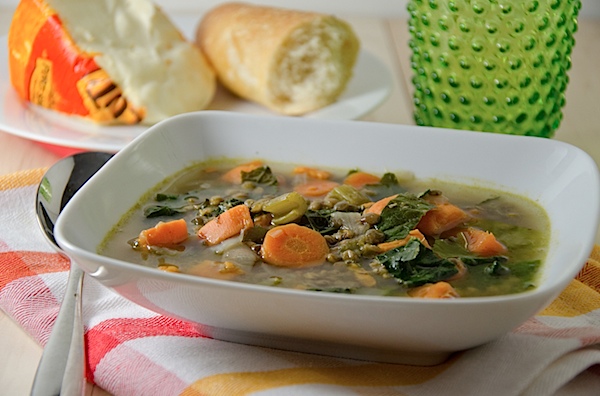 Reader question: If you like it, what's your favorite thing about soup?