Fall is in the air, and to kick things off, I wore my first sweater of the season. Okay, so I know it's not technically fall yet, but I'm pretty much ready. And I was dressing for the weather. Yeah…that's riiight. It was a little chilly that morning. Anywho, I scored these skinny khakis at J. Crew at less than $20 during their super sale. I saw a pair of skinny khakis in a similar color in some Spring 2013 fashion week photos, so I'm thinking I'll be able to use these through next year. If you see some skinny khakis on the summer sale racks, they could be a great buy since they'll quite possibly be hot next spring!
I paired the khakis with metallic boat shoes because I felt like being comfortable at work. But, I think khakis usually look best when they're balanced with something really girly. The pink purse is my girly feature on this outfit, but I think heels would have been way cuter. Sometimes, comfort just wins out. Maybe I'll go heels next time? 😉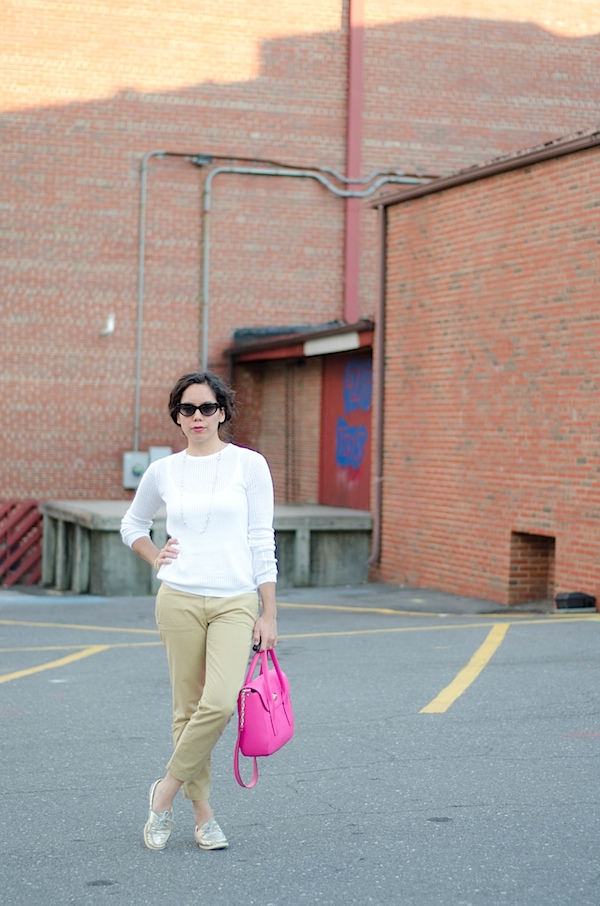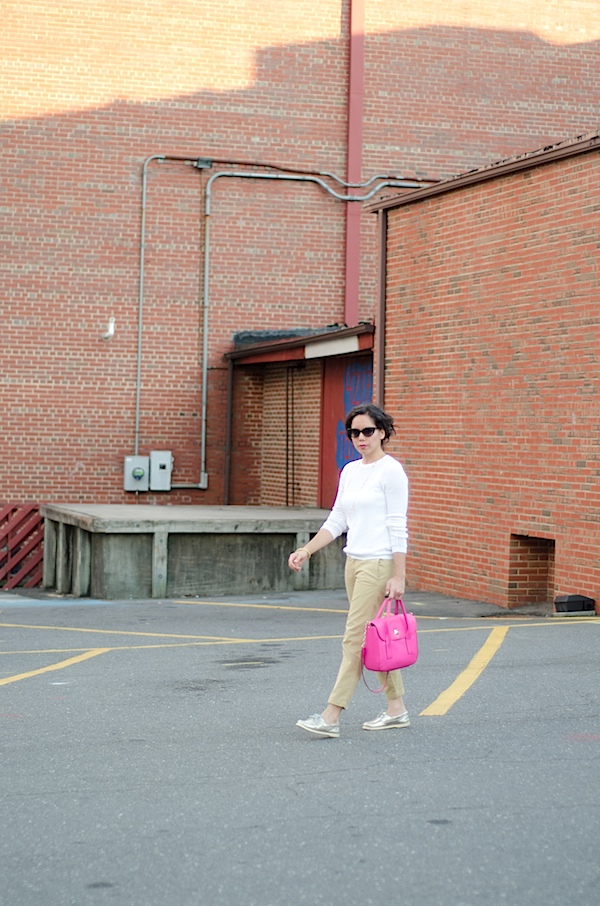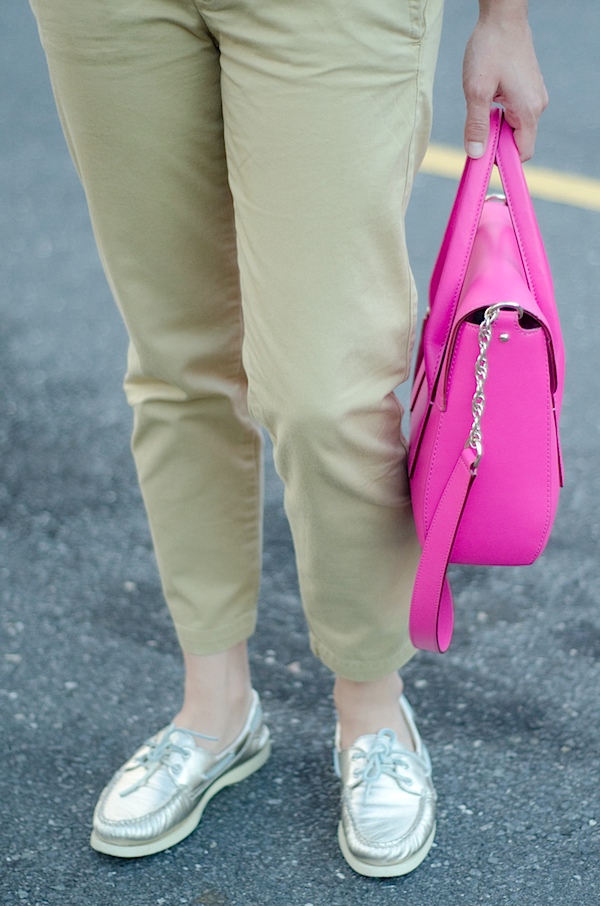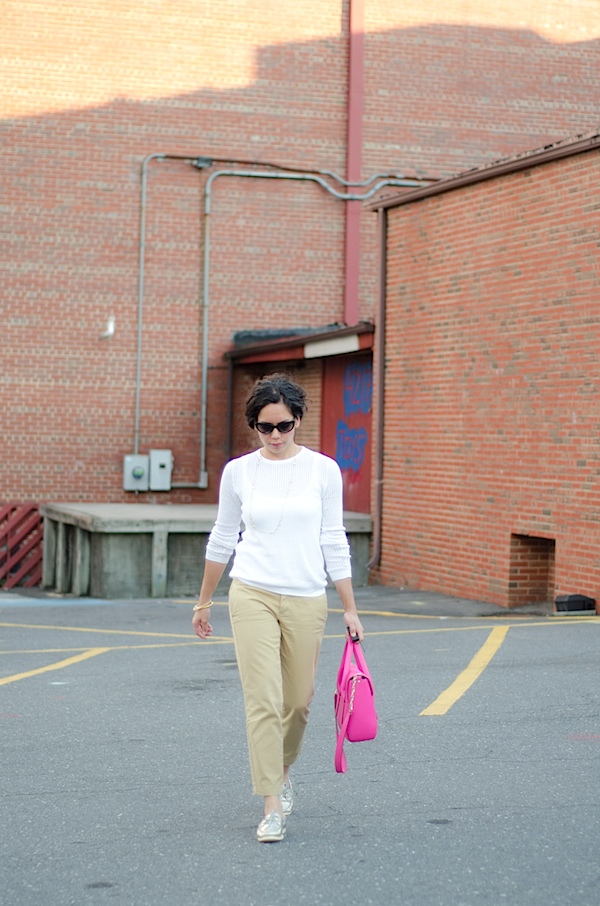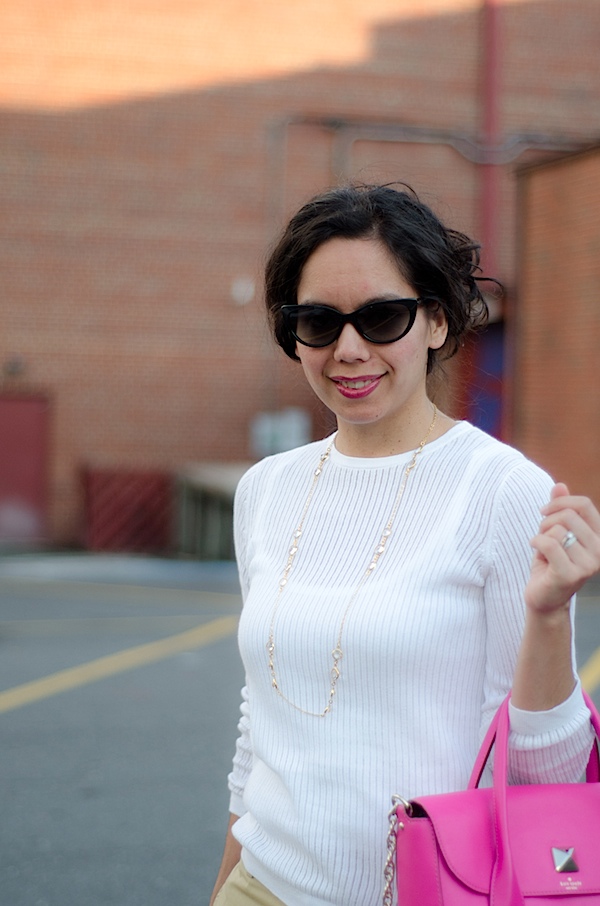 I totally had my photo party crashed when a random guy walked up talking on his cell phone. I guess his truck was parked near my photo shoot location, and he was hanging out near it while he chatted. So, if I'm not as smiley in these photos, that's why. Somehow it's slightly less awkward to take photos of myself when I'm not cheesing in front of the camera and tripod.
Outfit:
Skinny khakis: J. Crew (scored on sale)
Tank top: Banana Republic
Sweater: Banana Republic
Boat Shoes: Sperry
Purse: Kate Spade
Necklace: J. Crew
Bracelets: Target
Shades: Vogue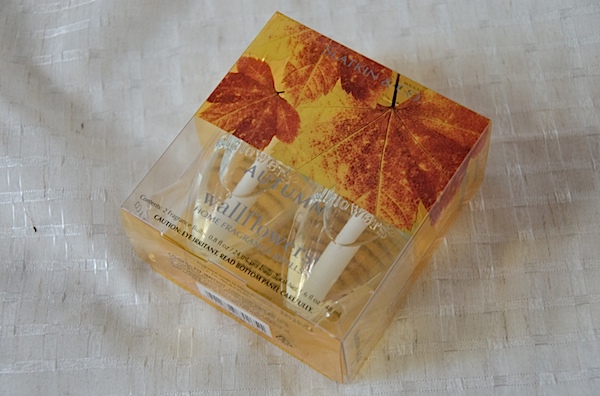 In other fall related news, I've plugged in my first fall-scented wallflower refills. I pounced on some new wallflower refills when I got a Bath & Body Works email newsletter saying the 2-packs were on sale for $6. $3 per wallflower? Um…yes, please! I shared the deal on Facebook, so hopefully you're following there, too, and saw the post. It will be fun transitioning the rest of the wallflowers in my house to fall scents. We just put cinnamon stick in one of the other rooms, and we have a couple more to go.
Reader question: What are you most excited about regarding the upcoming season? (I didn't say "fall" since it's spring in some countries. Anyone reading in Australia or New Zealand?)