Though I had fun experimenting with the tofu pumpkin pie I made this past weekend, I really wanted to try something a little different. I considered the idea of using milk instead of tofu, and I've really been enjoying coconut products lately. So, when I remembered I had a can of coconut cream that I picked up at Trader Joe's hoping to make something fun, I thought of this…Coconut Pumpkin Pie with Creamy Coconut Sauce Recipe.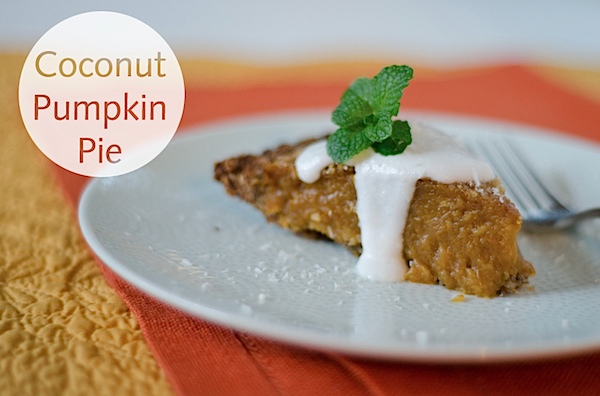 Creamy Coconut Sauce on Pumpkin Pie?!
Ok, the sauce was a bit of an accident. I tried to make some whipped cream with the coconut cream that I didn't put into the pie, but it didn't quite work out. See, when I opened the can of coconut cream, it was quite thick and hard to get out with the spatula I was using. As I worked my way down the can, I realized there was a bunch of liquid in the bottom (I thought only the coconut milk separated…oops).
I thought about pouring the liquid out, but then I thought maybe it's supposed to be mixed in since it's coconut "cream" and already thicker than coconut milk. I emptied the entire contents of the can, liquid and all, into a bowl and blended them together with a hand-held mixer. Big mistake.
Well, big mistake as far as making whipped cream went. The pie was great. But you know what, I just went with it. Instead of coconut whipped cream, I had a creamy coconut sauce. It was similar to whipped cream, but not as stiff. It was, however, still quite delicious.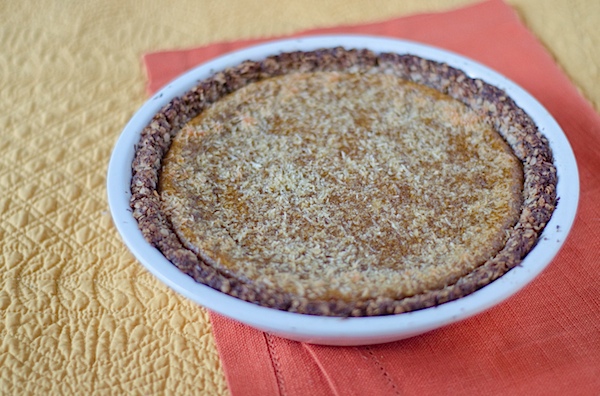 Healthy Coconut Oat Crust
Another accidental recipe creation was this oat crust, which I featured on another post. Instead of using a store-bought, ready-made crust, I experimented with this one. And it worked so well!
Feel free to choose whichever base pie crust you like. But I did think My Oat Crust paired nicely with this Coconut Pumpkin Pie Recipe thanks to the coconut in the both recipes.
NOTE: Thanks to TCL reader Sharlene (see comment below), in 2022 I experimented with using an unbaked version of my oat crust recipe and baking it *with* the filling. It came out great! So I recommend *not* pre-baking the crust if you're making this coconut pumpkin pie recipe (or any recipe where the filling is also baked).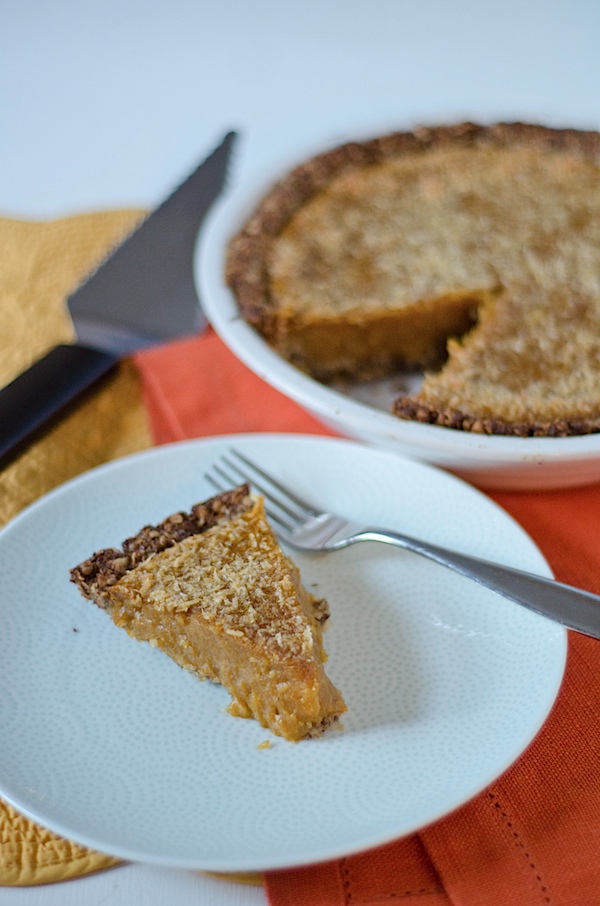 Vegan Pumpkin Pie Recipe
If you're looking for a vegan pumpkin pie recipe or just want to do a twist on the classic pumpkin pie, this one would be fun to try!
I've never heard of a coconut pumpkin pie recipe before. But since I love combining pumpkin with coconut in my oatmeal, I hoped the flavor would work in pie version too.
It SO did!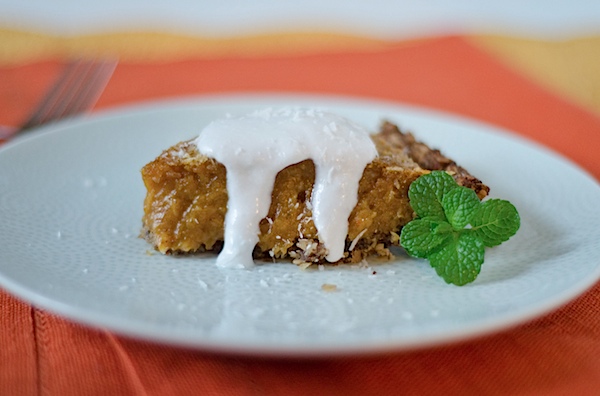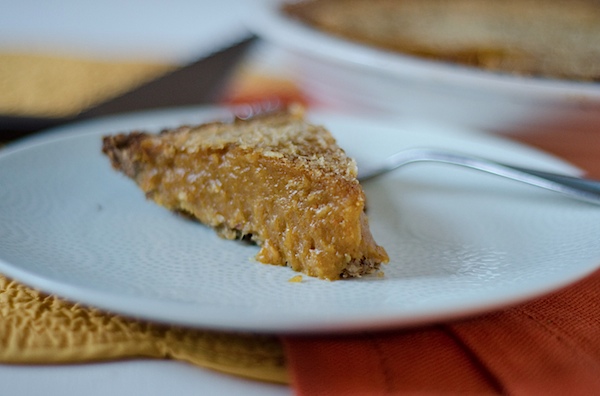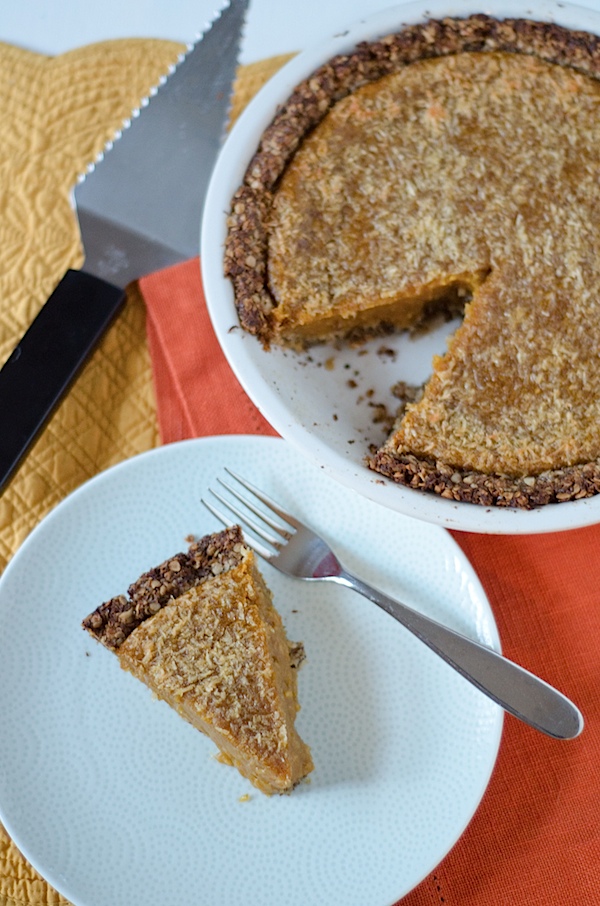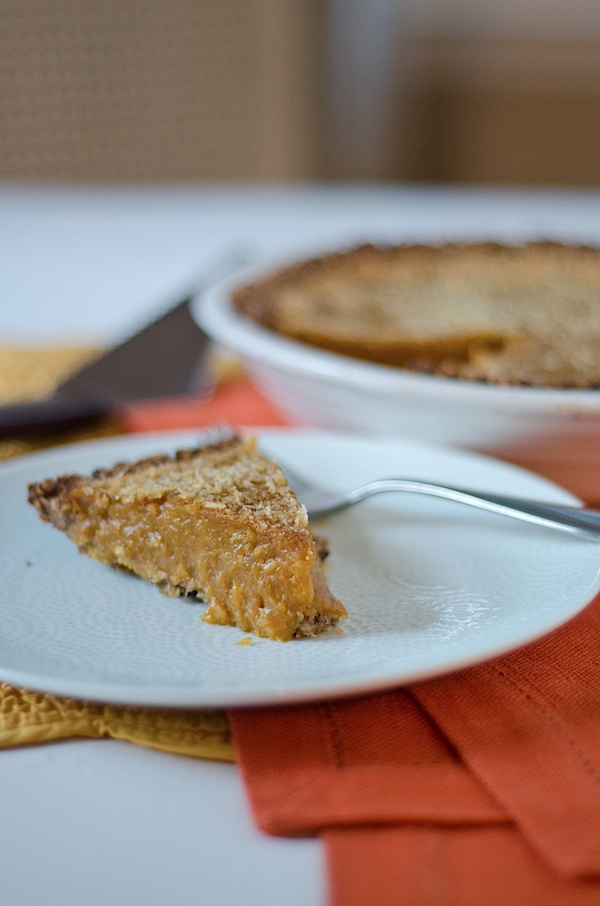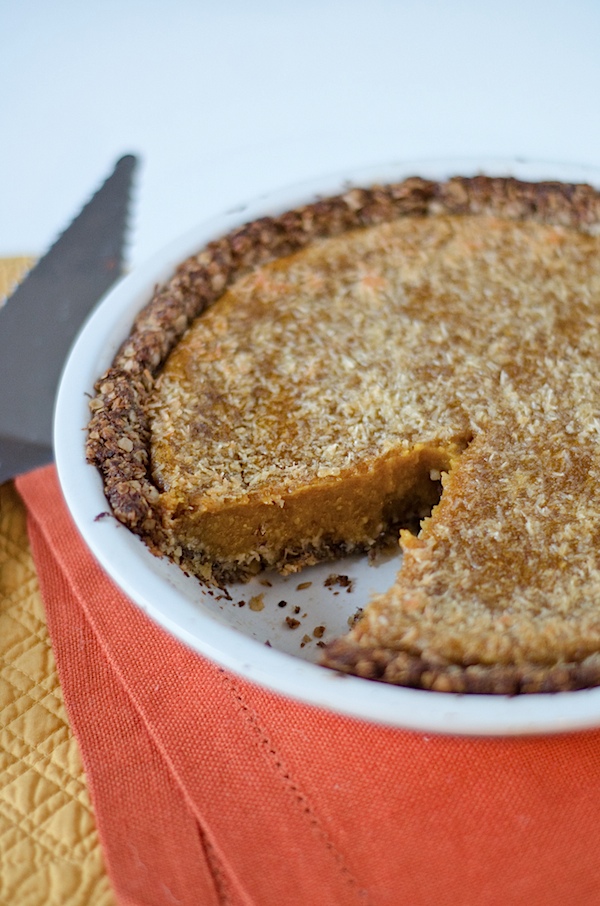 Print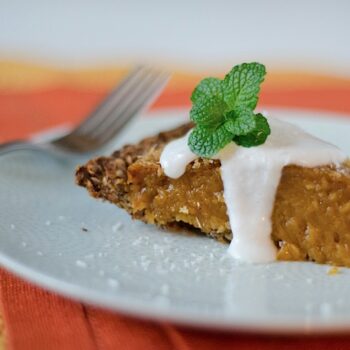 Coconut Pumpkin Pie with Creamy Coconut Sauce Recipe
Author:

Prep Time:

10

Cook Time:

60

Total Time:

1 hour 10 minutes

Yield:

6

–

8

slices

1

x

Category:

Dessert, Holiday

Method:

Baking
---
Description
Here's a fun play on the traditional pumpkin pie. I love the combination of pumpkin and coconut so much that I applied it to a pie concept. I like to make my Oat Pie Crust (which is also vegan), which I'll prep but not bake until the filling is in. The coconut flakes on top will toast while the pie bakes. Delicious!
This pie is best made in the morning on the day you want to serve it or the day before you want to serve it. This allows for cooling of the pie for setting and coconut cream for the sauce. If you make this pie the day before, store in the refrigerator after coming to room temperature.
*Vegetarian, Vegan*
---
1

ready-to-use pie crust (I used my homemade Oat Pie Crust , but my recommendation is to *not* bake it beforehand – just put the filling into the raw crust and following baking instructions on this recipe)

1

14-ounce can coconut cream (not coconut milk – I found this at Trader Joe's)

1

15-ounce can canned pumpkin (NOT pumpkin pie filling)

2/3 cup

sugar (preferably raw)

1/4 cup

, plus 2-3 tablespoons finely shredded coconut flakes

2 tablespoons

cornstarch

2 teaspoon

pumpkin pie spice

1 teaspoon

vanilla extract

1/2 teaspoon

salt

1 tablespoon

powdered sugar (plus additional if needed, to taste)
---
Instructions
Pre-heat oven to 350 degrees F.
Pour coconut cream (solid and liquid portions, if they've separated) into a large bowl (the type of bowl you would use to make whipped cream). Mix (I used a hand-held mixer on medium speed) until solids and liquids are combined. Measure out 3/4 cup and set aside. Cover the bowl (with the rest of the coconut cream) place in refrigerator.
Combine pumpkin, 3/4 cup coconut cream, sugar, 1/4 cup coconut flakes, cornstarch, pumpkin pie spice, vanilla extract, and salt together in a large bowl. Mix together until evenly combined.
Pour pie filling into prepared pie crust, sprinkle top with remaining coconut flakes, and bake for approximately 1 hour (I actually baked mine for 65 minutes) or until a toothpick inserted in the center comes out mostly clean. Allow to cool to room temperature. Note: If you're not going to serve once it's cooled/ready, place room temperature pie in the refrigerator until you're ready to serve.
Just before serving, remove bowl of remaining coconut cream from the refrigerator and uncover. Using a handheld mixer or whisk, beat until the sauce becomes creamy and thickens a bit. It won't be whipped cream consistency, but it will thicken slightly. Mix in powdered sugar (adding additional, if needed). Spoon a little sauce over each piece of pie before serving.
---
Notes
If using my Oat Crust, I recommend *not* pre-baking it. Pour the pie mixture from this recipe into the raw crust and bake following this recipe's instructions. You can mix the pie filling by hand, but I used a handheld mixer on low till the dry ingredients started to incorporate (so they didn't fly out of the bowl) and then went on medium speed.
Check crust once or twice (especially if using my Oat Crust) to ensure the edges aren't burning. Add crust edge cover (or use aluminum foil on edges) to prevent crust edges from burning. Be careful removing pie from oven, especially if using a flimsy tin foil pie dish because it will make the top crack. You could try putting the foil dish into a firmer pie dish or on top of a baking sheet during baking to prevent the pie from squishing in when you take it out of the oven.
Keywords: Dessert, Holiday, Baking, Pie, Vegetarian, Vegan, Healthy
Recipe Card powered by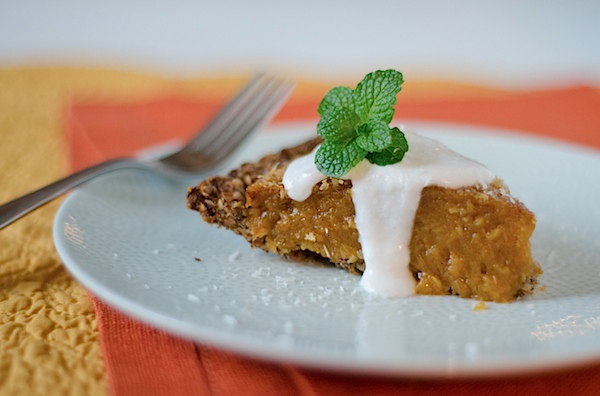 More Delicious Holiday Dessert Recipes
Cranberry White Chocolate Cheesecake
Healthy Pumpkin Chocolate Chip Muffins (Whole Grain, No Refined Sugar, Vegan)
***
Did you like this post? Please consider sharing this recipe with your friends using any of the share buttons at the end of this post. You can also click here to check out The Chic Life on Facebook or click here to get free updates.
Thanks for checking out my vegan Coconut Pumpkin Pie with Creamy Coconut Sauce Recipe!
Reader question: Have you ever made lemonade out of lemons with a happy kitchen accident? What were you trying to make and what did you end up making instead?