The vote for the next TCL recipe was close, but based on comments, the cookies seemed to be the winner. The Facebook vote winner was the mystery muffins, so those will be coming next!
You guys are familiar with my emergency cookies, right? I created the original recipe (click to view) when I wanted to have almost-instant cookies without relying on the prepackaged goop. Hubby and I used to have those ready-to-bake cookies in the fridge almost at all times. But, since I've gotten more and more into clean eating, I've been working on avoiding pre-packaged food-stuffs as much as possible. So, they got kicked to the curb.
One night, when I was really feeling cookies but didn't feel like putting the effort into the whole batch, I wondered if I could make something from scratch that didn't take too long. Something that could be almost as fast as the processed ready-made stuff. I mixed up a couple things using ingredients that were clean and relatively quick, and the emergency cookies were born.
In my opinion, these emergency cookies aren't quite as good as a full batch. Some short cuts were taken, like using oil which is ready to pour rather than measuring butter (or Earth Balance) and having to melt it and dirty up another bowl, etc. But, those short cuts plus the fact that the recipe only makes 4 cookies total = quicker cookies. And these cookies are all about speed. Oh, and speed and the fact that you're still making them from scratch so you get to control the quality of your ingredients, too.
As for this version of the recipe, I was experimenting with two things:
How would honey work in a cookie recipe?
Could I put leftover granola into some cookies?
Turns out both work, and they work well! So, if you're looking for a new flavor, try using honey as your sweetener (the cookies will be really sweet!). Have extra granola? Throw them into some cookie batter. I added chocolate chips to my cookies, but I also think these cookies would be great with nuts in place of the chocolate chips. Yeaaa Honey Granola Pecan Cookies sounds pretty awesome. Maybe next time?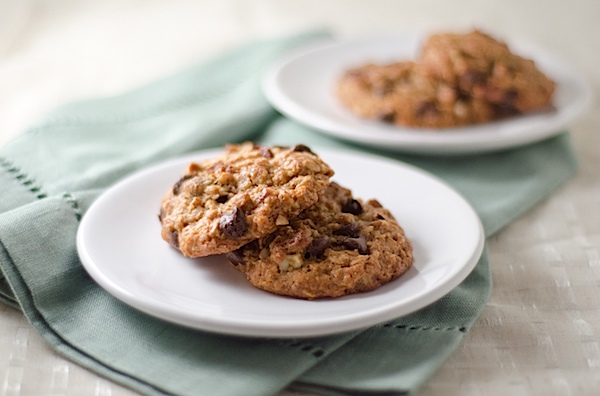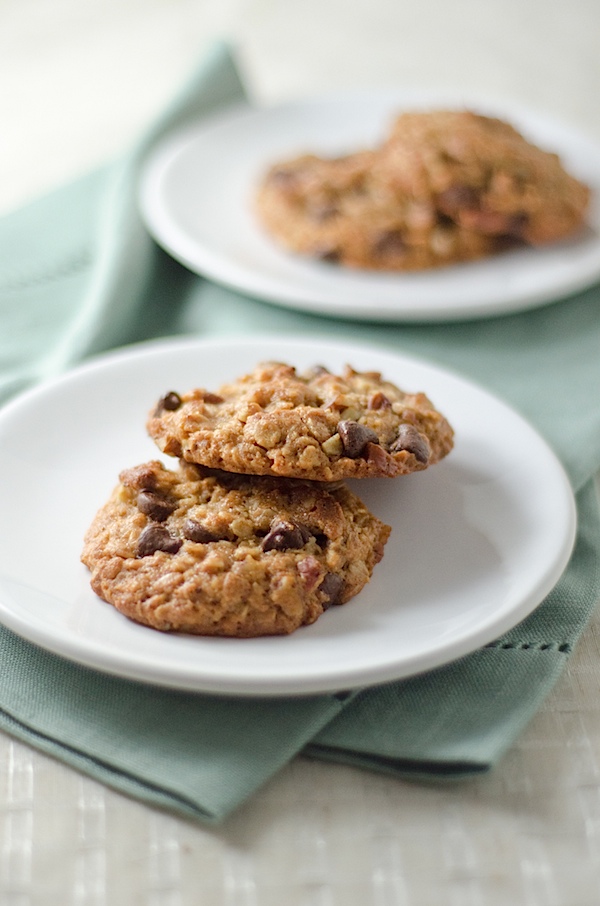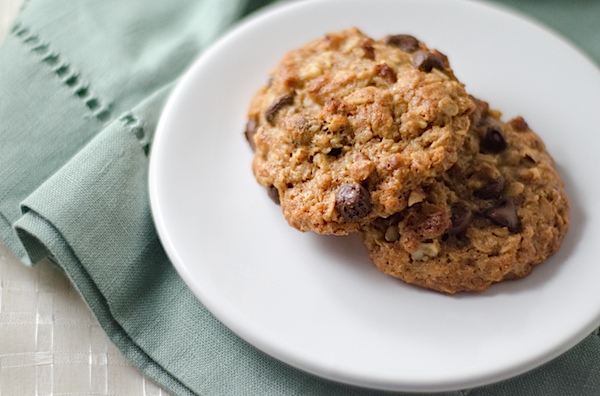 Honey Granola Emergency Cookies
This recipe is perfect for when you want cookies and you want them fast. That is…when you want cookies for two. If you want cookies for a lot of people fast, I suggest prepping and ahead, making a double batch of these dough balls (or any flavor), and keeping them in the freezer for when you need a quick fix. Actually, that works for any number of people. But, if you didn't prep ahead and you're craving cookies NOW, try this clean eats version that is almost as fast pulling out a processed, ready-to-bake ball of dough from the fridge.
Prep time: 5 minutes
Bake time: 14-16 minutes
Total time: 19-24 minutes
Yields: 4 cookies
Ingredients:
1/4 cup flour, plus 1 tablespoon (I've used unbleached all purpose and spelt with good results) (sub coconut flakes for the 1 tablespoon flour for a fun variation)
1/4 cup leftover granola (a less chunky kind will work best)
1/4 teaspoon baking powder
pinch salt
2 tablespoons oil (I used canola – feel free to sub softened butter or Earth Balance/vegan sub)
2 tablespoons honey (or maple syrup for vegan option)
1/8 teaspoon molasses
1/8 teaspoon vanilla extract
2 tablespoons chocolate chip (or sub nut of choice for a different flavor)
Directions:
Pre-heat oven to 350 degrees F. Prepare a baking sheet with parchment paper.
In a medium bowl combine flour, granola, baking powder, and salt. Whisk to combine (or use a fork to stir).
In another medium bowl combine oil, maple syrup, honey, and vanilla extract. Whisk till evenly combined (or use a fork).
Add wet mixture to dry mixture and gently stir until all flour absorbed, careful to not overmix. If you're feeling particularly lazy (like I was the first time I made this), go ahead and your chocolate chips with the wet mixture and skip the next step.
Gently stir in chocolate chips.
Evenly distribute to 4 mounds. Bake 12-14 minutes or until edges are just browning or to your texture liking. Allow to cool till they're safe to touch and enjoy!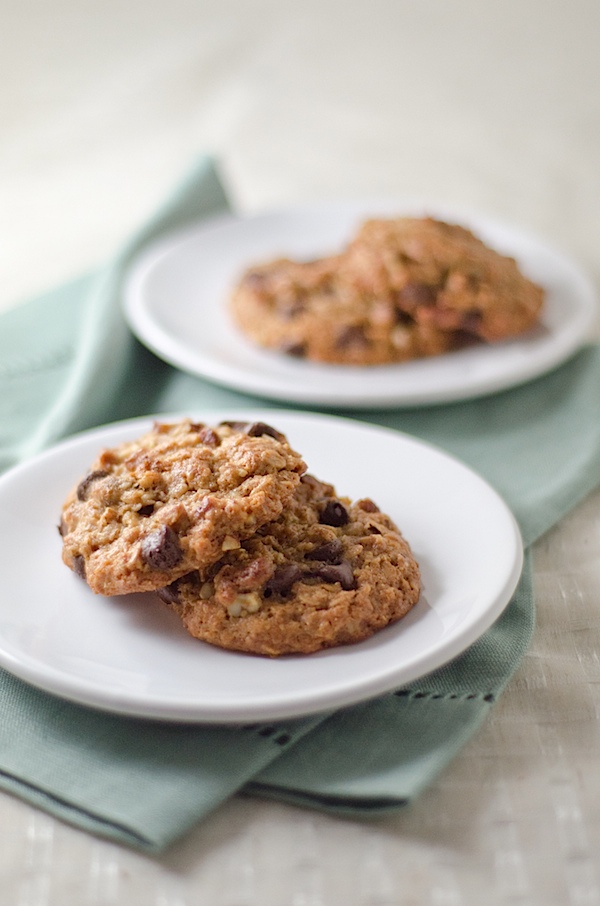 Did you like the recipe? Please consider clicking the Like button on this post or sharing this post with your friends using one of the buttons at the end of this post.
Thanks for reading!
Reader question: What emergency cookie flavor would you like to see next?