I must admit, I do miss doing my "eats" posts from time to time. Though I have no plans to do a daily food diary, I'm thinking a post like the one from last weekend or this one (that you're reading now) from time to time could be fun…maybe once a week? Thoughts?
I'm currently visiting my family for my mom's birthday, and I have some photos from the weekend to share in a future post. Oh, and just a quick head's up – I will be posting a recipe round-up with some slow-cooker recipes. Wouldn't that be great for tomorrow? Get your grocery lists ready! But first, here are some eats from this past week:
Tuesday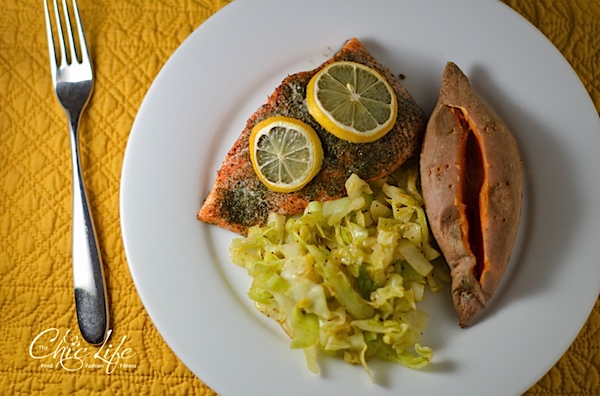 Tuesday is the only night my favorite farmers market, Atherton Mills, is open late. So, I try to swing by there now and again when my schedule permits it. For this past week, I stopped in and picked up some steelhead trout (my new favorite fish) from Lucky Fish, cabbage, and sweet potatoes. I roasted the trout with a similar preparation as this salmon recipe (except at 400 and only about 15 minutes), and then I just micro-steamed the sweet potatoes and sautéed the cabbage with some salt, pepper, and a dash of Homestead seasoning. Can you believe I whipped this up in 20 minutes? Not only was it quick, it was the best meal of the week, too!
Wednesday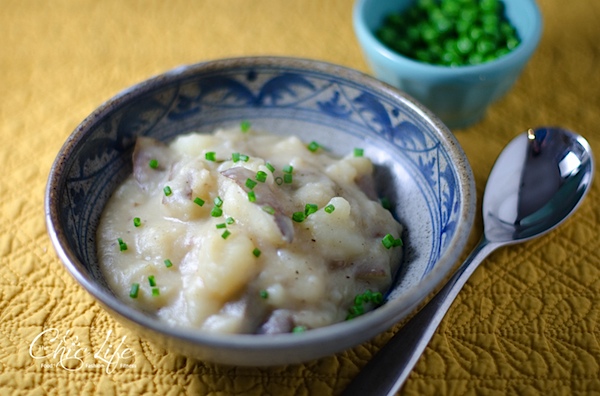 On Wednesday night, while I was at Zumba, hubby cooked this baked potato soup by Chocolate Moosey (one of the recipes from my recent 30 Minutes or Less round-up). He did a great job, and the soup was really tasty! We had this with some frozen peas for a quick vegetable.
Thursday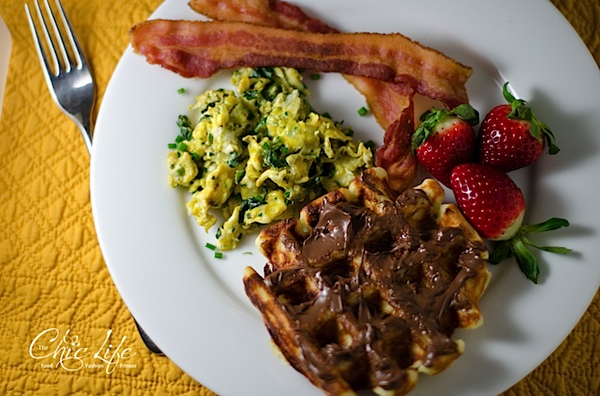 On Thursday, hubby surprised me again. I called him on my way home from Zumba and asked him if I needed to pick up anything on my way home. His reply – "not if you don't mind having waffles and eggs for dinner." I thought brinner sounded pretty good, and waffles from the box seemed easy enough after a long day of work and working out. But oh, how I mis-judged hubby. When I got home, he had our waffle maker out on the counter and had looked up a from-scratch waffle recipe online! He said we didn't have a vegetable, but I put some frozen spinach into an egg scramble (along with some cheese) and called it a day. We also had bacon and strawberries. And for the waffle topping? I wasn't feeling maple syrup, but something better came to mind anyway – Nutella! Reminds me of France!
I do need to remember how easy breakfast for dinner can be! It's definitely a good go-to for busy people…and breakfast fans, of course.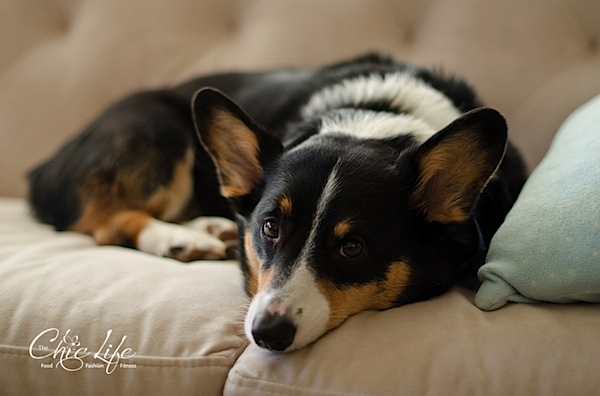 Oh, and here's a random Bailey photo. Enjoy!
Brinner: yay or nay? if yay, what are your favorite brinner eats?