One of the perks of attending a conference in Charleston, SC is having the opportunity to indulge in the local food scene. You don't have to look far to find a high quality restaurant. And, I'm loving how the Charleston scene is trending towards sourcing locally. Yes!
We were already in the downtown area, right near King Street, for the after party, so we didn't have to walk far to find a delicious option. The WordCamp organizer, Karl, gave us a couple suggestions for the area, including the one where we ended visiting. King Street is to top notch restaurant as any French street is to pâtisserie – there's seemingly one on every block. The main kink was not having a reservation. I was a little worried about not being able to get into any restaurants, even though we were having a pretty late dinner. We passed a few restaurants, noting how busy each seemed, until we ended up at The Grocery. It was just off of the main street and had large, warm, welcoming windows. We decided to head on in to check out the menu and then decided to stay for dinner.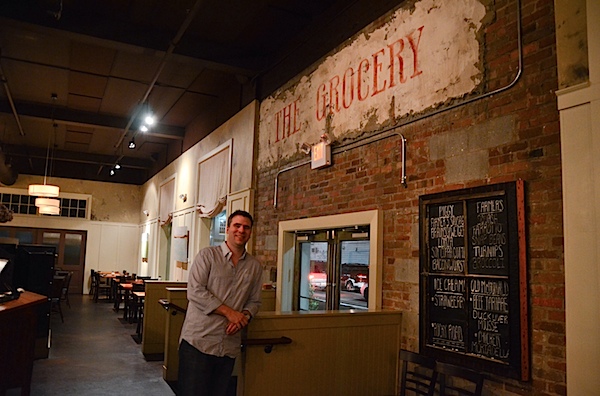 The Grocery is a farm-to-table dinner featuring local eats, house-made charcuterie, and in-house canned foods.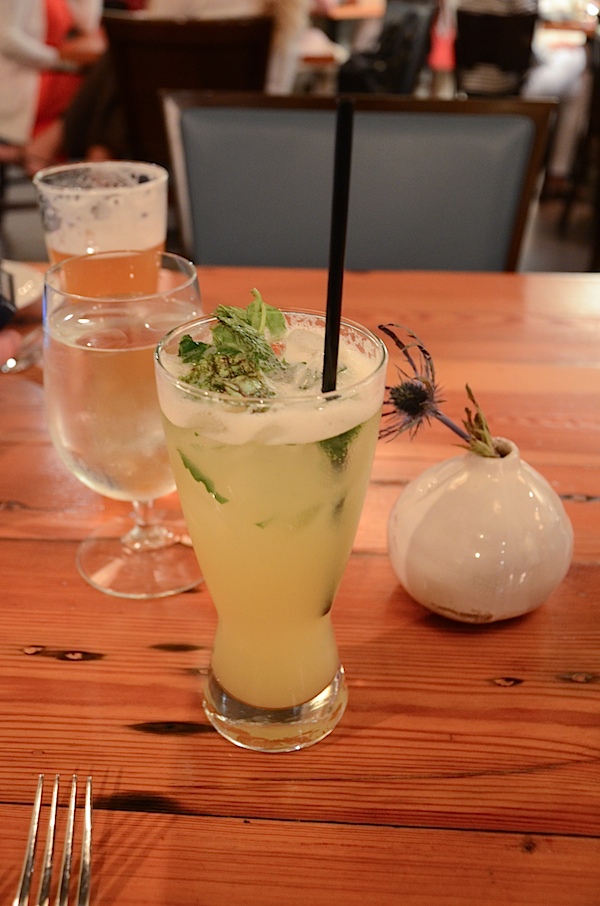 Since we had just left the WordCamp after-party, I decided to order a mocktail. I got the pineapple mint fizz, which was really refreshing.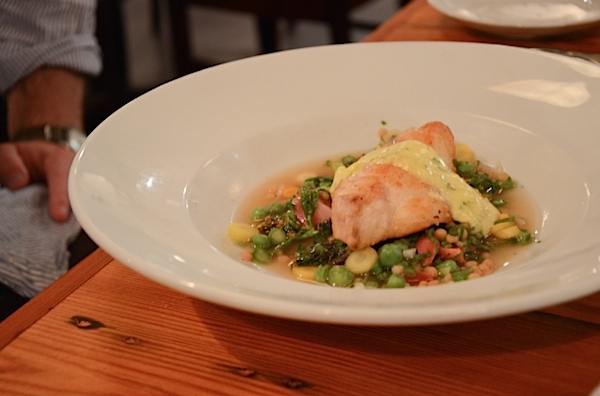 Hubby ordered the grouper, which was served over a light minestrone. I've seen fish served over soup a couple times now, and I really like it. One of the most memorable examples is when we had the fish over that amazing butter broth at Chez Panisse. This version was really lovely in a different way because the mixture of beans and vegetables added great flavor and texture. The vegetables especially were slightly crisp, so they added a nice bite.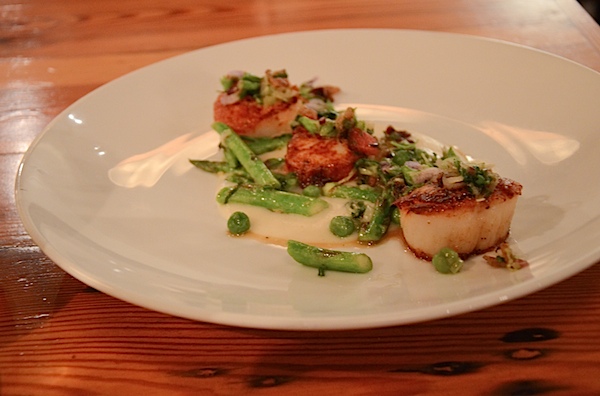 I ordered the scallops, which came with asparagus, peas, ramps, and a creamy purée. The scallops were seared perfectly, and I thought the presentation was really pretty. I enjoyed gathering a couple pieces of the crisp-tender vegetables, trying to get a little of each with a dip of the purée, on each bite. The flavor was enjoyably delicate.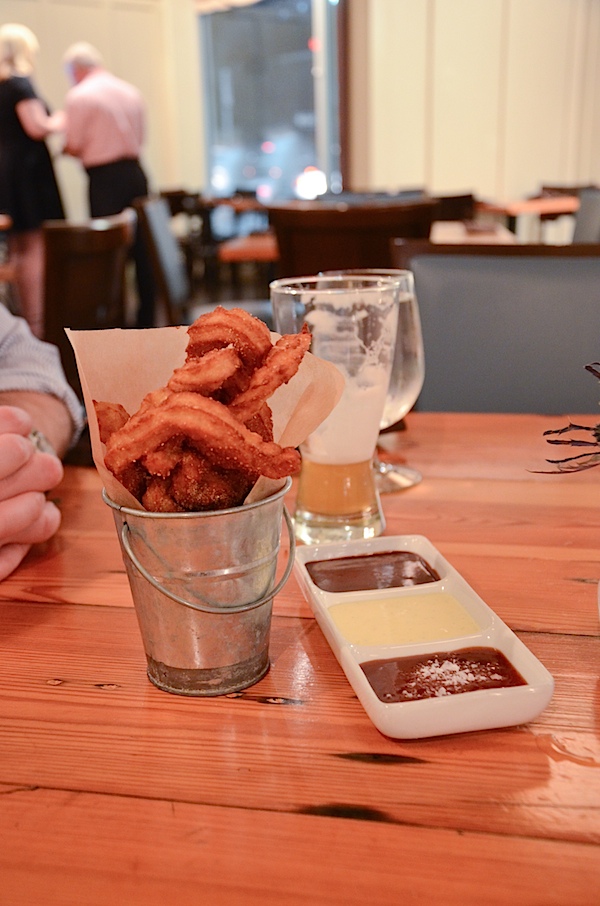 Of course, my favorite course is always dessert, and I was really excited about the churros. As most of you know, I'm a big churro fan, but I usually only get to try the kind that are simply rolled in cinnamon sugar. This version came with not one, not two, but three dipping sauces: chocolate, vanilla, and salted caramel. This was one of those desserts you eat very slowly so you can really savor each bite. We enjoyed it so much, we strongly considered ordering a second round. Instead, I made sure to enjoy the last bits of the sauce left on the plate.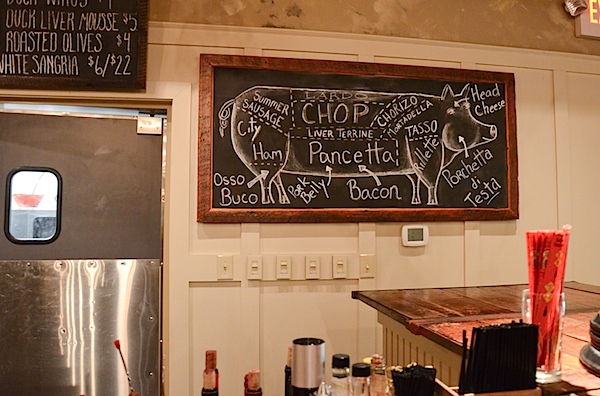 The food definitely spoke for itself, but we also enjoyed really great service. Our waiter was very friendly and took wonderful care of us. At the after party earlier that night, Jen told me about the show Portlandia. She mentioned the episode about local chicken at a restaurant and how the waitress even had a photo of the chicken and shared its name. When I saw chicken on the menu earlier in the night, I really wanted to ask our waiter what its name was, but I held back. But, our waiter seemed pretty cool, so at the end of the meal, I asked if he'd seen the show Portlandia, and he had! He actually used to live in Portland. In case you're curious, I did ask about the chicken at The Grocery, and our waiter said its name was "Keegan."
Thank you to The Grocery and team for a wonderful dinner experience. We'll be back!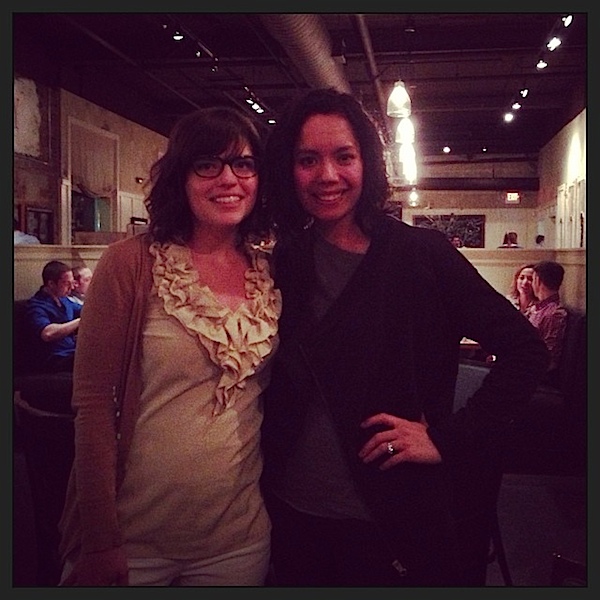 And it is a small world after all. I ran into blog reader Faith at The Grocery. Hello, Faith! It was so nice meeting you!