We woke up on the last day of our Sister Weekend in Asheville, NC not quite ready to leave.
*links for the previous eats and adventures are at the end of the post*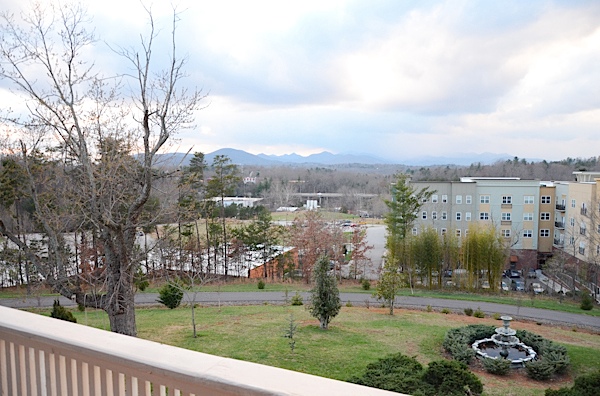 We were, however, ready for breakfast. After having enjoyed a handful of delicious and unique breakfasts at Reynolds Mansion (between this trip and others), we knew we were in for a treat.
*Be sure to check out my video about Asheville for another POV – link at the end of the post*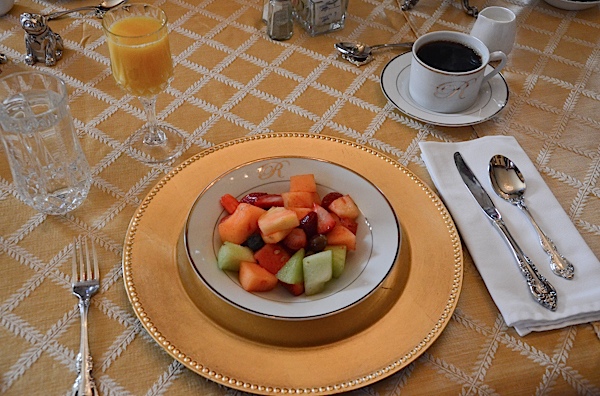 We started with fresh fruit.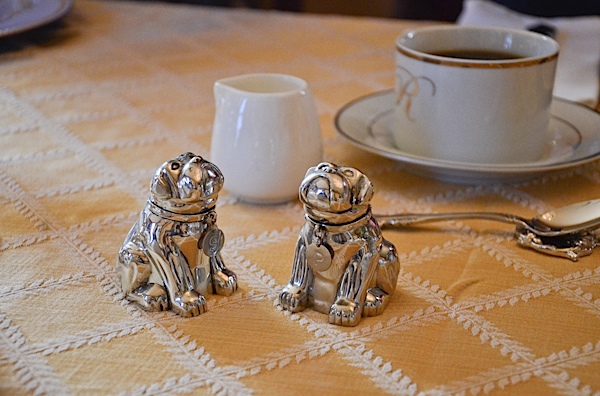 Aren't these bulldog salt and pepper shakers cute?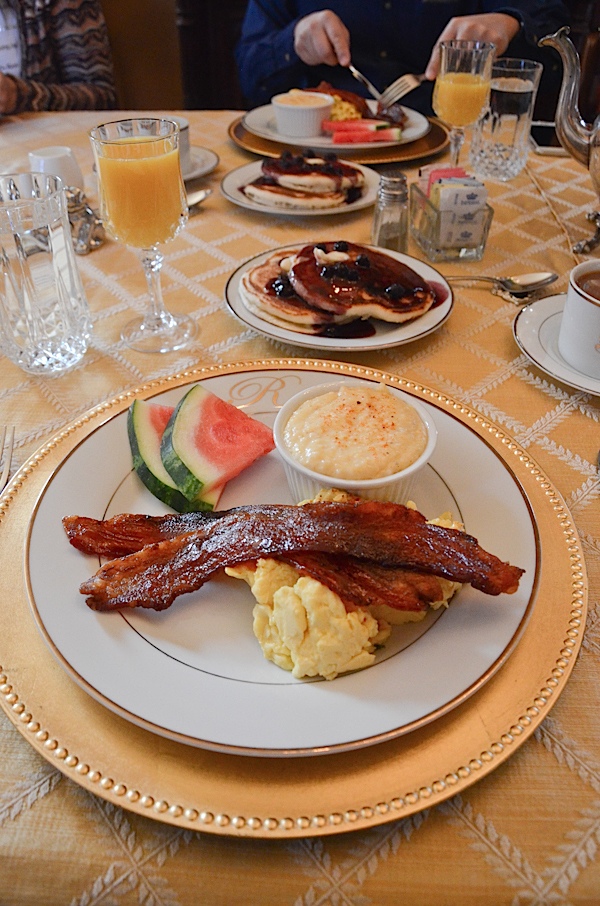 And for the main event: scrambled eggs, baked bacon with maple syrup and cayenne pepper, grits, fresh watermelon, and pancakes with blueberry syrup. If only I could wake up to breakfasts like this every day!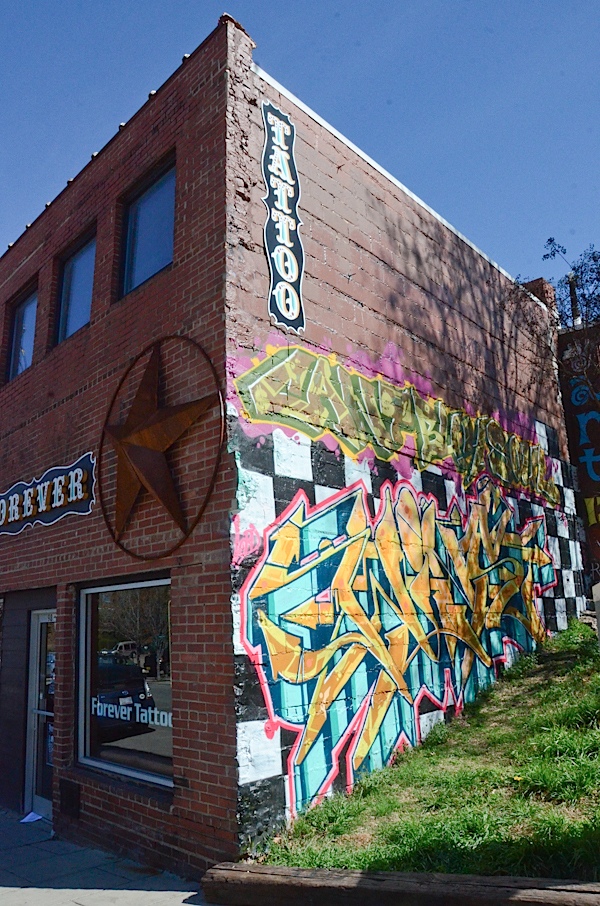 Sis and I packed up so we could stop by a couple more places on our way out of town.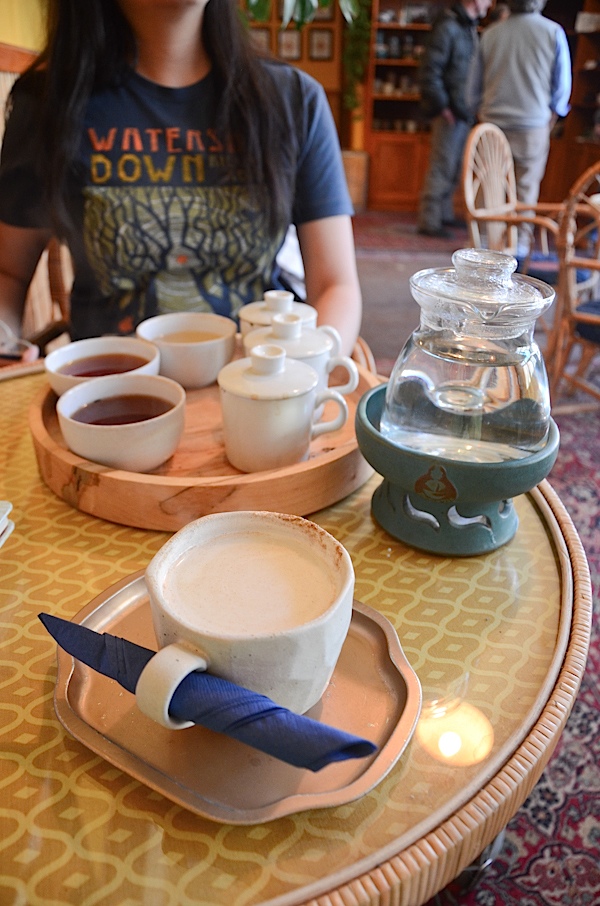 Of course, we had to see our beloved Dobra Tea one more time. Two trips in one day may have been a little over-the-top, but we were certainly ready for it on the last day of our trip. I enjoyed another tulsi chai. I literally could drink one of these every day.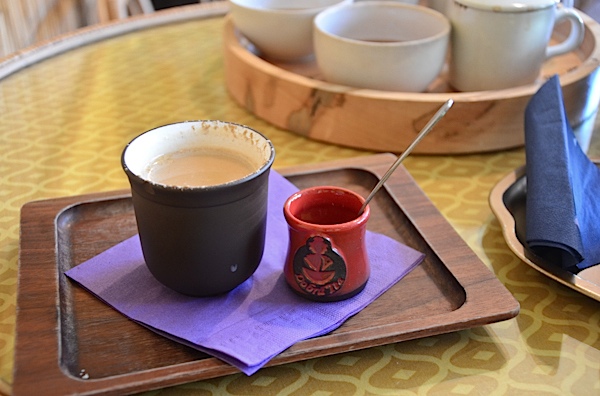 And I even got to sample a curious-looking tea on the special menu. It was made with mushrooms! After asking the waitress about it but deciding I was too chicken to try it, she kindly offered me a small sample. A tiny cup of steamy, milky tea came out accompanied with a container of honey. The concoction was wonderful. It tasted a little earthy, but not really like mushrooms. I made a mental note to consider ordering it next time…if I see it again.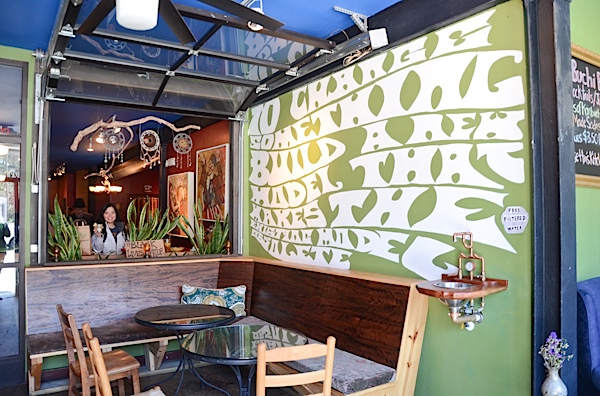 We walked down the street to Rosetta's Kitchen, which had been recommended to me by blog readers in the past. I hadn't made it yet, so I was looking forward to trying it.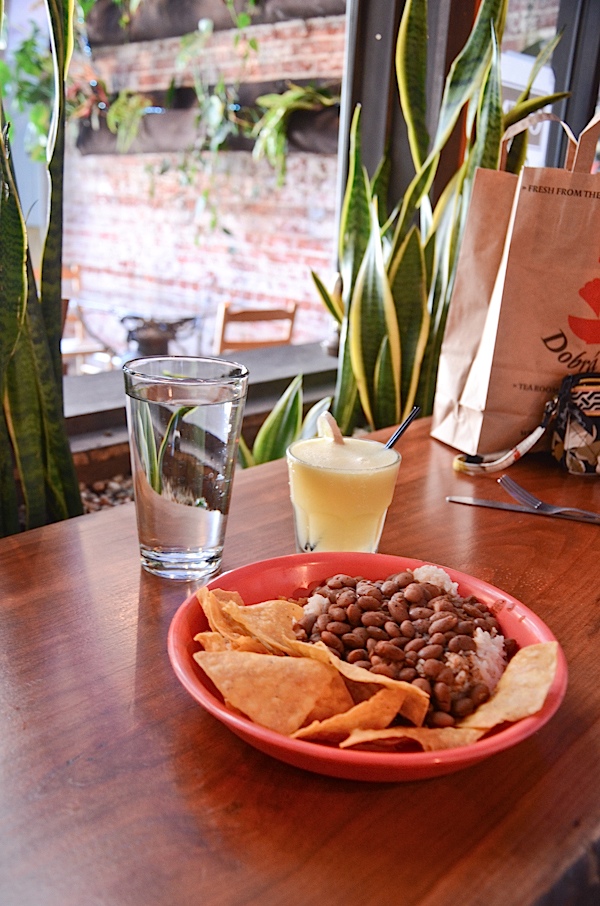 Sis ordered the "Everybody Eats" and used the opportunity to make a donation. From the menu: "We believe that food is a human right. That's why we're offering a meal with a sliding scale price. Please pay what you can. Anything over $6 allows us to pay it forward so others in our community may eat. A plate of organic long-grain brown rice, organic beans of the day and served with your choice of tortilla chips or sweet southern style slaw."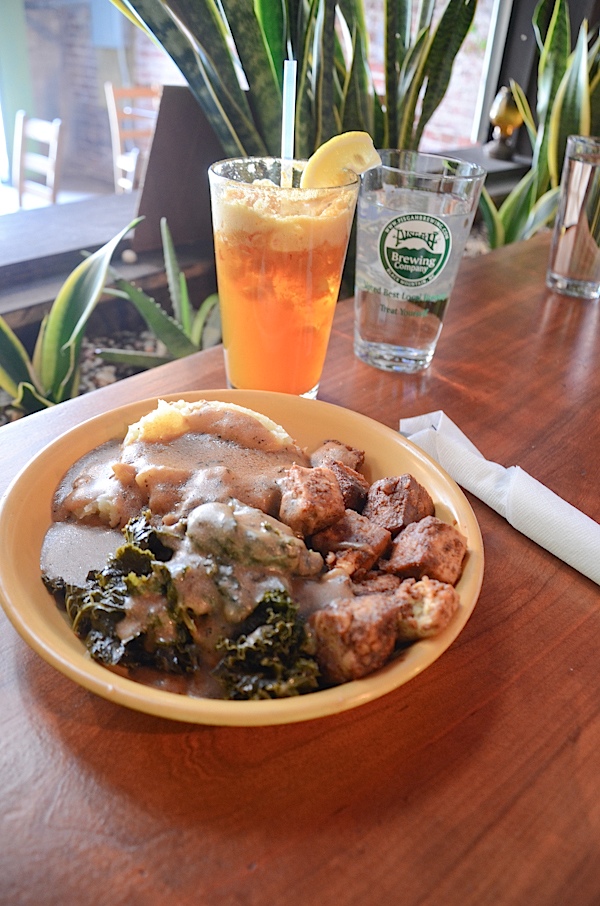 I ordered the "Family Favorite", which I'd heard a lot about. From the menu: "Peanut butter baked organic tofu, sautéed kale, smashed potatoes served with our signature gravy. A kitchen classic! Wheat-free gravy available upon request." This was really good and had generous portions. I'm always looking for new ways to flavor tofu, and this was a nice take. The gravy added delicious flavor to the whole plate. It's definitely not the lightest dish, but on this cold day (it was March, after all), comfort food was just what I was looking for. It hit the spot.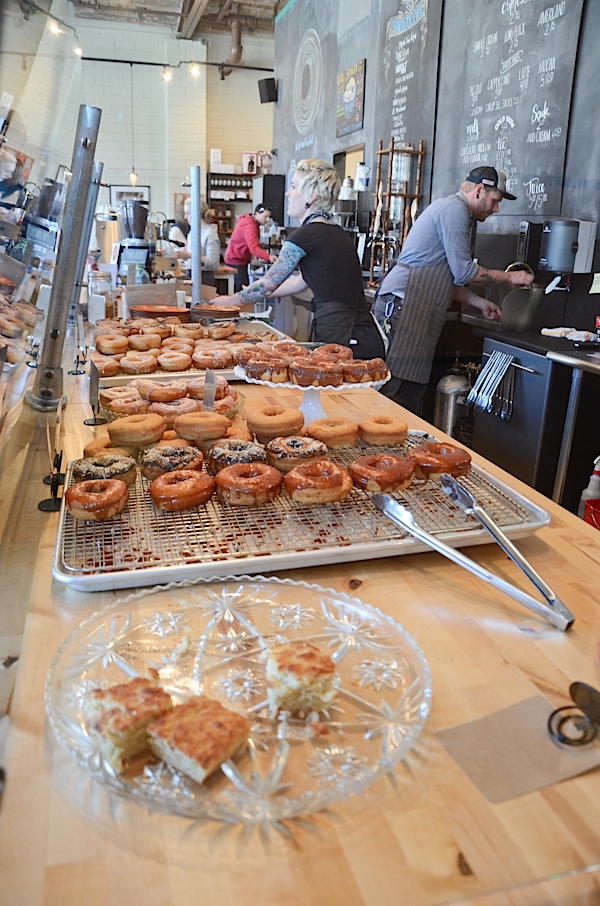 We decided to make one last stop on the way out of town at Vortex Doughnuts. Relatively newer in town, Vortex Doughnuts was all abuzz on Instagram. After seeing so many delicious doughnut pictures, I was excited to try the goods for myself.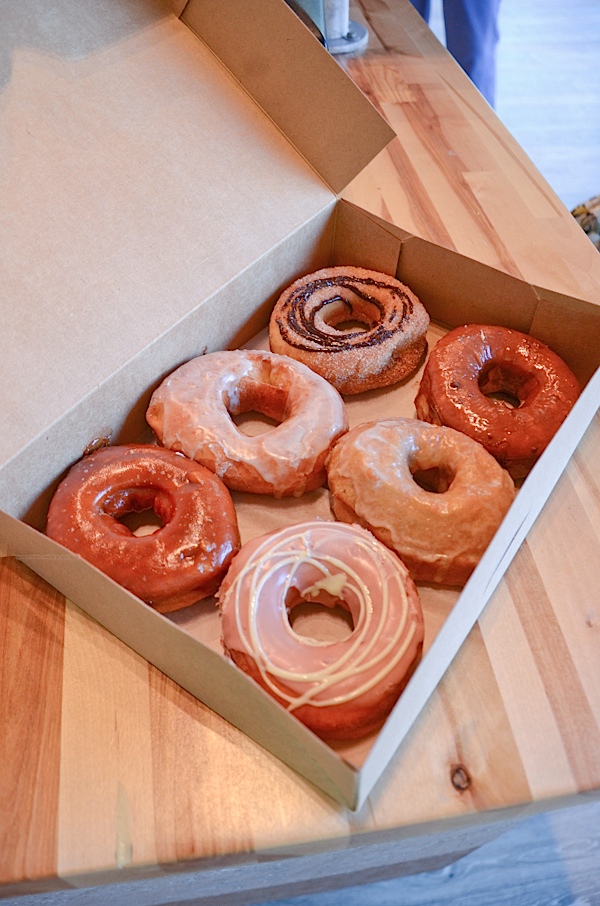 We ordered six to go: the Vortex signature doughnut (a chocolate swirl on cinnamon sugar), chocolate glazed, vegan glazed, berry glazed, salted caramel, and…I believe the last one was a classic glazed. I may not remember each flavor (that's what I get for blogging late), but I do remember they were all superb. I had fun trying a bite of each one. My favorite was the berry glazed, and blogging about it now is making me hungry!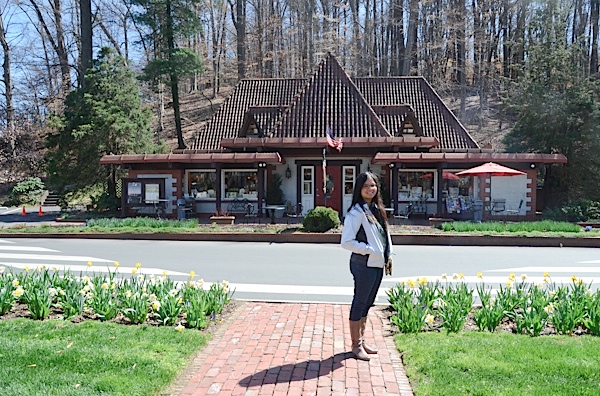 We got to enjoy so many great eats on this trip. I must say, we did manage to fit a lot into one trip. We're already looking forward to coming back and scouting restaurants for next time. We'll have to find looser pants first.
Check out my other Asheville related posts from this trip:
Thanks for reading!
What's your favorite restaurant in Asheville? What should we try next?