*Update* The Zumba Convention 2017 dates have been announced! Click here for more information.
Mark your calendars! The Zumba Convention 2016 dates have been announced!
What to bring and pack for Zumba Convention – click here to view my tips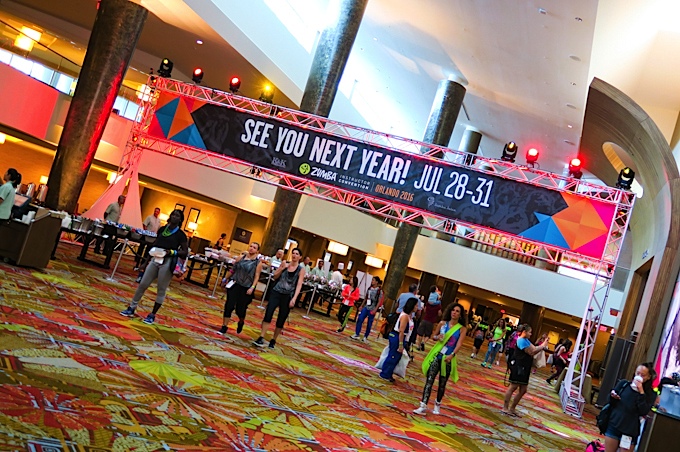 I'm not sure I've ever seen Zumba do any sort of official (press release style) announcement. Maybe I missed it? But, for the last two years, I've noticed they share the dates at the current Zumba Convention. This really helps me with planning for the upcoming year. I noticed the dates weren't easily found online, so I'm sharing them in case anyone is looking for them.
Zumba Convention 2016 Dates
Zumba Convention 2016 will be held July 28 – 31, 2016. According to the sign (photo above), ZinCon 2016 will be held in Orlando, FL.
When Will Registration Open?
*Update: registration has opened and sessions are selling out like hot cakes! Here's the link for the 2016 Zumba Convention Registration. You guys have been sending me tons of great questions. I'm planning to make an FAQ page in case others share your questions.*
I haven't seen Zumba announce registration dates until much closer to the registration dates. Last year, registration opened about four months before ZinCon. And they didn't email us a save-the-date for registration until one week before that. So, I'd recommend paying close attention to your email early next year. If you're an active ZIN member, you should get the newsletters. Hopefully, you didn't unsubscribe. I'll see if I can announce registration here on The Chic Life, too.
Also, registration info will typically also include details for booking hotels with the discounted conference rate. So, I recommend keeping the dates marked in your planner/calendar/etc. for now and wait until you get the registration email to book the conference and hotel.
In the meantime, you may want to check out my Zumba Convention posts to learn more about some of the session options so you have an idea of which ones you may want to attend. I'd also search YouTube for ZinCon videos. Here's a link to my Zumba Convention Vlogs on YouTube.
Zumba Convention Links
Click on these links for more information about ZinCon:
View photos and vlogs and see blog posts about Zumba Conventions for 2011, 2012, 2013, 2014, and 2015
What is Zumba Convention like?
Who can attend Zumba Convention?
What should I bring to Zumba Convention?
***
Let me know if you have more ZinCon questions.
Thanks for stopping by!
Note: Zumba didn't ask me to write this post. I'm just a big fan and wanted to share some tips that may be helpful to other Zumba lovers out there.