*Update as of September 2017: Just published – click here to view the Zumba Convention 2018 Dates!*
*Update as of August 2017: ZinCon 2017 is over! I blogged about my 2017 experience, and you can check that out by clicking here and going to the day you want to view. Or, even better IMO, you can watch my Zumba Convention videos via the following playlist*
*Update as of February 13, 2017: Zumba has announced the registration date, schedule, sessions, and price! Click here for my post with the dets* Also, I've added a new ZinCon FAQ page (click to view) to help answer your questions.
*Update as of January 2017: Zumba has announced a heads up for when to expect registration for ZinCon 2017 to open. Check out my other post (click) for more information*
***
I can't believe Zumba Convention 2016 is already over! Stay tuned for lots of posts and info about my ZinCon experience this year. Lots of fun stuff ahead!
Now, for what you really wanted to see…
…Zumba Convention 2017 Dates!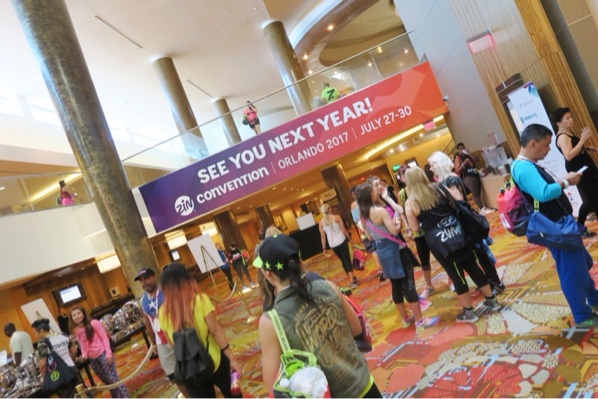 Zumba Convention 2017 Dates
The Zumba Convention 2017 Dates have been announced!
According to the sign (pictured above) at the 2016 ZinCon, Zumba Convention 2017 will take place in Orlando from July 27-30, 2017. Woop!
When Can I Register for Zumba Convention 2017?
Registration varies from year to year. Typically, I see registration open up a couple months before the Zumba Convention Dates for the event.
For example, for the 2016 Zumba Convention (which took place from July 28-31), I registered on March 7, 2016. This is the same day Zumba alerted us that registration was open. How did I find out? An email newsletter from Zumba. Also, if you follow any ZES and/or ZJs on social media, they'll often post an announcement about it too. And I'll be sharing one here.
ZinCon Registration Tip #1: Be sure to subscribe to the Zumba newsletter so you get alerted when registration first opens. The sooner you register, the more likely you'll get to attend the sessions you want.
ZinCon Registration Tip #2: And speaking of sessions you want, Zumba has been announcing the schedule/session before registration opens. So, keep an eye out for that and start deciding what your top choice sessions are. Many of the popular ones will have multiple day/time slot options.
Speaking of planning ahead…
How to Prepare for ZinCon 2017
Packing: Click here for my suggested packing list and get started thinking about what you want to bring.
Costs: Start saving. Zumba Convention isn't cheap, but it's definitely worth the trip (IMO) if you can afford it. I've been so fortunately to have attended so many, and the experiences have been amazing. You'll want to plan for travel, hotel, food, shopping, and registration. Click here for 2016 registration pricing.
Research: While you're waiting, take a look at my Zumba Convention posts to check out sessions I've attended from ZinCons from 2011, 2012, 2013, 2014, 2015, and 2016 to get an idea of which ones you may want to attend. I'd also search YouTube for ZinCon videos. Here's a link to my Zumba Convention Vlogs on YouTube.
More Zumba Convention Links
Click on these links for more information about ZinCon:
View photos and vlogs and see blog posts about Zumba Conventions for 2011, 2012, 2013, 2014, and 2015
Who can attend Zumba Convention?
What should I bring to Zumba Convention?
***
Questions? Comments? Leave a note in a comment below or Contact me via this form.
Are you planning to attend Zumba Convention 2017 in Orlando, FL?
Thanks for stopping by!
Note: Zumba didn't ask me to write this post. I'm just a big fan and wanted to share some tips that may be helpful to other Zumba lovers out there.