Exciting news! Zumba Convention 2016 Registration Is Now OPEN!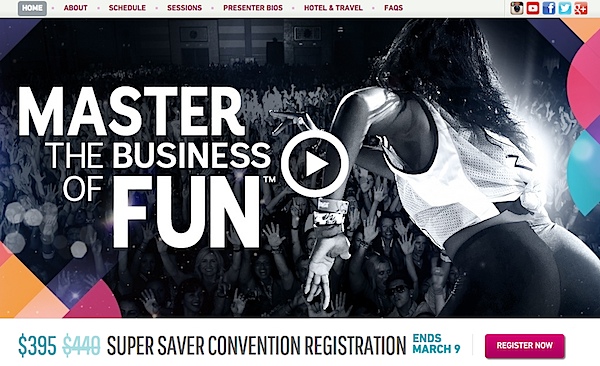 Why You Should Register for ZinCon 2016 ASAP
Sessions are already selling out – if you want your top picks, register soon!

Two words – discount rate. Price goes up soon! Super Saver price of $395 ends very soon!

Update: the discount rate period is over. Bummer!
Zumba Convention 2016 Registration Tips
Scan the schedule first – there are some duplicate sessions, though some slots of the same session are already sold out
Worry more about what you want to learn than when the sessions are – your schedule will depend more on where the sessions are physically located (from each other, from the hotel), and you won't know where they are until you get to convention. Unless you're not a morning person, because there are some early sessions. Why? Because it can take a long time to walk in between the sessions if they're on opposite sides of the event area.
Hotel booking is separate – there are links to that info after you register and in your registration confirmation email.
I registered on my lunch break and wanted to tell you about this quickly. I'll post more soon!
More Useful ZinCon Info
I'm planning to do a ZinCon FAQ, so please send all your questions to me in a comment or to thechiclife at gmail dot com.
Until then, check out my Zumba Convention page (click) which has links to my ZinCon vlogs, blog posts, lots of photos, tips, and more!
Note: Zumba did not ask me to write this post. I love ZinCon and wanted to share some tips to help fellow Zumbaholics.