It's one of the hottest days of the year. It sort of feels like you're melting as soon as you step outside. I'm reminded of hot summer days spent growing up in Orlando, FL. Except that I don't recall the heat being so terrible back then. My memories are of water gun fights, visits to the water parks, and other stuff that most likely tortured my poor parents. Being outside in the middle of the summer is fun for a kid! Weeeeeee! As an adult, I appreciate the things that can help bring relief on a hot summer day. Air conditioning, a fan, fresh water, and cooling treats, like this  clean eating Watermelon Feta Mint Salad Recipe.
5 Minute Summer Recipe
I would say this is almost more of a non-recipe since you can really assemble this in about 5 minutes. No cooking! But, I've included a recipe below so you can get an idea about portion sizes and how much of each ingredient to use. Be sure to customize this to your liking. Love feta? Add more. Feeling minty? Put on more leaves! I actually added about 3 more mint leaves to my salad before eating. That way I got a little bit of mint in each bite.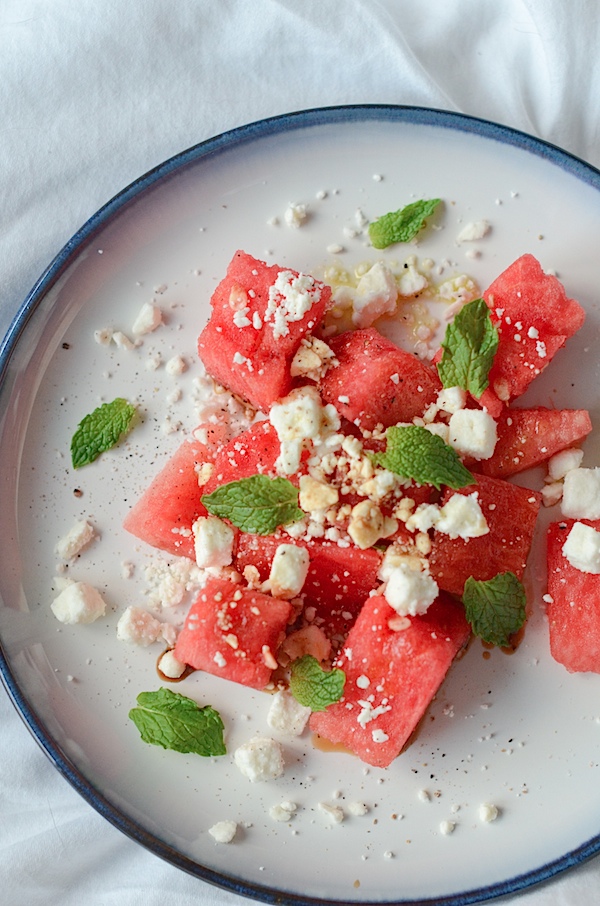 I never would have thought of putting watermelon into a savory-sweet salad combo until I started trying it out at restaurants. The combination was both delicious and refreshing.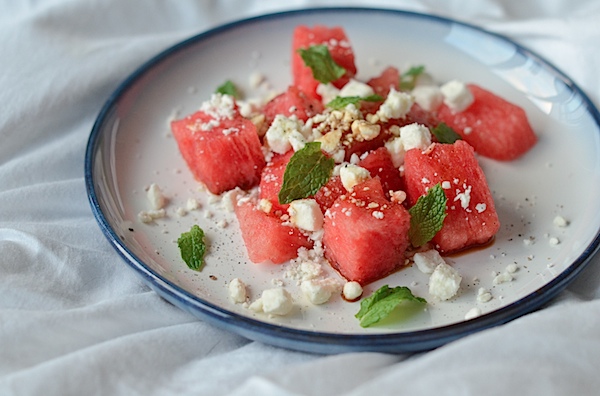 There are many combinations possible. One of the most common is pairing watermelon with mint and feta. These flavors would be delicious by themselves, but I decided to add a drizzle of extra virgin olive oil and balsamic vinegar with a sprinkle of pink himalayan sea salt to give it a little something extra.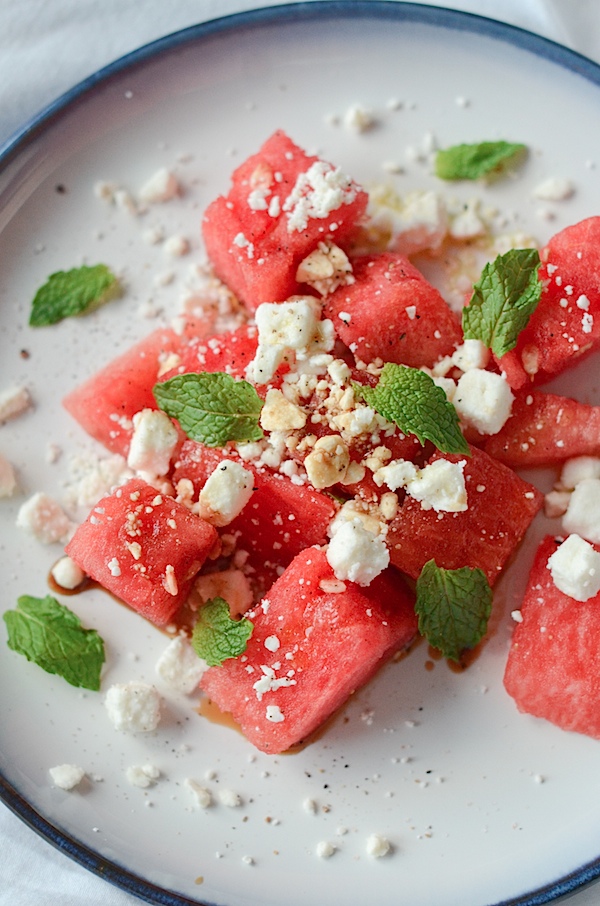 I had originally wanted to do something different altogether. I wanted to pair the watermelon with mozzarella. Sadly, the grocery store didn't have the mozzarella balls I was looking for. So, for today, you get this salad. And I'll bring you the other as soon as I can find the right ingredients. I think it will be a winner too.
And speaking of watermelon, I also have a different flavor combination inspired by a salad I had while traveling for work a couple years ago. Stayed tuned for more watermelon goodness!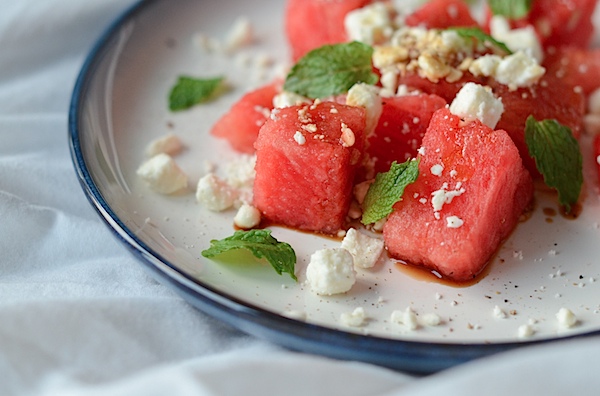 Print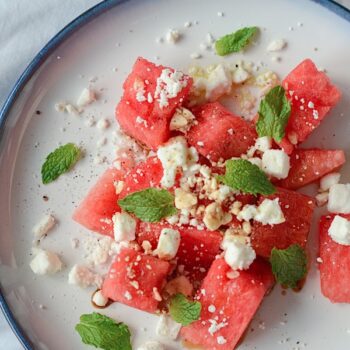 Watermelon Feta Mint Salad Recipe
Author:

Prep Time:

5 mins

Total Time:

5 mins

Yield:

2

1

x
---
Description
This refreshing summer salad is fully customizable. I've listed portions below but add or take away as you prefer for your taste buds.
---
2 cups

watermelon cubes

1/4 cup

feta crumbles

10

–

20

fresh mint leaves

2 tablespoons

extra virgin olive oil

2 teaspoons

balsamic vinegar
pink himalayan salt (or sub kosher salt)
fresh ground black pepper
---
Instructions
Spread all ingredients in half, between two different serving plates.
Place watermelon down first. Top with feta. Rib larger mint leaves into smaller pieces and place small mint leaves on top next.
Drizzle each salad with about 1 tablespoon per plate. Drizzle each plate with about 1 teaspoon balsamic vinegar per plate.
Sprinkle pink himalayan salt on top and add a touch of black pepper. Serve and enjoy!
---
Recipe Card powered by
More Clean Eating Summer Recipes
***
Thanks for stopping by! Hope you enjoy this Watermelon Feta Mint Salad Recipe!