Just a quick reminder to be present and enjoy the moment. The one happening right now. And then the next when it comes.
Be Present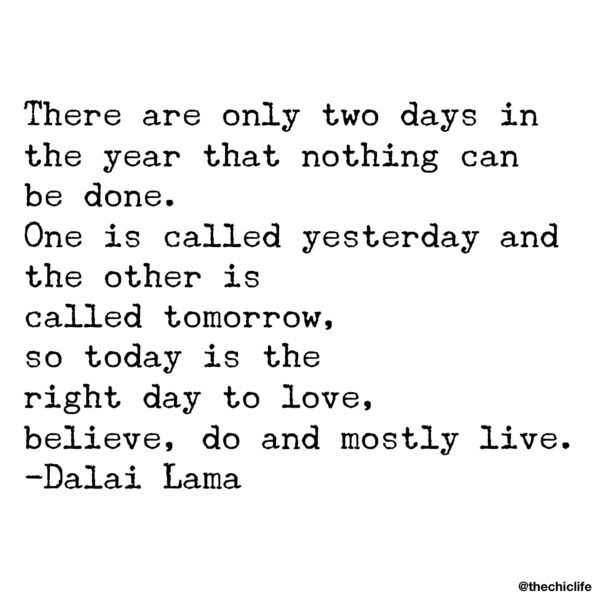 There are only two days in the year that nothing can be done. One is called yesterday and the other is called tomorrow, so today is the right day to love, believe, do and mostly live. ~Dalai Lama
I've found when life gets crazy, and I'm feeling super stressed, that things start to feel worse as I start to worry more about things that either happened in the past or are possible in the future. The restorative yoga classes and especially the meditation classes that I've been doing in NYC have helped me re-focus to the present. It sounds like such a simple thing. But, it can be very difficult to be present. And yet, this simple act has helped me get some of my most stressful times.
In fact, I think I'm due for another restorative yoga and/or meditation class group class.
Meditation App
Since I can't always make the meditation classes around the city, I decided to find a way to bring meditation to me. I recently downloaded a meditation app so I can try to do at least 5 minutes of meditation per day. Since I'm newer to meditation, I find solo meditation a little more difficult. Guided meditation helps teach me what to focus on to get in the right frame of mind. This app is great because you can do it whenever you want.
The app I downloaded is called buddhify. What I love about it is how buddhify offers different meditation sessions for different life-needs. The app asks, "What are you doing?". The options include: Can't Sleep, Traveling, Feeling Stressed, and Work Break. Each of these represent a set of meditations (roughly 4-6) you can listen to depending on what you're up to at the time. Each session is about 5-10 minutes on average from what I've seen so far.
I'm new to the app, but so far I've enjoyed the "Settle" session under "Can't Sleep" and "Flight" under "Traveling".
***
How do you stay present?
Do you do meditation? Do you have any favorite resources, apps, or classes? I'd love to hear about them.