Where I embrace my inner runner and learn to create a stress-free environment anywhere with meditation.
Side note: this past week was a bit of a catch up week for me, but I have some really fun posts planned for you in line with your feedback! And thank you to everyone who has submitted so far. I'd still love to hear from you if I haven't! I have two recipes that I can't wait to share with you, a Food Diary post, and some other more conversation-type posts. Stay tuned for those!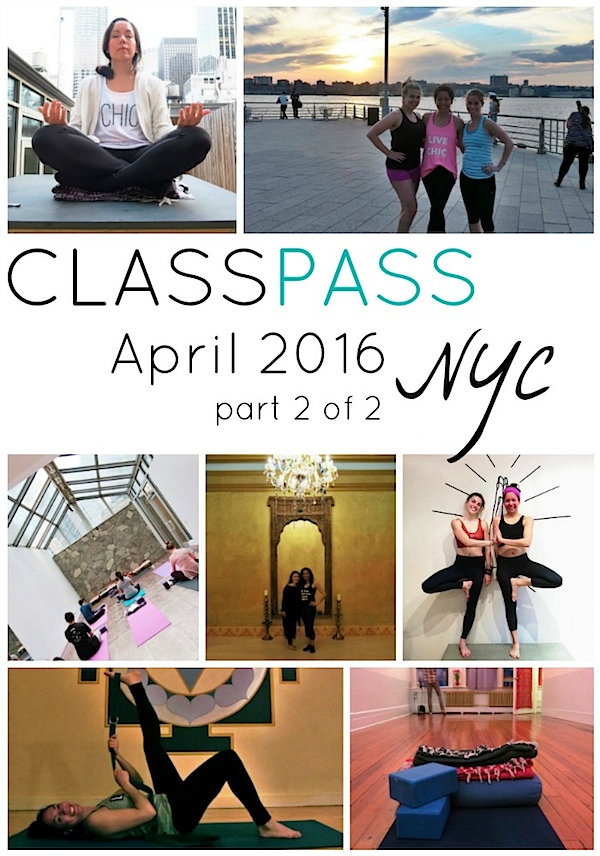 ClassPass NYC: My April 2016 Month Recap (Part 2 of 2)
This is a continuation from my April 2016 month recap part 1. While I like keeping my content together, you'll see in this post I ended up doing the most ClassPass classes of my membership. 18! I thought about doing some collages or something to save on photos, but I really like having one photo per class. Layer in the videos, and I was worried the page would take forever to load.
As April continued, I found some new restorative classes to try, including one for those new to meditation. That's me! I completed a lifelong dream (kidding…sort of…maybe not) of doing the actual Britney choreo for "I'm a Slave 4 U". I'm not saying I did it well, but I did it and had fun. Since I'm not applying for any music videos any time soon, that's all that matters.
My April 2016 ClassPass Classes
#10 Flow & Restore Open Level at Om Factory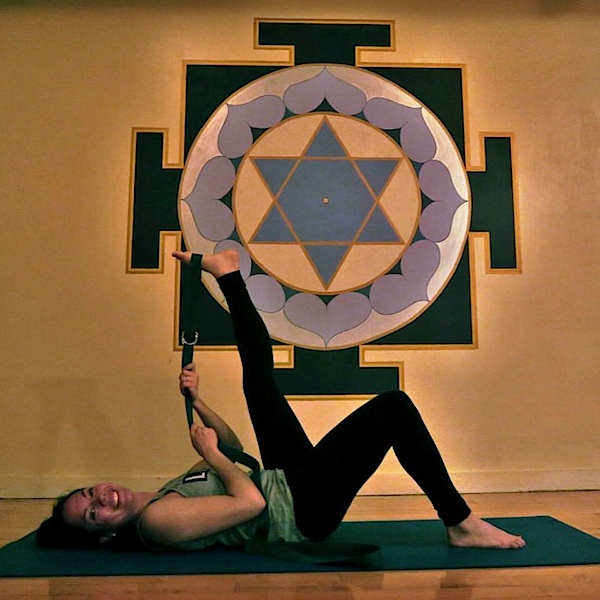 The Flow and Restore class with Om Factory was much later than most classes I do. I think it started at 8pm? For the first time, I decided to have dinner before my ClassPass class since I figured the activity wouldn't be too intense. It was nice and slow and very relaxing. I would say this class felt like a combination of other classes I'd done before. We did some light flow but also used props like we did at Yogaworks and held some poses for a long time, like we did with Yin Yoga. If you want more variety in your restorative session, this one may be for you.
#11 Introduction to Mindfulness and Meditation with Jess at Floating Lotus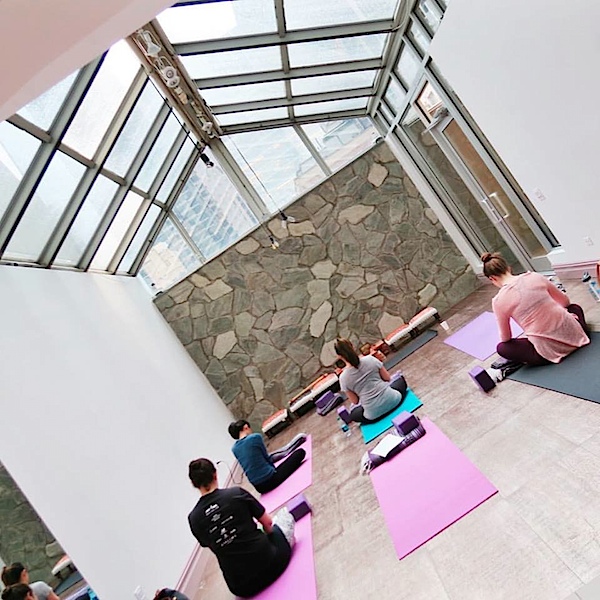 Since I'd done so much to learn about relaxing my body, I thought it would be good to learn how to relax my mind. Even back when I did Ellie Krieger's book to lose weight and get healthy, I struggled with this. One of the exercises included 5 minutes of relaxing. I just couldn't do it. I guess it wasn't that I couldn't do it when I tried, but I'd put it off, then forget about it, etc. With this meditation class, I was there, distraction free and with an instructor to lead the way.
This was one of my favorite classes on ClassPass so far. If you're anything like me, you get stressed out fairly often. You search for ways to de-stress, but end up just distracting yourself with things that don't actually work. This class really and truly seemed to work. I liked how Jess taught us meditation from the point of view of making sure we could do it on our own later. We even got a print out of meditation tips to take with us.
If this sounds interesting, make sure to read later for my return visit where we learned something really cool!
#12 Beginner Hip Hop with Dev and Mo at PMT Dance Studio
Here's a video of One Dance that I did at Beginner Hip Hop with Dev and Mo. I loved the beat and groovy feeling of this song and choreo.
#13 WeFlowHard Vinyasa Yoga with Courtney at Y7 Studio Flatiron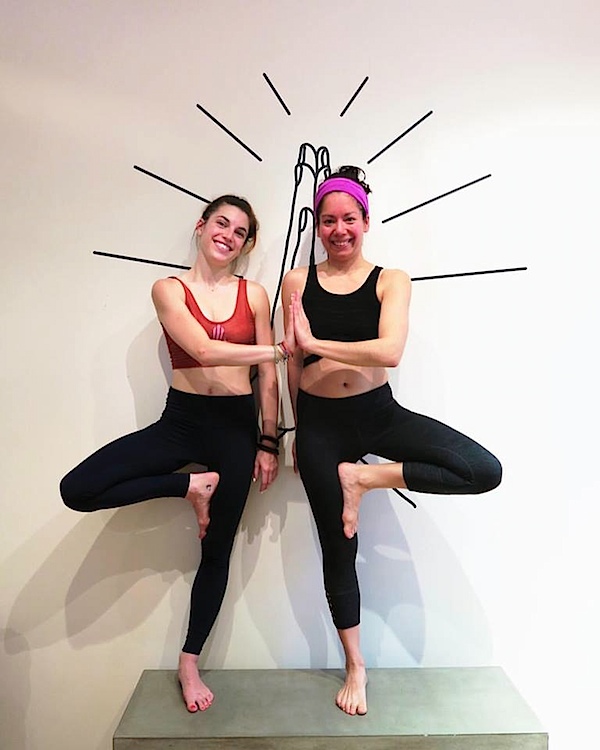 I enjoyed my candlelit yoga class with Courtney so much earlier in my ClassPass month, I signed up again for the next week. I was hoping she'd do that cool swirly move again, and she did!
Side note: Look at how much better my pose looks here than one first one. Progress!
#14 Uplift Outdoors with Kendall at Chelsea Piers with Uplift Studio
I decided to embrace my inner runner and give that runner's workout, Uplift Outdoors, another chance. I wanted to see if I liked it a second time. I did! This workout was so intense the first time, my legs ached for days after in a most awesome way. I enjoyed being physically pushed to get my muscles going. This was one of the most challenging classes I'd done on ClassPass. Intense is a good word for it.
This time, my friend Theodora met up with me and brought her friend Kayla. While I was starting to see familiar faces at my ClassPass classes, it was good to finally have a friend I'd known for awhile in class.
I admire Theodora for her kick-a$$ running and hoped to not embarrass myself in front of her since I don't really know what I'm doing when it comes to running. And I'm slow. Class was just as intense as the first one I tried, but I was glad to know what to expect. We did do a new running workout at this session where we broke into two groups and formed lines. Each line jogged down the pier and the person in the back would run up to the front. Or was it they ran to the back? I believe it was the first thing I wrote, but I guess I'll just have to go back to class to find out for myself!
#15 Introduction to Mindfulness and Meditation with Jess at Floating Lotus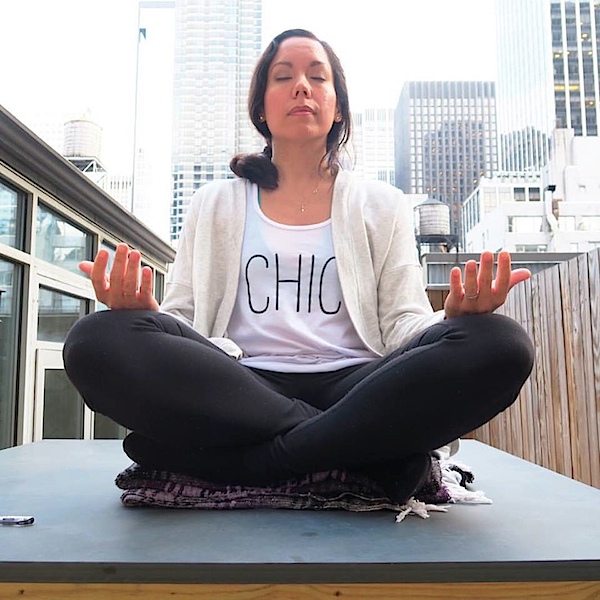 Although the class names says "Intro", I had asked Jess the previous week if it was cool to keep coming. She said it was, so I was back the very next week. Class was similar. We started with a light yoga flow and then went into a guided meditation. This time, we spent the last portion of class outdoors on their patio. The reason – Jess wanted to teach us that we could meditate anywhere, even in the chaos of NYC. She gave us tips for meditating through the noises rising up from the streets and all around. There was a helicopter passing at one point.
I've actually used skills from this class to calm my anxiety and generally relax many times. In an ideal world, I'd do a meditation class once per week, but it hasn't worked out schedule-wise. I now have three favorite classes to do on Wednesdays, so I try to shuffle them around depending on what I think my body needs since one is a toning class, one is a restorative class, and one is this class.
#16 Shala Slow Down at The Shala House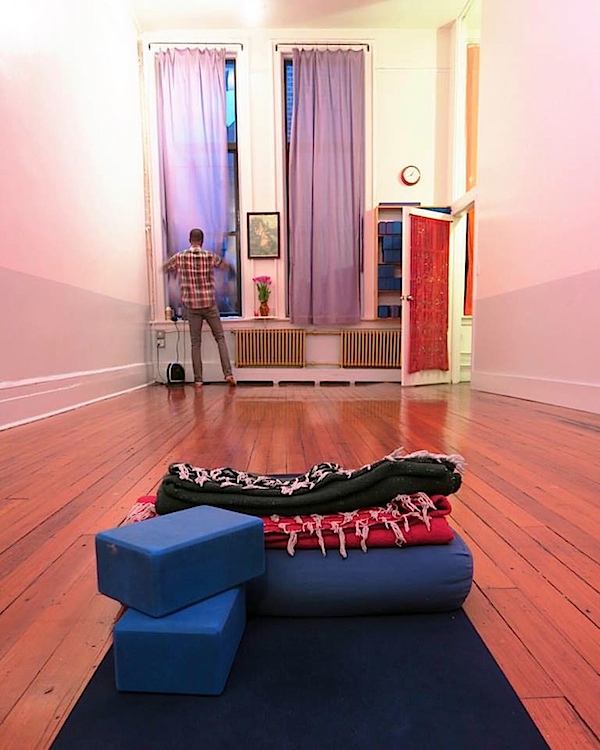 Shala Slow Down had a nice mix of yoga flow and longer held poses. My favorite thing about this class was that the instructor did many hands on adjustments on me. Form is very important for me, so I was glad to have someone making sure I was well-aligned.
By the way, this class is free for veterans if you know anyone in NYC who may be interested.
#17 Urban Zen with Alexandria at Yoga Shanti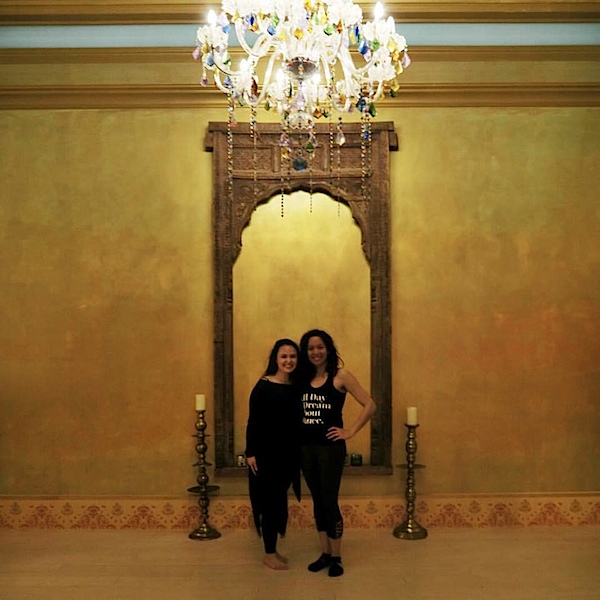 Urban Zen was an interesting class that featured restorative yoga poses and also incorporated essential oils. They use Young Living, which is what I also use. In this class, the instructor, Alexandria, talked about sleep as the theme for class and chose to use lavender for the oil. She put a drop in a cotton pad for each student, and we got to use it throughout class by smelling it at specific moments.
This class was late on a Friday, and I thought it was a nice way to relax into the weekend.
#18 "I'm a Slave 4 U" Classic Britney with Mitchell Wayne Productions
As I mentioned above, I got to fulfill my lifelong dream of doing Britney's actual choreography for "I'm a Slave 4 U". I look nothing like the video, as you can tell from my video snippet. But, this is probably one of my all-time favorite music video dances. Just getting to do it was a real treat.
Just for fun, here's a dance class that Brian Friedman led doing the same choreo. Aren't they so talented?!
April 2016 ClassPass Summary
By the end of April, I'd tried most of the restorative classes I'd wanted to. Of course, we're talking NYC, so there are still so many more options for me to explore. But, I think the ones I've done so far offer a nice variety of options I can seek out in the future, depending on how I'm feeling.
I also really surprised myself with that running class. Probably the only reason I don't do it more is because it happens the same time as my Britney classes. And you know how I feel about those.
This was my busiest month of classes with me doing a whopping 18! While I love a good workout, I don't feel the need to work out every day. I think the restorative classes really added to the number since they balanced the more intense classes. And I thought they were a great way to get the most out of my unlimited pass.
Cost Breakdown
18 classes
$125 for one month unlimited
$6.94 per class
ClassPass Discount
If you want to try ClassPass in your city, you can use my referral code to get a discount. If you use it, I'll also get a little discount. Also, I sometimes see ClassPass offer good discounts via their Instagram account. So, check there too and see if you can maybe combine them?
More ClassPass Fun
Click here for my April 2016 ClassPass Recap (part 1 of 2)
Click here for my March 2016 ClassPass Recap
Click here for my other ClassPass posts
Hope you enjoy ClassPass NYC: My April 2016 Month Recap (Part 2 of 2). Thanks for reading!