It's the new year, and this means it's time to eat in! Read on for details on the seventh annual Eat in Month Challenge 2017…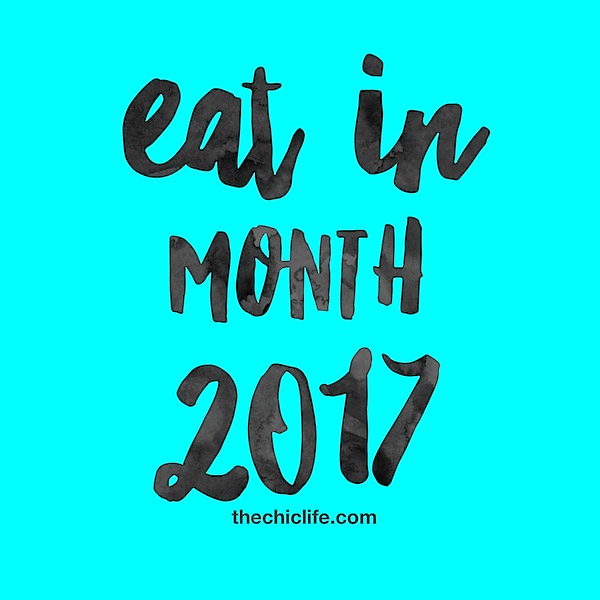 How the Challenge Works
You can read more about the Eat in Month Challenge on this dedicated page. Basically, Eat in Month is held at the beginning of every year to help you with your new year goals of eating more healthily and saving money by eating in more.
The original challenge was to eat in for the whole month of January with only one cheat meal. However, I've always encouraged you to tailor the challenge to meet your personal needs and work for you. I've loved reading about all of your challenge tweaks, like:
Eat all dinners in
Eat all lunches in by packing lunch for work
Eat in on the weekends
Eat in one dinner per week
Eat all meals in when not traveling for work
While some of the above options may not sound difficult to you, the custom challenges have helped encourage participants to eat in more than they were before. And that's great! Eat in Month isn't about perfection, it's about improvement.
My 2017 Challenge
Now, it's time for me to tweak the challenge. I'm currently working in NYC. While it wouldn't be impossible to eat in for every meal for a month, I have to be honest…I don't want to. Things would probably be different if I actually lived in NYC. But for now, I'm trying to make the most of this adventure, which includes checking out the local restaurant scene.
As far as eating healthy, I've found some great, healthy options where I almost eat better than what I'd cook myself. And sometimes for less money.
I'm going to tackle this year's challenge based on the meal:
Breakfast: Eat breakfast in at least six days a week – this should allow for one breakfast/brunch out on the weekends
Lunch: Eat at least two lunches in per week – shooting for one during the work week and one during the weekend
Dinner: Eat at least four dinners in per week
Snacks/Coffee/Matcha: I'm not including these this year, though I do want to limit beverages to one out per day
Traveling: Meals eaten out while traveling don't count since it can be impossible to eat in when you're on the road
Looks like I'm off to a good start for dinners!
How You Can Take the Challenge
Doing the Eat in Month Challenge is easy:
Set Your Goal: Decide how your challenge will work (how many times are you going to eat in vs out?).
Follow Your Goal: Stick to the goal you outlined as best you can. Feel free to tailor the challenge as you see fit, even as you go along. If something isn't working, fix it.
Share Your Progress: You can share you progress with a comment here on The Chic Life or by posting how you're doing on social media (use hashtag #eatinmonth). You can also send me a private email at thechiclife at gmail dot com.
Follow the Challenge
If you're participating in the challenge, feel free to use #eatinmonth on social media. I love reading your tweets and seeing your Instagram posts about the challenge. Looking forward to reading your posts!
More Eating In Ideas
I've been pinning a ton of recipes on my Pinterest account. I even set up a special board for Eat in Month friendly recipe ideas.
You can also check out the eatinmonth tag here on my blog to see what I ate during previous challenges.
***
As always, feel free to reach out to me via comments or by emailing me at thechiclife at gmail dot com.
Happy eating!