Hey guys!
I thought it would be fun to move my What I Ate post to Saturday because I went to my parent's house in South Carolina for the weekend to see my sister in her very first voice recital.
My family generally eats pretty healthily. Especially now that dad is vegan. But, I think one of my favorite things they do is serve plenty of fruit. I noticed late last year that I don't eat as much fruit as I should and have since tried to make a good effort to incorporate more fruit into my diet. Not only for the delicious flavors but because they're so full of good-for-you vitamins and nutrients. Like the orange I like with my favorite breakfast.
On to the eats…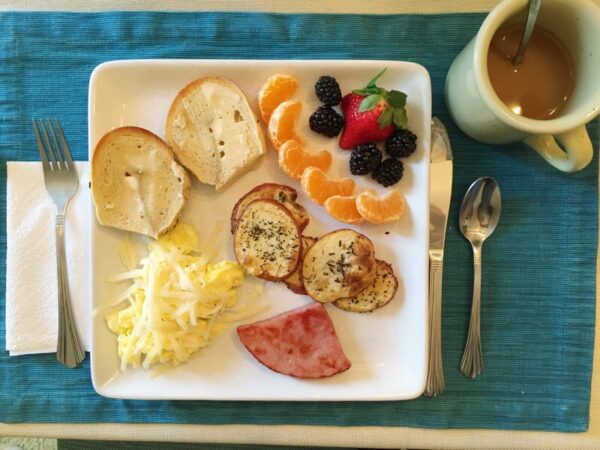 For Saturday breakfast, I actually had something a little smaller than this – a fried egg and one full twisted sister rye bagel from Greenfield's, plus a cara cara orange. I forgot to take a photo of that meal, so here's Sunday's breakfast instead. On Sunday, I had scrambled eggs with white cheddar, half a twisted bagel, ham, dad's roasted breakfast potatoes, and fresh fruit. Oh and coffee on both days, of course.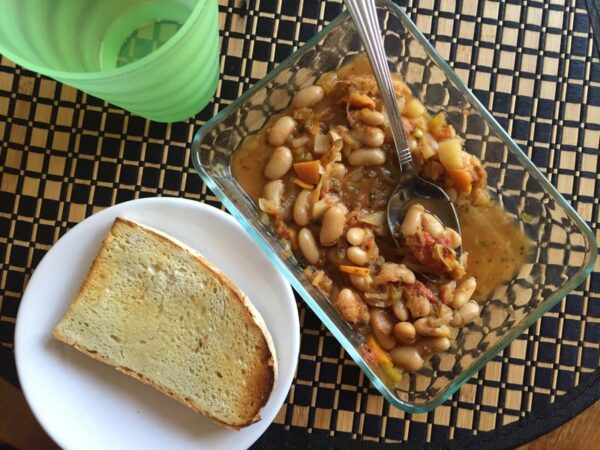 My sister's voice recital was at 2pm, and we had plans to eat lunch out after. But, I got a little hungry prior to the recital and had a small portion of one of dad's famous homemade soups with sourdough toast. I guess he doesn't have one specific famous soup, but I'd say he's generally known for putting a good soup together. It's probably why I like to make them so much. Click here to view my soup recipes.
Sis has been taking voice lessons for a few years now, and her instructor has worked hard to convince her to do a recital. So, she finally did a private one for us on Saturday. It was beautiful and so great to see all her hard work in action. She's not planning to sing publicly, but I hope one day she does.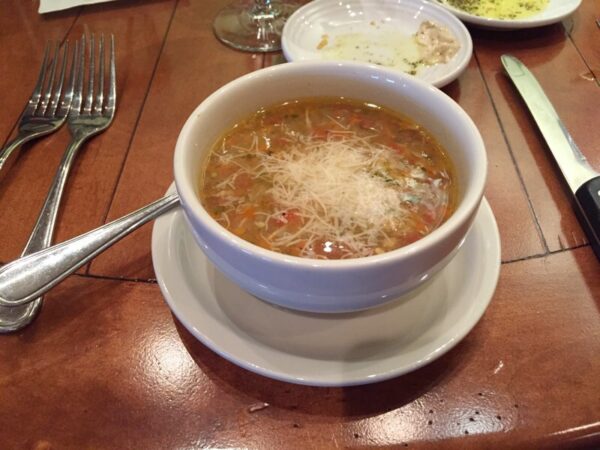 We went to Carraba's for lunch. I started with the chicken soup. It said it was "spicy" on the menu, but I didn't think it was too hot.
I also had a glass of Apothic red blend. I was in a celebratory mood since Sis's recital went so well.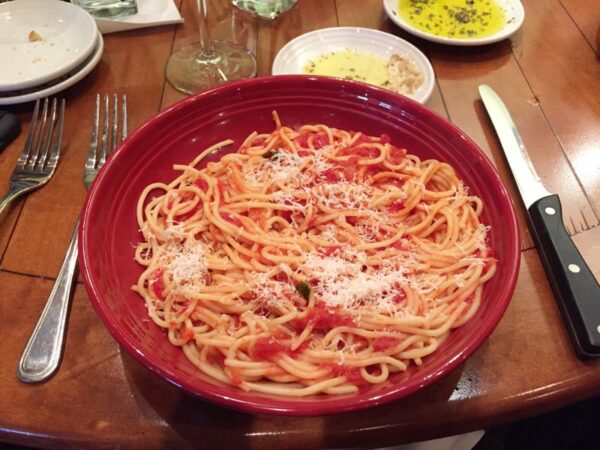 We planned for a late dinner knowing we'd have a late lunch. But it was only about four hours away by this point, so I opted to have a smaller meal of spaghetti pomodoro. Plus, you guys know I often eat vegetarian when I eat out. The bowl was surprisingly huge, so I only managed to eat about half of it. And I had too many pieces of bread, because that herbed olive oil dip was really tasty, and I couldn't resist.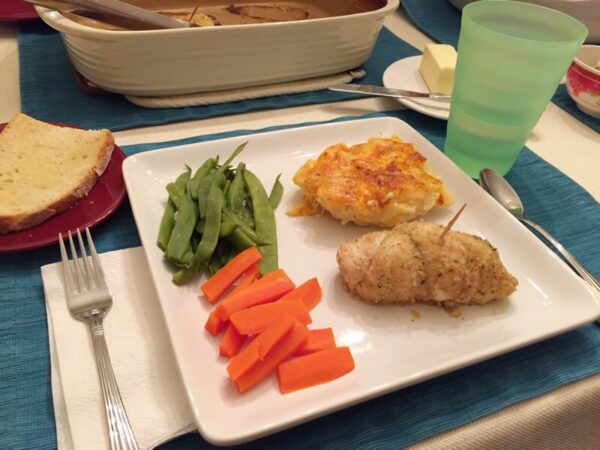 Just a few short hour later, and it was time to eat again. I love how I get to do a lot of relaxing and eating whenever I'm home. Anywho, my family made Chicken Mmm, which is (I think) a Pampered Chef recipe. We also had steamed green beans and carrots, plus K's famous mac and cheese. I also had a piece of lightly buttered sourdough on the side and water to drink.
My sister is super thoughtful and picked up a box of my all-time favorite cookies, which you can only get at The Chocolate Shoppe in Greenville, SC. Alas, I had to tell her I gave up dessert for Lent and couldn't eat one. *sad face* Though I've given up dessert, fruit is okay. So, I enjoyed a hefty serving of freshly sliced cantaloupe. Luckly for me, my family often eats fruit as dessert, so there was a huge bowl on the table during the dessert round.
Do you eat a lot of home cooked food when you go home? Do you make any special requests?
Is anyone else doing Lent? I was thinking of sharing some meatless meal ideas in case anyone else wanted some. A lot of my friends are giving up meat for Lent, which I did a couple years ago. And there's always Friday when you may want some veg-spiration.