Alright friends, I channeled my previous food diary self and snapped photos of all of my eats yesterday for a full What I Ate Wednesday. Unlike last week's compiled edition.
Also, just wanted to say a quick thank you for all the great feedback about the new recipe e-book I made as a email newsletter subscriber exclusive. You guys are too kind, and I'm so glad to hear you're enjoying the book so much already. It's been fun hearing which recipes you're excited to try! Ok, on to the Eats! If you're not already a subscriber, you can click here to sign up. I send out a weekly recap of my blog posts with special treats here and there.
My Favorite Breakfast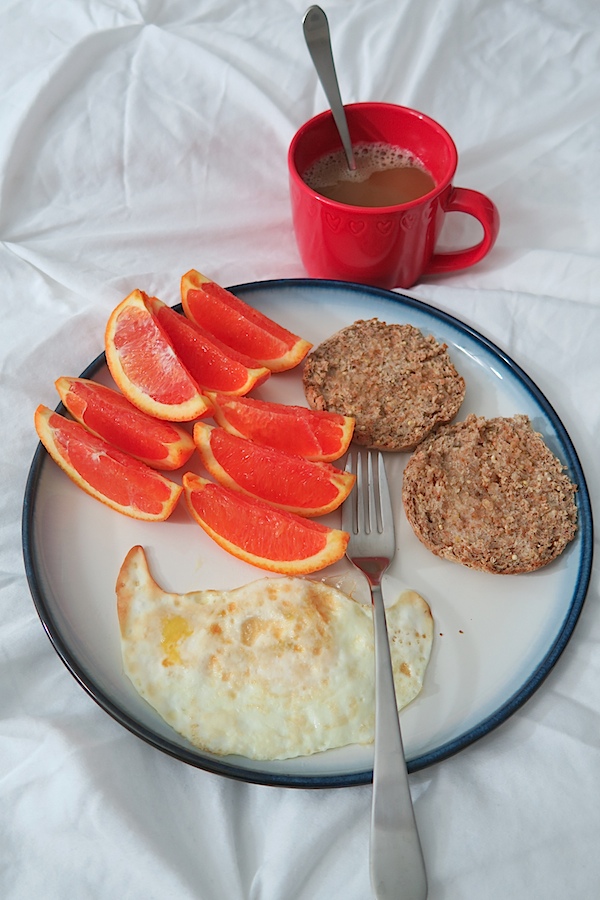 For the last few years, this has pretty much been my favorite breakfast: a fried egg, toast (of some sort), and fruit. You may remember that I started moving away from sweet breakfast in favor of savory. While I still add sugar to my morning coffee (but not my flat whites), I prefer to get the rest of the sweets with the natural sugar of fresh fruit.
Eggs: I've been making the investment to get really good organic eggs. The eggs themselves are pretty pricey at about $6 for 12 large eggs. That's 50 cents per egg. The way I see it, that's still way less than what I'd pay if I ordered an egg at a restaurant. So, it's a splurge and it's a save. It depends on how you look at it. I found when I struggled to eat in / eat healthy, it was because I was always cost cutting instead of looking at how it compared to eating out or eating less healthy alternatives. So I like to look at the organic egg as a treat to myself for (yes) saving money eating in.
Bread: I discovered Food for Life English muffins a few years ago and have been loving them ever since. I believe they may have become popular because they have options for many food allergies. The 7-sprouted grains English muffins are my fave because they have a great ingredient list (very clean eats) and 4g of protein. For reference, a large egg has 6g of protein. This means it will help keep me full while I'm at work so I don't get snack-y.
Fruit: Have you guys seen the cara cara oranges? They're pink! I originally found one at Whole Foods to eat because I was curious about the color. But the flavor is amazing too. They're sweet and juicy and so delicious. The pink color is kind of a nice extra touch. I haven't seen them as an organic option yet, but oranges are usually lower on the lists of fruits and vegetables with high pesticide residue. They're #31 on this list. Also, I don't stress out about buying every single thing organic. Again, I look at organic as more of an upgrade but not a necessity. What about you?
Bowl Lunch at Two Forks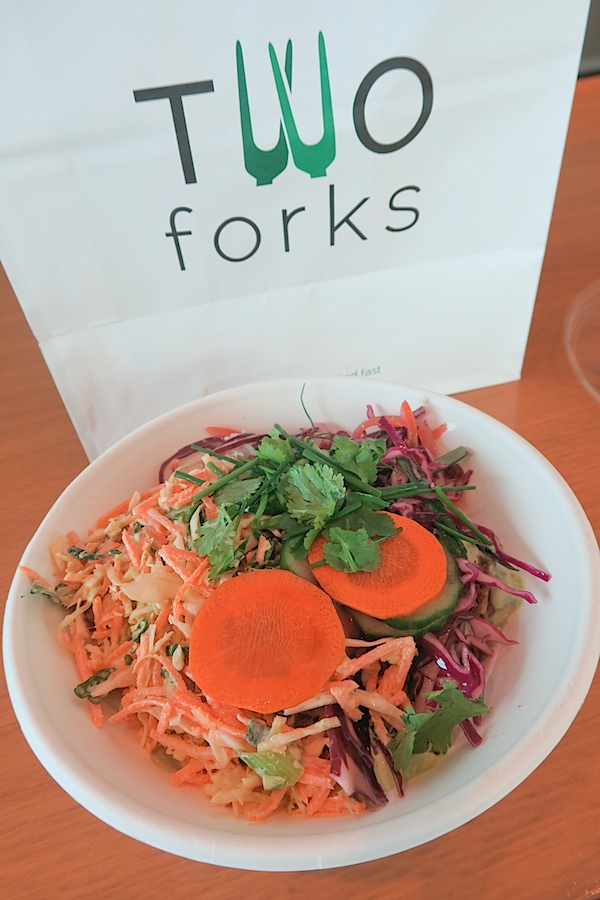 A new restaurant opened up recently with options along the lines of what I like – protein, carbs, and plenty of veg. Two Forks offers buns and bowls. I like the bowl option with half rice, half roasted vegetables (it's mostly carrots). I've been getting the Niman Ranch shredded beef with green herb sauce, tomato/cabbage/olive slaw, classic slaw, pickles, and fresh herbs. Yum!
Birthday Brick-Pressed Chicken at Friedman's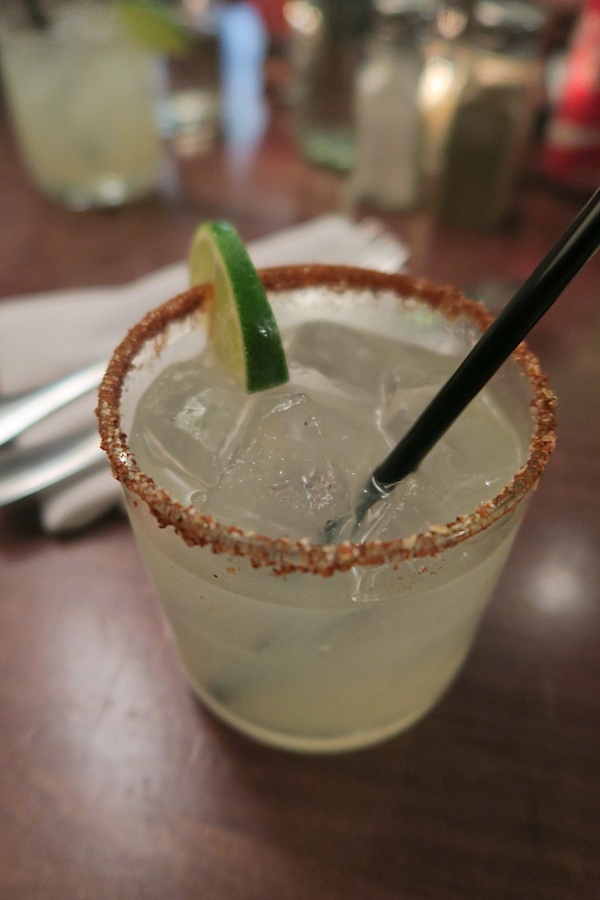 I went with some friends to Friedman's to celebrate my friend J's birthday. I started with a jalapeño honey margarita. This was a big risk for me since I don't do spicy often, but the drink was delicious! I even enjoyed the spice-lined rim. Every sip was a little spicy, salty, sweet, and tangy. So good I had two.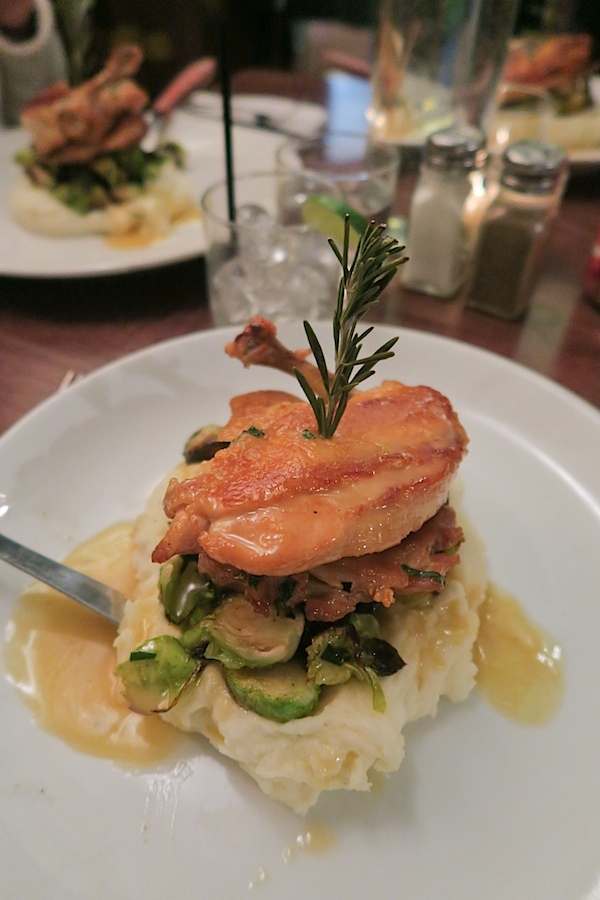 And for the main event, we all had the brick-pressed chicken. This was one of the first restaurants I discovered in NYC, and it's still a favorite. And while Friedman's has many great options, this has to be one of the best chicken dishes I've ever had in my life. From the creamy mashed potatoes, to the crisp-tender brussels sprouts, to the crispy-skinned chicken, to that buttery sauce. Yessssss!
And a big Happy Birthday to J!
Click here to view more Eats photos
***
Have you discovered any great new eats recently?
Thanks for reading!