As seen on BuzzFeed…These are the things my childhood dreams are made of. I present…a Healthy Unicorn Smoothie Recipe. Yea, I went there. This was inspired by the recent release of the now famous Starbucks Unicorn Frappuccino. Nothing against the Starbucks version, but you guys know I like to make healthy versions of things. I haven't actually tasted the Starbucks Unicorn Frappuccino, but I'm 99% sure this won't taste anything like it. I've heard it has mango syrup and some sort of sour syrup that makes the drink change flavors. The ingredients in mine are pretty light in flavor. I'd say it tastes like a banana-yogurt smoothie. Possibly the only thing that drink and my version have in common is the use of colors.
I'm not sure what's in the Starbucks Unicorn Frappuccino, but this version is made with:
All natural food coloring (the ingredients are pretty cool – they're plant-based!)
No refined sugar
About one fruit serving
Not too shabby, eh? Did I mention there are options below to make this vegan? Healthy Unicorn Smoothies for everyone!
Love Unicorn Recipes? Try this Healthy Unicorn Smoothie Bowl Recipe (click) variation for another way to get magical.
Note: This post contains affiliate links. If you make a purchase from these links, I'll make a small commission at no charge to you. I personally use and love the items in this post. Please feel free to reach out if you have any questions. Happy to chat!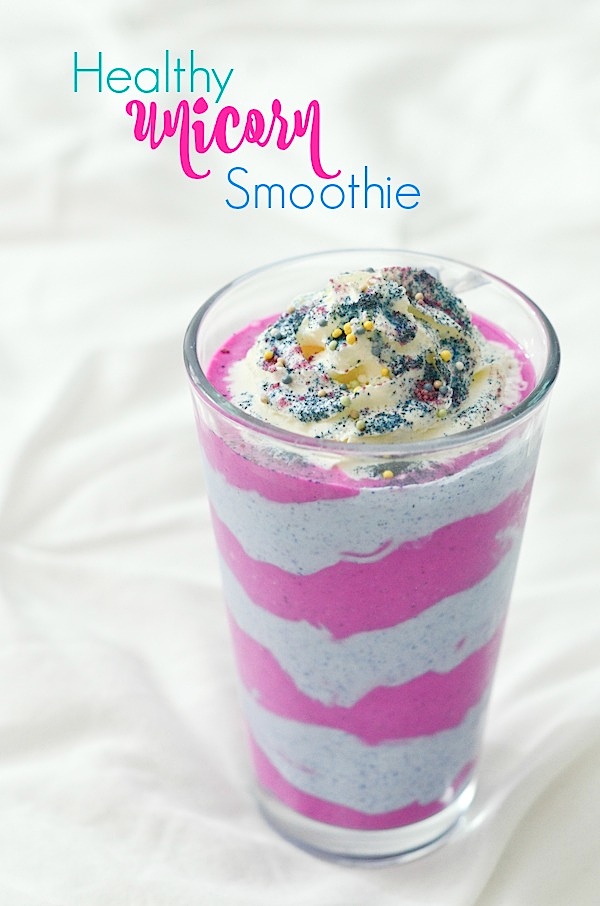 So, about those natural food coloring ingredients?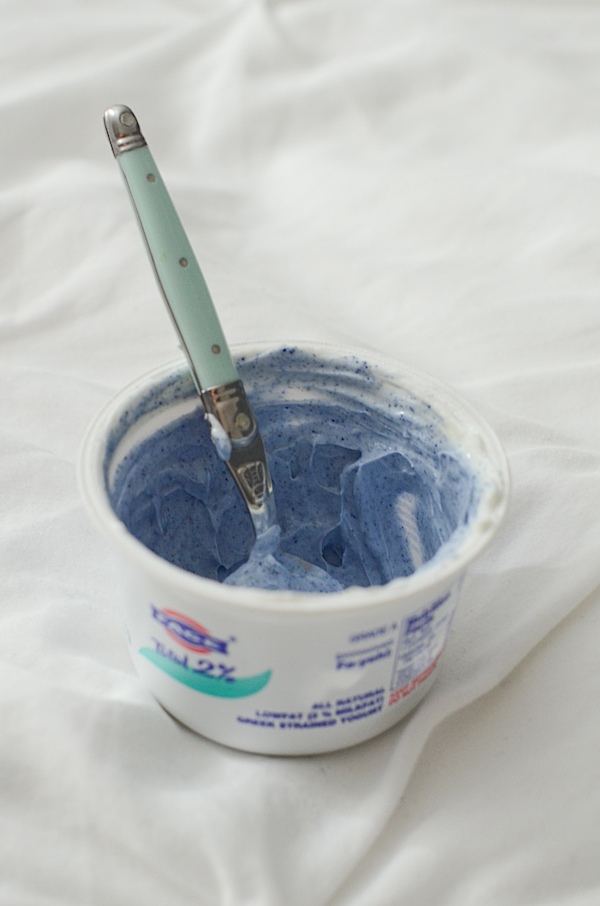 Healthy Unicorn Smoothie Recipe – Blue Swirl Ingredients
The blue swirl is made with a mixture of:
Greek yogurt (sub coconut or soy milk yogurt for a vegan version)
Blue matcha powder (have to order online, but this company, Matcha.Blue, ships very fast)
Honey (but you can use agave or maple syrup to make a vegan version)
After moving about half of the yogurt to my blender, I mixed the blue swirl ingredients right in the yogurt cup. Because dish-washing is not fun.
By the way, the blue matcha is natural too. It's made of ground clitoria flower. Neat, right?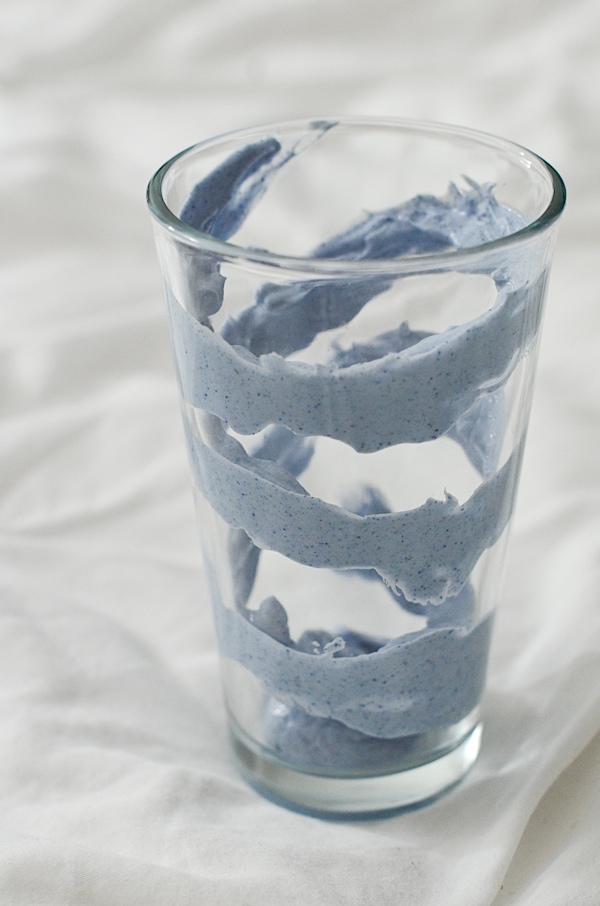 I used a spoon to dab the blue yogurt mixture along the sides in a swirl pattern. You can put this in the freezer to set the swirl while you finish the rest of the smoothie.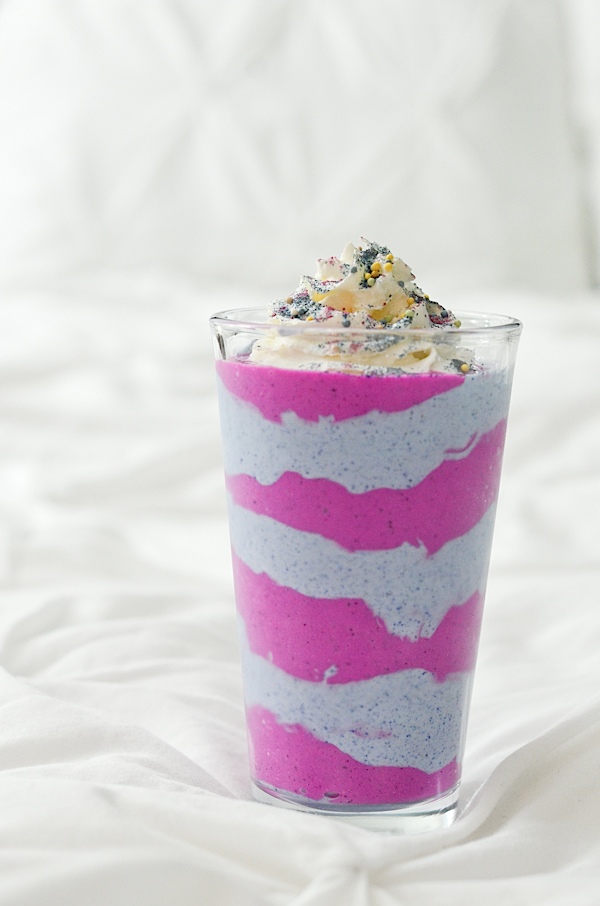 Healthy Unicorn Smoothie Recipe – Hot Pink Drink Ingredients
Now, about that gorgeous hot pink smoothie color. It's made with dragon fruit! You may have seen the pitaya bowls circling the web lately. I've been experimenting with pitaya bowl recipes (I'll have one to share with you soon). So, I already had some on hand.
Dragon fruit comes in two colors: white and hot pink. The color is naturally vibrant, hot pink!
In the smoothie:
Pitaya pulp with seeds packet (I found Pitaya Plus Organic Dragon Fruit Superfruit Smoothie Packs at Whole Foods)
Banana
Greek yogurt
Almond milk
Ice
That's it!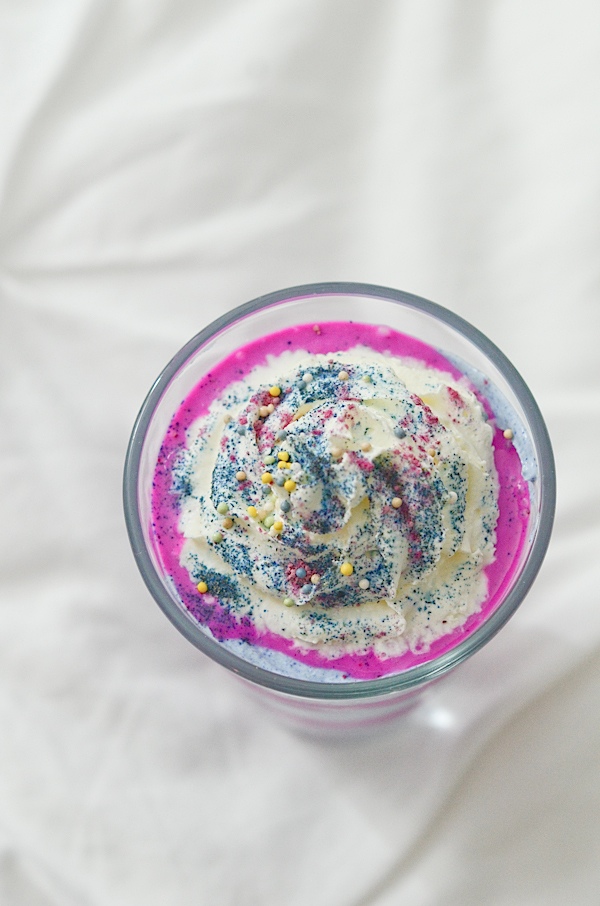 Healthy Unicorn Smoothie Toppings
As for the top, I added a swirl of Whole Foods light whipped cream. Two tablespoons of this adds only 15 calories. But it really makes the smoothie look pretty and fun.
I also sprinkled on top:
blue matcha powder
pink matcha powder (also from matcha.blue)
organic sprinkles (I used Let's Do Organic sprinkles that I found at Whole Foods)
Yes, even the toppings are (pretty) naturally colored.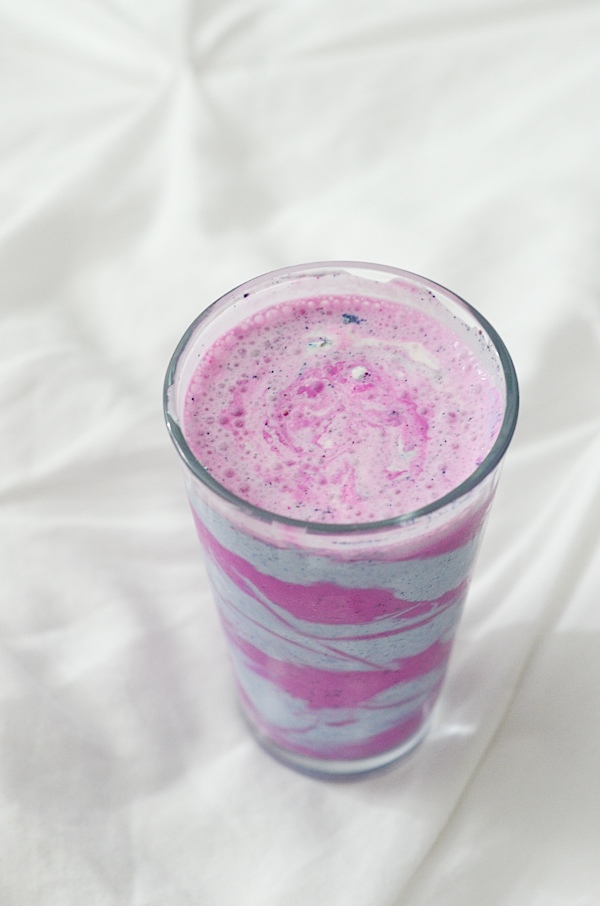 All swirled up!
Print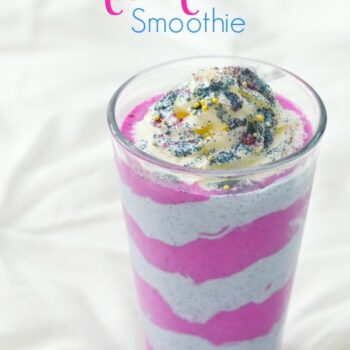 Healthy Unicorn Smoothie Recipe
Author:

Prep Time:

5 mins

Cook Time:

10 mins

Total Time:

15 mins

Yield:

1

1

x
---
Description
This Healthy Unicorn Smoothie Recipe is made with natural coloring and healthy ingredients. You'll get about one fruit serving and plenty of magical fun!
---
Blue swirl
1/2

of one single serving plain Greek yogurt (I used Fage – sub coconut or soy yogurt for vegan option)

1 teaspoon

honey (or sub agave or maple syrup for vegan option)

1/2 teaspoon

blue matcha powder
Hot pink smoothie
1

banana

1

pitaya pulp with seeds packet

1/2

of one single serving plain Greek yogurt

1/2 cup

ice (about

4

large cubes)

2

–

4

tablespoons milk of choice (I used almond milk)
sweetener of choice, optional
Toppings – optional
swirl of whipped cream
pink and blue matcha powders
sprinkles
magic
---
Instructions
In your blender container, place 1/2 of the Greek yogurt. Set aside – we'll finish the smoothie later.
To the Greek yogurt container, add honey and blue matcha powder. Whisk together. Use a spoon to swirl this mixture on the sides of a glass. Place in the freezer while you finish the smoothie.
To your blender container, add banana, pitaya, ice, 2 tablespoons of milk, and sweetener, if using. Blend until smooth, about 2-3 minutes, depending on your blender speed. Add additional milk, if needed.
Pour hot pink smoothie into your prepared cup.
Top with whipped cream, a dusting of matcha powders, sprinkles, and plenty of magic. Enjoy!
---
Notes
Use as much or as little sweetener as you'd like. Remember, the whipped cream is pretty sweet, so if you stir it all together, that will take the sweet factor up a bit.
As an alternative to the blue matcha, try using a blended blueberry yogurt. If you do this, you likely won't need to add honey.
Recipe Card powered by
My Blender of Choice
I love using the Nutri Ninja. The Nutri Ninja Professional
is what I have. I first discovered it at a blog conference. I was impressed with the demo the Ninja team did and planned to purchase it when I got home. But before I could buy it, the team reached out to offer me the blender to test. Free blender that I was already planning to buy? Yes, please!
Anywho, I find this blender really easy to use and clean. Plus, it's better to keep in my smaller space as I continue working in NYC. And I think the price is really reasonable.
Other Recipes I've Made Healthy
Healthier Chocolate Cake Minis
Oil-Free Granola (you'd be surprised at how unhealthy some granolas can be!)
Healthier Chicken and Dumplings
Vegan/Vegetarian Tempeh Shepherd's Pie
More Unicorn Recipes
And be sure to check out this Unicorn Smoothie Bowl Recipe here!
Here's a yummy, Healthy Unicorn Latte.
This recipe was featured in this BuzzFeed article for 16 Magical Unicorn Recipes to Make This Weekend – yay!
Thanks for stopping by!