Hey guys! Here's another fun, easy, and healthy unicorn recipe to try: this Healthy Unicorn Latte recipe. I know, I know…another sweet recipe. There are several savory dishes in the works in various stages of progress. Some with recipes but no photos. Some with photos that need editing. Some recipes that need more testing. It's definitely a process to get these brought to life, but I absolutely love doing it! I only wish I was faster or had more time to dedicate to it. Ahh the woes of being a part-time blogger. Lol! Anywho, hope to have some savory recipes coming your way soon.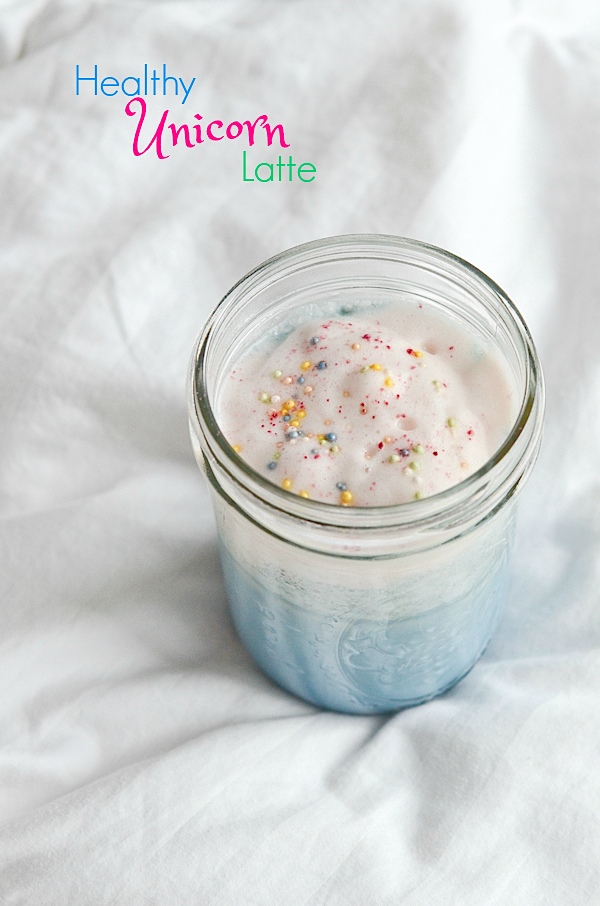 My guess is one of your first questions with this one may be: What does a Healthy Unicorn Latte taste like? I'll tell you. It tastes like hopes and dreams. But more practically…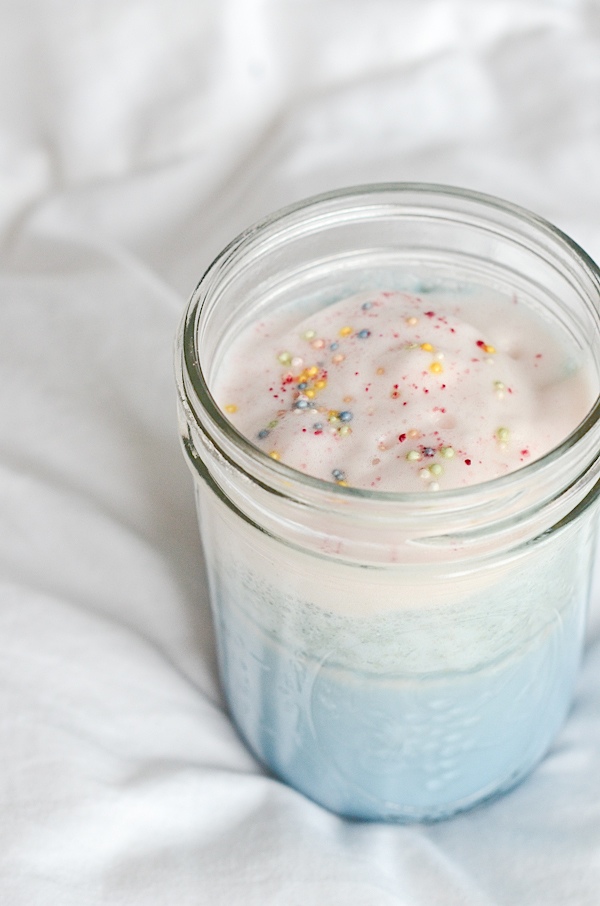 Healthy Unicorn Latte Recipe Flavor
The ingredients that turn this drink blue and pink are types of matchas made from plants. The blue is made from butterfly pea flowers. The pink is made from roses. To me, they have almost no flavor. Or maybe I didn't add enough matcha. I was shooting for a more pastel color, so I didn't want to add too much of either. Basically, I had a blank slate for the flavor. So what did I pick?
Vanilla. I like to keep things simple. This is basically a warm, vanilla almond milk. And it's really good.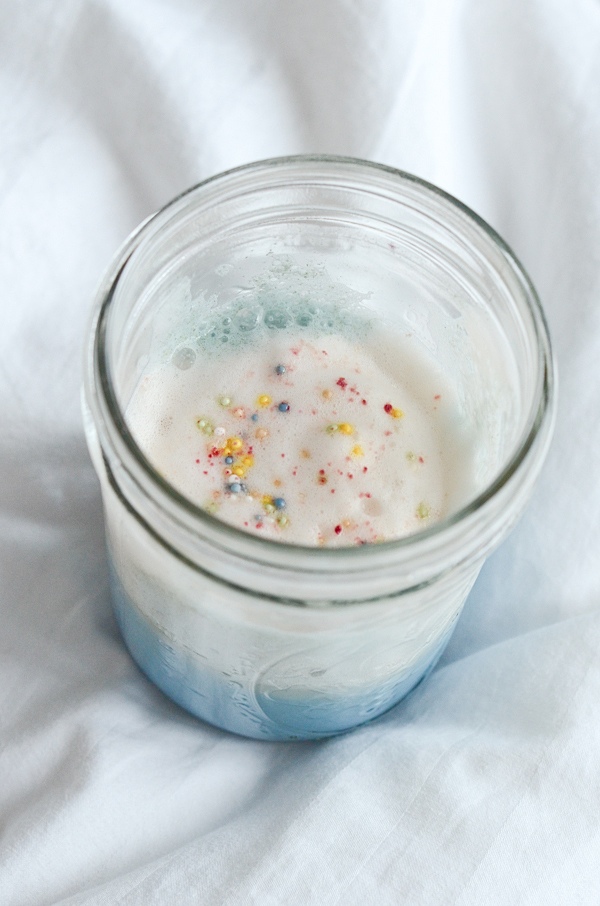 Since there's no caffeine in this Healthy Unicorn Latte, you could enjoy it any time of day. To me, the perfect time is after dinner as a light dessert / treat. Pour it into your coziest mug and get snuggled up on the couch. Sip and let the stress of the day melt away.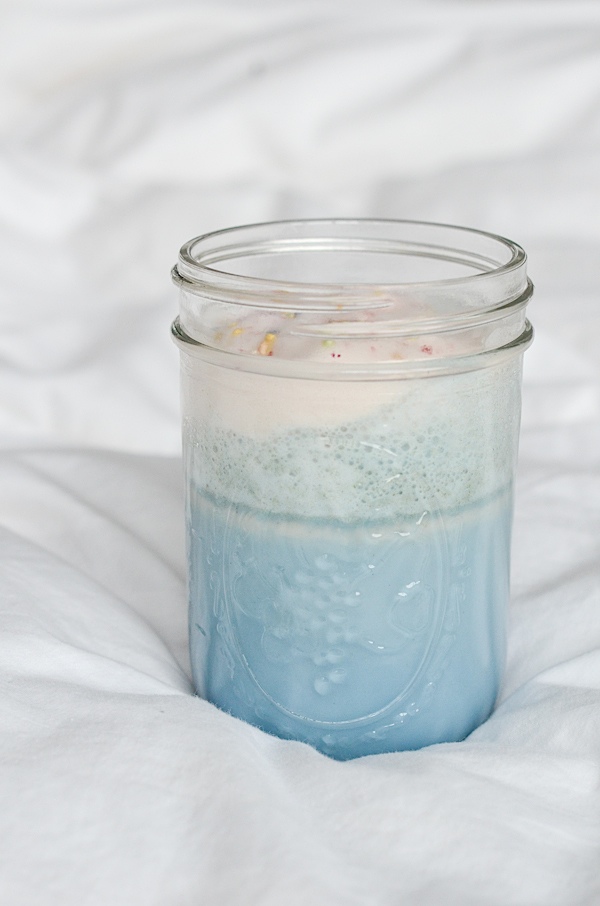 By the way, I used a frothing tool to make this Healthy Unicorn Latte recipe. If you don't have one, you could probably warm the pink portion of the recipe separately and try whisking really hard to get it a bit bubbly. It probably won't froth as much as the tool would do, but it's what I would try.
If you like frothy milk drinks, you may want to consider investing in a milk frother. The one I use is super easy and takes your drinks to that next level. Woop!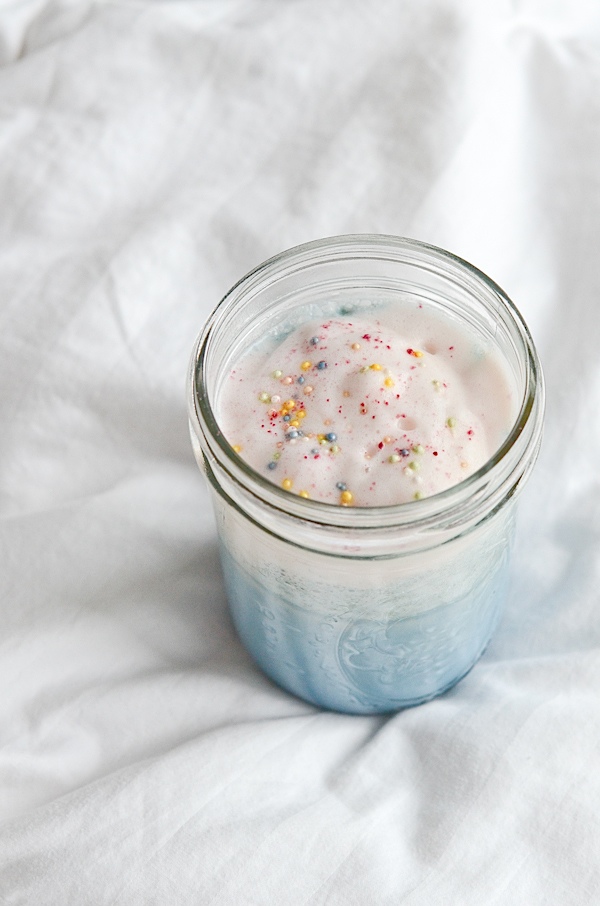 Print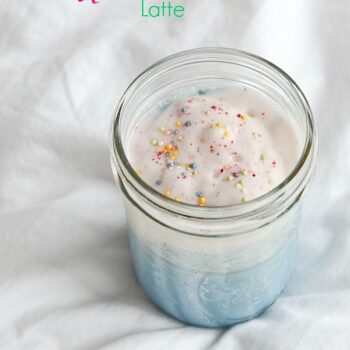 Healthy Unicorn Latte Recipe
Author:

Prep Time:

5 mins

Cook Time:

5 mins

Total Time:

10 mins

Yield:

1

1

x
---
Description
This Healthy Unicorn Latte makes a cozy treat any time of day. Made with plant-based colors, this drink is light and delicious.
---
Blue Latte Portion
1 cup

almond milk (or milk of choice)

1

–

2

teaspoons honey (or sub agave for vegan option)

1/2 teaspoon

blue matcha powder

1/2 teaspoon

vanilla extract
Pink Latte Portion
1/3 cup

almond milk (or milk of choice)

1/4 teaspoon

honey (or sub agave for vegan option)

1/4 teaspoon

pink matcha powder

1/4 teaspoon

vanilla extract
Sprinkles, optional
---
Instructions
Combine blue latte ingredients in a small pot and heat over low heat until just starting to simmer. Remove from heat.
Meanwhile, in a small bowl, stir together pink latte ingredients. Pour into milk frother (or otherwise follow your milk frother ingredients or warm separately from blue latte and whisk up) and follow your frother directions. The one I use is as simple as using the right atttachment, covering, and clicking the warm froth button.
Pour the blue latte into a heat-proof mug. Top with pink latte. Top with sprinkles, if using. Let cool to a safe temperature and enjoy!
---
Notes
If you don't a milk frother you can try heating the pink latte separately from the blue latte and whisking it to get it bubbly.
Recipe Card powered by
More Unicorn Recipes
Healthy Unicorn Smoothie Recipe
Healthy Unicorn Smoothie Bowl Recipe (featuring a different flavor than the smoothie)
More Cozy Drink Recipes
Apple Cider Vinegar Tea Recipe
***
Hope you enjoy this Healthy Unicorn Latte recipe. Thanks for reading!