Yogurt Bowl: Breakfast or Dessert?
So, I was steadily working on Thursday afternoon when it hit me. I don't even remember writing anything about that delicious yogurt bowl I had on Wednesday. I checked my most recent WIAW post after work, and sure enough…no yogurt bowl! Somehow, I managed to not only not blog about it. I didn't even edit the photos, even though I'd picked them out already. Whoops!
So, here it is…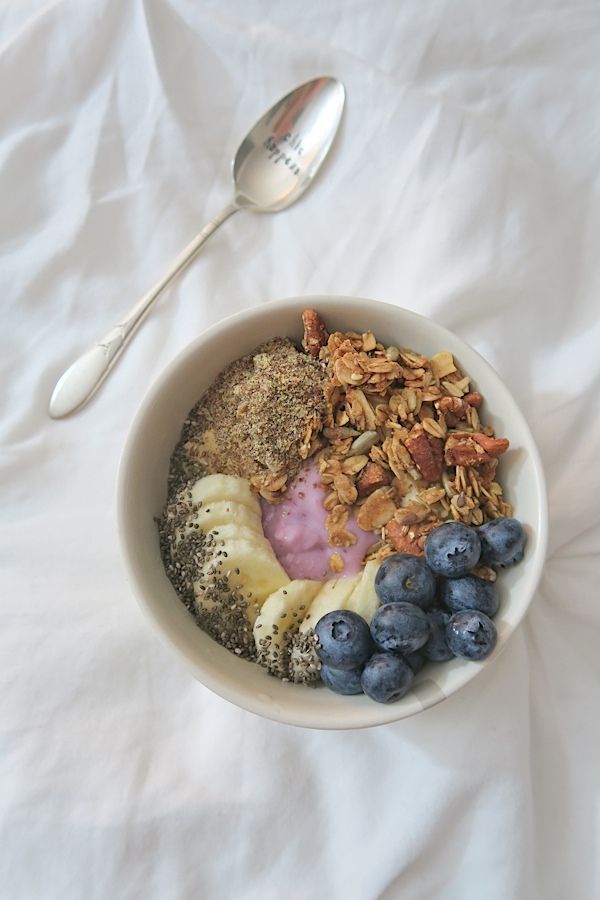 "Dessert" Yogurt Bowl
I ate this after dinner, so I guess that makes it a "dessert" yogurt bowl in a way. Though, it had the same things in it I would make if it were a breakfast yogurt bowl. For me, it was more of a post-dinner snack. I was still a little hungry after all my veggin up. And I try to eat a banana every evening. I read somewhere they're good to eat before bed because they help you sleep. Not sure if that's true, but I also enjoy the nutrition of bananas on a daily basis.
Anywho, I figured..if I'm still hungry, why not slice the banana on top of a more filling yogurt bowl. It was brilliant and really hit the spot.
Why This Works
It may seem odd to eat breakfast for dessert, but this works for me because it keeps me from snacking on other things. I still aim for intuitive eating. So if I listen to my body, and I'm still hungry, then I need to eat more. But instead of opting for chips or other snacks with no filling qualities, this will satisfy me nicely. And I loved packing in even more nutritional goodness with all the toppings. Look at all that good stuff on top!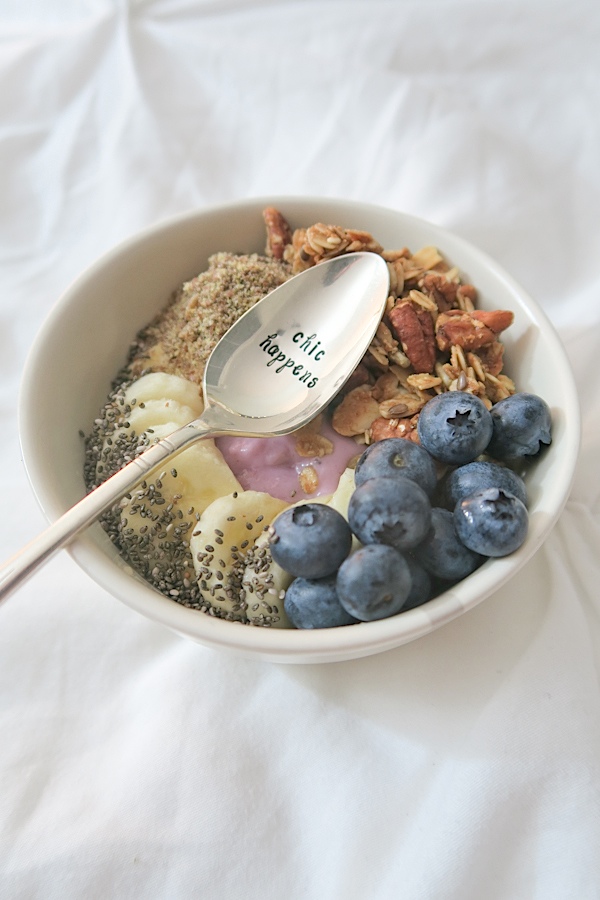 In This Yogurt Bowl
So Delicious coconut milk yogurt in blueberry
Granola Lab granola
Organic blueberries
Sliced banana
Chia seeds
Ground flax seed (I use Bob's Red Mill)
Other Breakfast Foods I Love to Eat as "Dessert"
"Chic Happens" Spoon
By the way this spoon is by Milk and Honey Luxuries on Etsy. They have so many cute spoons in their shop!
What about you? Do you ever eat breakfast for dessert?