Not sure how the weather is where you are, but things are freezing cold in NYC. The high today was 29 degrees Fahrenheit. And I somehow managed to make my way out to visit one of my favorite tea shops and do restorative yoga. But I was so cold walking around the city. Brr! Naturally, I thought it would be a good time to share a tropical green monster smoothie with you. Lol. Seriously though, with St. Patrick's Day coming around the corner and because they're great year round, I wanted to share this Papaya Coconut Green Smoothie Recipe with you.
I went on a green smoothie making spree a few years ago. But I haven't made one since 2013! It's time!
New to Green Smoothies? Check out my Green Smoothie 101 post with tips and tricks for beginners.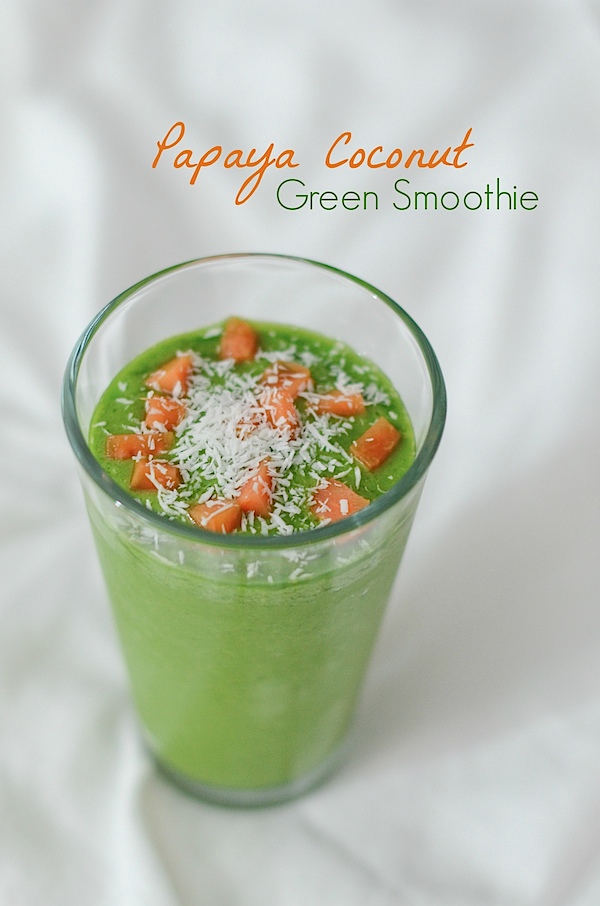 One of the things my friend Angie and I ate a lot when she visited late last year (besides the Apple Cider Vinegar Tea) was papaya. One of the local grocery stores sells it pre-cut, so it's really easy to enjoy year round. Since Angie's visit, I've been getting papaya almost every other week. I love eating it after dinner. But one of the downsides of papaya is that it goes bad relatively quickly. Especially when it's pre-cut.
I try to only buy it when it's been packaged same day. You can check the date on the label. Even when it's same day, it seems to only last 2-3 days max. And the container is pretty big! Luckily, it's really easy to freeze papaya. And frozen papaya is great in smoothies!
Click here to check out my other smoothie recipes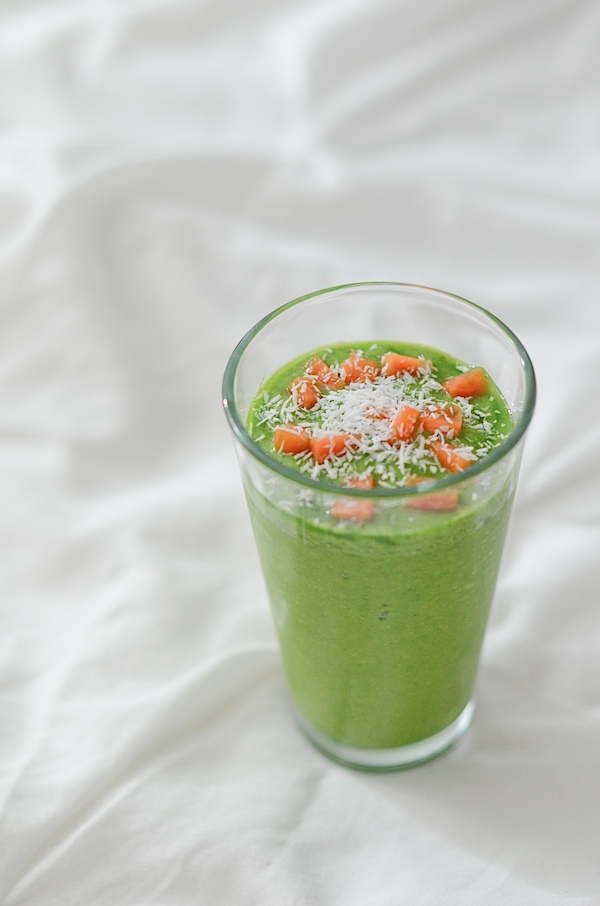 As I like to do these days, I kept the Papaya Coconut Green Smoothie Recipe ingredient list pretty small. I thought about adding some more stuff in because the list seemed too short. But then I thought, why add unnecessary ingredients?
Papaya Coconut Green Smoothie Recipe Ingredients
The ingredients for this smoothie are just:
Frozen papaya
Coconut milk (the kind in the box)
Coconut flakes
Fresh Kale
That's it!
You can add sweetener if you like. I normally rely on the sweetness of bananas, which is typically one of my must-have smoothie ingredients. Papaya isn't as sweet, so if you like your smoothies on the sweeter side, I recommend adding honey or agave. Use a liquid sweetener so it blends nicely.
PS: This Papaya Coconut Green Smoothie Recipe is naturally vegan since I used coconut milk.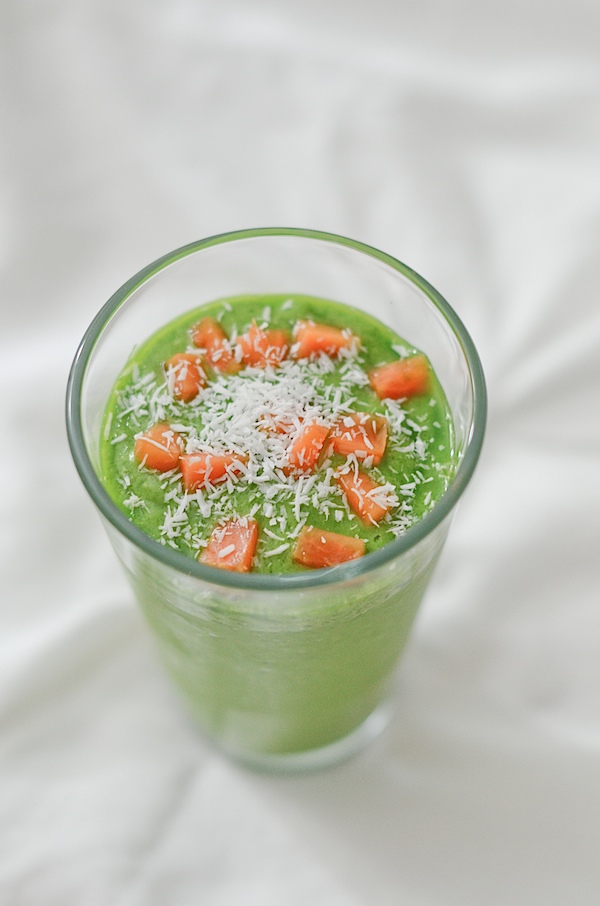 Print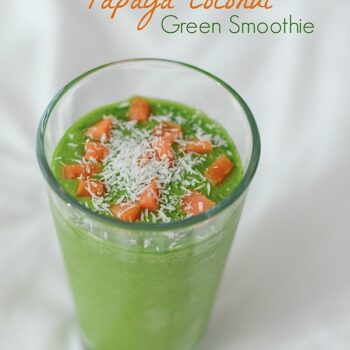 Papaya Coconut Green Smoothie Recipe
Author:

Prep Time:

5 mins

Cook Time:

5 mins

Total Time:

10 mins

Yield:

1

1

x
---
Description
Here's an easy green smoothie recipe that uses just a few ingredients. It's also a great way to use up extra cut papaya or frozen papaya.
*Vegetarian* *Vegan*
---
1 cup

kale, ripped into

1

inch pieces

1 tablespoon

unsweetened coconut flakes

1 cup

frozen papaya

1 cup

coconut milk (from the box)
optional – honey or agave, to taste
---
Instructions
In a blender, add kale, coconut flakes, papaya, milk, and honey/agave if using.
Blend until ingredients are evenly mixed, about 1-2 minutes. If mixture is too thick or won't blend, add additional coconut milk (just a bit at a time) and retry blending until you get the texture you like.
Taste test and blend in additional sweetener, if needed. Enjoy!
---
Notes
Note: Adding the ingredients in the suggested order will help keep the kale and coconut flakes from flying around and getting stuck to the sides of the blender cup.
Recipe Card powered by
More Green Recipes
Green Monster Muffins Recipe <– If the green smoothie were a muffin!
Piña Colada Green Monster Smoothie Recipe
Matcha Green Monster Smoothie Recipe
Sautéed Kale with Garlic and Shallots Recipe
More Clean Eating Smoothie Recipes
Alkaline Blueberry Smoothie Recipe
Pumpkin-Pie Spiced Green Smoothie Recipe
***
Hope you like this Papaya Coconut Green Smoothie Recipe!
Thanks for stopping by!