I've long told my friends about the secret gem that is Foxcroft Wine Shop. Literally everything on the menu is delicious. But I also think they have the best burger in Charlotte, NC. Seriously. This post has been a long time coming.
And how did I discover this place? The credit goes to my friend Caitlin (who used to write the blog Healthy Tipping Point). We went for a group dinner back in 2011, and I've been loving the place since then. Thank you, Caitlin!! You have excellent taste! And I miss your blog.
Delicious Foxcroft Wine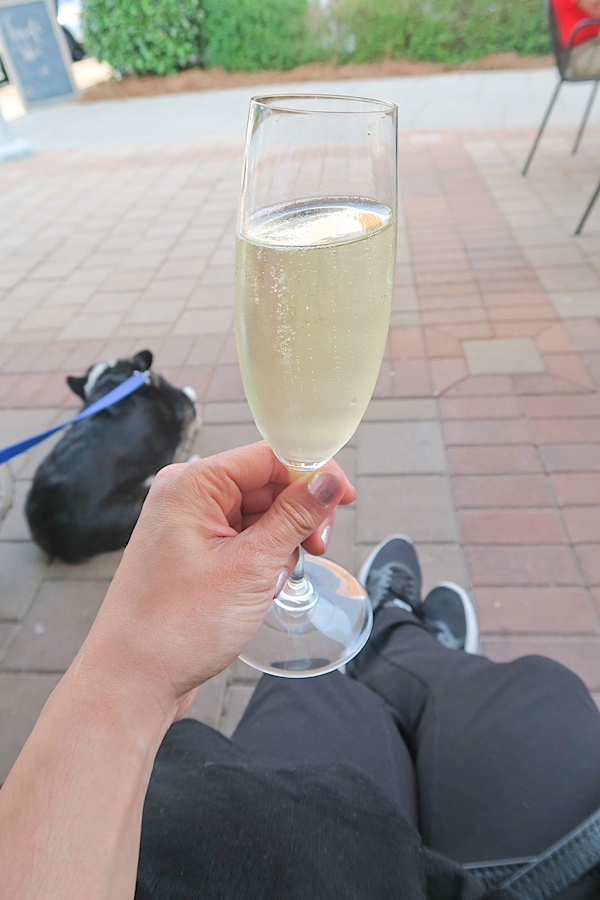 Hubby and I went on Friday for dinner on their patio, which meant Bailey got to go too. There was a bit of a wait, so we enjoyed drinks (prosecco for me) whilst sitting on a bench outside. It was actually really nice because the weather was perfect. I didn't even mind the wait. Instead, I enjoyed the light breeze blowing around, the fresh air, and the peaceful quiet that you can't really find in NYC.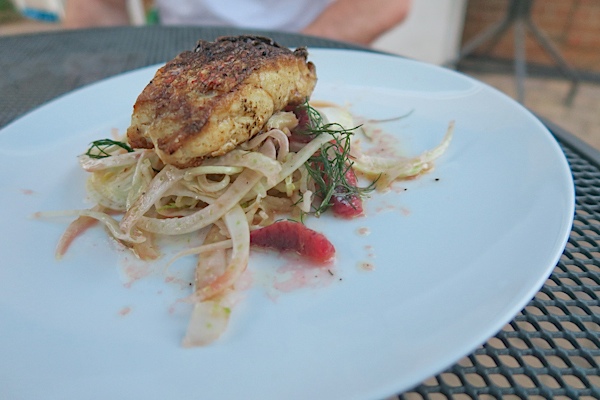 Hubby opted for the snapper special, which was served over a fennel and blood orange salad.
Best Burger in Charlotte, NC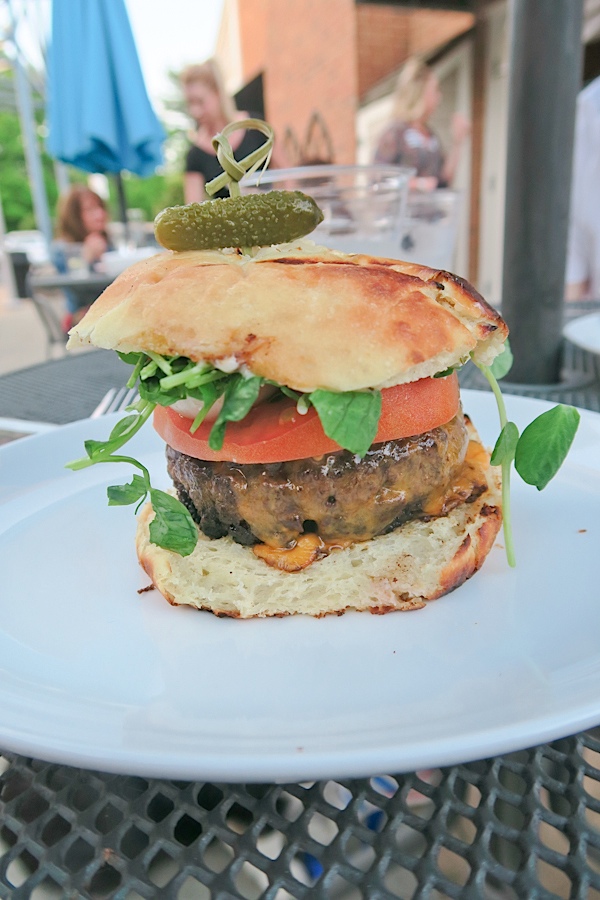 I went for the burger. It came topped with melted cheddar cheese, tomato, grilled onions, pea shoots, and a cornichon. There was mayo-tasting-based sauce on top. I forgot to ask what it was. I just ate and enjoyed. I've had a lot of burgers in Charlotte. But this has to be the best burger in Charlotte, NC. I'm pretty sure they use great local ingredients, even the meat. But you could easily double-check with the friendly team if you make a visit. Everyone there is so nice.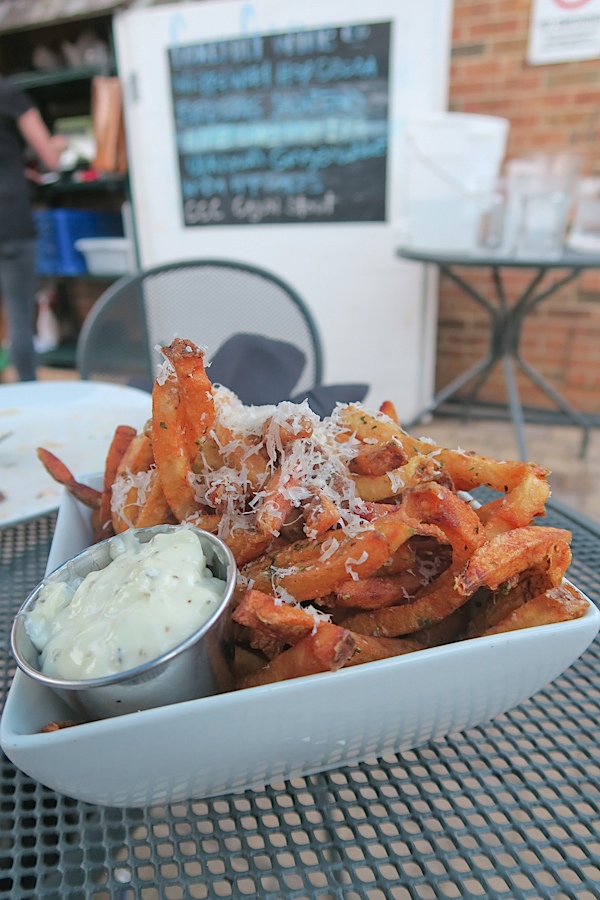 I can't do a burger without fries. So, we shared a side of the truffle fries. The crisp on these is just right.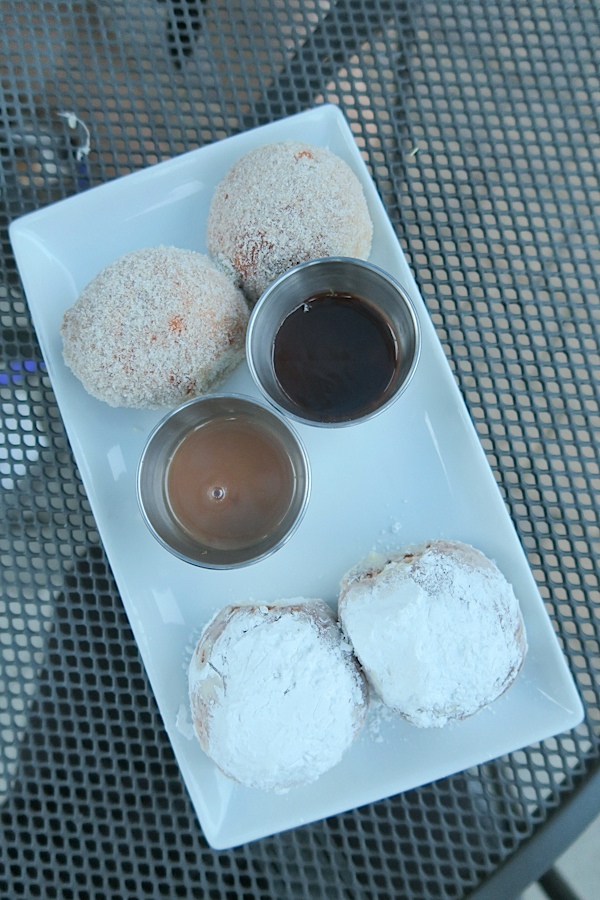 And not to be outdone, the doughnuts here are pretty amazing. We got a half order, because that's more than enough for us. You get these perfectly-fried balls of dough. Half are dipped in powdered sugar. Half in cinnamon sugar. Plus two dipping sauces. There was a little something extra in the cinnamon sugar ones this time around. I think it was cardamom? But again, I forgot to ask. I was too busy eating. They'll switch the dipping sauces now and again by the way.
I know, I know…I ate dessert. More on that next time when I share some of my weekend eats.
For now, if you're in Charlotte and you love burgers (or just delicious food, in general), head over to Foxcroft Wine. I hope you enjoy your meal as much as I've always enjoyed mine.
More Charlotte Eats
Rico's Acai – for a healthy breakfast, snack, or treat any time of day
LittleSpoon – for hip hop brunch
And I'm still thinking about that kale salad from Fern
***
Thanks for stopping by!