When one of my BFFs, Megan, invited me for an impromptu trip to Chicago, I had to say yes! I hadn't been since the Healthy Living Summit I attended there back in 2010. So, I was due a trip! And the biggest reason – to spend a weekend of QT with one of my dear friend! We could have fun anywhere, but Chicago is a pretty awesome place to meet up.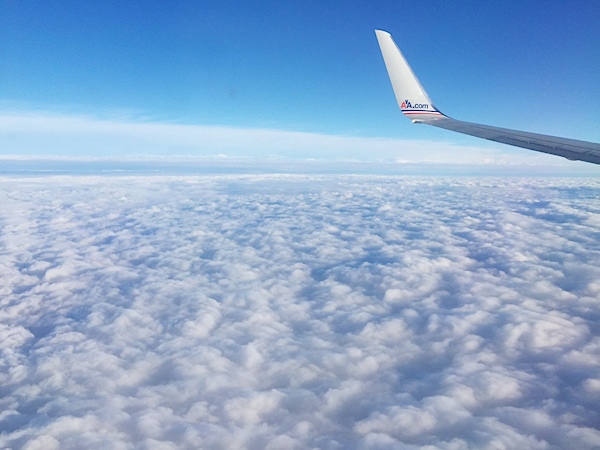 I got to the airport early and managed to get on an earlier flight. Woop!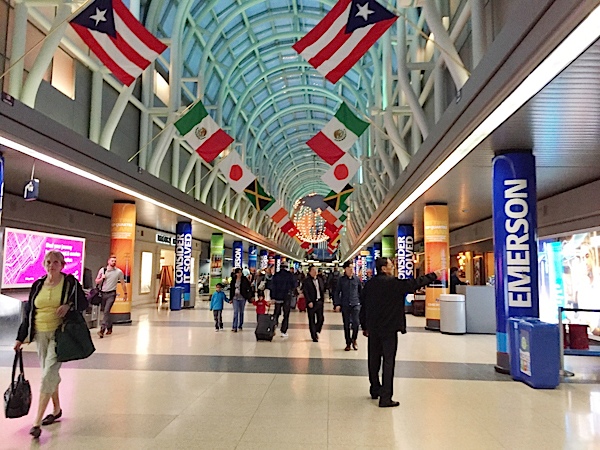 Loved this hall of the Chicago O'Hare airport.
Il Porcellino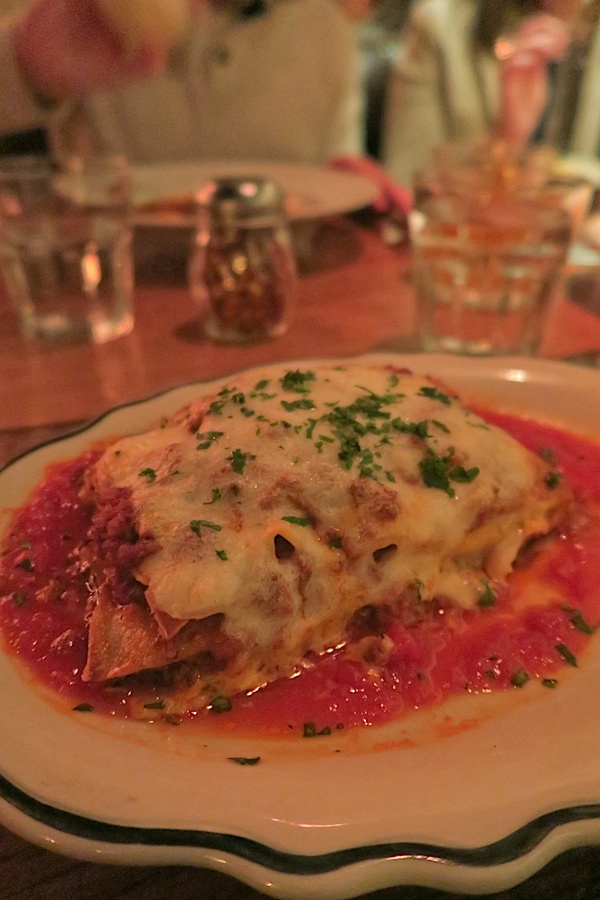 Since I scored an early flight, I got to enjoy dinner with friends instead of dinner alone. Megan, J, and L were out having cocktails and apps as I made my way to the hotel. I met up with them just in time for a late dinner. We went to il Porcellino, and I had the burrata lasagna. It was so flavorful and delicious. And pasta was good comfort food after a long trip from NYC. After dinner, we attempted to go to a not-so-secret bar, but the line was too long. So, we went to the hotel instead.
The Langham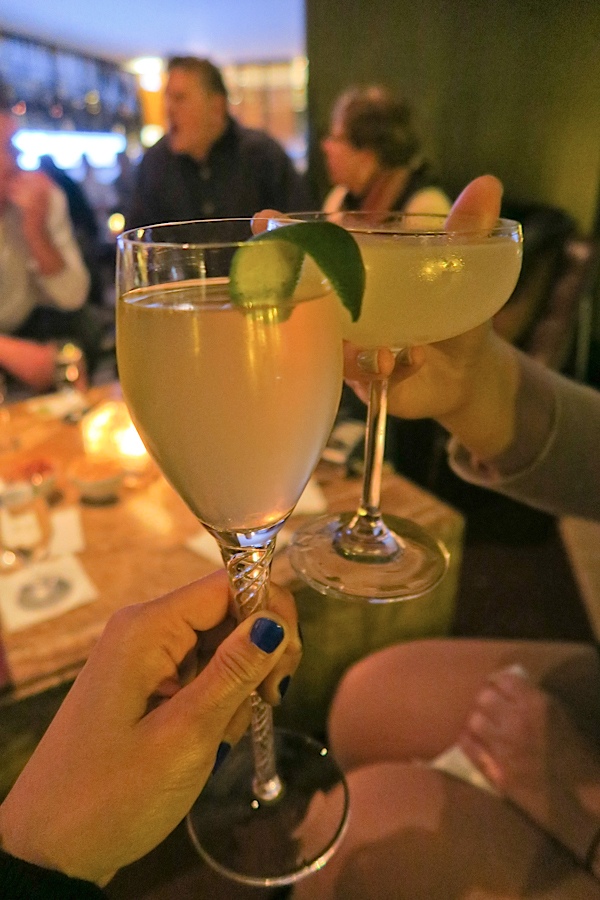 We stayed at the Langham in downtown Chicago. After cocktails at the hotel bar, it was time to head back to the room.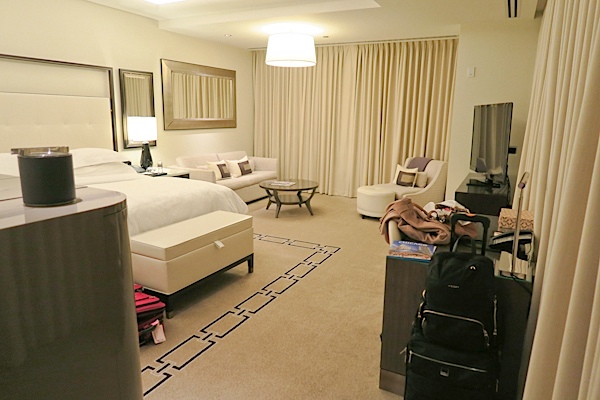 Isn't the room gorgeous?!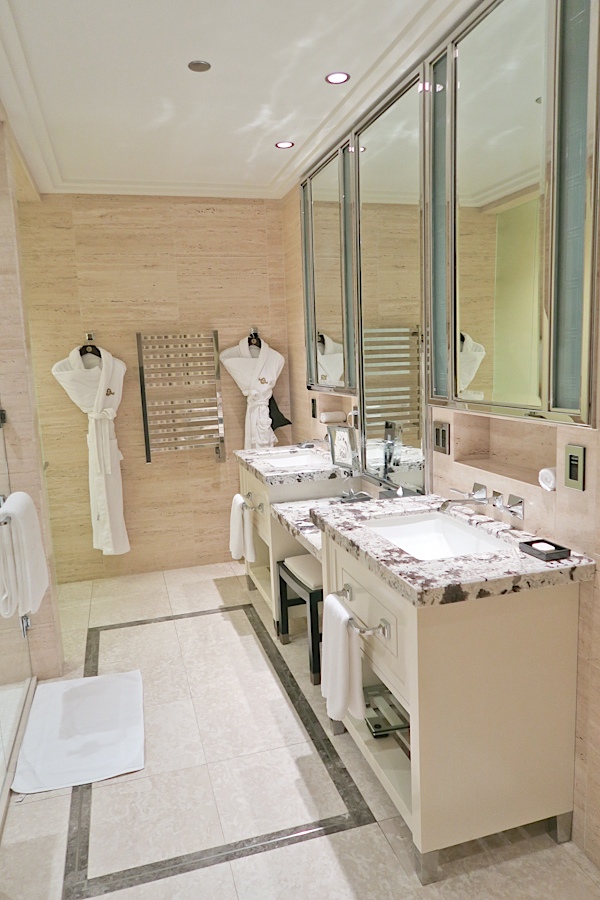 And the bathroom was pretty amazing.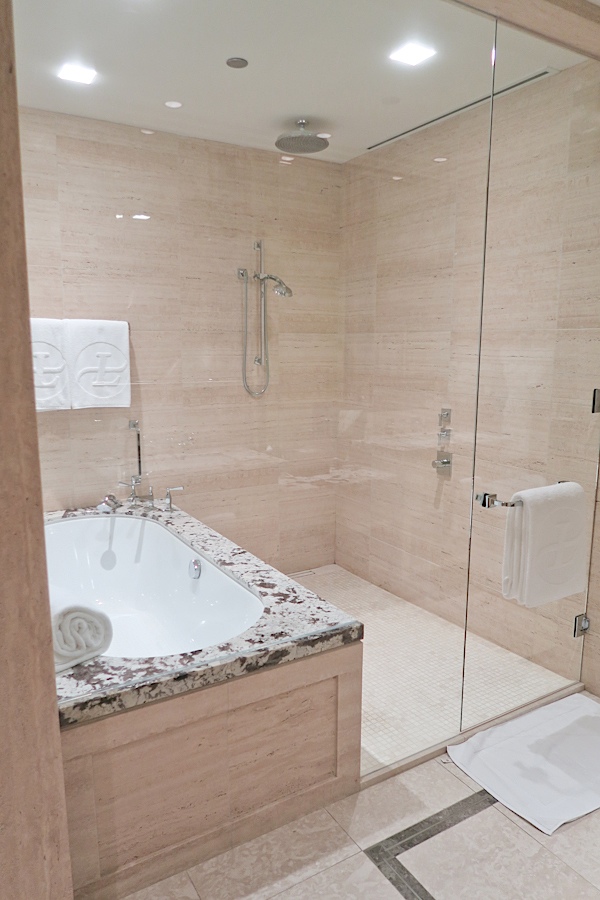 I did not want to leave this shower.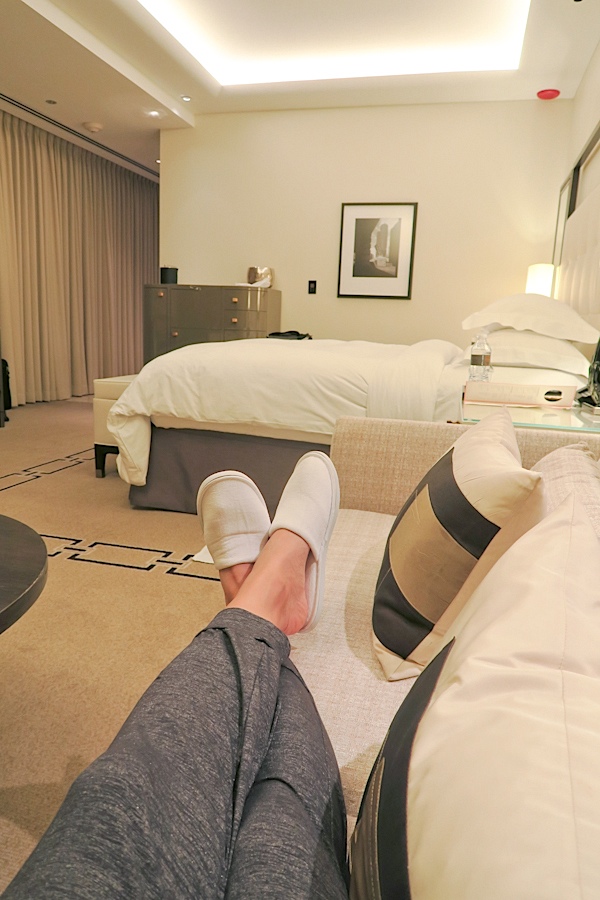 And you know you're somewhere special when you get slippers next to the bed.
Breakfast In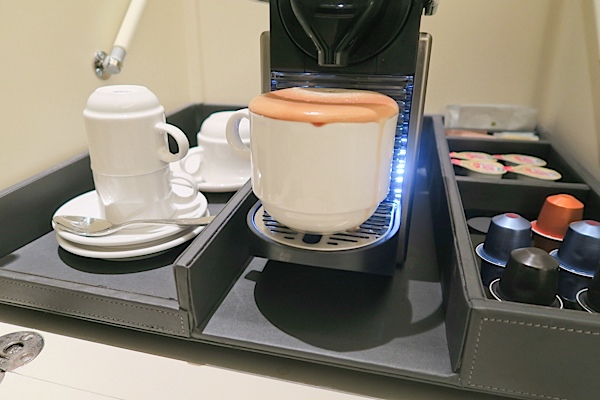 The next morning, I attempted using a Nespresso for the first time. I figured the coffee mugs in the room would be the right size for the coffee. They were too small, and it overflowed! Oops!
Megan and I did a quick workout in the hotel gym before breakfast.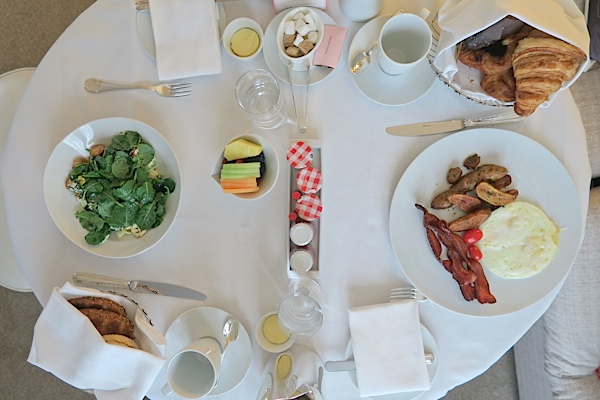 We enjoyed a leisurely breakfast in the room. They rolled this whole table in!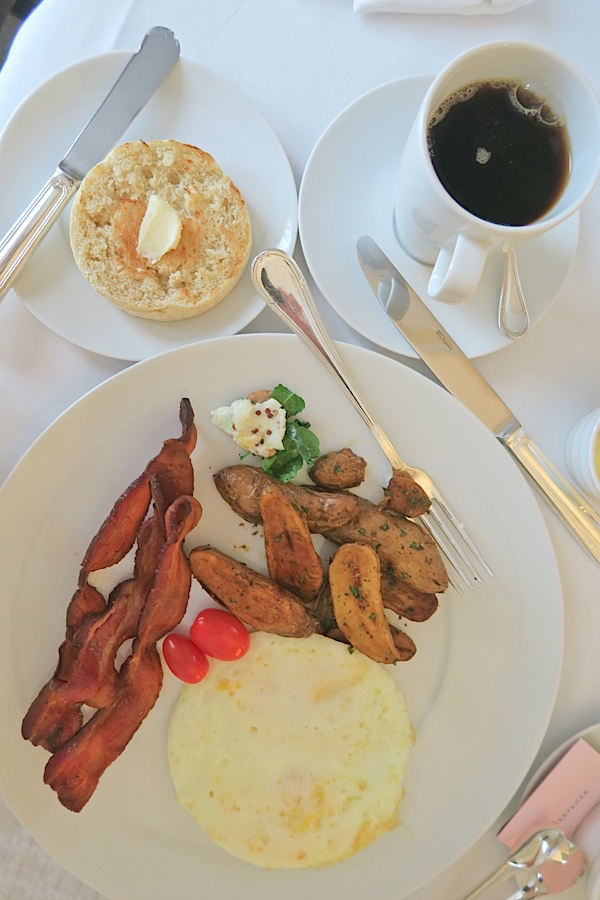 Here's mine: eggs over hard, bacon, and potatoes. Plus a floofy English muffin with butter. And coffee, of course!
Chuan Spa Day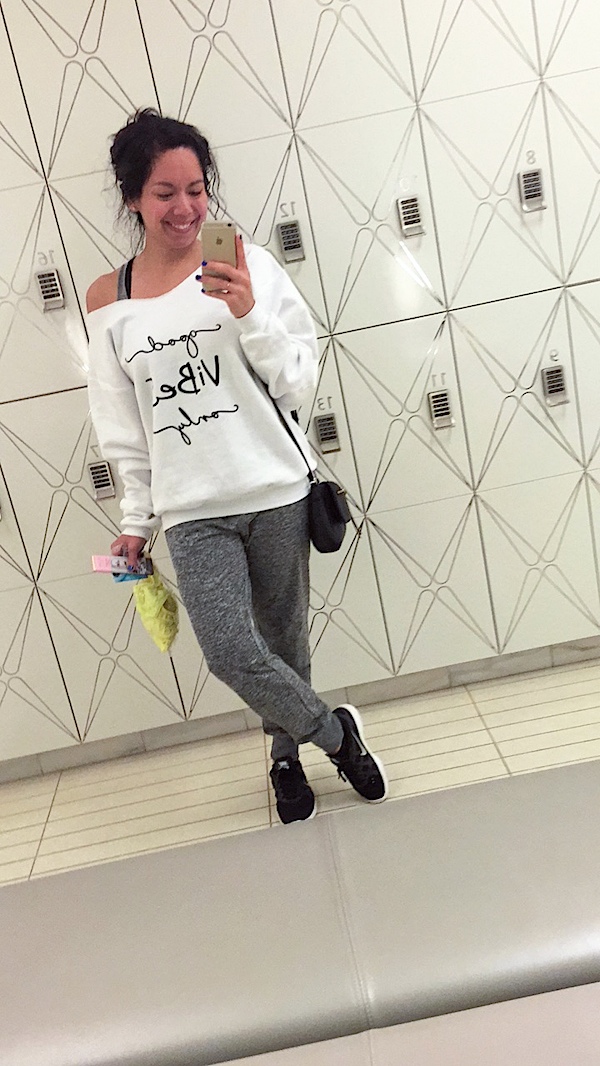 We enjoyed an afternoon at Chuan Spa, which is inside the hotel. How pretty is the spa locker room?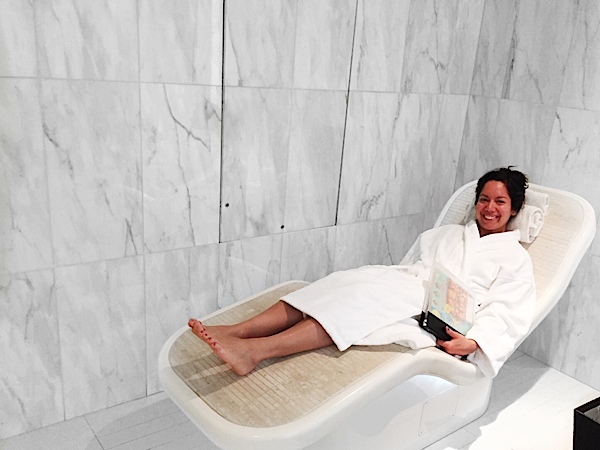 We started out by spending some time in these heated stone chairs, which are supposed to be good to help your muscles relax. After this, we went through a "Chuan bathing ritual", which is where you spend about 5-10 minutes in the following rooms: salt stone sauna, steam room, herbal sauna room. The steam room is my favorite. It makes your stress melt away!
Next, we actually stepped out of the spa to enjoy afternoon tea. I'll blog about this separately since I took so many photos of the food. Hehe.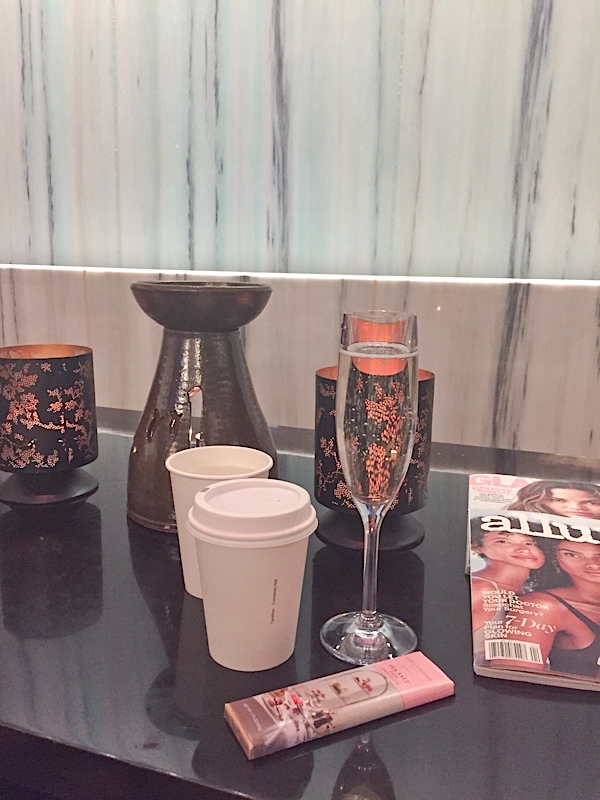 After tea, we enjoyed massages. These were finished with chocolate, champagne, and plenty of water. Yessssss!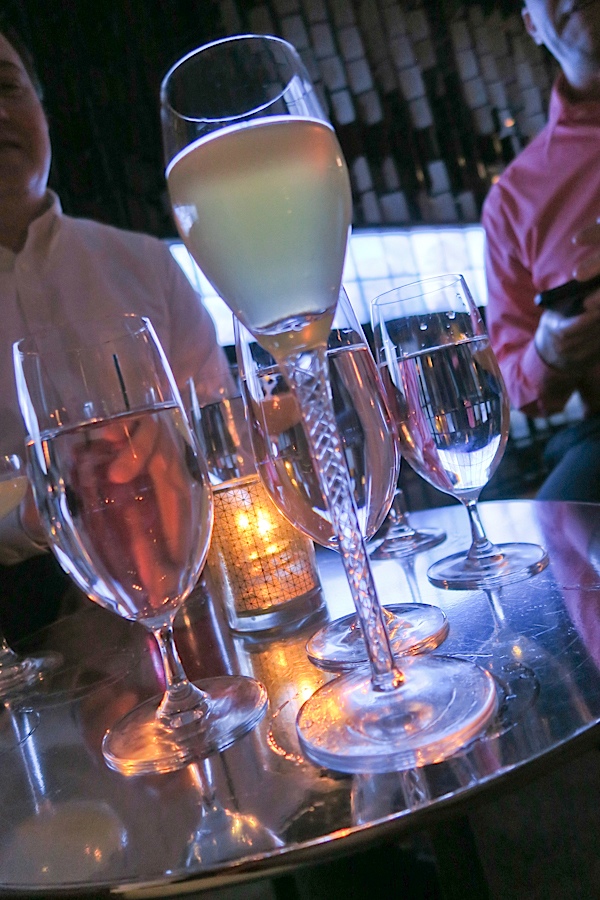 After a work event where my friend won an award (congrats, Megan!), we considered trying to visit the secret bar again. The weather was against us, though. It was very rainy and cold (low 50's), so we went back to the hotel again. I had a cocktail in the tallest glass I've ever seen. The drink was good, but the company was even better. I had so much fun with Megan and new friends J and L!
Sunday Breakfast and Thoughts on Langham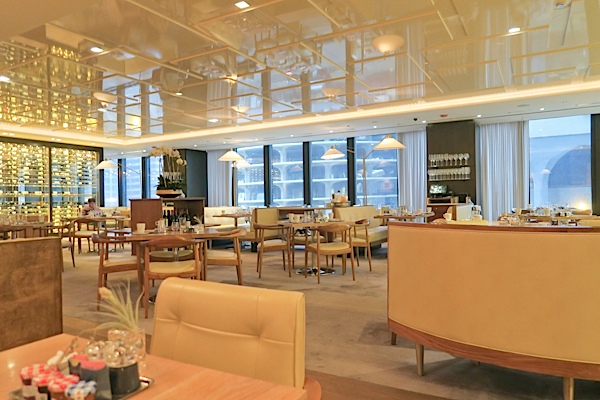 After packing up, Megan and I headed down to Travelle Kitchen for breakfast.
Since we both had travel days ahead, we hit up the breakfast buffet for a quick bite. I got some scrambled eggs, bacon, a waffle, a tiny chocolate croissant, and some potatoes. Yum! Plus coffee and a smoothie to go!
The Langham was impressive in so many ways. A five star hotel, the Langham was classy without being stuffy. The grounds were always impeccable, and the staff was incredibly friendly and helpful in every interaction. I also love that the hotel's signature color is pink, so you can find hints of it throughout. And the food was so good, too! We pretty much didn't leave the hotel all weekend.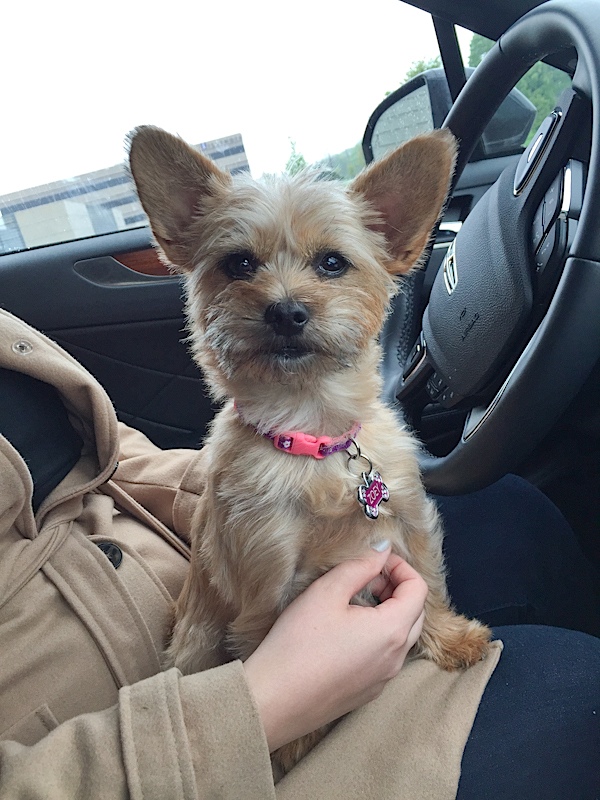 And I got one last treat in before leaving Chicago. I got to meet Megan's sweet pup, Zoey. Isn't she a cutie?
Back to NYC
After that, it was time to fly back to NYC. This was my first flight where we passed NYC with everything to my right. I love passing the city when you have a window seat. The buildings stretching to the sky are so impressive to see from high up.
I have a cute story from the landing. Just after snapping the above photo, the gentleman to my left took out his phone and started snapping photos like crazy. I wondered if he'd never been to NYC before. I also noticed he was speaking only French to another man he seemed to be traveling with who was sitting across the aisle. The plane flew up past the north of the city and then swung back around to land. As we approached the city, I could tell he was looking the wrong way to see the city. I tried pointing more forward to say, "hey, look this way to see New York!" He tried to lean over a bit but I could tell he couldn't see. I took a photo of the city on my phone so I could show him what I was seeing. The photo made his eyes light up. He tried snapping a couple photos of his own, but he couldn't seem to get the city in his shot. So, he handed me his phone. I took a couple photos and gave his phone back, and he looked at them and got extra excited. He turned his phone to video and gave it to me again. So, I filmed the city as we approached the airport and kept it going until a little after we landed. I gave the Frenchman his phone back and he immediately watched the video with his wide like a kid opening a Christmas present. He must have liked it because he immediately watched the video again. He smiled big, turned to me, gestured his hands to his heart and said, "Thank you." We pulled up to the gate, and after a couple minutes, the plane started de-boarding. Just before it was the Frenchman's turn to leave our row, he turned back around to me and, with a big smile, said, "Bye bye!"
It was a cute way to end a fantastic weekend.
Megan, J, L – you guys come visit me soon!