Hey guys! Here's the follow-up to my last post about my sister's visit to NYC. Woop!
video
VIDEO: Highlights (of the Food!) from My Sister's Visit to NYC
This is the same video from Part 1 – just putting it here for convenience in case you didn't see that post.

If the above video player doesn't work, click here to watch my video about what I ate when my sister visited NYC.
What We Ate in NYC (Summer 2017)
Boba Guys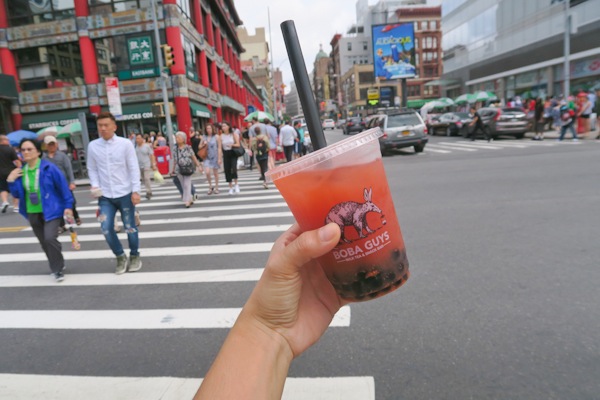 Sis is almost as big a fan of bubble tea as me. If not bigger. So when I found out there was a Boba Guys less than one block from where we were meeting friends to catch a ride to Queens, it was easy to convince her for a pit stop. I mean…she wanted one too.
I normally go for the more milk teas, but sis told me she'd had the strawberry (or was it raspberry) fresca and that it was very refreshing. Given the hot day, refreshing was what I wanted. So I tried it out. It was really good! Definitely lighter than the milky ones because there's less creaminess. The milky ones are still my faves, but this was perfect for the weather.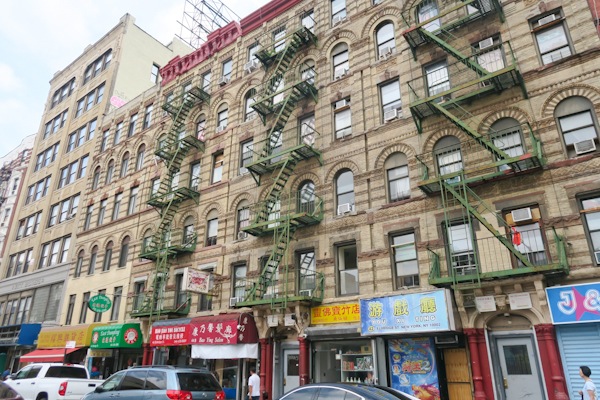 Cunningham Park (Flushing, Queens)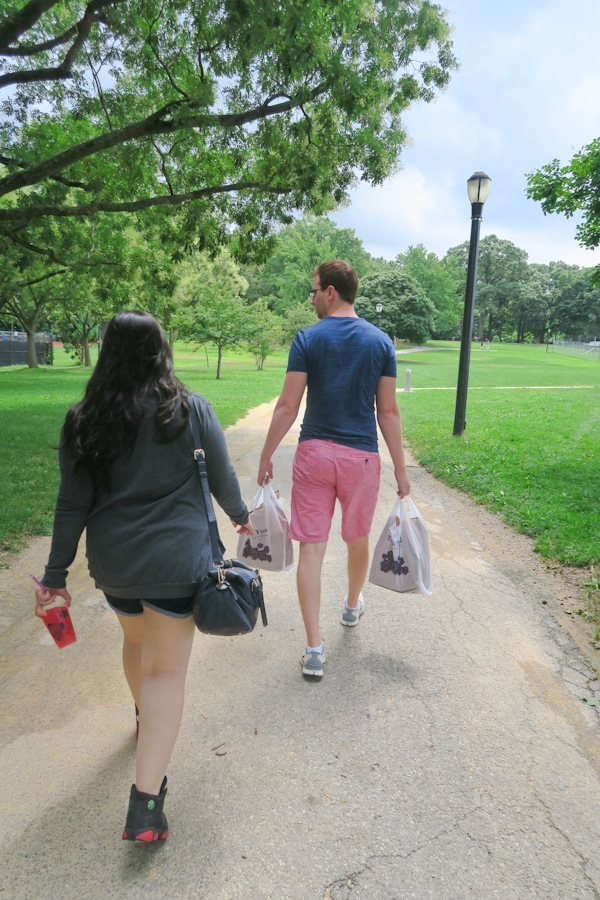 We met friends in Cunningham Park located in Flushing, Queens for a park party.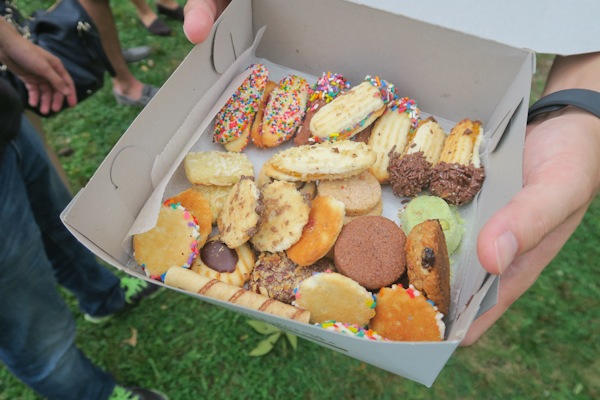 Greeted by cookies! Yes!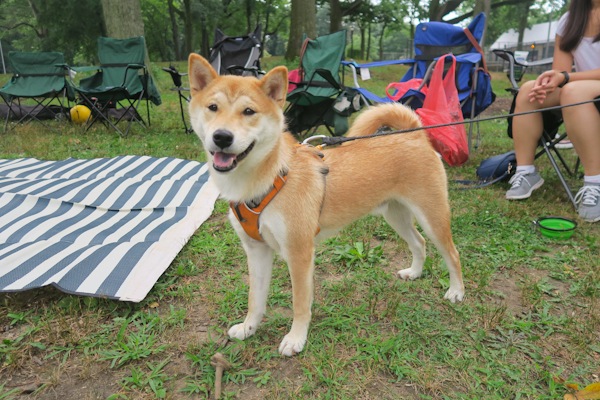 Isn't this shiba inu adorable? We actually almost got one of these when we were thinking about dogs back when we got Bailey. Pretty happy with our cute little guy.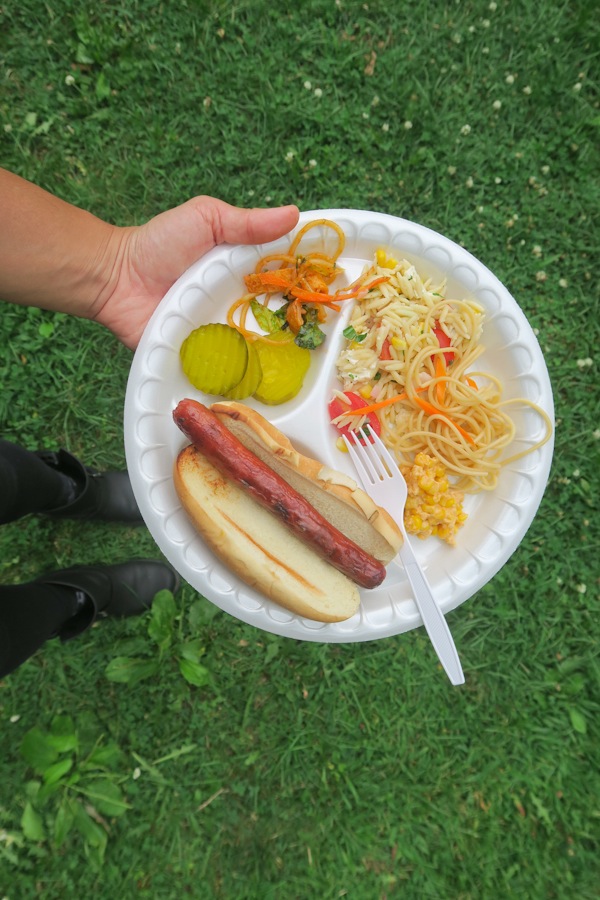 For eats, I had two hot dogs (extra grilled) with some of the sides: pickles, noodles, pasta salad, and a corn salad.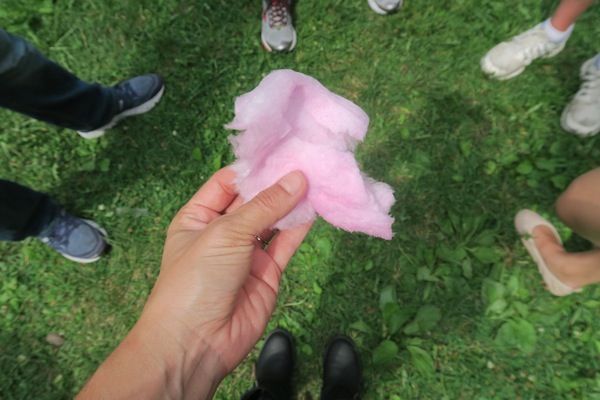 And someone was selling cotton candy in the park!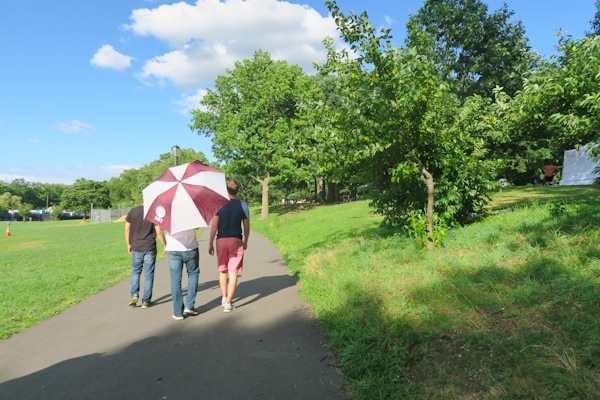 The weather started out cloudy but turned absolutely gorgeous. The sky was blue, the sun was bright, and there was a beautiful little breeze running its way through the park. It was such a nice way to spend the day – fresh air with no other plans with fun friends.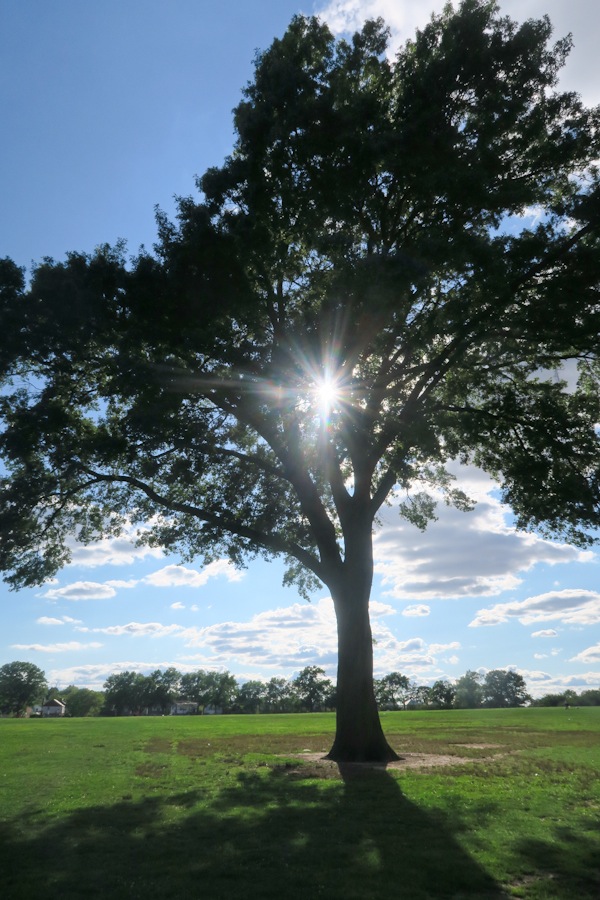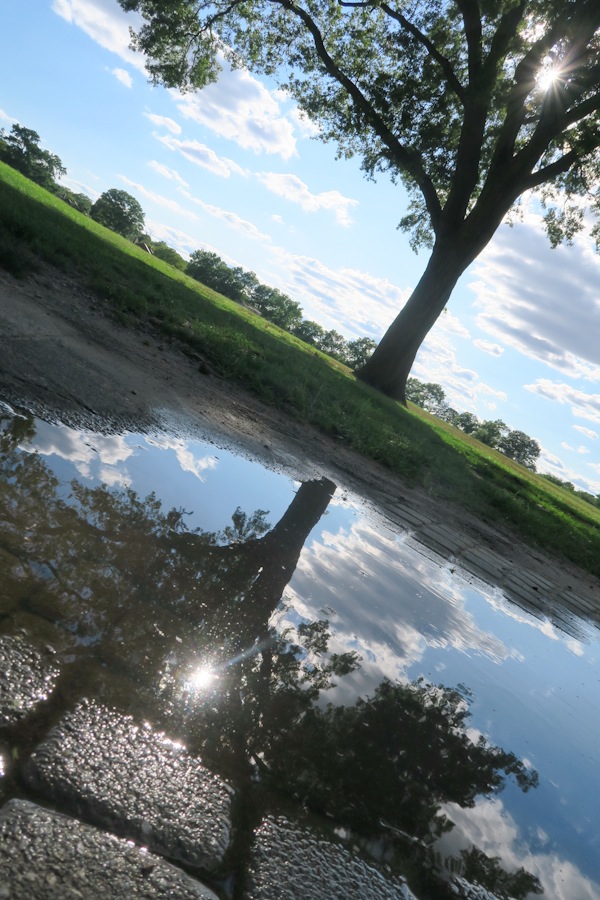 Sis suggested I take a reflection shot while I was taking the first tree photo. Here it is.
Westville Chelsea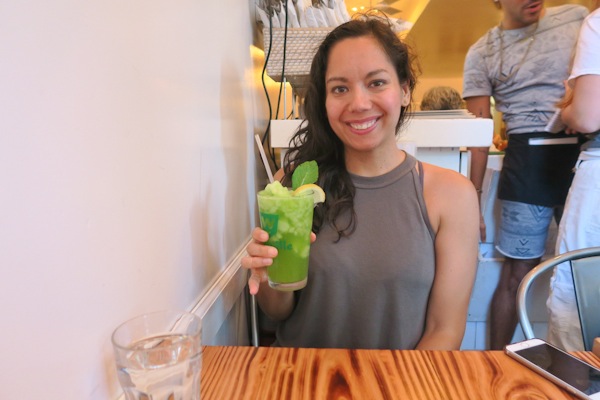 I had one more fave to share with Sis and Justin – Westville Chelsea. We started with frozen mint lemonades.
I did a happy dance with my food. Does anyone else do that when they're enjoying really delicious eats? Hard to capture that in photos, so I guess you'll have to watch the video! haha!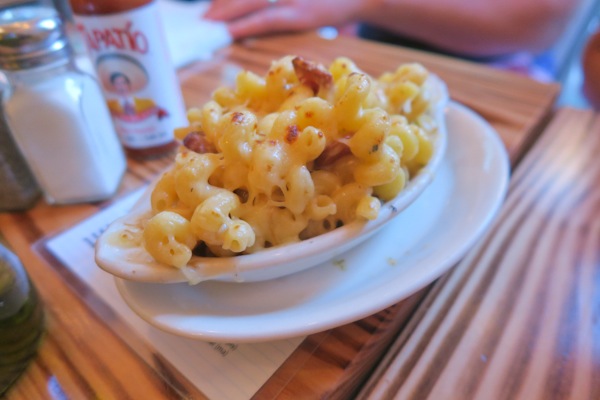 Justin wanted to try the bacon mac and cheese as an appetizer. I certainly wasn't going to say no. I've actually never had the mac cheese even though I've been here so many times. It was really good. The cheese was a little lighter in amount, but not in a bad way. To me at least. I know some of you like uber-cheesy mac and cheese. haha.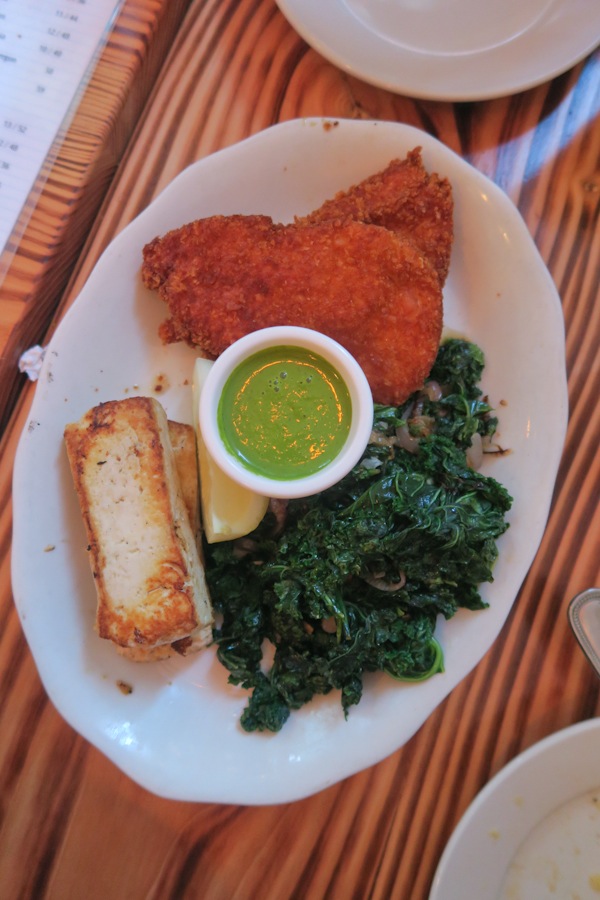 Sis and I split the crispy chicken cutlet entree. I normally order two veggies with this, but Sis wanted to try the tofu. I'd been curious about it since I'd considered getting it as part of a 4-veg entree. It was really flavorful without being over the top.
Aux Merveilleux de Fred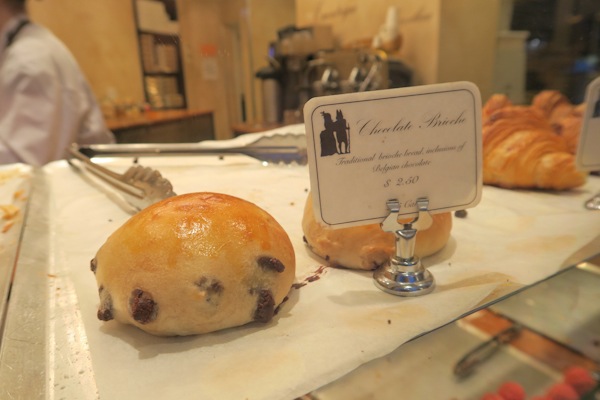 As we headed out for dessert in West Village, we passed Aux Merveilleux de Fred. Their chocolate brioche is irresistible. Literally. We got one for breakfast the next day. Yum!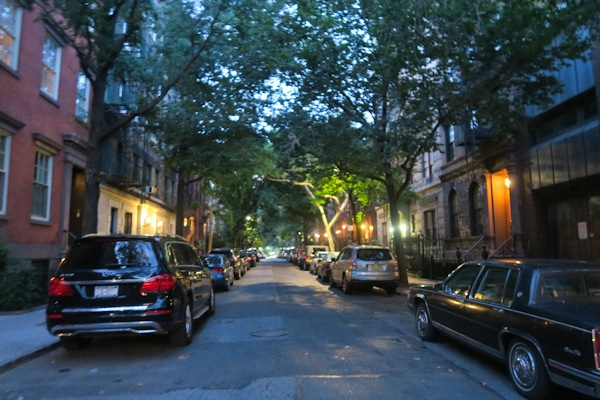 Kulu Desserts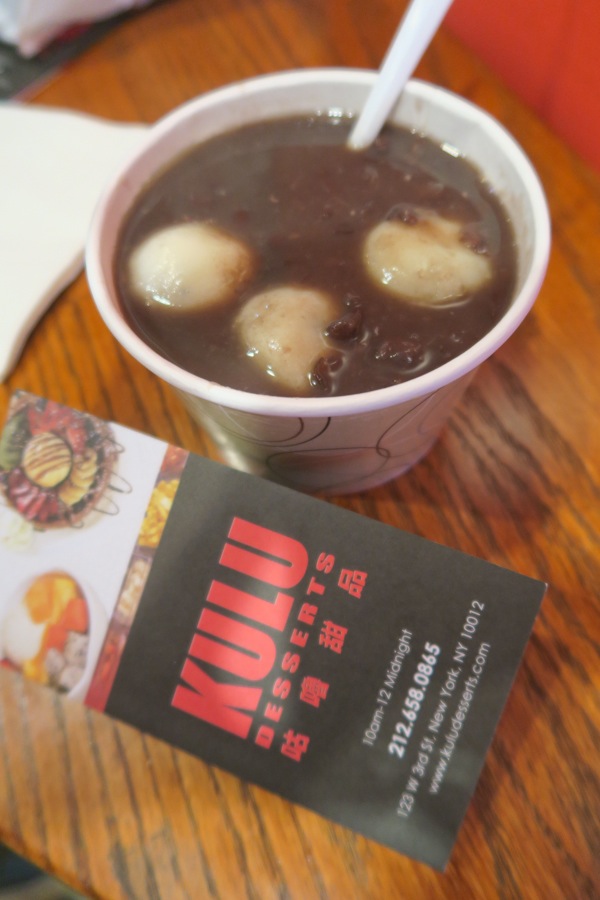 Sis loves Kulu desserts. She's the only person I know who will go here with me. Haha. The desserts are definitely unique. But if you like dim sum style desserts (red bean paste flavored ones), you'd love this place!
I ordered the sweet red bean soup with rice balls (they're filled with black sesame paste). It looks strange, but it's so so good!
That's it for this visit! Definitely check out the video because I think I got some shots in there that I can't capture in photo form.
Click here for Part 1 of my sister's visit
More What I Ate
Click here for more of my Eats posts
Click here for my What I Eat video playlist on YouTube
More NYC
Click here for my other NYC blog posts
***
Thanks for reading and watching!