Hey guys! So I'm blogging about snow from…Thailand! It's so weird to be editing videos and photos of such winter-y-looking scenes when I'm somewhere so tropical and warm. But, things have been so go-go-go straight from the start of the year. This is the first chance I've really had to do much blogging.
Anywho, when a group of friends talked about doing a ski trip somewhere in New York, I jumped at the opportunity. I've been feeling like I've been in quite the rut lately, so I wanted to shake things up. If only I knew how much I would! More on that soon (see part 2 actually). This trip would basically be my first time skiing. For sure my first time trying downhill. I went skiing when I was on an exchange in France in high school. We did cross country skiing in the Alps. That was fantastic. But also quite a long time ago. So how would this trip go? Read on to find out!
*VIDEO* Ski Weekend Vlog
Be sure to watch my vlog for even more footage from this trip. I've been enjoying making these videos for you because it feels like a whole new way to share my experience with you.
Click here to watch the video if the above player doesn't work.
BBQ Pitstop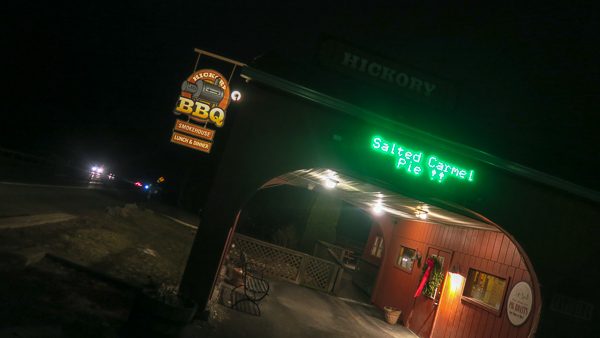 A group of us went up to the Catskills on a Thursday after work. Doug suggested we stop at Hickory BBQ Smokehouse, which was on the way. And also happened to be near where we went for that Woodstock trip last fall (click here to read about that trip).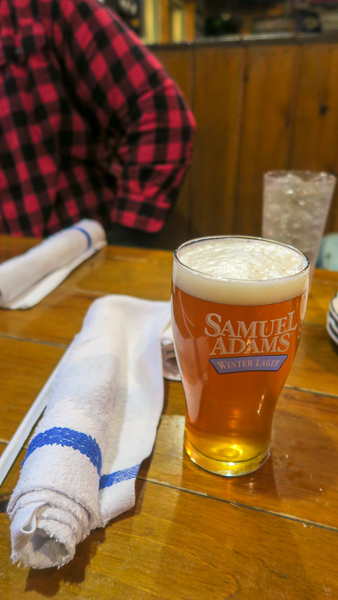 I should have written down which beer I had because I now cannot remember. I only know it was the one closest to an amber.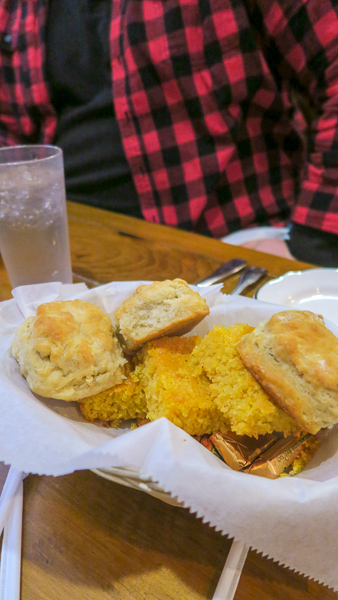 We also got cornbread and biscuits.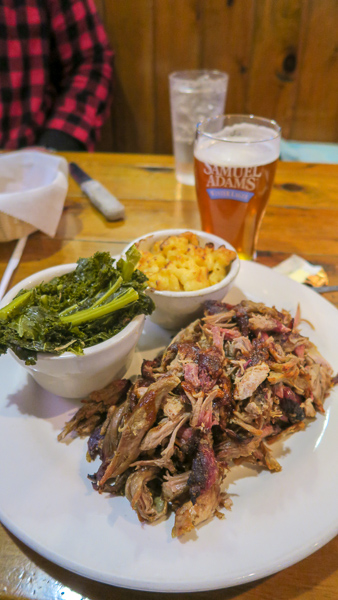 And I opted for the BBQ pork plate with daily greens and mac and cheese.
Ski Haus (AirBnB)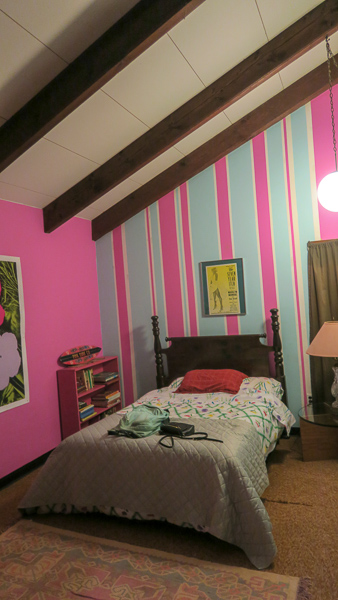 After dinner, we had just a bit more of the road trip to go. We did a quick grocery, got to the AirBnB (check out the video for a tour), and picked our rooms. The pink one was calling me.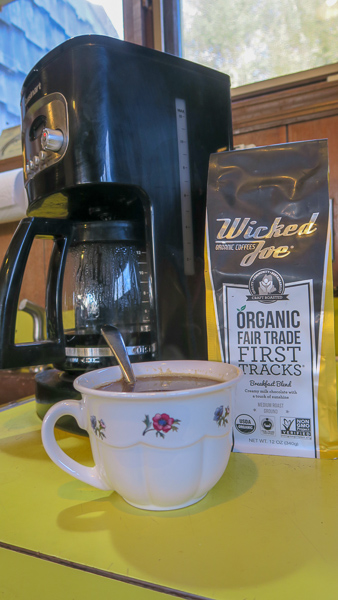 In the morning we tried this ski-themed coffee. It was good!
We decided to sleep in a bit and hit the slopes just before lunch. So, we got to take our time in the morning.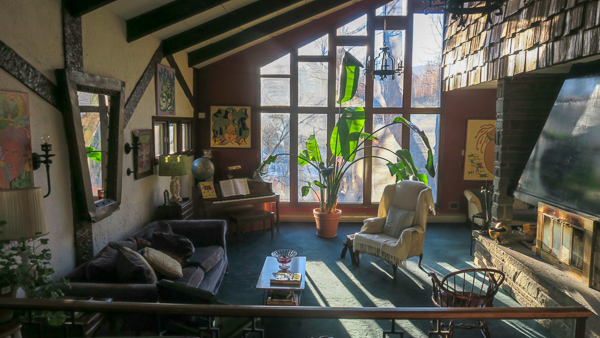 The house was super cool and had unique pop art all over.
Hilda whipped up an amazing breakfast.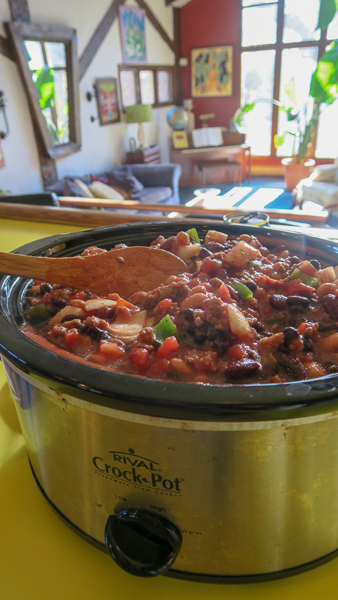 And we prepped my super-easy slow cooker chili for dinner. Since we road tripped it, I was able to bring my crock pot.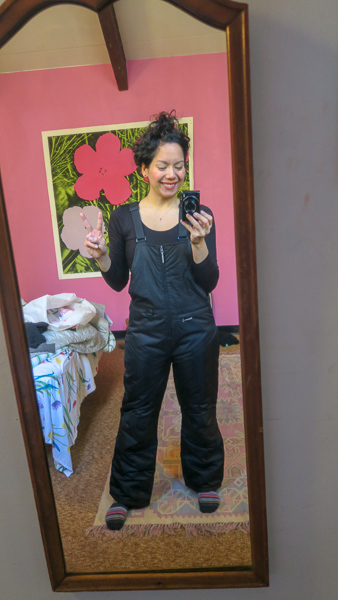 I had zero ski clothes prior to this trip. Luckily, I found this ski bib at Modell's for only $20.
Belleayre Mountain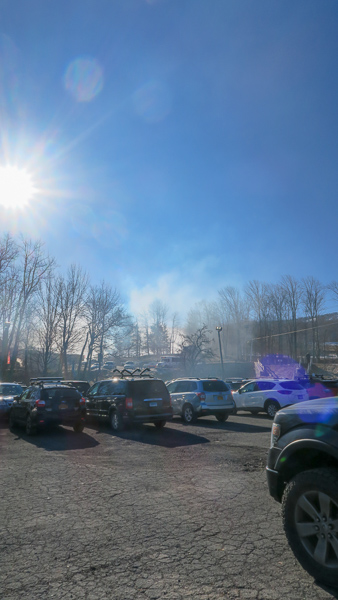 We finally made our way to Belleayre Mountain around 11am-ish. Doug commented that the snow machines were going. Conditions weren't great for skiing, but luckily Belleayre is able to make their own snow.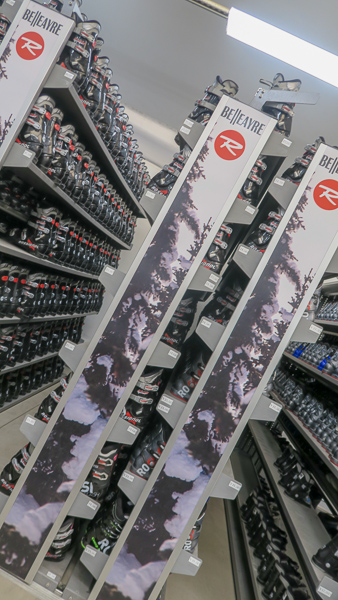 Parallel from the Start | Belleayre Beginner Package
As I was a complete newbie, I went for the beginner package called Parallel from the Start, which included all the gear I'd need, access to the lower mountain, and group lessons – all for 3 days. Since we were only skiing for two, I redeemed only two days and still have one more to use later this year. And even cooler – you can use this at multiple locations, including White Face.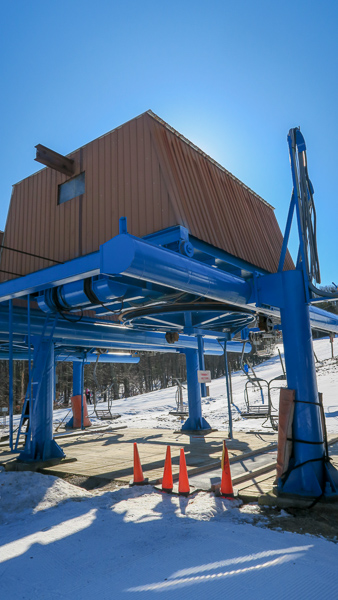 Since we rolled in a bit late, we missed the 10am group lesson. Luckily, Doug took pity on me and gave me some basic lessons. He taught me how to slide parallel. And then had me try a single turn where you glide at a bit of an angle, slowly turning your skis uphill to stop. After doing this a couple times, he had me connect two turns. All this down this tiny hill to the ski lift that looked relatively steep for this first timer. I somewhat envisioned myself tumbling down this tiny hill for all the skiers to see. Luckily, that didn't happen and I made it down.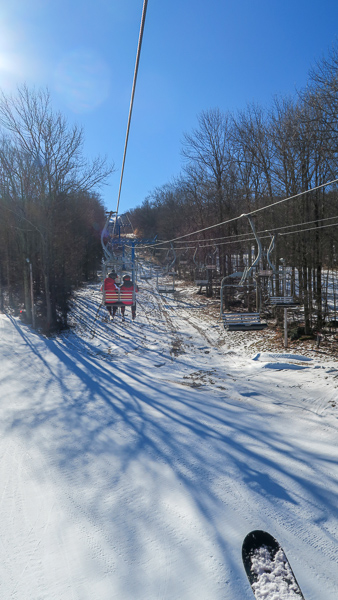 And then we hit up the ski lift to head for a green run.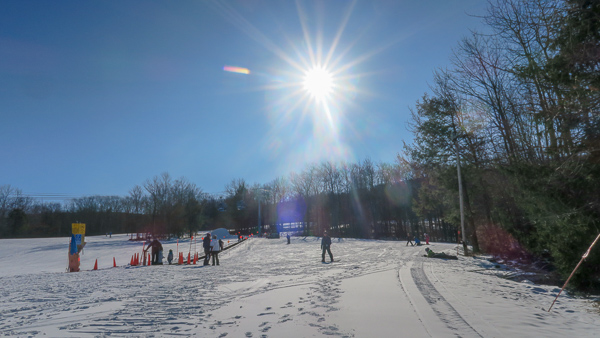 With Doug's help, I managed to make it down one green. Slowly but surely. Haha. Everyone told me I'd be good at skiing because of my skating background. I was skeptical, but I did notice the movements being quite similar here and there. The main difference to me was how slippery the skis felt under me.
After a bit, it was time for my group lesson. I learned some basics, but since I'd already had "lessons" I was a bit ahead of the group. When we were ready to hit the bunny hill, my instructor said I was pretty steady and could go up and down the bunny hill on my own.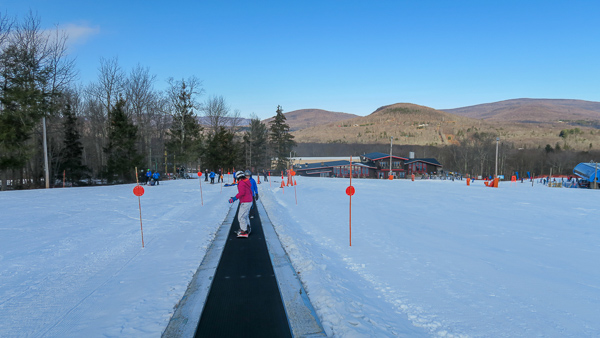 We rode the magic carpet up the bunny hill and then skied back down. It was pretty fun, but I was ready for more greens!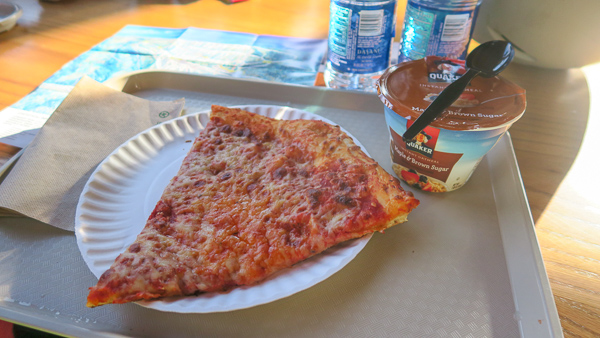 The lodge had standard fare, but not a lot in the way of clean eating options. I decided to just get a piece of pizza and had some oatmeal for energy. Plus plenty of water.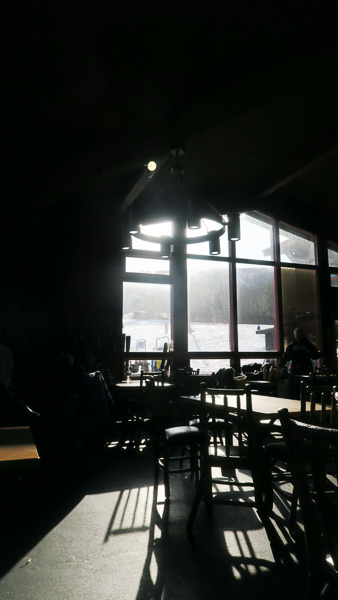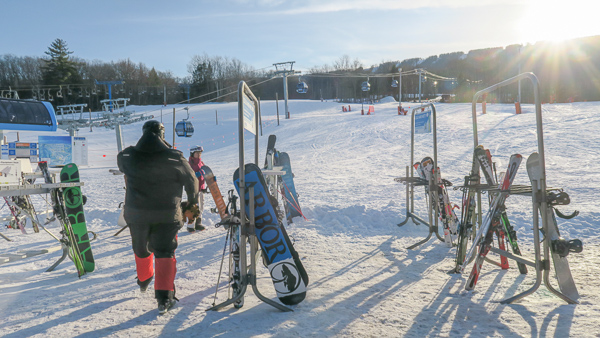 And then it was time for more greens!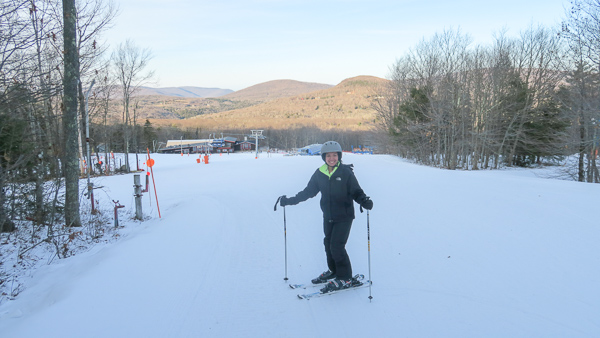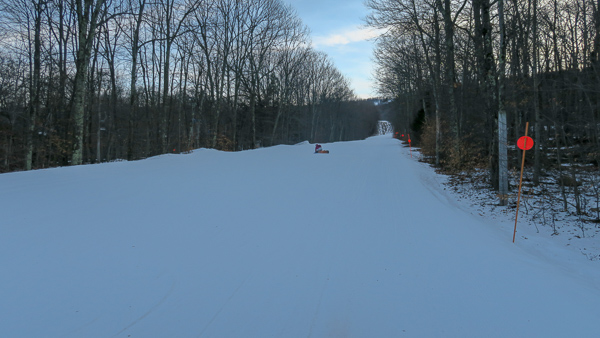 Day 1 was super fun and I was already looking forward to day 2 by the time we wrapped up.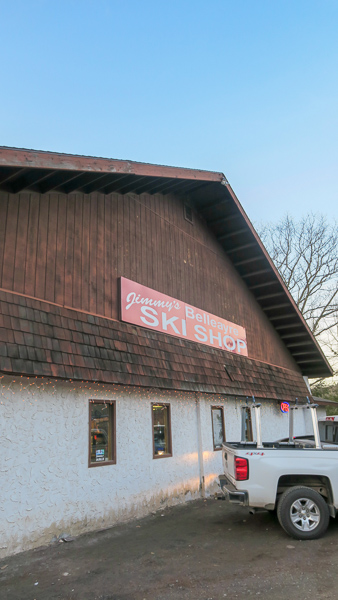 We stoppped at a ski shop just down the road from Belleayre so Hilda and I could stock up. I got some ski goggles and ski socks.
Fireside Night | Chili and Hot Chocolate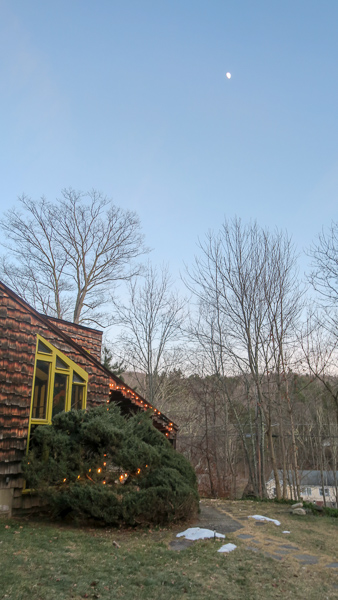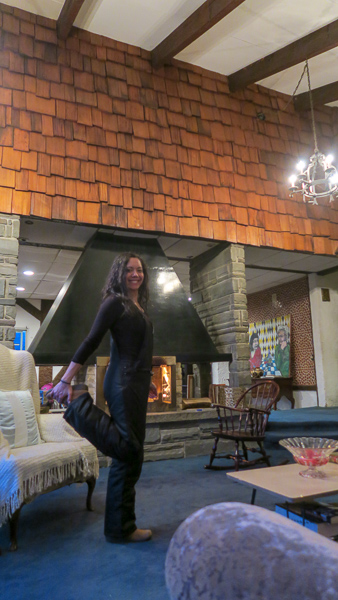 Definitely made sure I got some good stretching in. We used our legs so much.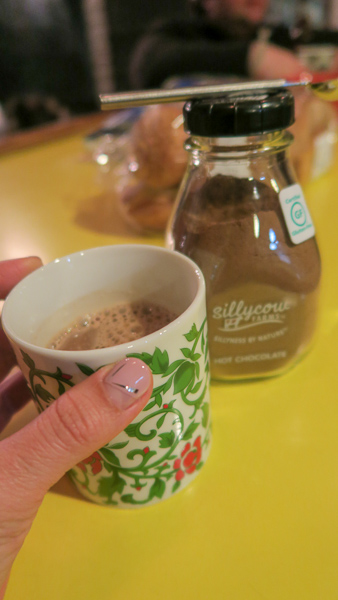 Hilda whipped up almond milk hot chocolate for us. Yes! We got to enjoy these fireside, which was absolutely lovely.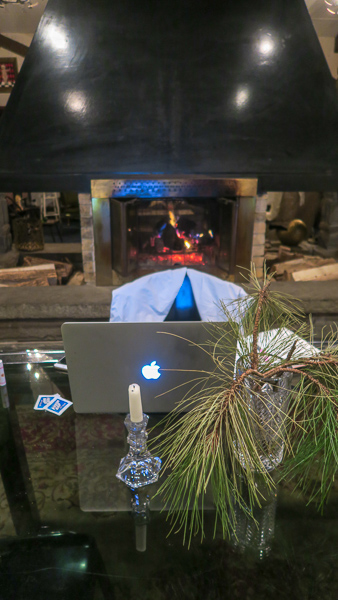 I carved away a bit of time to work on my nutrition course.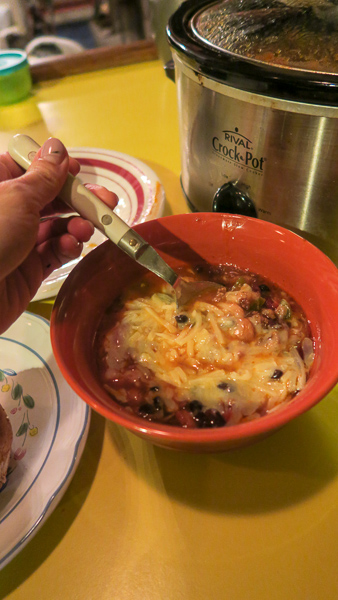 And then it was time to dig into the slow cooker chili. It was so nice to have dinner with zero effort. Unless you count opening the bag of shredded cheese. Lol!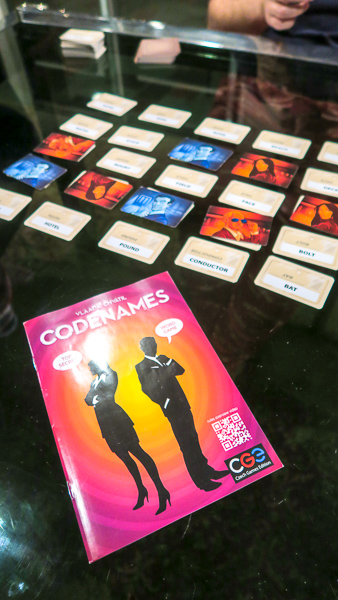 Our friends Justin and Emily joined us just in time for dinner. They brought a board game with them too. It was a fun one. Have you played Codenames before?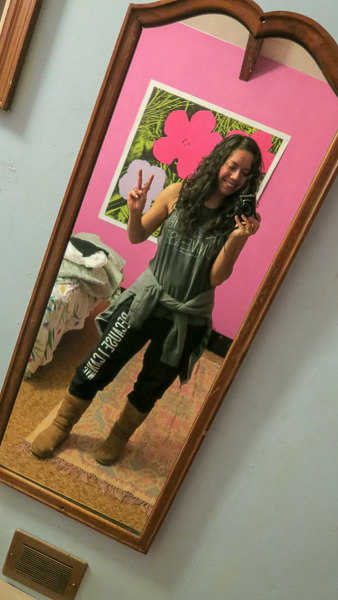 Bedtime!
Check back for part 2 of Ski Weekend!