Hi friends! In this post I'm sharing the tricks I actually use to indulge in delicious food in moderation. So, here's another weekend What I Eat in a Day adventure – NYC brunch style. This was a double brunch day, thus the title. While I do generally eat pretty healthy most days, I indulged more than usual on this day. In the interest of maintaining my non-restrictive approach to eating, I usually eat whatever I want. But I find that I usually feel better when I eat primarily healthier foods. So since brunch #1 and #2 were a bit on the heavier side, I used dinner as an opportunity to help balance out the day. And I called out those Indulge in Moderation Tricks in the blog post below, so keep an eye out for those. Ready to see what I ate? Let's go!
*VIDEO* What I Eat in a Day NYC Weekend Edition
Click here to watch the video if the above player doesn't work.
But First Coffee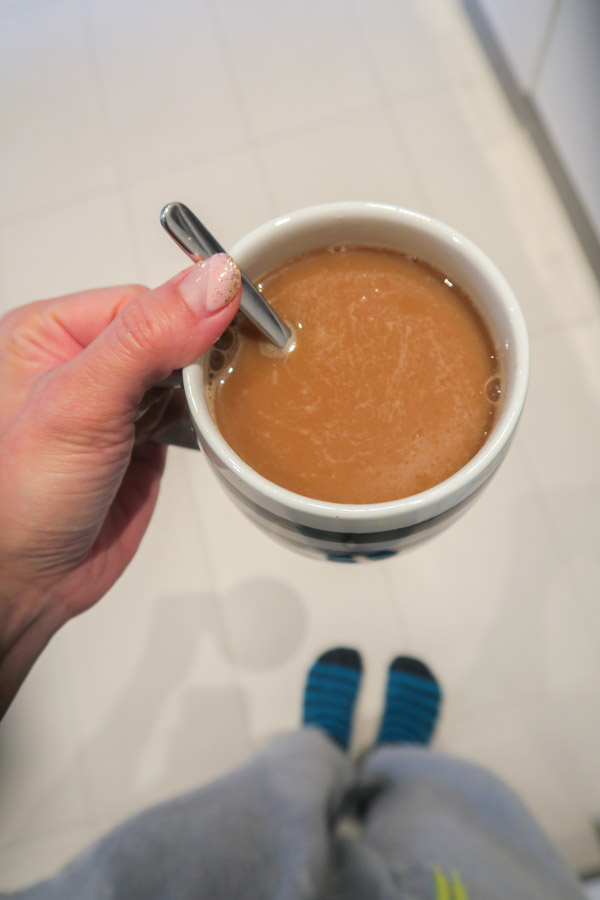 I truly like to start my day with coffee. So I made a quick mug before taking off for the day.
Buvette Brunch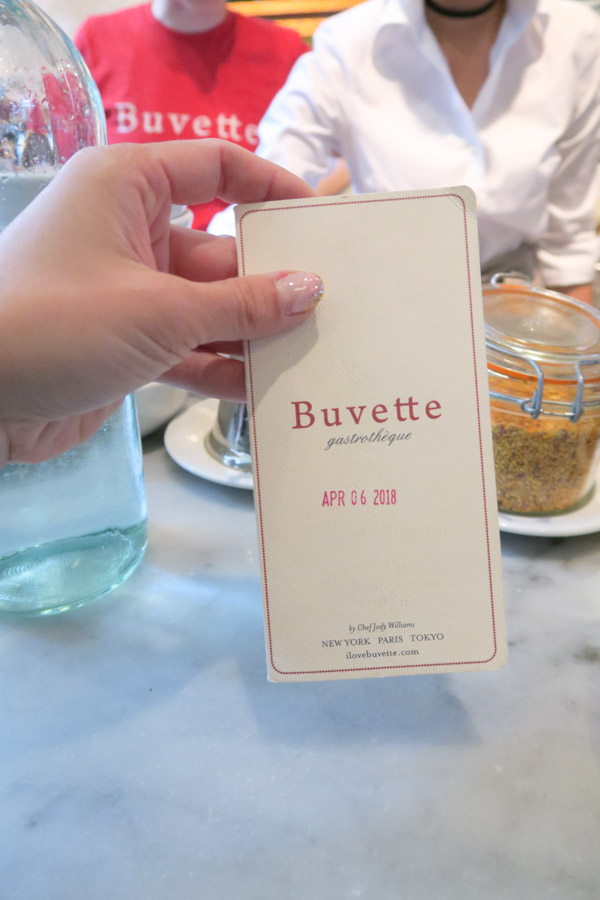 I've shared Buvette a couple times on the blog before. It's one of my fave spots in NYC for brunch. I read online you have to get there before 9am to avoid the wait. I often skip going here because I like to sleep in and be a bit slower moving on the weekends. Or spend the morning working on The Chic Life. But I woke up early. I was arriving after that, but it was still not as slammed as I've seen before. I was able to find a spot for one at the bar. It was tight (hey, it's NYC!), but I squeezed in.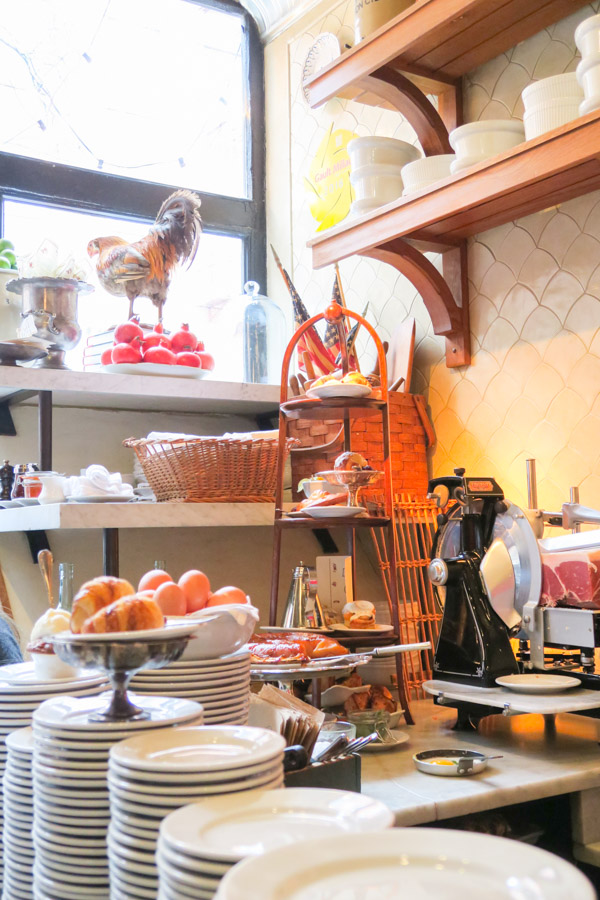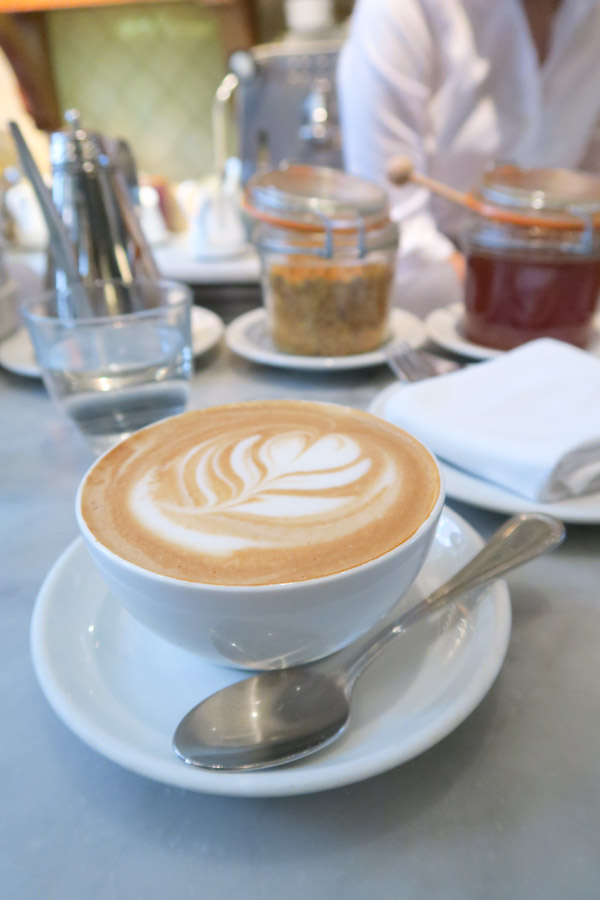 I started with a latte. The froth was so nice and thick. Check out the video to see.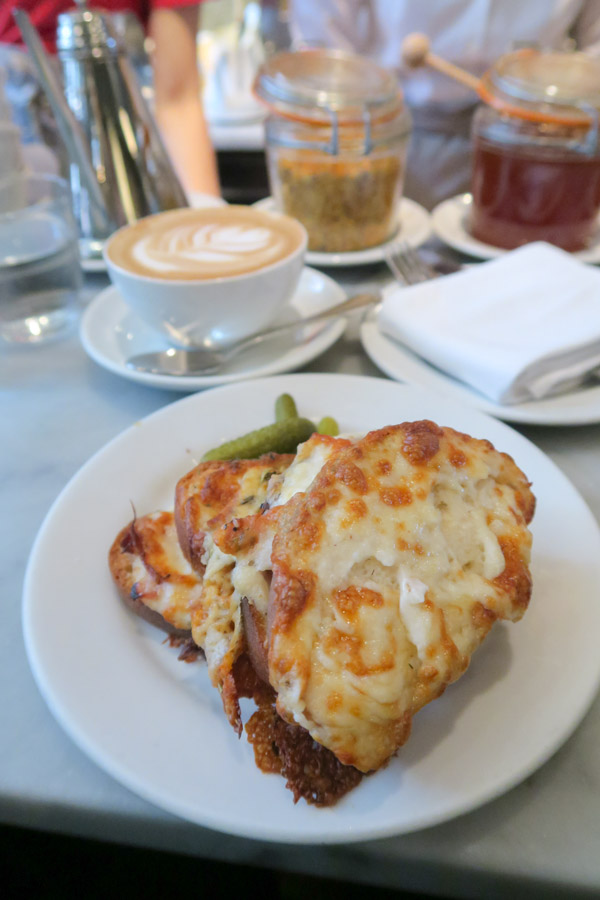 And I always order the same thing here – the croque monsieur. Soooo good!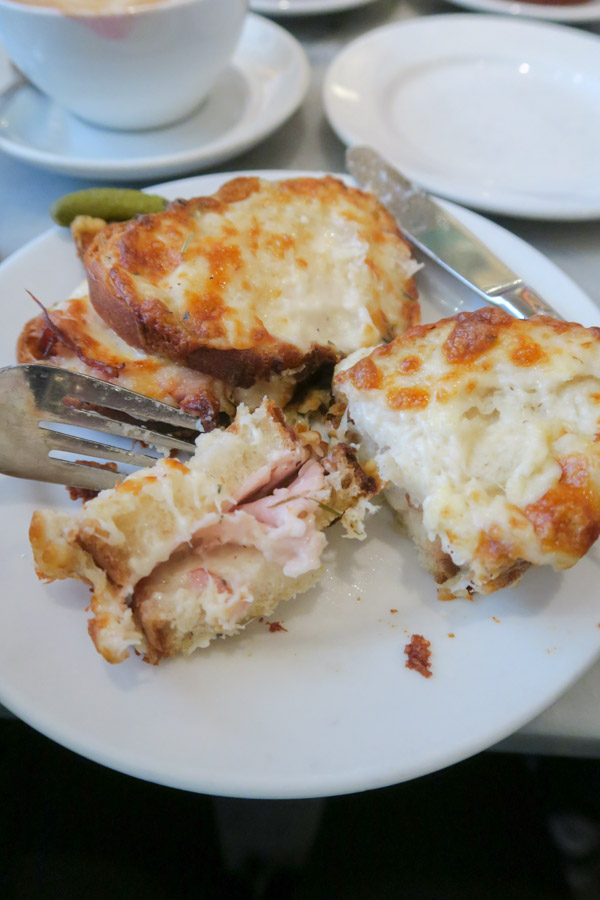 Melted cheese and ham. Yum!
Indulge in Moderation Trick #1: Choose the well-portioned indulgent meal. I love how the croque monsieur is not gigantic. I feel like it's reasonable portioned so I don't feel bad eating the whole thing.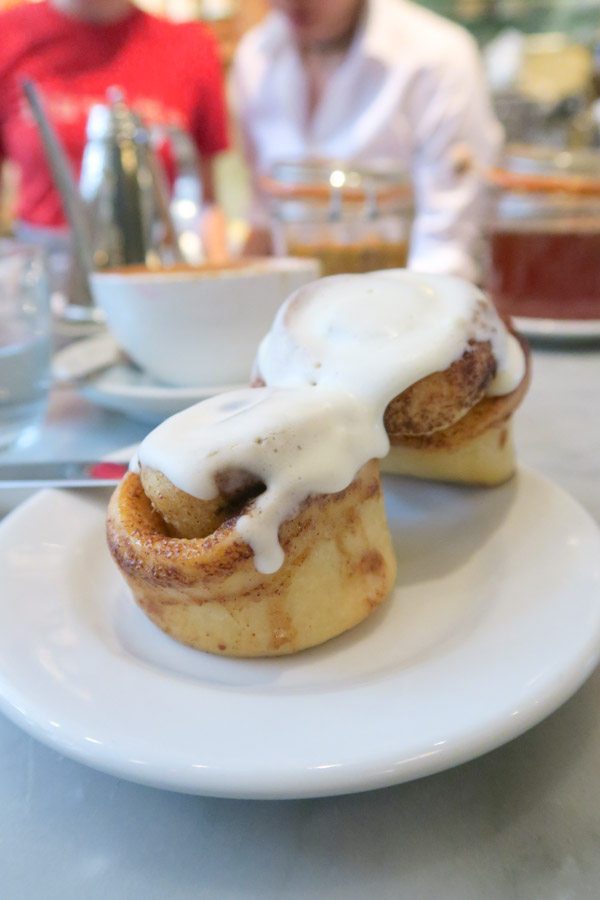 I normally stop here, but when my waitress asked if I wanted a baked good, it sounded like a good idea. When I looked over to see the tower of options, I was sold at the sight of cinnamon rolls. Always have a hard time saying no to these! Since I was pretty full, I only ate one and saved the other for a friend. I was originally going to save the other half for later but decided my friend was a better recipient.
Indulge in Moderation Trick #2: Eat half. I really just wanted to taste the cinnamon rolls. As Michael Pollan says, "The banquet is in the first bite." You don't need to eat whole thing of whatever to enjoy the flavor.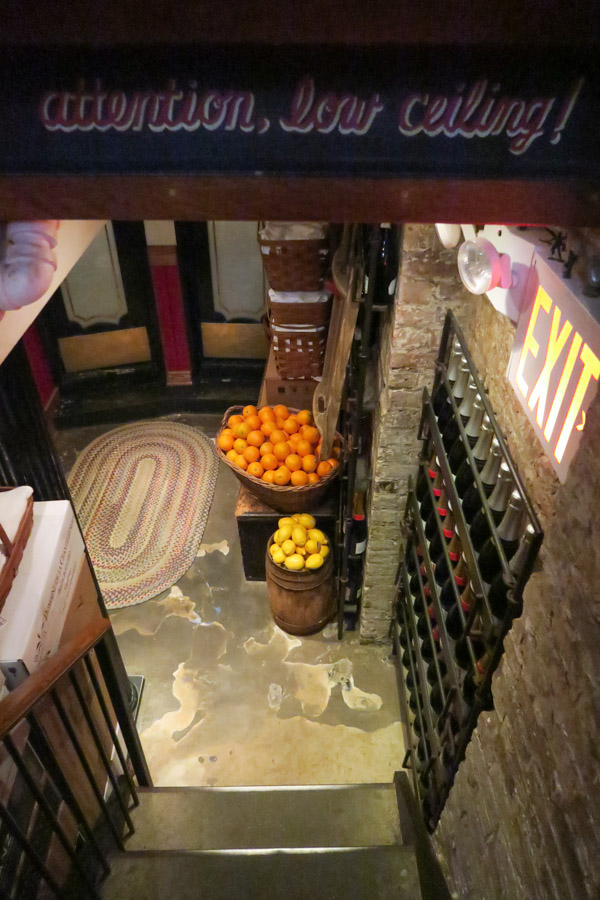 Buvette is such a cute spot. I love their outdoor patio (where I ate with Paola). It's small but lovely. Even the basement / bathroom area is cute.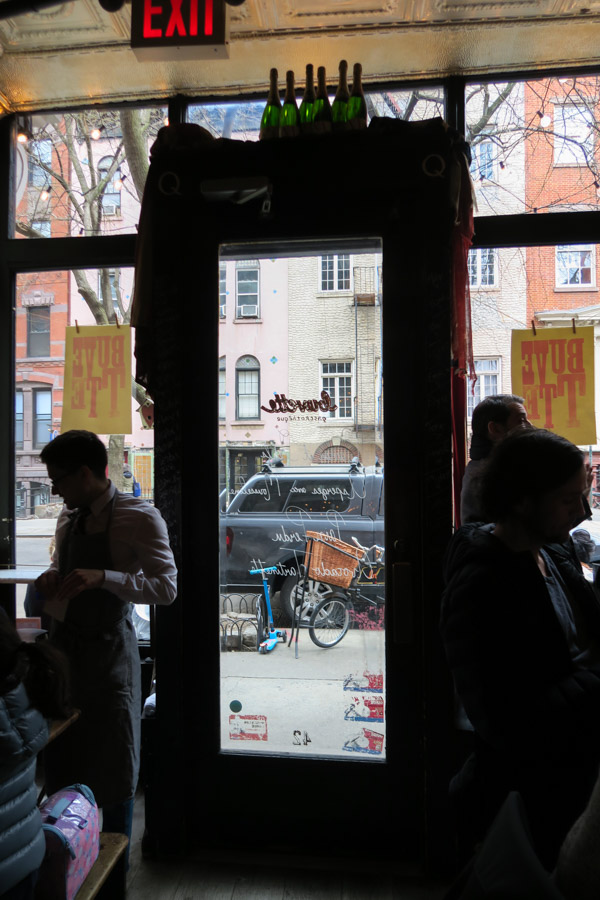 And their wait system is unlike anything I've seen before.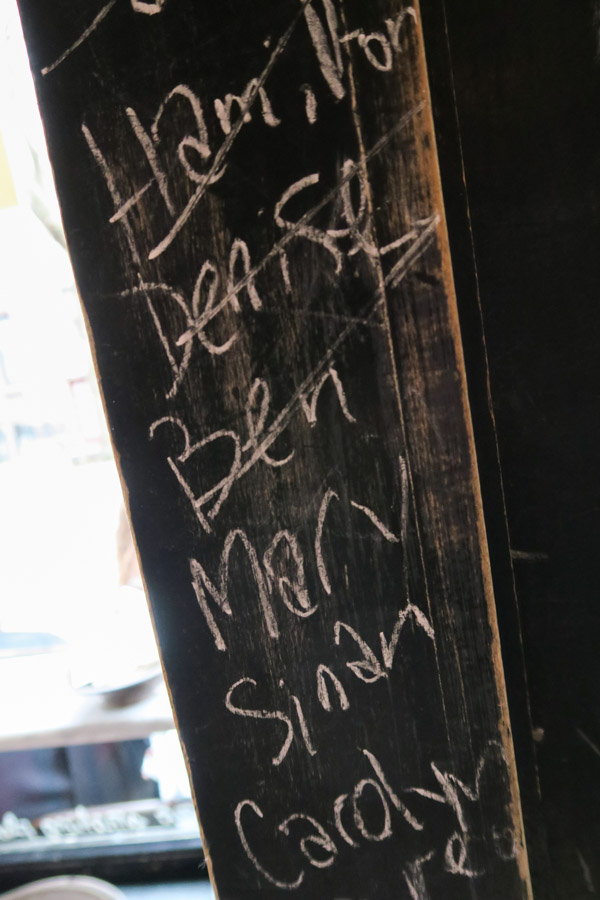 They write your name on the door frame at the front!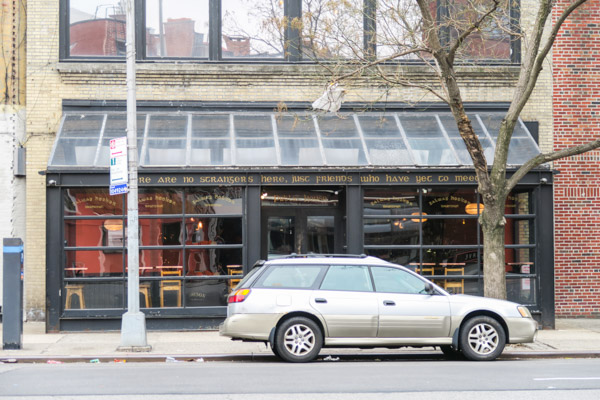 As I was walking around the village, I found this bar with a fun saying on the front: "There are no strangers here, just friends who have yet to meet."
MatchaBar Chelsea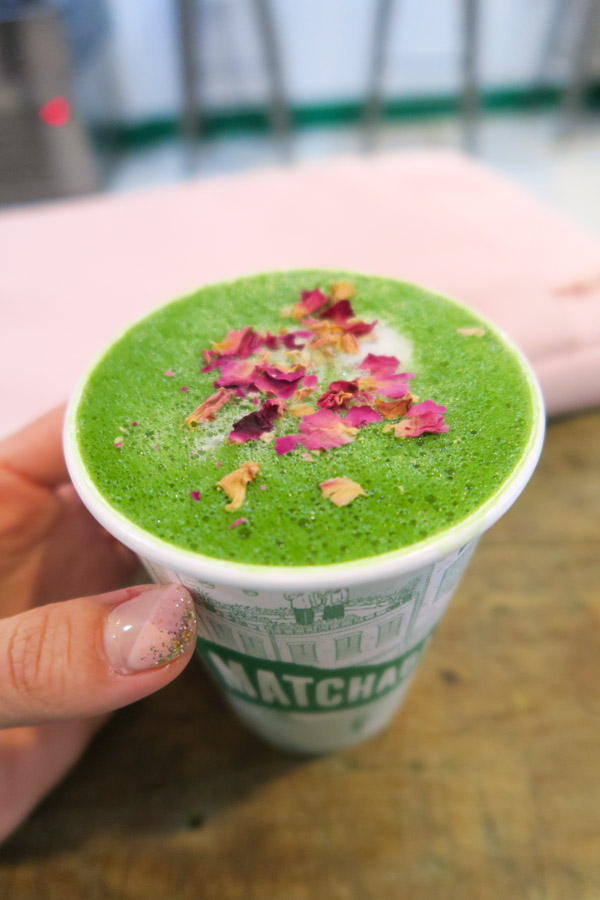 For a quick working session, I hit up MatchaBar Chelsea where I tried one of their new drinks. The rose matcha latte. It was so pretty and also very nice to drink. It didn't taste sweetened at all, so if it was, it was very light.
Indulge in Moderation Trick #3: Skip the sweetener. While I haven't been able to kick the sugar I add to my first morning cup of coffee, I have managed to pretty much enjoy all the coffees/teas later in the day sans sweetener. I heard something interesting the other day about how sugar is the new tobacco and how one day we'll talk about sugar and how eeeveryone was just eating it like crazy!
City Cakes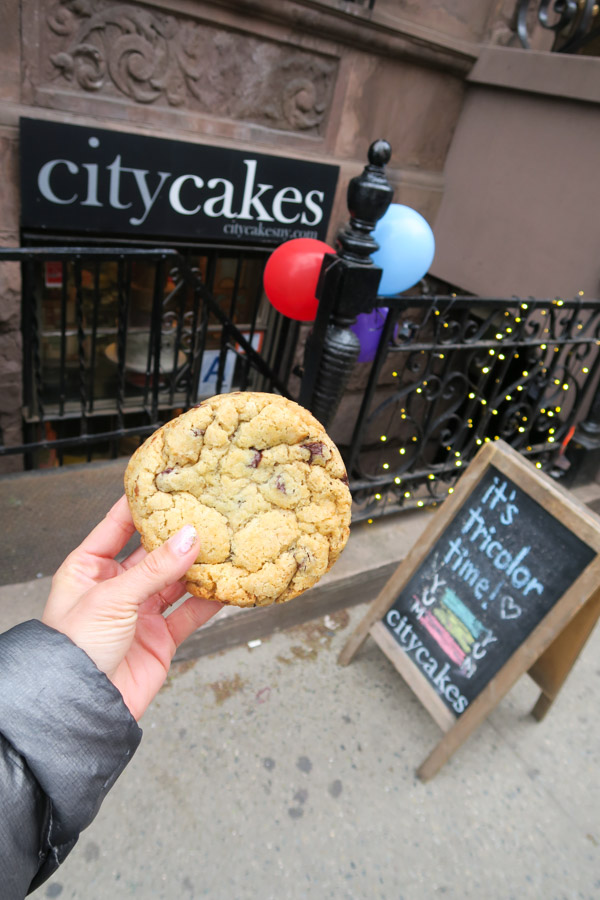 I met a friend for brunch / lunch at Westville, but they had a bit of a wait. So, I walked across the street to check out City Cakes. One of my blog friends, Eats Real Food, posted a photo of their cookie on her Insta. Naturally, I had to comment with my excitement about a new cookie for me to try. This led to City Cakes reaching out to me to try the cookie for myself. Woop!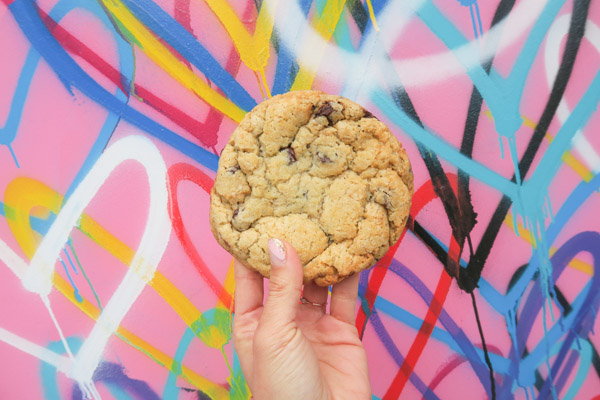 The chocolate chip cookie was huge at a half pound. To save myself from overdoing it with the cookie, I shared half of this with my friend. As for the cookie itself, it had a nice crunchy outside and tender inside. It wasn't chewy. I'd say it was more like a softer cookie that had a bit of a crisp on the very outside. Delicious! This is definitely one of the best cookies in the city!
Shout out to City Cakes for gifting me this delicious treat!
Indulge in Moderation Trick #4: Share with a friend. I used to think you had to eat everything yourself. But says who? In fact, your friends may even love you for generously sharing your treats. Or you can plan to go in on a treat together. Sometimes you both recognize a treat is too much for one person and you can agree to share it 50/50. Or with even more friends! Or if you're not good at sharing, you can offer them a bite at least?
Westville Chelsea
As for lunch at Westville (my fave!), I was going to get a healthy salad to balance out the croque monsieur. But I guess I was still in brunch mode because when I saw waffles on the menu, I changed my mind. There was still dinner, right?
I love how their waffles come with eggs and fruit. So many places have just waffles or just pancakes. But I need more than empty carbs to make something a meal. Without the other parts, I find myself getting really hungry really soon after. I like to enjoy the waffles, but I need something with a bit of sticking power.
Indulge in Moderation Trick #5: Don't eat empty carbs alone. Eating empty carbs (non-filling carb-based foods) is like eating air. Have you ever noticed a bag of chips won't fill you up? Pancakes and waffles (traditional ones at least, not protein versions) never fill me up. So to actually fill up with a meal, I have something filling with it.
Chez Moi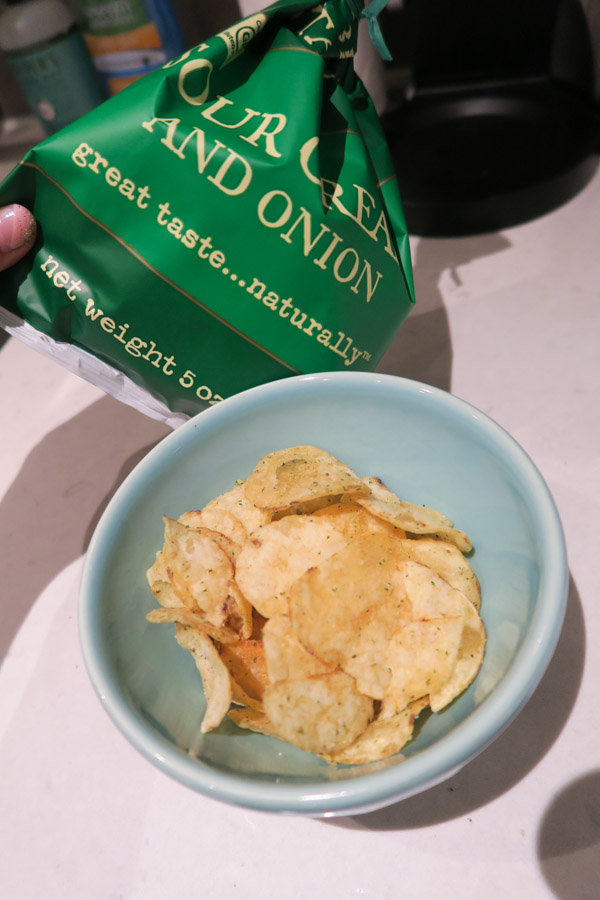 This is the trouble with having chips at your place. You eat them.
I was feeling snacky when I got back to my place and wanted something to nibble on while I finished editing a video. Sour cream and onion kettle chips it was. Portioning some out kept my snack in check.
Indulge in Moderation Trick #5: Portion it out. I eat so many more chips when I eat straight from the bag. Especially if I'm hungry. Though I do try to avoid snacking when I'm hungry. Outside of eating too many chips, those chips just aren't going to do the job at hand. If you're hungry, you should eat something that will make you not hungry. Which is something that has some ability to fill you up. Sorry, chips. I love you, but I'm not in l…I mean, you don't complete me. Anywho, my point is, chips are easy to overeat since they're not filling. So if you don't want to overdue it, portion it out before you dig in.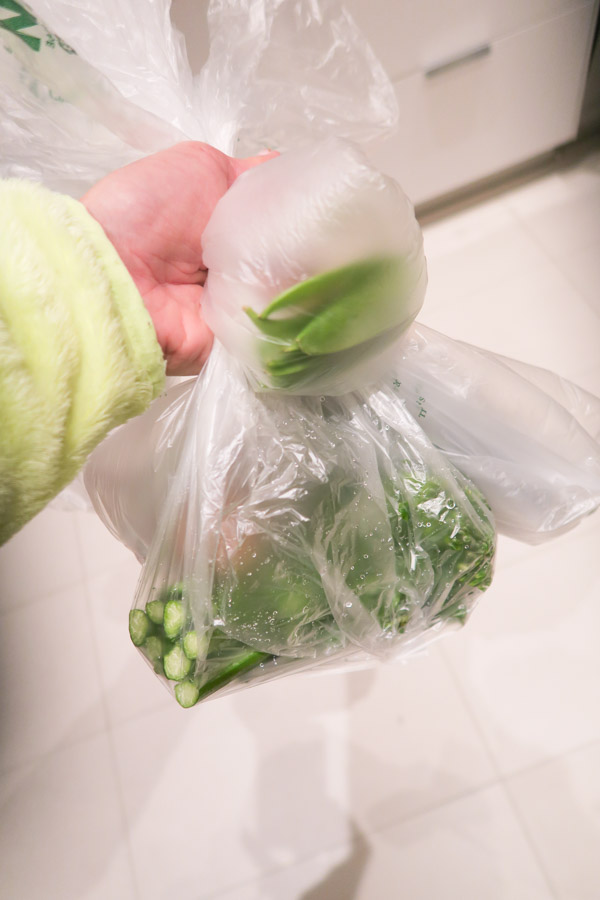 To balance out my heavier brunches, I got a bunch of veggies at the grocery store to make a giant veggie stir fry.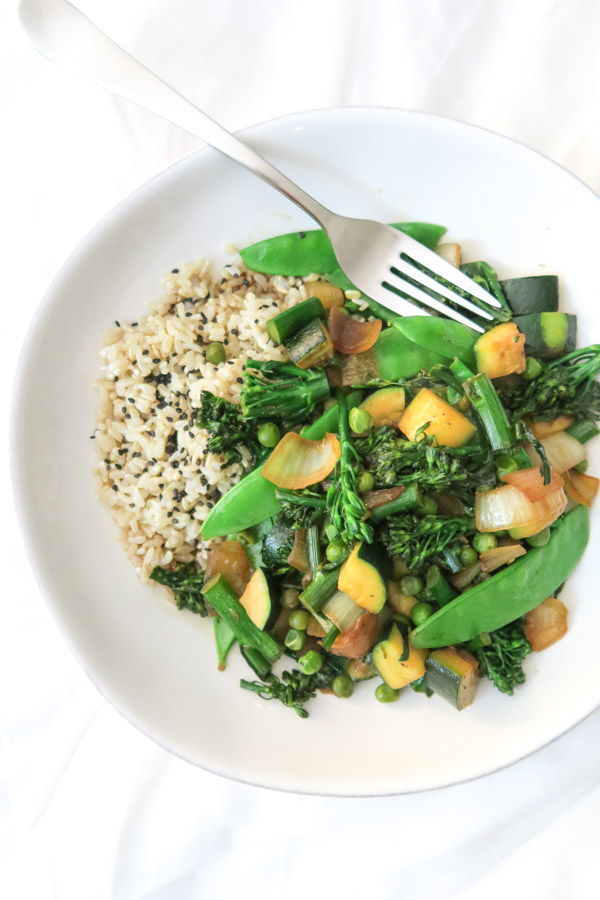 While I recognize the benefit of this being a lighter meal, I especially love all the nutrition consuming all these veggies would get into my body. One of these days I'll calculate all of the vitamins and nutrients packed inside this.
In the bowl: an entire bunch of broccolini, one whole zucchini, one small onion, about a quarter cup of peas, and a handful of snow peas. On top of brown rice.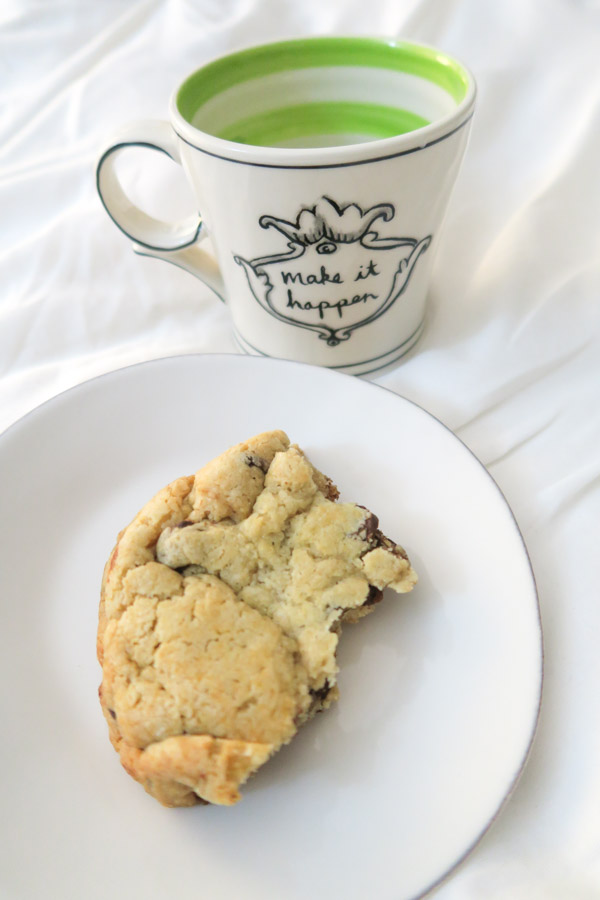 Though I had a bite of the City Cakes cookie earlier in the day, I saved most of my half for later. Mostly because I was pretty full most of the afternoon. To go with this, I also had a bit of unsweetened macadamia nut milk.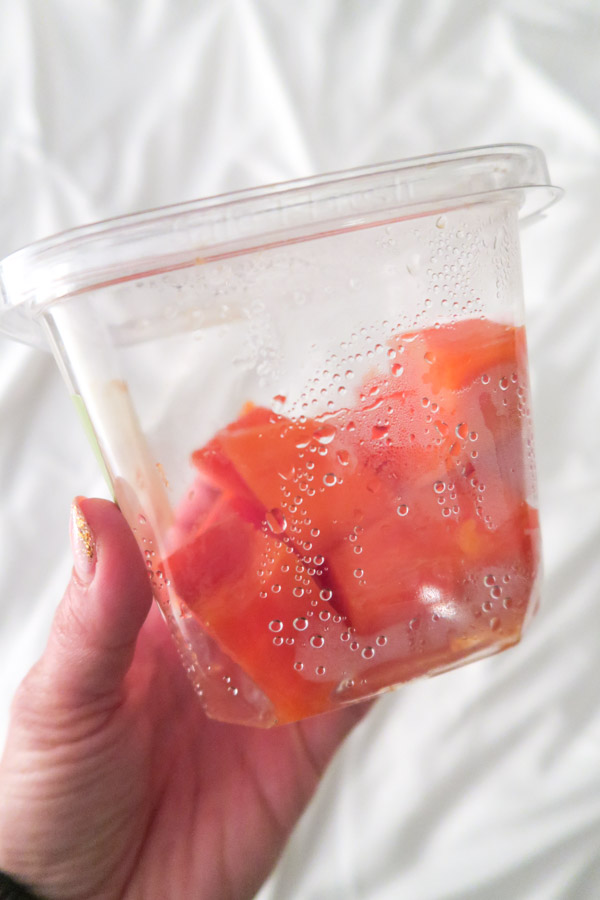 And to get some more fruit in the for the day, I had a few bites of this pre-cut papaya.
More What I Eat in a Day / NYC Posts
Click here for more What I Eat in a Day posts
***
What are your tips for indulging in moderation?