Hi friends! Here's a new post and video on how to use a fall sticker kit to decorate your planner while still leaving plenty of space for writing.  Basically, I'm sharing my latest before-the-pen set-up for what I do to get planner decorations done before the week starts. I save the rest of the sticker kit to use as the week approaches and goes on. And sometimes I even have some stickers left for future weeks. Direct shopping / item links are at the end of this post. Let's jump into it!
Please note: This post contains affiliate links. If you make a purchase from one of these links, I may make a small commission at no extra charge to you. I love and actually use the products listed here, but please contact me if you have any questions. 
Plan with Me Fall Sticker Kit and Washi Tape
Here's a video that shows me decorating my planner from start to finish. I'm trying something a little new by being more chatty and walking through why I did what I did. Let me know if you like this approach more or prefer shorter videos.
Click here to watch the video if the above player doesn't work.
Fall Planner Decorations – Vertical Erin Condren LifePlanner 2018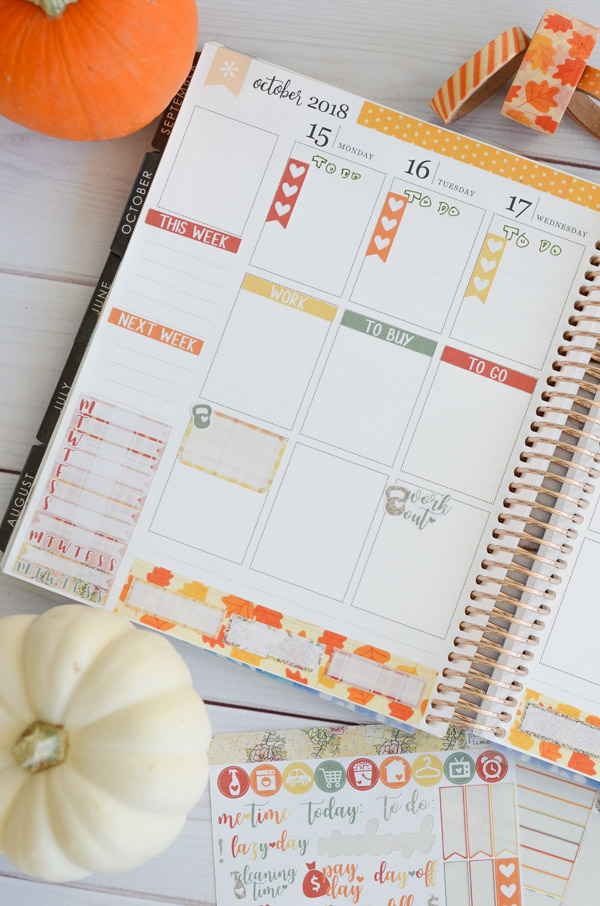 As you can see, my approach to decorating this week is keeping things simple and leaving lots of white space for writing and adding more stickers.
Here's a closer look at the left side, featuring:
Weekly items on the left side (habit stickers, this week vs next week goals)
Hand-written bubbly To-Do list box headers with heart checklist stickers
Event box with a workout theme – layered stickers
Stickers over wide washi tape in the bottom for meal planning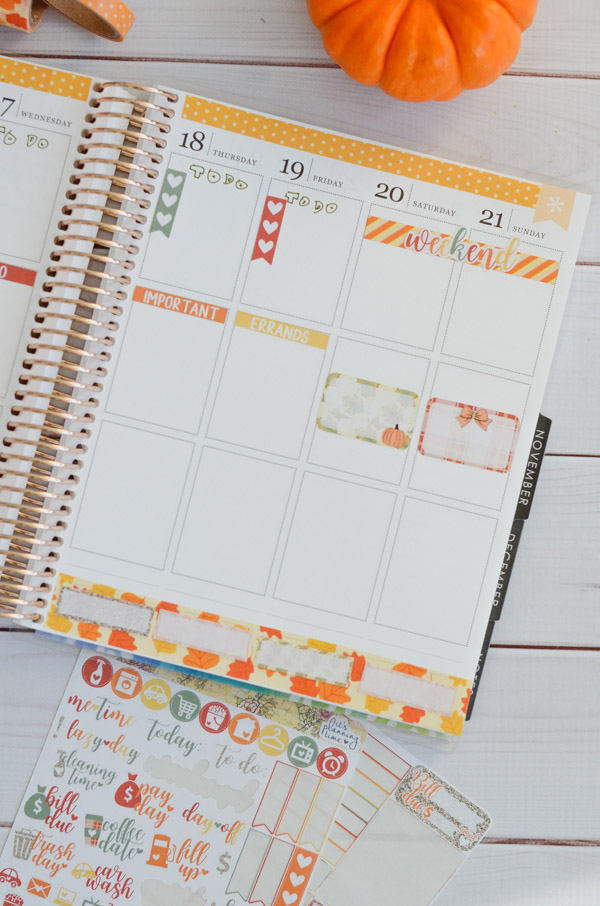 And on the right side:
Same as left side but with the addition of the weekend banner – sticker layered over washi tape
More event boxes, except these came with the decorative images of the pumpkin and bow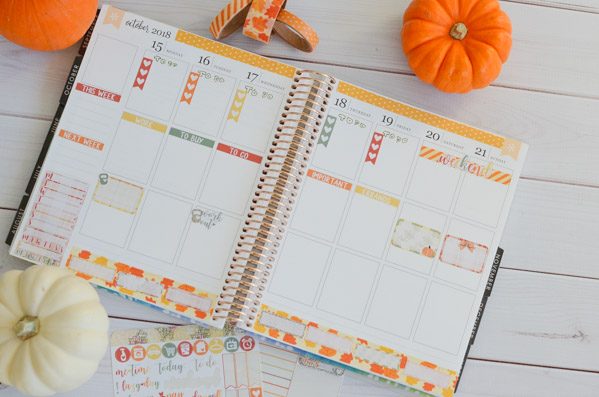 Here's the full spread of my vertical Erin Condren LifePlanner with this cute fall sticker kit.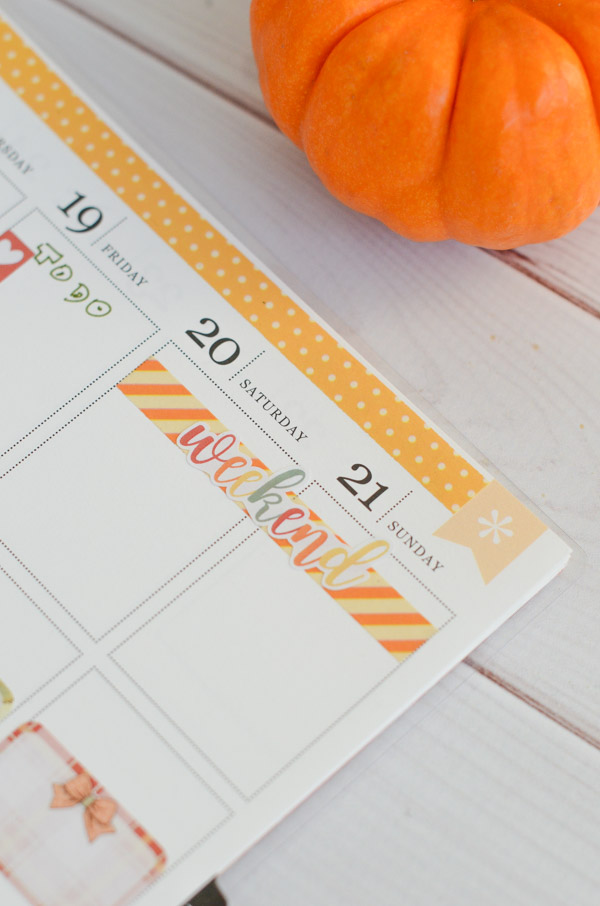 To make the weekend word sticker stand out more, I layered it over a strip of washi tape.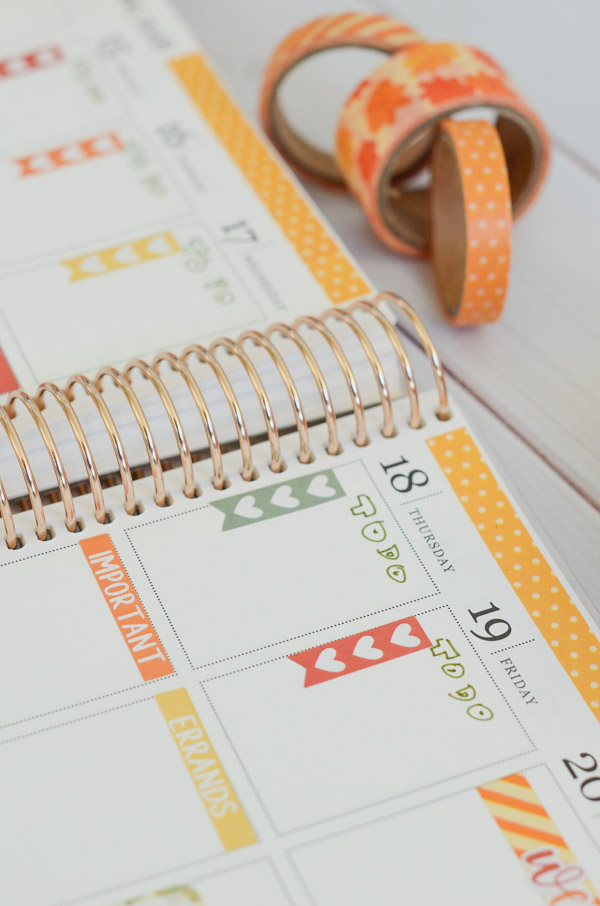 And these To Do list headers are hand-written. They're a little messy but I kind of like how they look a little more casual. Not to mention, I was writing these with my arms stretched through and around a camera tripod to film, so…it was a little hard to see what I was doing. Haha!
Planner Decoration Supplies Used – Shop This Look
More Planner Ideas and Tips
How to Decorate Your Planner with Washi Tape
How to Make Text Stand Out in Your Planner
***
Thank you so much for reading / watching this Plan with Me with the Fall Sticker Kit in my Erin Condren Vertical Layout.
Here's a shareable graphic so you can tell your friends and family about this: