Hi friends! Today I'm sharing a weight loss secret recipe – this Quick Veggie Bean Soup Recipe! Soup?! Think that's boring? Sure, it's not as cool as those veggie-grain bowls trending on Instagram. But I think soup is an underrated hero. When I was going through my weight loss journey, soups provided delicious and nutrient-dense meals that were naturally lower in calories. And this version I whipped up recently was a winner I wanted to share with you guys.
Plus, this clean eating soup is actually a quick meal since it's ready in about 30 minutes. And it makes a good sized batch so you have leftovers for lunch to take to work or school the next day with no additional prep work needed. Just stick it in a tupperware!
Let's jump in!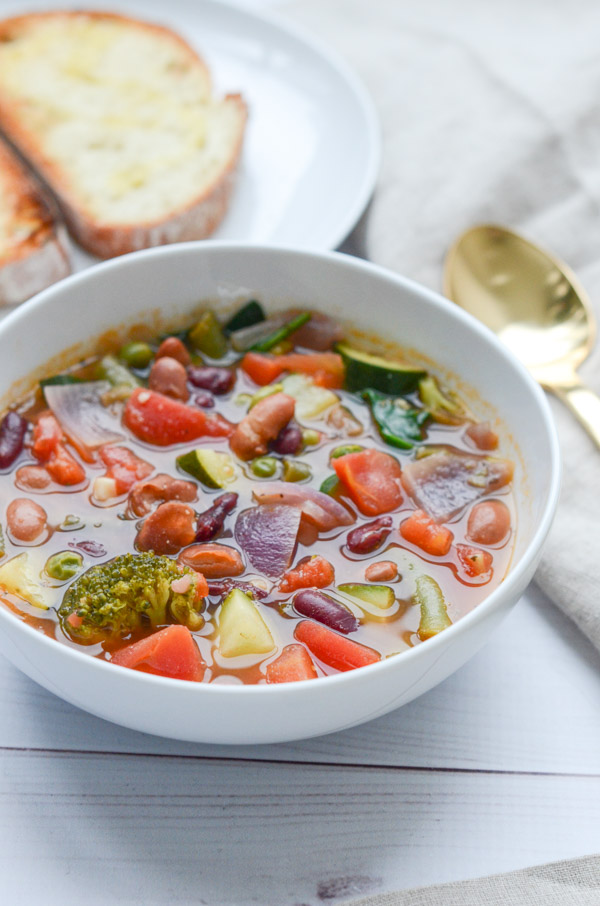 How This Soup is Good for Weight Loss and Maintenance
When I was going through my weight loss journey (which I blogged about here – check the archives!), I learned that soup is great for weight loss. It's super easy, so cooking it is a breeze. But it's what's inside that counts. Because usually I only use a tablespoon or less for a large batch of soup to sauté the vegetables, the oil content is low. From there, I add broth, veggies, beans, and spices, which are all naturally light and pretty darn good for you too!
And in case you didn't know, beans are a magical unicorn weight loss food. Okay, I made that up, but here…let me share some more researched info by NutritionFacts.org:
Not only was regular bean consumption as effective as portion control in reducing prediabetes risk factors like slimming waistlines and better blood sugar control, but the bean diet led to additional benefits beyond just calorie reduction, presumably due to some functional properties of the beans and peas.
This article by NutritionFacts.org talks about how they tested consumption of beans against portion control to see which is more effective for "slimming waistlines" in addition to other benefits. It's a really interesting and short read, so take a looksie if you have a minute.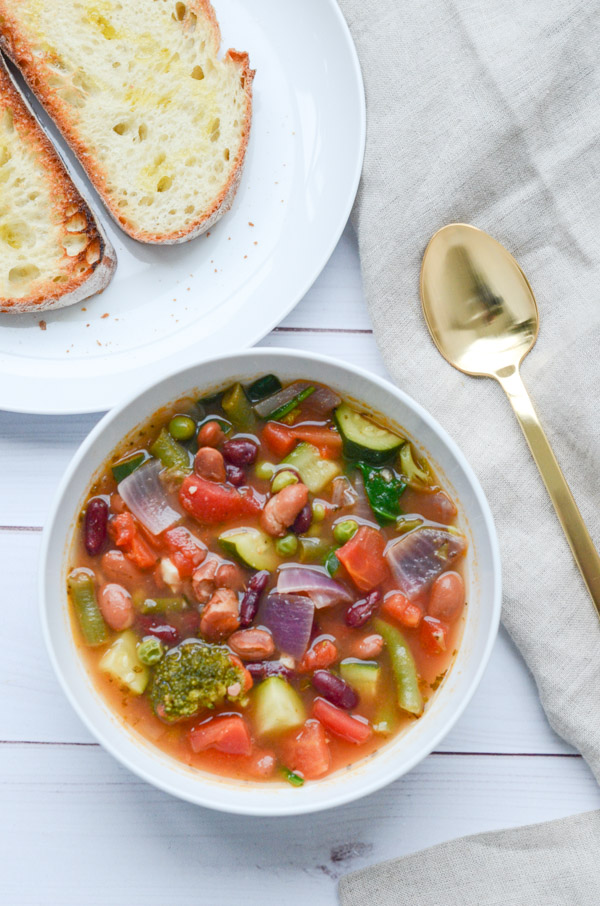 But Soups Aren't Filling?
One of the biggest complaints I've heard over the years is that soup is not filling. And I have to say, I both agree and disagree with this statement.
How Soups Aren't Filling
What I've noticed is that soups at most restaurants, from fast food to sit-down restaurant, are generally not filling. They are often lacking the ingredients that are must-haves for me to make soup keep you full. Can you say broth + empty-calorie-pasta? They're also usually higher in fat/oil and other ingredients (many not clean eating style) that I simply don't want to eat.
Sadly, I'm usually disappointed by soup options when I'm eating out.
How Soups Are Filling
But when I'm able to cook my own style of soup, I have some of the most amazing meals! They're light so I feel great after eating them. And despite my soups feeling light, they're still filling with plenty of hearty vegetables, grains, and beans.
And to be clear, I love pasta. I do. But pasta isn't my fave soup ingredient because it gets so soggy. And okay, pasta as part of the soup is okay. But not if the soup is lacking a good amount of vegetables or any beans/whole grains. Those ingredients are my keys to making the soup filling. Give your stomach something that will take it awhile to digest, ya know?
Oh and the other key – a side of hearty, whole grain toast. I like mine toasted with a drizzle of EVOO and sprinkle of sea salt on top. Brownie points if you find a bread that has nuts and seeds in it for extra nutrition. Since I never have soup without bread, I factor that as part of my soup-as-an-entrée-plan.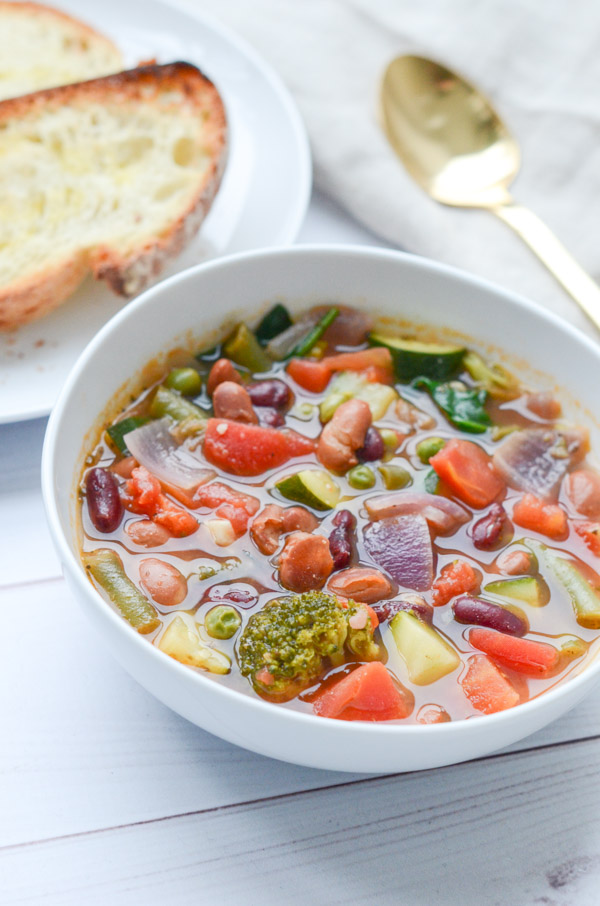 Bee-tee-dubs, I know soup is a "winter" food, but I love it year round!
Oh and about those leftovers…
Soup for Easy Leftover Lunch and Dinner Meal Prep
So even though this soup is on the slightly smaller side, it still makes a good amount of leftovers. I think I got 6-8 servings at least out of this guy.
Furthermore, the leftovers are so easy! After cooling a bit, I portion out single servings and put them in the fridge or freezer for ready-go-meals for school or work the next day. Or even a lazy dinner. Having pre-prepped food for your busiest days is a healthy eaters emergency plan when life gets crazy.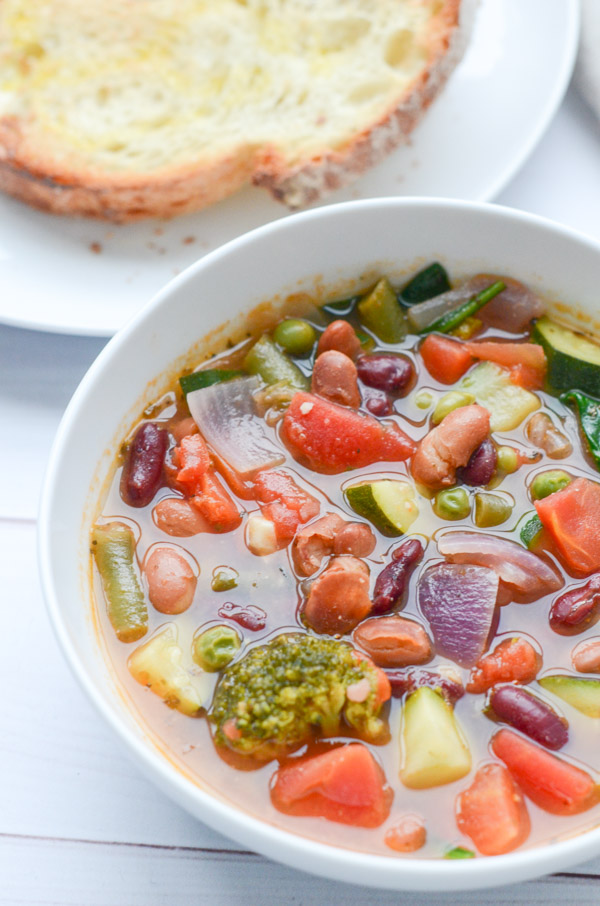 Print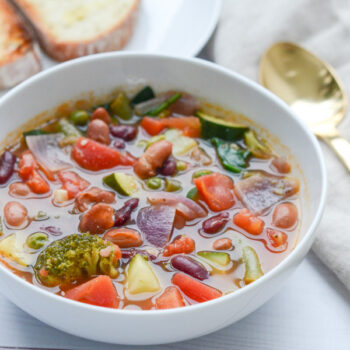 Quick Veggie Bean Soup Recipe | Great for Meal Prep
Author:

Prep Time:

5

Cook Time:

20

Total Time:

25 minutes

Yield:

8

1

x

Category:

Vegetarian, Vegan

Cuisine:

American
---
Description
This easy and delicious clean eating soup recipe is wonderful for weight loss and/or maintenance. Try this Quick Veggie Bean Soup Recipe for an easy dinner with simple and tasty leftovers for lunch or school!
---
1 tablespoon

oil of choice (EVOO or organic canola oil work)

1

purple onion, chopped

2

garlic cloves, chopped fine

1

32-ounce container vegetable broth

1

15-ounce can diced tomatoes (low sodium)

2

bay leaves

1 teaspoon

Italian seasoning

1/2 teaspoon

salt, plus more to taste

1/2 teaspoon

garlic powder/granules

1/4 teaspoon

black pepper, plus more to taste

1

15-ounce can kidney beans, drained and rinsed

1

15-ounce can pinto beans, drained and rinsed

2 cups

frozen broccoli

1

zucchini, cut into 1/2-1″ pieces (I do half-moons)

1 cup

frozen green beans

1 cup

frozen green peas
---
Instructions
Heat oil in a large pot over medium heat. Once the oil is ready, add the onion and cook until just browning, stirring frequently, about 5-7 minutes. Add garlic and cook until fragrant, about 60 seconds, stirring frequently.
Add vegetable broth and tomatoes with juices. Stir. Add bay leaves, Italian seasoning, salt, garlic powder/granules, and black pepper and stir to combine.
Add beans, stir to combine and cover. Bring to a boil.
Add broccoli, zucchini, green beans, peas and bring to a boil. Reduce heat and simmer until vegetables are cooked through, about 5-7 minutes.
Add additional salt and pepper, if needed, to taste.
Serve and let rest to a safe temp and then dig in! Bon appetit! Serve with hearty whole grain toast topped with a drizzle of EVOO and sprinkle of sea salt for extra filling power.
---
Notes
Be sure to add a side of whole grain toasted bread, crackers & hummus, or something else to make this a full meal. Otherwise, this soup may not be enough for a full meal. Or you'll need to plan for a snack a bit later. 😉
Note: You can substitute whichever beans are your favorite: chickpeas, cannellini, black beans – up to you!
Keywords: Soup, Weight Loss
Recipe Card powered by
More Clean Eating Soup Recipes to Love
Spiced Cauliflower and Chickpea Stew
***
Thank you for checking out my Quick Veggie Bean Soup Recipe. Hope you enjoy it if you try it!
Please consider sharing it with your friends with the share buttons at the end of this post.