Hi planner friends! I finally have a new video to share with you – a Plan with Me featuring de-stash items from PlannerCon 2019. This is a mostly washi tape look with some full box quote and graphic stickers in my 2019 classic Happy Planner. Keep scrolling for more photos of this all pink theme. And be sure to watch the video for a walk-through of what I did for this spread.
*VIDEO* Plan with Me: PlannerCon 2019 DeStash Planner Decorations
Click here to watch my Happy Planner plan with me if the above player doesn't work
Happy Planner Pink Theme Planner Decorations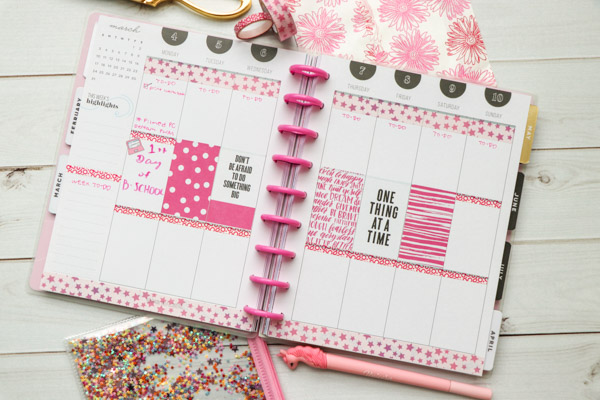 For those not familiar – at PlannerCon (a planner-themed conference in San Francisco, CA) there is a destash table. This is where conference attendees can drop off planner supplies they no longer want in exchange for the opportunity to select planner supplies that other attendees have left.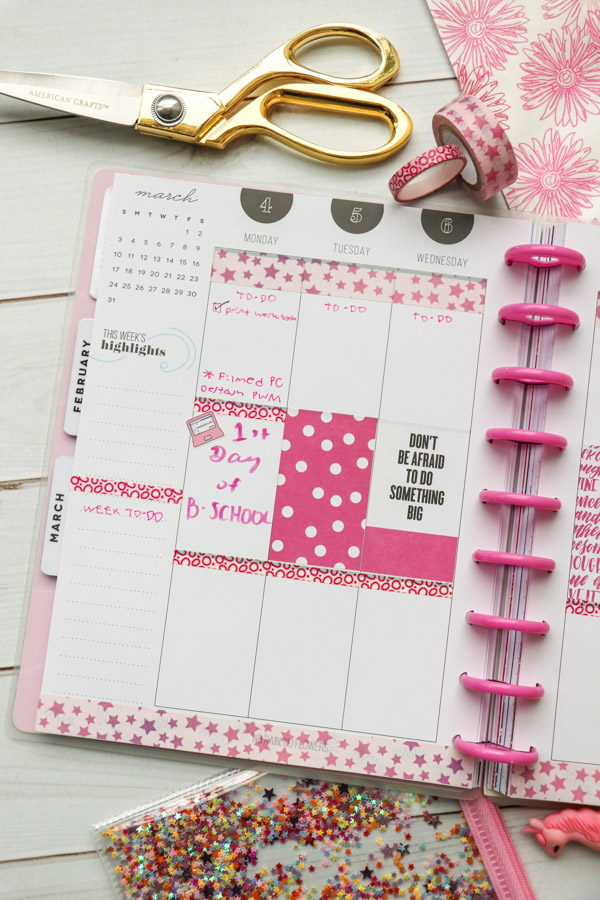 I attended my very first PlannerCon this year, and it was such a blast! And I made some great finds on the de-stash table, including a sheet of motivational stickers in Happy Planner full box size. Perfect!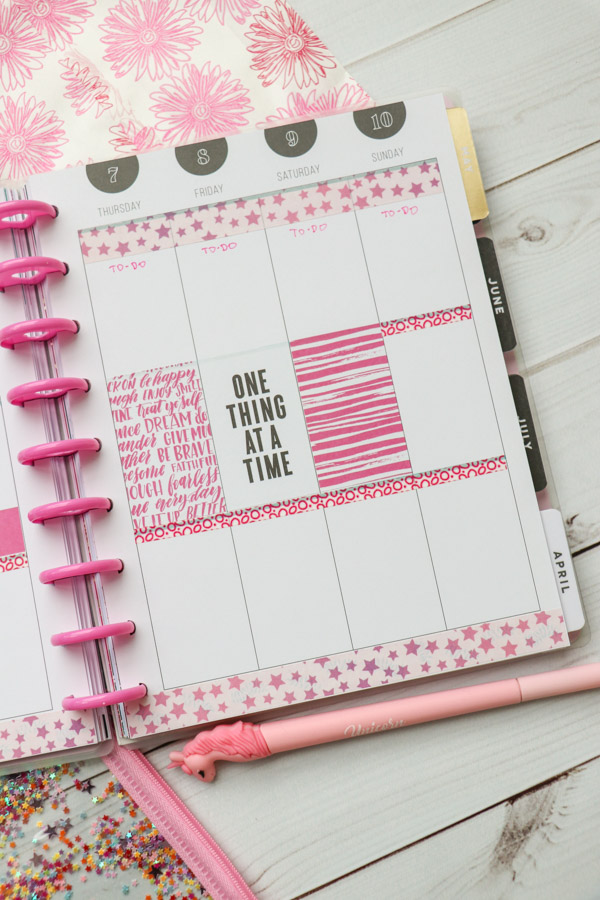 I also scored some pretty pink washi tape. One light pink with stars and one more hot pink with an organic-shapped circle pattern.
Upcoming PlannerCon Videos and Posts
As a quick heads up, I did film a vlog for PlannerCon 2019, so stay tuned for that coming soon! And there will also be an accompanying blog post, of course.
Did you know 1,200 people attended PlannerCon this year?! It was crazy awesome! Looking forward to sharing my experience with you through my upcoming vlog.
Shop This Post
♥ Planner used – Happy Planner 2019 Classic
♥ Pink pen – fine (set of 6) Ooly Modern Writers
♥ Tombow Markers – script brush pen
♥ My Scissors
♥ Post-It Bright Page Markers
More Planner Posts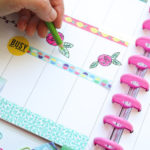 Check out my planner decorations for the week before this – with easy rose doodles – this is for the week of PlannerCon 2019
New to using a planner? Start here!
Get More Planner Decoration Ideas here
***
Thank you so much for reading and watching about this Plan with Me PlannerCon Destash Washi Tape and Stickers in my 2019 Classic Happy Planner.